Costa Rica is a family travel destination like no other. With sandy beaches, cloud forests, jungles, and volcanoes, families will find all manner of outdoor activities to enjoy. Yet, it's the volcanoes that have the biggest draw. Arenal Volcano is at the top of list for many family adventure seekers, us included.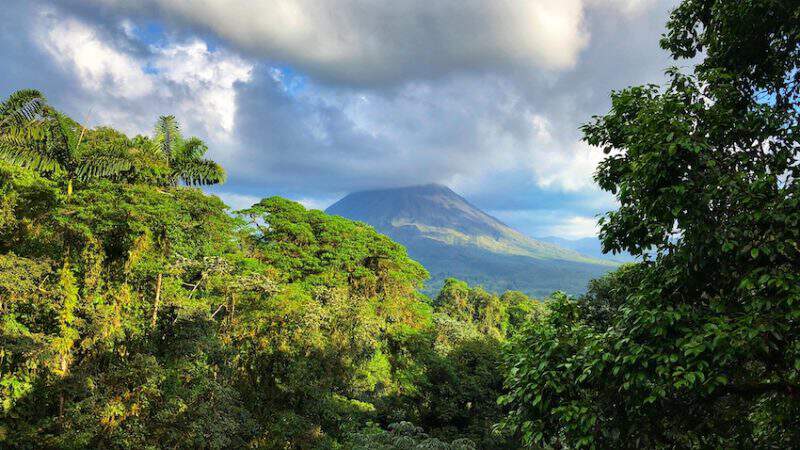 When looking for things to do in Arenal, there are so many choices! I've put together a list of great places for families with older kids and teens. These activities range from exhilarating zip lining and white water rafting to relaxed cooking classes and soaking in geothermal hot springs. There are also a few places to stop and eat because no one can adventure on an empty stomach. Plus I'll share where I stayed on my last visit.
Disclaimer: Little Family Adventure received hosted travel related to this content. All opinions are our own. This story contain affiliate links. Purchase through our affiliate links and we receive a small commission without any extra expense to you!
Costa Rica Volcanoes
There are over 112 volcanic formations in a country the size of West Virginia. Of that, there are only 7 volcanoes. Arenal Volcano is one the most active volcanoes in the world and is Costa Rica's most active volcano. The last time the volcano erupted was in 2010.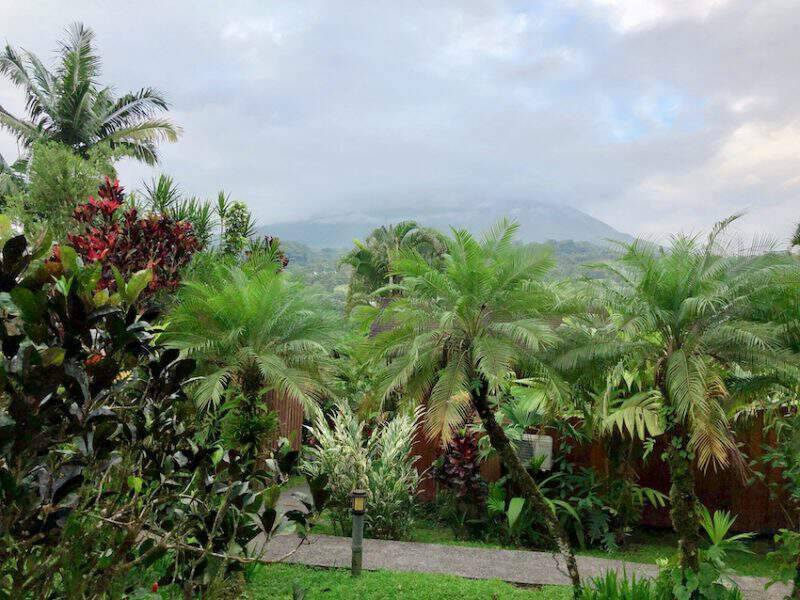 It's easy to see why people flock to see Arenal Volcano. It's a perfect cone shape and can often be seen with clouds circling the peak more than 5,000 feet high. When I stayed at the Arenal Paraiso, this was the view from my bungalow.
Getting to Arenal
Like many visitors, I started my Costa Rican vacation by flying into San José International Airport and spending a few days in the city. From there I took a few day trips to nearby Central Valley attractions like Rescate Animal ZooAve, a coffee plantation tour, and the cloud forest. But the part of this vacation that I was MOST looking forward to was the trip to Arenal Volcano, Costa Rica's most active volcano.
Arenal Volcano National Park is in the Alajuela Province of Costa Rica, about a three hour drive from the capital of Sa José. It and nearby areas of La Fortuna and Nuevo Arenal are easy to reach by public bus, private transport, or renting a car. For my last trip, I used local tour operator, Costa Rica Family Holidays by Il Viaggio Travel Costa Rica who coordinated a private motor coach for our group of 10 travel writers. It was nice not to have to drive in an unfamiliar place. But depending on your budget, there are plenty of options.
If you are flying into the area, compare airlines, dates and prices all in one place with our partner, Skyscanner
. You can also check out car rentals here from our partner, Alamo Rent a Car.
10 things to do in Arenal Costa Rica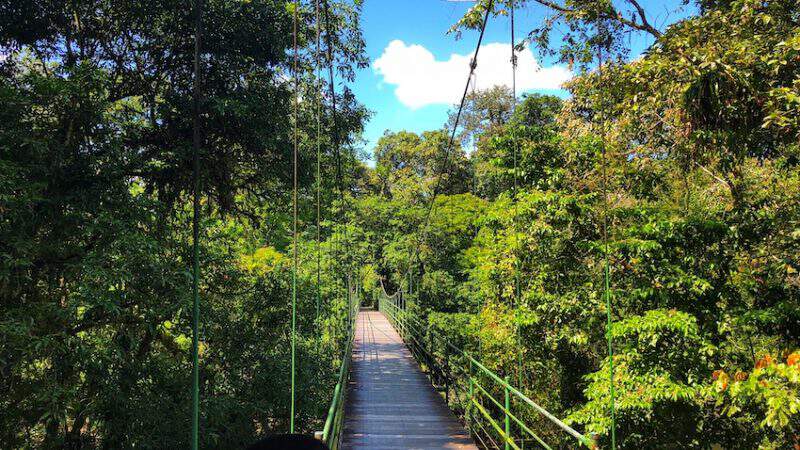 Wildlife Viewing La Selva Biological Station
While in route to Arenal from San José, stretch your legs and go for a walk in the forest. La Selva Biological Station is an active research center just 2 hours north of the city and is a great place to view local wildlife. The center is a protected area dedicated to studying wet lowland tropical forest plants and animals. Be sure to bring your waterproof hiking boots and binoculars or monocular with smartphone attachment. There are over 2000 plant species, hundreds of animal species, and too many insects to count.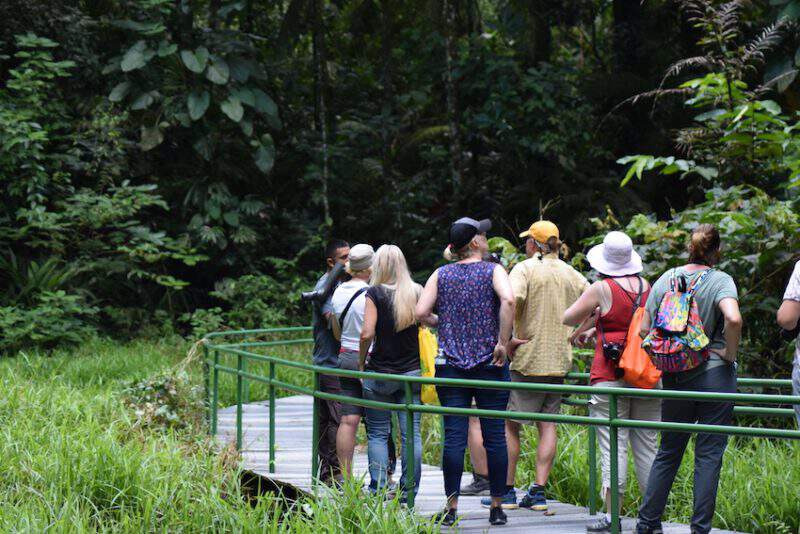 Chances are high you'll get on the trail and see a Peccary (wild pig), Howler Monkeys, Blue Jeans Tree Frogs, bats, Coati and more. Guests are required to take a station tour with a knowledgeable guide who will point out different features of the trail, local wildlife, and more.
Mistico Arenal Hanging Bridges Park
Views of Arenal Volcano don't get any better than from these suspended bridges overlooking the forest. Mistico Arenal Hanging Bridges Park is a lush rainforest preserve covering 250 hectares. Three trails take you through the park's lush vegetation, past waterfalls, above the canopy, and over wide expanses. The longest trail is 2 miles long and takes you over 16 bridges. Along the path, you could see all kinds of animals.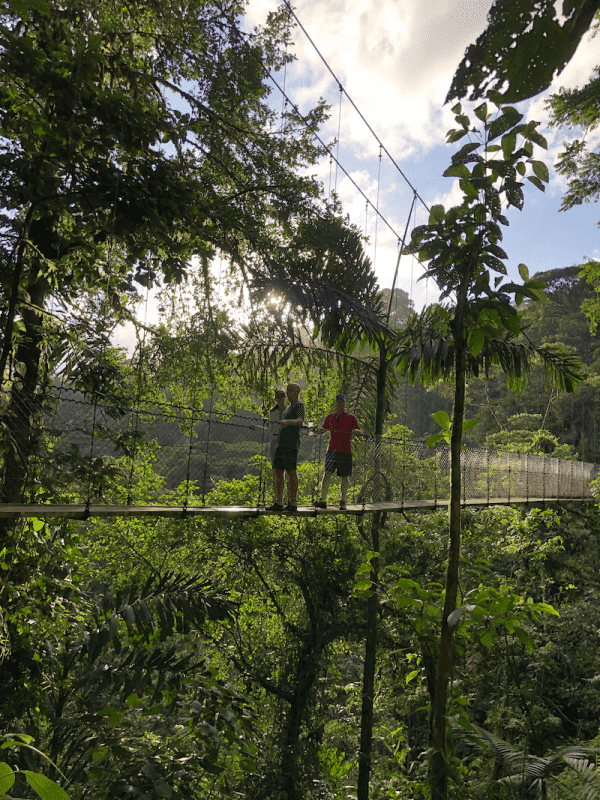 Soak in Thermal Hot Springs
Relax and enjoy a good soak in a mineral hot spring. Thermally heated water runs under the Arenal area and provide mineral hot springs at area resorts and public pools. Baldi Hot Springs is a large public site with a Las Vegas-ish vibe offering 25 thermal pools with water temperatures ranging from 60-100˚F. There are other sites and many resorts offer on site pools too.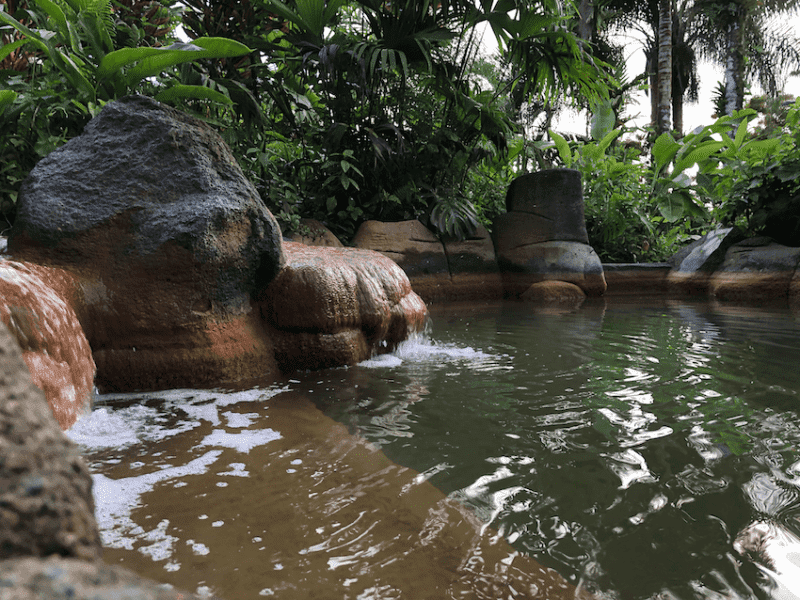 Find the perfect swimsuit at Miraclesuit.com. Use promo code MSAFF15 to save 15% off.
Hike the Arenal Volcano National Park
There are ample opportunities to get out and hike the national park. Some of the more popular hikes are out to see the hardened lava flows, La Fortuna Waterfall, and along the slopes of the volcano. If you have cellular service in the area, you can use the All Trails app to find many of them. If you have the pro version like we do, you can download maps beforehand while you have WiFi signal.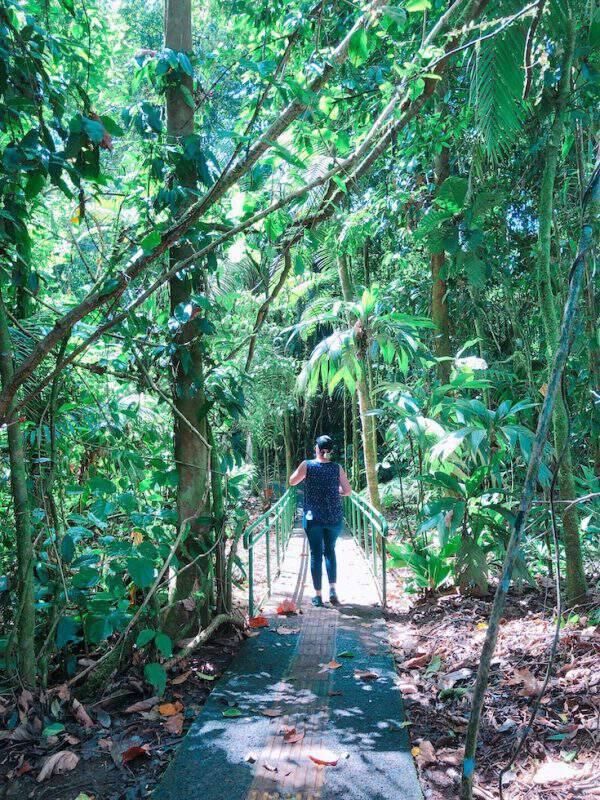 One of the hikes I enjoyed was an out and back paved trail along the Lake Arenal peninsula. It's on the western edge of the national park. The path leads to an observation tower for visitors to look out over the lake and volcano, when you continued on, it ended at the lake. Just look at this view.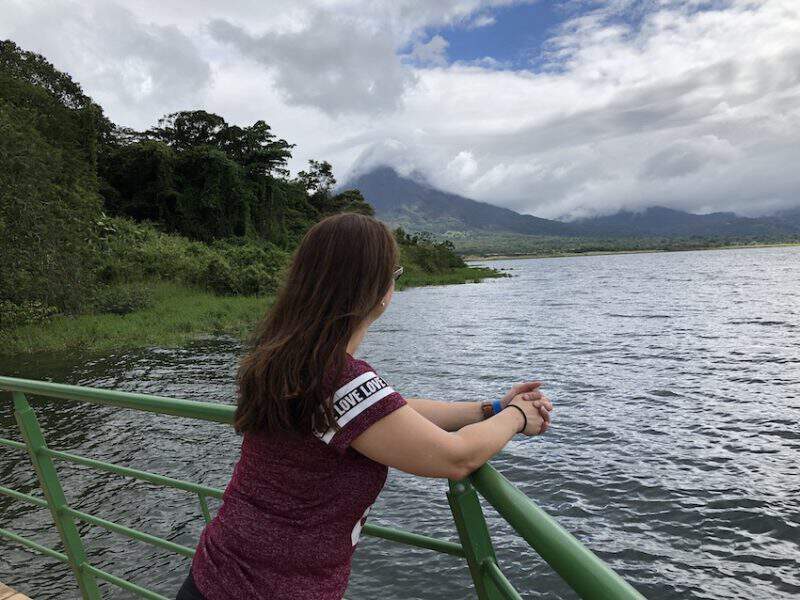 Kayak Lake Arenal
When the weather is good, you can go kayaking and/our stand up paddleboarding on Lake Arenal, Costa Rica's largest lake. If you enjoy kayak fishing, you might get rainbow bass to bite.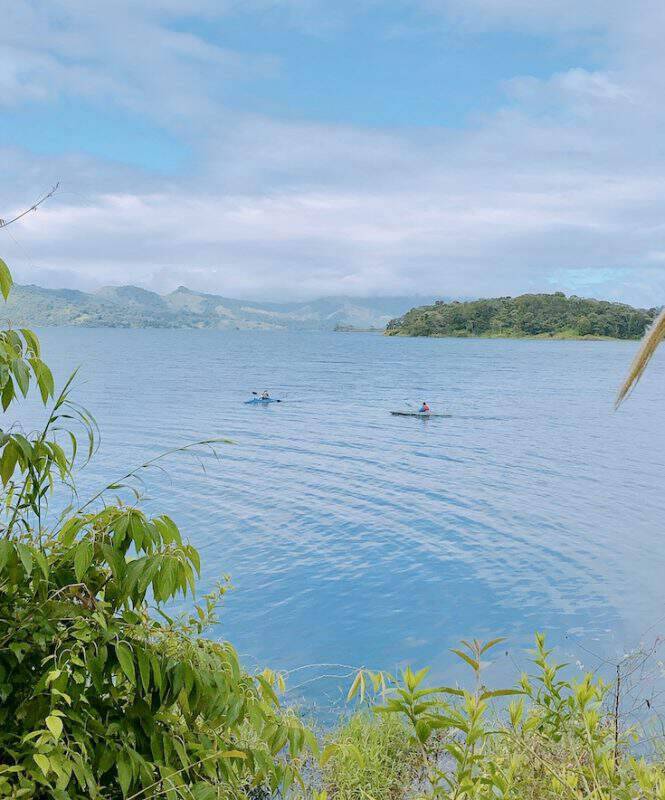 Related: Before you plan your next trip, take a look at these Costa Rica facts. These are all things I didn't know before my recent trip. If I had known, I would have gone A LOT sooner.
Whitewater Rafting Near Arenal
Arenal is perfect for whitewater rafting with the family. Three area rivers provide different types of trips with different class rapids. For novice rafters, you can opt for a mild float. For veteran paddlers, Class III and IV rapids will give you one wild ride.
On my visit to Costa Rica, I didn't get the chance to get on the water. But, friends and fellow family travel writers Astrid and Clint at The Wandering Daughter were recently in Costa Rica with their children and went rafting. They offering some great tips on selecting the right rafting company for your family.
Zipline Through the Forest Canopy
Walking and hiking through the forest is one thing, but ziplining is quite another. I have ziplined in many places, but I really enjoyed the Arenal Ecoglide Canopy Tour in La Fortuna.
With Ecoglide, you glide down 15 cables in sections between 10 and 430 meters before arriving safely back on the ground. The views are incredible. Staff is on hand to take pictures and video during the tour. Definitely opt for them after the tour. They are inexpensive and really well done.
Tarzan Swing
Give your best Tarzan impression as you swing thru the trees. At the Arenal Ecoglide Canopy Tour, you can add the Tarzan Swing as part of your canopy tour. Clipping in and stepping off the swing platform gives you the brief freefall feeling before you begin to swing out and back. It's okay if you let out a little scream. I did!
Try Local Foods in La Fortuna
All this outdoor fun needs adventure fuel, aka food. Nearby, the town of La Fortuna offers many options for local favorites and snacks. Don Rufino Restaurante serves a varied menu of Costa Rican classics and International dishes. Local favorite Restaurante La Parade is an open area restaurant on the town square serving budget friendly homestyle Costa Rican and Italian dishes.
Costa Rican cooking class
It's one thing to eat tortillas, but it's another to actually make them fresh on a wood-burning stove. Arenal Vida Campesina is a family-owned organic farm in the area with several on-site restaurants. Here you can arrange a farm tour to learn about different native crops and take cooking class. The class can teach you how to make certain local dishes so when you come home, you can recreate them for the family.
Where to Stay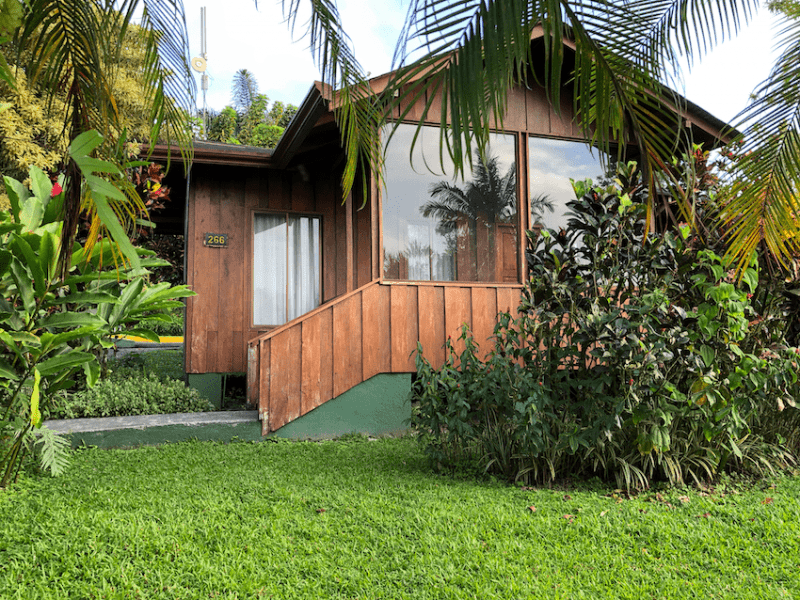 During my recent visit to the area, I stayed at Arenal Paraiso Resort Spa and Thermo Mineral Hot Springs. It truly was a relaxing escape with bungalows/cabins set throughout the property among tropical plants and flowers. Views of Arenal Volcano from my front porch were spectacular! It was so relaxing to sit back in the morning to watch the sun come up and across the volcano. The resort's on-site hot springs were wonderful to dip into to relax even more. If you want a laid back resort to come back to after a full day of adventuring, this is a great spot.
These are just 10 of the many things to do in Arenal, Costa Rica. Costa Rica really is a great destination for families. For those looking for a trip full of adventure, Arenal is the place to be.
Note: A small thank you to Stephanie Sheehy and Emilio Zúñiga, the husband and wife team behind Il Viaggio Travel Costa Rica. They are experts in Costa Rican travel and carefully crafted a amazing itinerary for me and my fellow travel mates. Their expertise can guide you to create the perfect Costa Rican family vacation that everyone will enjoy.