Costa Rica is a family travel destination like no other. This small Central America country offers everything a family could want from pristine beaches and rainforests to city life. Here you are going to find a few Costa Rica facts. It's by no means an exhaustive fact guide. Instead, it hits on MANY of the key things traveling families look for in a vacation; food, local wildlife, weather, getting here, currency, what makes it a great destination, etc.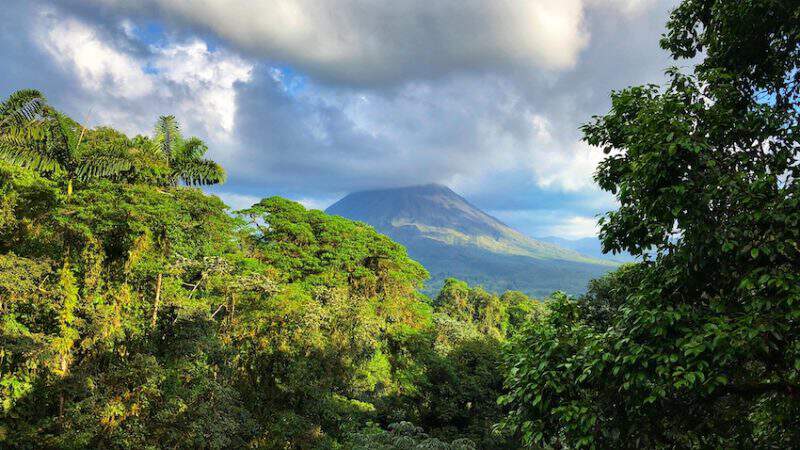 If you are considering visiting Costa Rica, there is no better time than NOW! My first visit was in December 2018 and loved everything about it! I wish I'd known how great of a destination Costa Rican is for families YEARS ago. I'd have started visiting long ago and returned again and AGAIN! Don't make my mistake. Read on and let these Costa Rica facts and planning tips inspire you to make Costa Rica your next family vacation destination.
Little Family Adventure received complimentary, hosted travel related to shared content. This story may contain affiliate links. Purchase through our affiliate links and we receive a small commission without any extra expense to you!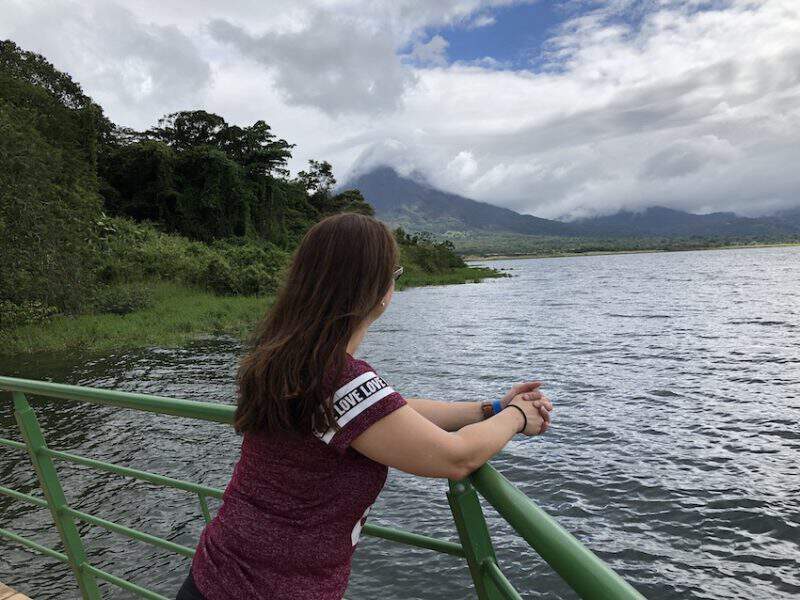 Fact: Costa Rica uses 99.9% renewal energy from 75% coming from hydroelectric and the rest from solar, wind, geothermal and biomass

Costa Rica Animals
Costa Rica is one of the most biodiverse areas on the planet. This country may be small in size being about the size of West Virginia (50,000 square km), yet it is home to a staggering number of plant and animal species. Some estimates say there are over 500,000 species. In the wild it can be hard to spot animals, but on my recent trip I saw quite a few Costa Rica animals. I saw Coati, Howler Monkeys, sloths, Toucans, Blue Jean Legged Tree Frogs, Peccary, iguana, some type of viper/snake, and many insects.
On the ground, I encountered the Coati a few times. It's an animal that resembles a cross between a raccoon and a lemur with a masked face and long curved tail. I found the one shown above just walking a paved path near the Arenal Lagoon and another one (not shown) was digging around in the dirt possibly looking for tasty morsels in the Mistico Hanging Bridges Park.
Visit the rainforest to hear one of the world's loudest animals, Howler Monkeys. You may not always see them, but you can definitely hear them. They actually woke me up one morning near La Fortuna with their calls. They can be heard all day, but many say the best chance to hear Howler Monkeys is just before the sun sets and early in the morning. While at Mistico – Arenal Hanging Bridges Park, I could hear them as our group was finishing up a late afternoon hike. It is almost surreal to hear the sound as it carries over the forest.
It the rainforest you'll also see sloths. These solitary animals are really cute, although every picture I tried to take make them look like a wet mop. Sloths can be spotted high up in the trees where they spend most of their life. A sloth's fur is its own little eco-system. Algae and a particular type of moth (can't remember/find that name) lives on the sloth's fur.
Fun Fact: A sloth will climb down from its tree once a week to go to the bathroom.
Then there are the multi-hued flowers and plants that you won't see anywhere else. Chances are you'll never see a plant as unique as this one… These are the roots of the Stilt-rooted Palm trees, also called the Penis Root Tree. These trees grow up to 25 to 30 meters to create the forest canopy.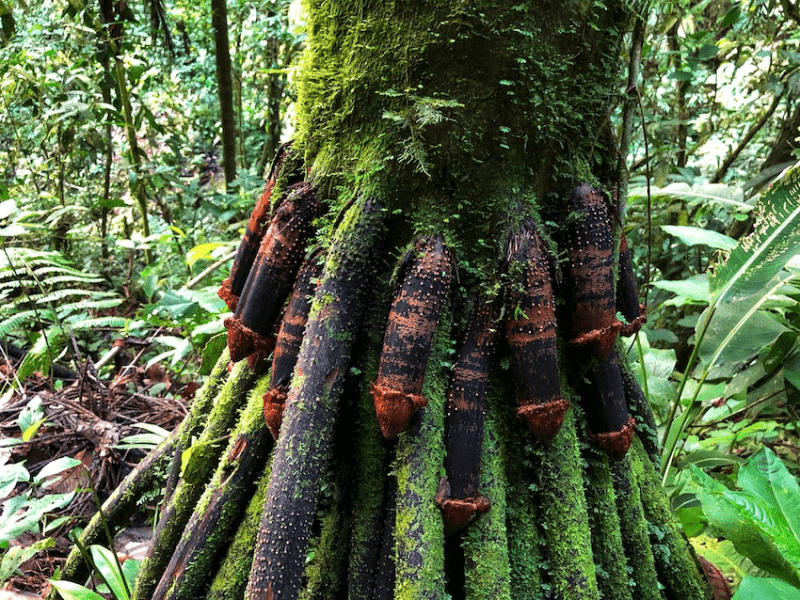 The reason for all the biodiversity is 25% of the land here in Costa Rica is preserved as public land and an additional 17% is protected as private preserves. Setting all this land aside ensures that animals have room to thrive.
Travel Planning Tip: If flying into San José, plan to spend at least one night there. If you want to spend longer, here are a few day trips ideas from the city and things to do in Costa Rica.
Chances are high you'll see native Costa Rica animals out in the wild. But if you find yourself in San Jose, Costa Rica's capital city, pay a visit to Rescate Animal Zooave, a local animal sanctuary that rehabilitates 2000 native animals a year. For those animals not able to be released back into the wild or non-native species, they find a permanent home on site.
Costa Rica Food
Costa Rica is not what most people would consider a culinary destination. But this is not necessarily a bad thing. Food here is cooked simply with whole ingredients to allow the natural flavors to shine through. Plus there is a vast array of tropical fruit from bananas and guavas to guanábana and pejibaye. For families with picky eaters, the Costa Rican staple of Gallo Pinto or rice and beans may be a welcome meal. It is served at breakfast, lunch, and dinner. Food here is not spicy like one would expect from a Latin American country.
Try a steaming bowl of Arroz con Pollo (Chicken and Rice), Olla de Carne (Beef Soup with potato, yucca, corn, and bone broth), Chilaquiles (loaded nachos with beef, beans, cheese, and pico de gallo), and Casado (roughly translated "marriage" when is typically a plate lunch with meat, rice, beans, salad, plantain, and potato).
Tropical fruits are abundant in Costa Rica and you will get your fill of fruits like papaya, melon, strawberries, starfruit, guanábana (sour sap), and tamarind. At local hotels, fresh fruit and fresh juices are often served. When traveling, stop at any one of the road side fruit stands that offer everything from a single type of fruit like watermelon to a wider assortment wide fresh fruits and other snack options. If you are curious about what something tests like, ask for a sample. The worst that can happen is they say no.
Fruit Drinks and Costa Rican Coffee
Costa Rican coffee – need I saw more? There are over 42,000 coffee plantations here all growing Arabica beans. You'll never get a better cup of coffee than you will here. Enjoy a cup of coffee during breakfast, with dessert, or during the afternoon break. For an education on how coffee is grown and roasted, take a trip to one of the coffee plantations in the Central Valley.
Fact: Coffee plants grow at elevations between 1800 to 5000 ft

When you eat out, you'll find fresh fruit drinks more often than you will sodas. With the abundance of tropical fruit, restaurants will serve fruit juice with water/ice or with milk to be more of a milkshake.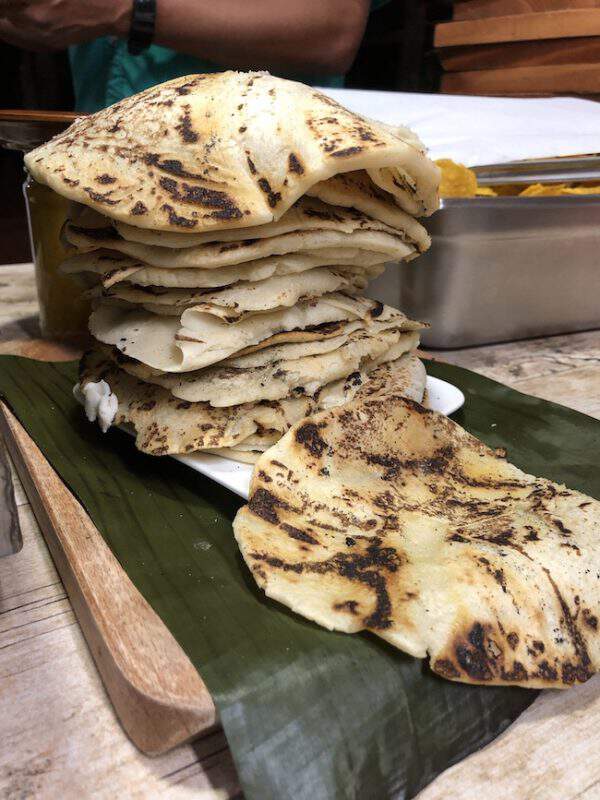 Costa Rica Fact: Tap water is generally safe to drink here.
If you are visiting La Fortuna :
I highly recommend the nuevo cuisine at Don Rufino Restaurante. The plates here are like little works of art – almost too pretty to eat. But do eat! When I visited with Costa Rica Family Holidays, this was hands down the best meal that I had in Costa Rica. To get the kids engaged, I'd also suggest taking a Costa Rican cooking class. Our group took one at Arenal Vida Campesina, a family-owned organic farm with on-site restaurants. It's one thing to eat tortillas, but it's another to actually make them fresh on a wood-burning stove.
Fun Fact: Arenal Volcano is one the most active volcanoes in the world. It's peak is more than 5,000 feet high
What is the Official Costa Rica Language?
Spanish is the official language in Costa Rica. Yet, you'll find more English spoken in most tourist areas. There is a large expat community in Costa Rica, especially around San José, where you'll find English to be the norm rather than the exception. Plus many younger people are taught English in school. Yet it's best to never assume and simple ask, " Hola! Hablas ingles?" ("Hello, do you speak English?)
If you want to brush up on your Spanish, get started as soon as possible. There are online courses like Rosetta Stone (Special Offer)
and Babble, an easy, effective and fun language learning program.
There are also free smartphone apps you can use. Before you leave, download Google Translator. I never leave home without it because it still works regardless of whether you have data signal.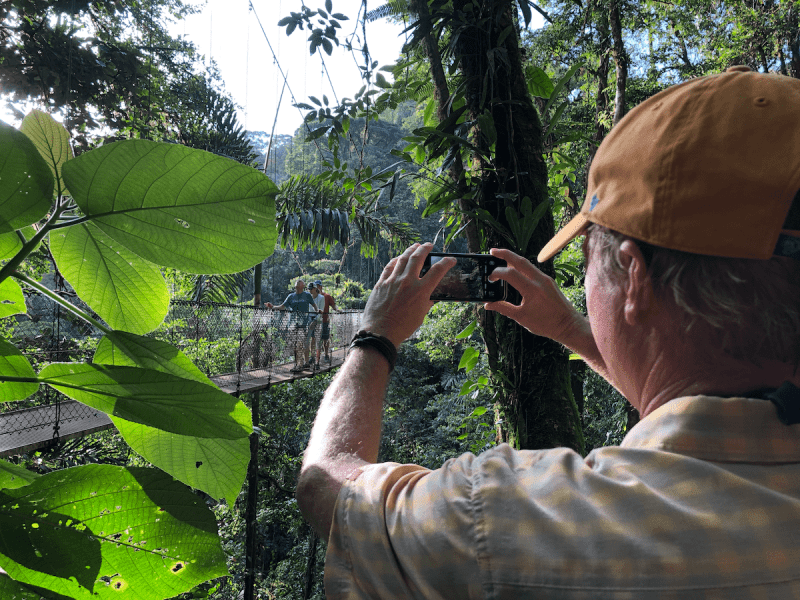 Pay with Costa Rica Money or US Dollars
The Costa Rican national currency is the colones (crc). On average the conversion rate to US dollars is 500-600 colones to $1 (usd). During my December 2018 trip the conversion was 500 colones (crc) to $1 (usd).
When making a purchase in Costa Rica, many restaurants and shops will accept US dollars. In tourist areas, you will often find prices listed with both colones and dollars. When paying in dollars, you will often get change back in colones. If you want to exchange US currency for Costa Rica money, there are ATMs and exchange houses to do that.
Note on Tipping: Tipping is about the same as in the states.
Ideal for First Time International Travelers
Costa Rica is a great destination for families looking to make their first international trip. Rainer Jenss with Family Travel Association recommended Costa Rica as the place to take the training wheels off when it comes to international family travel. Part of that is the ease of getting here, variety of destination types, safety, and affordability.
How To Get to Costa Rica?
There are two Costa Rica International airports; San Jose (SJO) and Liberia (LIO). Landing in San José puts you in the Central Valley region with easier access to the rest of the country. Liberia is in the Northwest of the country and provides faster access to the Pacific Ocean and areas along the west coast. There are direct flights from the United States on Delta, United, American, Southwest, Spirit, Alaska, and jetBlue as well as international carriers. The cost for round trip tickets is very reasonable when you book in advance. I have found round ticket tickets from Dallas to San José for $297.
Budget Tip: For the best rates on hotels, plan at least 6 months out

Compare airlines, dates and prices all in one place with Skyscanner
or with Airfarewatchdog – Homepage
.Plus protect against emergency medical expenses, trip delays and lost luggage! The perfect choice for flexible travelers with little or no pre-paid trip expenses!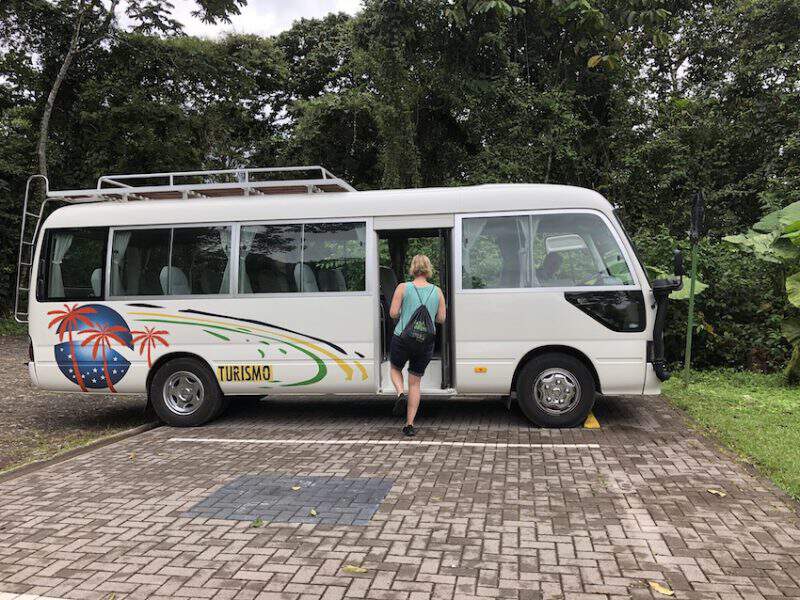 Getting Around Costa Rica
You can drive almost anywhere in Costa Rica. The only exception is Tortuguero, also known as Costa Rica's "Amazon". Tortuguero is only accessible by boat. You'll find roads here vary between well-paved to bumpy dirt roads, but there are few street signs. It's easy to navigate on the highways, which are marked, but otherwise it can be hard. Also,​ there are no street addresses in some areas.
Around San José, like other large cities, road conditions are good, but you can expect heavy traffic. As you get further from the capital, roads seem to vary more. If you don't want to rent a car, you can take public transportation or hire a car service. Last trip, our group used a car service and left the driving to someone else.
Tip: Driving on mountain roads can cause motion sickness. Pack the nausea medication, motion sickness patches, and Psi Bands.
Best Time to Visit Costa Rica
Weather-wise, the best time to visit Costa Rica is during the dry season. That is from mid-December through April. Warm temperatures and sunshine make it a great time, but this is also the high/peak tourist season. So you'll also find prices are higher. If you are looking to save money, May and November are the best months.
Planning Tip: November is a great month to visit. It's a transitional time with weather, low/off-peak rates, sea turtle nesting season in Tortuguero, and whale watching on the Pacific Ocean side. Best time is after Thanksgiving.
For a family vacation to Costa Rica, I recommend hired a local tour operator. Costa Rica Family Holidays by Il Viaggio Travel Costa Rica is run by Stephanie Sheehy and Emilio Zúñiga. This husband and wife team are experts in Costa Rican travel and they are also parents. They can guide you to create the perfect Costa Rican family vacation that everyone will enjoy. They arranged by last trip and I was impressed with the level of attentiveness. Their tour/itinerary provides for exactly what I wanted in my Costa Rican vacation.
What's the Weather in Costa Rica like?
That's a tricky question because the weather in Costa Rica varies by region. When I asked a girlfriend who had been here before, she said, "your best rain gear plus any other rain gear you have." If you travel here in the rainy season, that it great advice. But even in the dry season, that is still good advice.
Weather Fact: There are 22 microclimates in Costa Rica. Temperatures can range as much as 50˚F.
In San José, Costa Rica's capital city, the weather is in the 70F's year around. Head to the beach and forests on the Caribbean side and temperatures can range in the 70's & 80s. Head areas along the Pacific Ocean and temps can soar into the 90's. So it's a little like going to San Diego or even Colorado in the states. Bring layers and be prepared for a range of temperatures.
Costa Rica Facts
Costa Rica is a beautiful country and perfect for a family adventure. It took me years to make my first visit here. Now I'm kicking myself as I wish I had started coming a lot sooner. Don't make the same mistake I did. Start planning your next trip now!