You love seeing the world, but your spouse is content to stay home and man the home front. Does this sound like you? International travel with children does not have to be daunting as a single parent. You can leave your partner at home and see the world with your children.
International Travel with Children
I've traveled with the boys internationally when they were younger. Then two years ago the we set out on a cross-country camping trip that started in Colorado and ended in Atlanta Georgia. It was six awesome weeks on the road with some extended family time in Dauphin Island, Alabama.
It wasn't international travel with kids this time, but those six weeks on the road got be itching to get back out. Later this fall, sandwiched between the end of football season and Halloween, the boys and I are off to explore Europe. We are planning a 3-week hop across the pond to visit a few major cities and a beach or two.
Are you looking to plan international travel with kids as a single parent too? I have 6 tips that will help you plan your next overseas trip and still include your partner who's staying home. (International travel NOT your thing? Try these awesome family adventures right here in the USA.)
This article contains affiliate links. When you purchase through one, we receive a small commission without any extra expense to you!
Travel with Kids – Plan Together
While one spouse may not be able to get time off work or gets hives at the thought of leaving the country, encourage family unity by planning the trip as a whole family. Get out a map and a calendar. For me, planning is half the fun of traveling.

Brainstorm ideas, think of all the crazy places you could go and just dream for a while.
Put as many ideas on paper as you can think of, then just muse about them for a while. Maybe watch a few Youtube videos of families who have traveled there already.
Ask the non-traveling parent to play too. The actual travel part may not be their gig, but planning it together as a family will keep them in the loop.

Safety First! Be sure to check with the USA Travel advisory. We started this trip by dreaming about Egypt. Due to my husband's objections, my sons' ages, and a travel advisory for Egypt, we changed directions to safer locations.
Leave a map and an itinerary at home. This is both a safety precaution and a way to connect with the non-traveling parent. How cool will it be for the non-traveling parent to ask "How was Dublin today before the kids even utter a word?" Building unity happens even at a distance!
If you are traveling to a region with a different language, consider signing up for an online course and learn together. In the past Nicky has used Rosetta Stone. Save on Rosetta Stone 12-Month Subscription (* purchase through our affiliate link and we receive a small commission without any extra expense to you!)

Single Parent International Travel Documents
I will never forget the horror I felt when the airline agent said my boys needed more than passports to leave the country. They needed a signed document from my non-traveling spouse. No, wait not just a signed document, but a notarized signed document before they could board the plane for an extended family vacation.
Huh? Within the two hour countdown to take off how was I going to make that happen? Get the whole story here.
As a single parent, you need the following documents for international travel with children:
Child's Passport (See how easy it is to get your child's passport)
Child's official birth certificate
Visa if required by the country you are visiting
Marriage Licence (Especially, if your child's name and yours are not the same or a stepchild or adopted child is traveling.)
Notarized Letter of Consent from the non-traveling parent for the trip and health care provisions.
Make sure to research the requirements of the country you are entering. Detailed instructions on all the forms listed above and foreign country access by United States Citizens can be found on the US State Department International Travel website.

Create a Travel Budget
Start with an overall idea of the cost of the trip. Create a travel budget for the following general categories:
Think of a budget as a way to teach math and narrow the choices. Large cities like Paris and London offer thousands of choices. Check out the prices of each attraction, museum, or monument. Viator has great discounts on shows, tours, and individual attractions. They offer everything from Harry Potter tours in London to Cooking Classes in Florence. If you'd rather get a package deal, save up to 50% off combined prices for admission to must-see attractions with
CityPASS.
Generate An Emergency Plan Together
Months before you leave the house, generate a plan for emergencies. Think through problems such as:
Getting Lost
Parent getting injured
Child getting injured
Contacting the Police
Stolen passports, luggage, money
A child getting separated from the parent
Missing planes or transportation
Not speaking the language
Just talking through situations that may arise as a family will give you and your children a context for how to handle an unforeseen situation. This is where the non-traveling spouse can serve as "home-base". The at-home spouse can maintain copies of records, field phone calls and coordinate help during an emergency. Here again, a map of your location and itinerary comes in handy for the non-traveling spouse.
Pin this for later…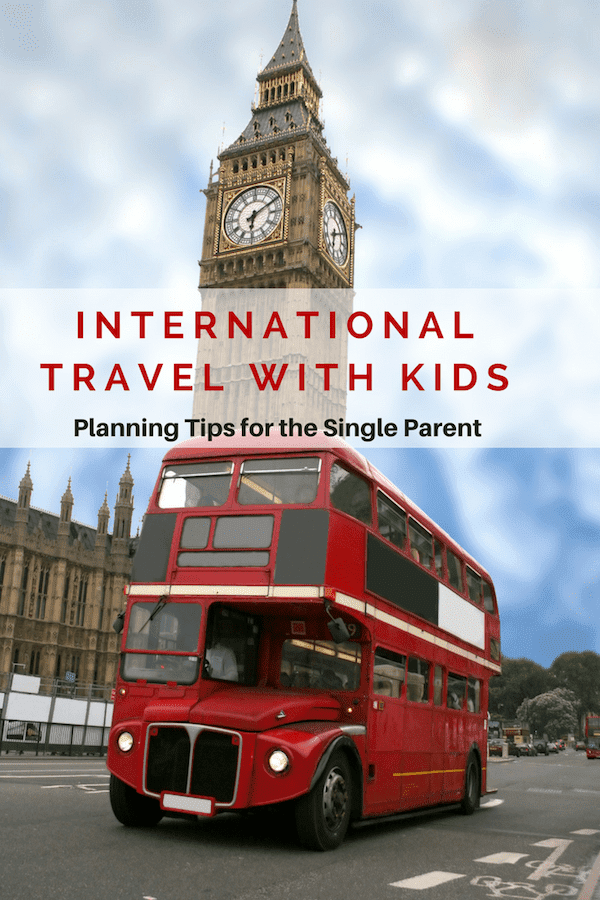 Incorporate Downtime
International travel with children as a solo parent can be exhausting. Totally worth it because it's exciting, fun and the best bonding experience ever! But still exhausting. Just working in another language in a foreign city requires a lot of brain cells. Now add arranging food, lodging, and side trips.
If you traveled alone or with friends during college days, just multiply that experience by 10 times. My boys travel exceptionally well and we love all our time together; but unlike traveling with other adults I am responsible for everyone.
Taking a morning off from site seeing or eating in a few nights offers a respite. No one can cover everything in a major city. Plus leaving a little left for the next time, creates a desire to return. Who knows, maybe the next time you tour the Greek Isles, your then adult children will do all the planning and you sit back and relax.
This is also not a good time to give up whatever mediation, centering prayer, calming practices you may have incorporated into your routine at home. Just like the proverbial oxygen mask on the airplane, make sure you get a little breathing time at some point in the day.
Let it Happen
Travel intrigues us for the novelty of it. Many things will not go according to plan. Planes may arrive late, hotel reservations may be lost, rainy days, crowded restaurants and confusing customs offer you, as the parent, opportunities to model good behavior in less than ideal circumstances.
Travel for me involves loving the differences and exploring new ways of being. Often when the plan fails the fun really begins. Just roll with it and your kids will too.
If you are traveling with young children, check out these tips.