Costa Rica is a bucket list destination for families seeking an adventure filled vacation. When looking for things to do in Costa Rica, you'll discover hiking in Monteverde Cloud Forest, exploring Tortuguero's waterways, whale watching in the Pacific Ocean, soaking in a mineral hot springs near Arenal Volcano, and exploring the slopes of Arenal volcano to name a few. This is a tropical paradise with a wide array of family-friendly destinations and activities. There is much to see throughout the country. If you want to stay close to San José, here are a few day trip ideas with you and your family.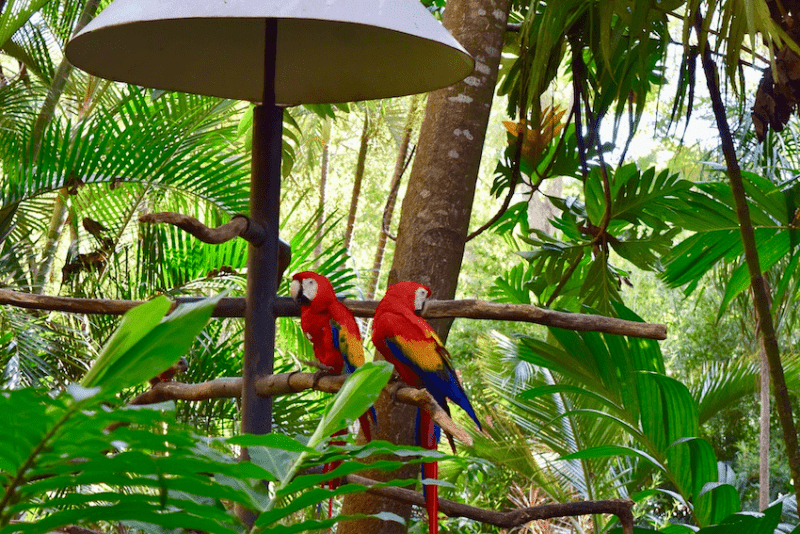 Many visitors start their Costa Rican vacation by flying into the San José International Airport and spending at least one to two days here. San José is the Costa Rican capital and is filled with museums, art, and culture. It's a great city for families to visit and makes for a central spot to branch out from. Recently, I had the chance to visit Costa Rica with the Family Travel Association and Costa Rica Family Holidays by Il Viaggio Travel Costa Rica. We stayed in San José for three days and these are the day trips we took within the Central Valley. Each of these day trips provide a great introduction to the region, history, native animals, local food, and more.
Related: Find out Interested Costa Rica Facts here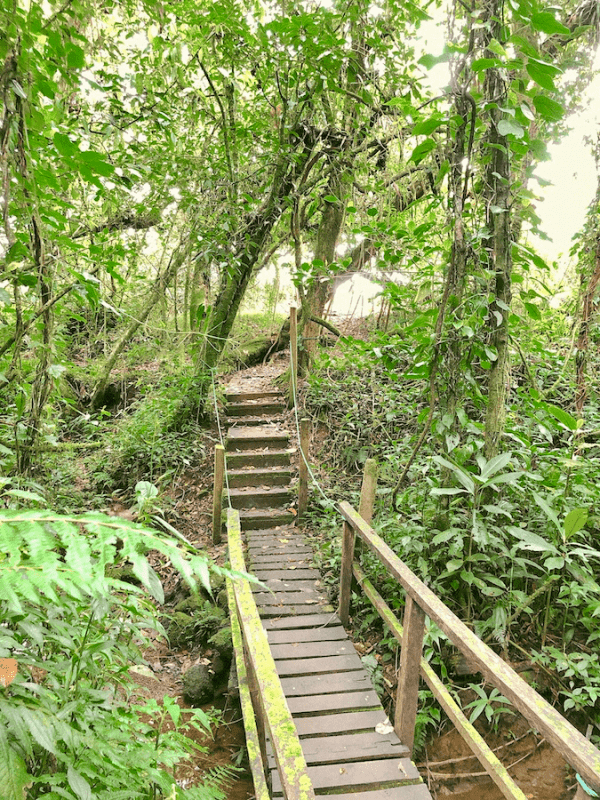 Costa Rica Animals and Working Farm Day Trip
If wildlife viewing is high on your bucket list, this day trip is for you. This day trip includes:
Visit to a local animal rescue and rehabilitation center to learn about and view native Costa Rica animals
Lunch at a popular local restaurant
Short nature walk
Visit to a local farm to see domestic animals, greenhouses, cheese & ice cream tasting
Rescate Wildlife Rescue Center
Costa Rica is one of the most biodiverse countries in the world. It is home to more than 500,000 species of plants and animals. Rescate Wildlife Rescue Center is Central America's largest animal rescue and rehabilitation center and is located less than an hour northwest of San José. Here families have the bet opportunity to see native Costa Rican animals like the Two Toed Sloth, Red Macaw, Iguana, and Toucan.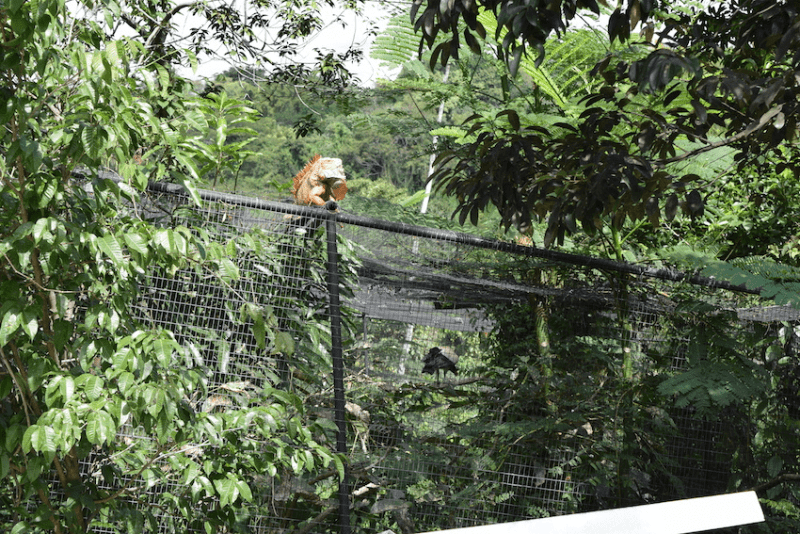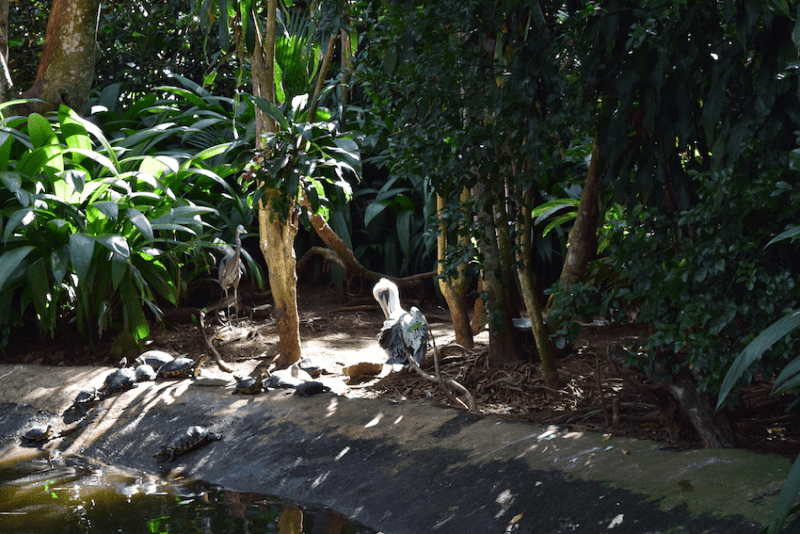 Accredited by the Global Federation of Animal Sanctuaries (GFAS), Rescate Wildlife is only one of two centers government authorized centers to care for confiscated animals. They also receive injured and orphaned animals from the wild. Each year, they take in over 2,000 animals that are later released back into the wild. For those animals that cannot be rehabilitated, they find a forever home here at Rescate Wildlife and become animal ambassadors. Currently, the center houses over 800 animals from 125 species including Macaws, Squirrel Monkeys, Toucans, Emus, and Two Toed Sloths.
Visitors can easily spend the entire day here. You can stroll along paved pathways past natural habitat animal enclosures, view the rescue center from a raised platform, take part in activities, take a canopy zipline tour (extra fee), and more. New in 2019 is a kid focused area with a domestic animal petting area and exhibits.
Tip: Be on the look out for iguanas that freely roam the grounds. It's fun to turn the corner and see a 4' iguana sunning itself on the walkway or in a tree.
There is an onsite restaurant here at Rescate Wildlife if you want to stay all day. Otherwise, continue onto the next stop. You'll make our way up Poas Volcano into the cloud forest for a traditional lunch and then tour a working dairy farm.
Freddo Fresas Restaurant
Enjoy lunch at a local favorite about 40 minutes north of the Rescate Wildlife. Along the drive, you drive up the mountains of Poas Volcano and get sweeping views of the valley before you enter the cloud forest.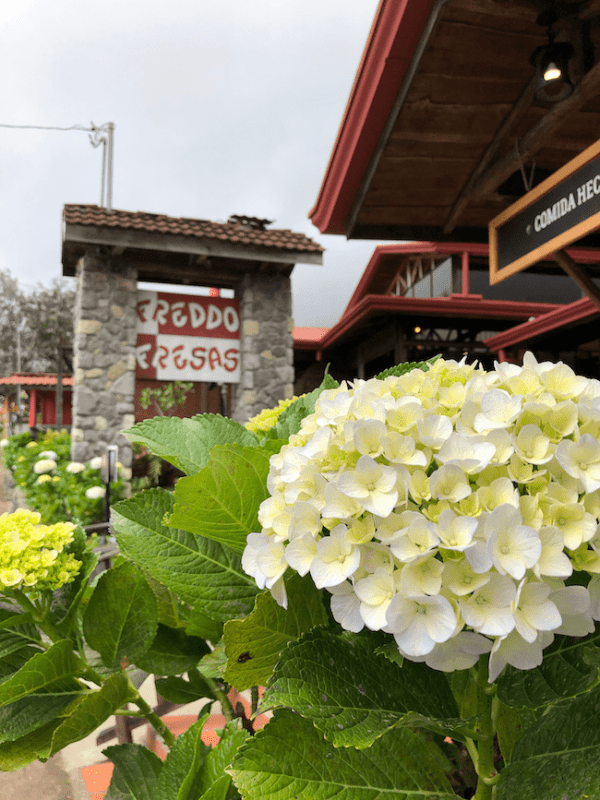 Freddo Fresas is a casual restaurant popular with both locals and visitors. Freddo Fresas translates to Freddo Strawberries. They serve simple traditional dishes and the best strawberry drinks around. Casados is one of them and one you should try. It is a traditional Costa Rican lunch dish that translates in English as "married". The meal is a marriage of different foods including rice, beans, meat protein (beef, pork, chicken, fish, etc), salad, plantains, bread and vegetables.

The specialty of the house is Strawberries. From their strawberry shakes and drinks to their desserts, they are all worth the trip along. Instead of a soda, start with a fresas aqua (strawberry water) or fresas con leche (strawberries with milk) and end with a cup of Costa Rican coffee. Portions are really good, service is quick, and prices are very reasonable.

Nature Walk
After lunch, walk across the street to this small garden area. There are native plants, a small brook, and hydrangeas that would make any gardener envious. It's a nice little walk and a great place for photos.
Planning Tip: Temperatures tend to be a lower in the cloud forest. Bring a light jacket or sweater.
Corso Lecheria (Dairy) Farm Tour
A short ten minute drive from Fredo Fresas brings you to the Corso Dairy Farm. There are 22 micro climates within Costa Rica and in this area, farming is ideal. Corso is not only a dairy, but a strawberry farm where the berries grow year around.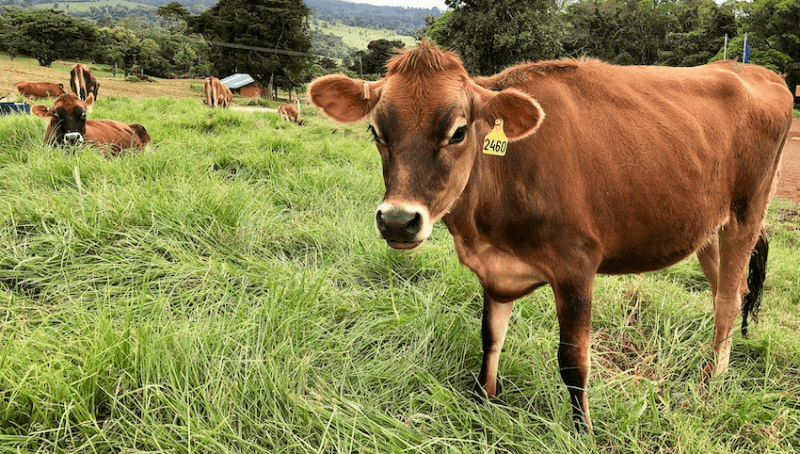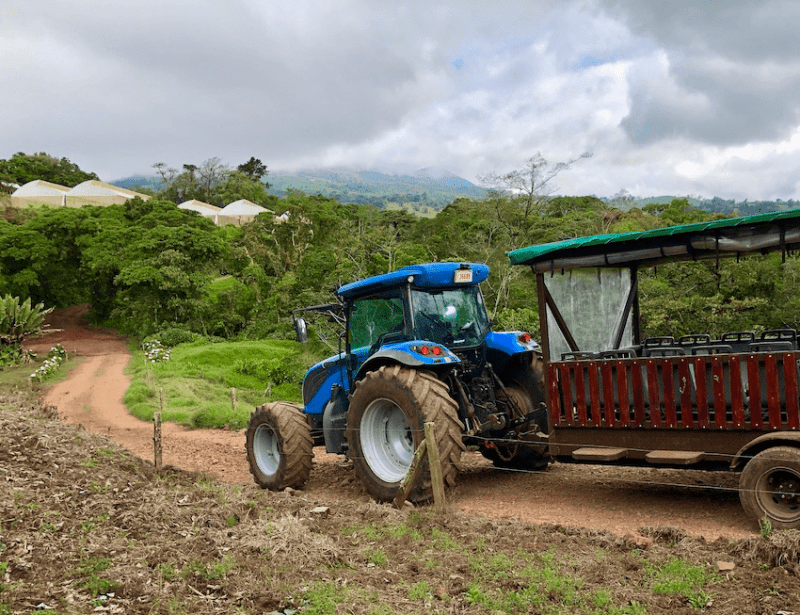 Climb aboard a tractor pulled cart for a guided tour of the farm, it's dairy herd, barns, strawberry greenhouses, and rainforest trail. There are various stops along the tour where visitors can stop in the barns to milk a cow, walk the cloud forest trial, and visit the greenhouses to learn how strawberries are grown.
After the tour, visitors finish at the on site store where they'll sample different cheeses produced with milk produced on the farm. If you like you can also get double scoop of ice cream, let the younger kids play on the playground, or just relax and enjoy the scenery.
Fun Fact: There's a right way to eat a strawberry. Eat it stem side first so that your last bite ends with the sweetest part.
History, Oxcarts, and Coffee Day Trip
This day trip is filled with history, art, and a trip to a local coffee plantation. It includes:
A visit to Grecia's Cathedral de la Mercedes (Church of the Virgin of Mercy)
Tour of an oxcart factory
Painting workshop
Bakery stop
View a larger than life oxcart
Coffee plantation tour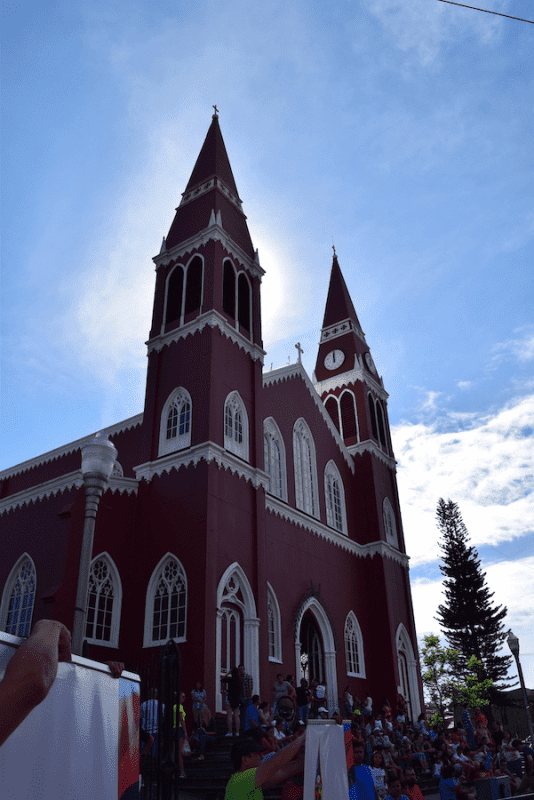 The Catedral de la Mercedes in Grecia
Church of the Virgin of Mercy is one of the most beautiful churches in the country and is a fun stop on the way to Sarchi. This church in Grecia, about an hour from San José, may look like a red brick building, but it's actually metal. In 1897, Grecia families bought this Gothic style metal church in Belgium, had it shipped over, and reconstructed here. The interior of the church is beautiful with stainless windows, ornate ceilings, religious relics, and more. Visitors are welcome to tour the church when mass isn't being held.
Walk across the street and visit the small park. There always seems to be something happening in the square. There's a great photo spot in front of the fountain with the church and the Grecia sign behind you.
Guided Tour of Sarchi Artisan Village
Next stop, 30 minutes northwest of Grecia is to learn how the national symbol of Costa Rica, the oxcart, is created and painted. Oxcarts were once used by farmers and tradesman to transport products like coffee and sugar cane. Sarchi is home to the oldest oxcart factory in the country, Joaquin Chaverri Oxcart Factory. In 1903, the factory started using an ornate, freehand painting technique to decorate their carts. Since then, that tradition has been passed down from generation to generation. Today the carts are decorative rather than utilitarian, but just as beautiful.
The guided tour here walks you through the process of making an oxcart, the antique machinery that was used, talks about the history and past use, and shows artisans painting miniature replicas and/or items for the gift shop. After the 30 minute tour, guests may explore the factory, walk upstairs to view the wood shop, and do some shopping in the gift shop. The tour here is very informative, but it can be crowded with tourists.
Fabrica de Carretas Chaverri is a second smaller location owned by the same people as the tour site above. This location isn't as crowded as the main location and has all the same inventory. Here you can see additional local artisans hard at work, take a painting class, shop, and take your picture in front of the Sarchi sign. Be sure to take pictures next to the 3D painted murals too. The animals appear to pop out of the paintings.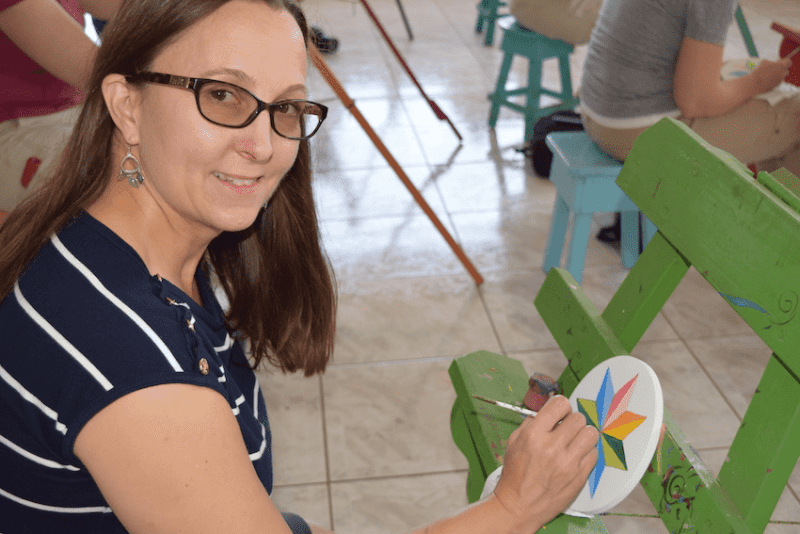 Note: Earlier I mentioned my trip was with Costa Rica Family Holidays by Il Viaggio Travel Costa Rica run by Stephanie Sheehy and Emilio Zúñiga. This husband and wife team are not only experts in accessible Costa Rican travel, but they are also parents themselves. Their expertise can guide you to create the perfect Costa Rican family vacation that everyone will enjoy. They arranged my recent trip and I was impressed with the level of attentiveness.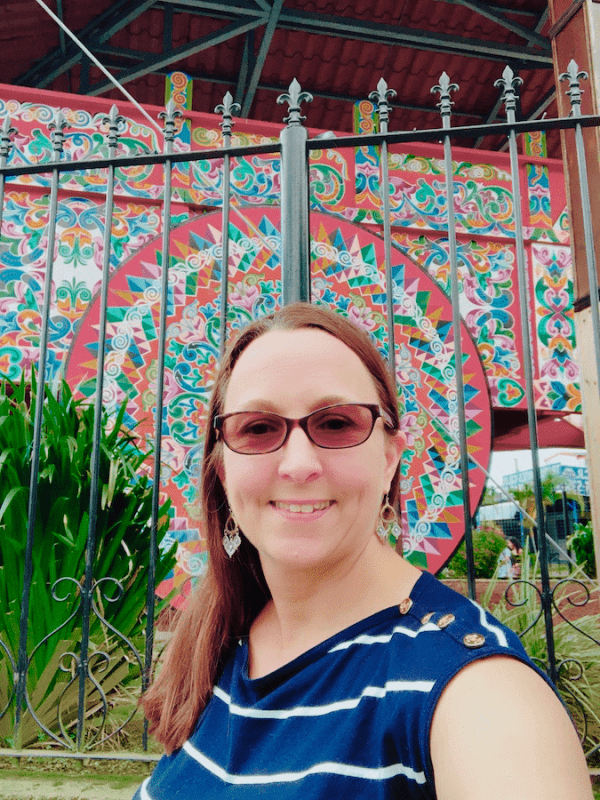 After all the shopping and painting is done, head the town square in Sarchi to visit the Paul Bunyan sized oxcart. It's no relation to the tall tale man with a blue ox. But I don't know how else to describe it. This oxcart is massive! Take a few pictures and then visit the local bakery on the square. Grab a treat before lunch. They have a pastry with guava jelly that is ooooh so good and it was 550 colones or about $1. This area has great options for lunch tooif you are hungry.
Espiritu Santo Coffee Tour in Naranjo
There are over 42000 coffee plantations in the country with the Naranjo region produces some of the best coffee in the country. So it's the perfect place to come and learn how coffee is grown and see what it takes to make a great cup of java.
Even if you don't drink coffee, this is a fun hands-on tour for the whole family. The tour starts out showing how coffee beans grow inside the "cherry", what the different varieties are, and how they are picked. Visitors get a hands on demonstration on the traditional way to brew coffee and taste a cup. If you are interested, you can even try coffee picking for yourself. You will put a traditional wicker basket around your waist and start picking. You can make it a competition if you want to and see who can pick the best coffee cherries in 10 minutes. Afterwards, continue on the tour to see how the beans are harvesting, dried, and roasted. It's an informative tour and a lot of fun.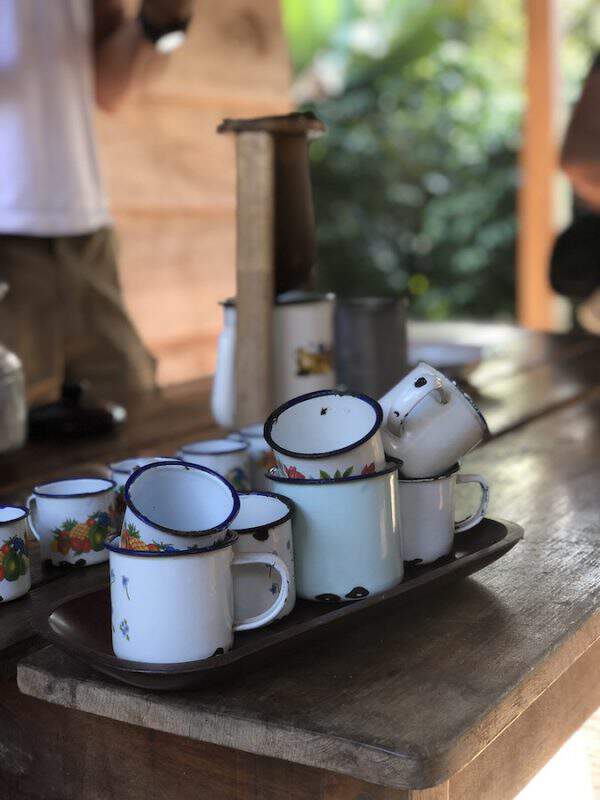 Tip: If you want to buy local coffee to bring home, visit a local market where prices are much cheaper. After you get home, you can also reorder on Amazon.
Protected Wildlife in The Wild Day Trip
In a land mass the size of West Virginia, Costa Rica has more than 60 national parks, wildlife refuges, and biological zones. This day trip is a guided hike through one of those areas.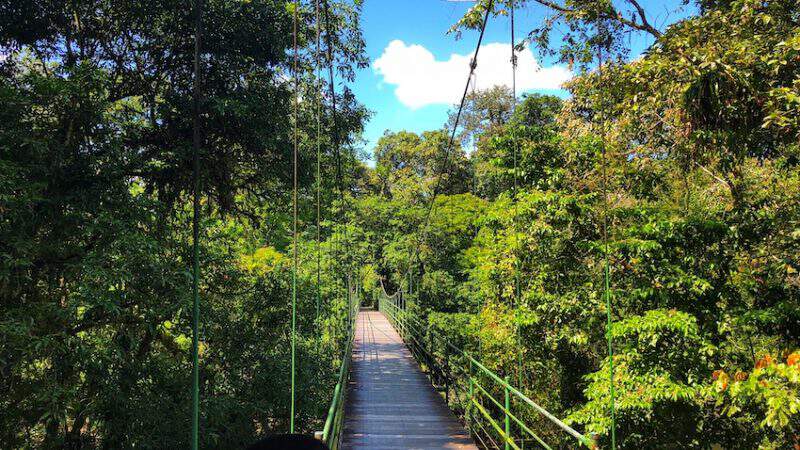 La Selva Protected Zone & Biological Station
2 hours north of San José, you'll find La Selva Protected Zone. This 3700+ acre protected area is home to over 1000 species of animals and is the best opportunity you may have in the Central Valley to see animals in their native habitat. On my recent trip, I saw tapirs, peccaries, Howler moneys, Blue Jeans Tree Frogs, butterflies, and countless birds.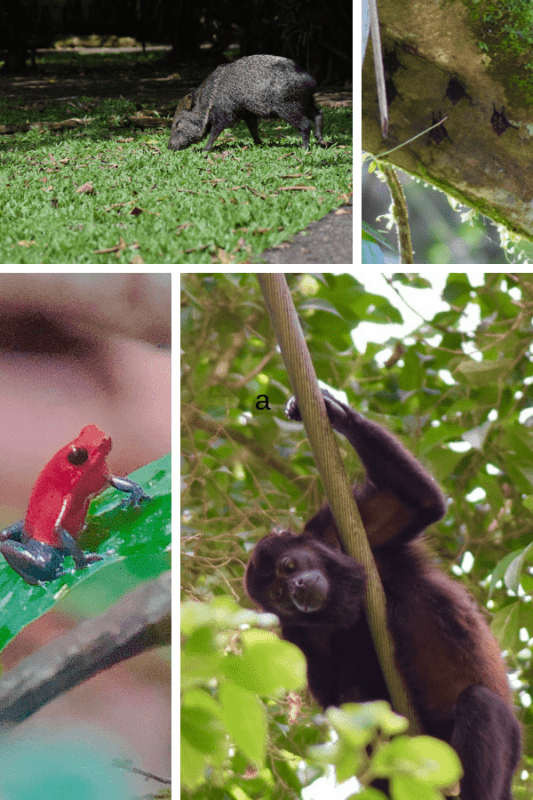 La Selva is an active biological research station in one of the wettest protected zones in Costa Rica. During your visit you may meet a scientist from anywhere in the world working on a project. There are 57 km of trails here including the Sendero Tres Ríos trail, a wheelchair accessible paved walking track. Visitors are not allowed to roam the grounds. Instead, they are invited to participate in guided half-day tours offered daily on a variety of topics.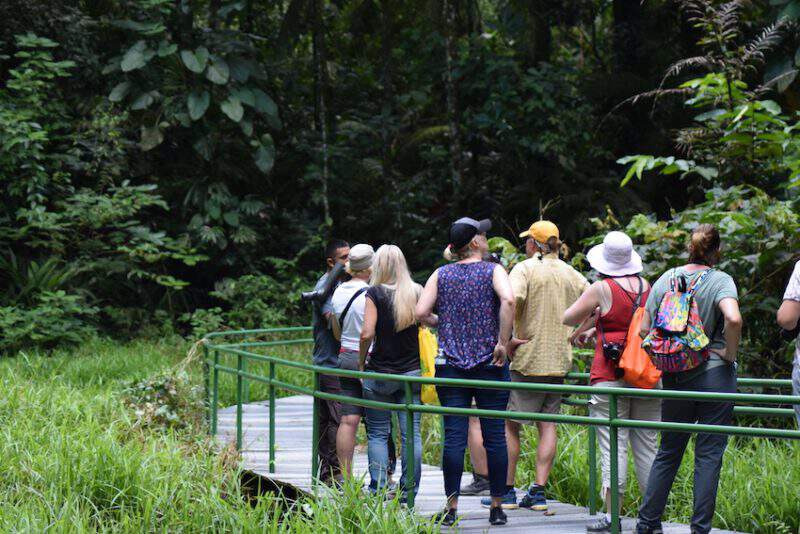 These are three day trips you can take with your kids from San José, Costa Rica. Whether you are staying in San José or passing through on your way to somewhere else, these activities are fun for all ages and provide a unique look at the Costa Rica's Central Valley.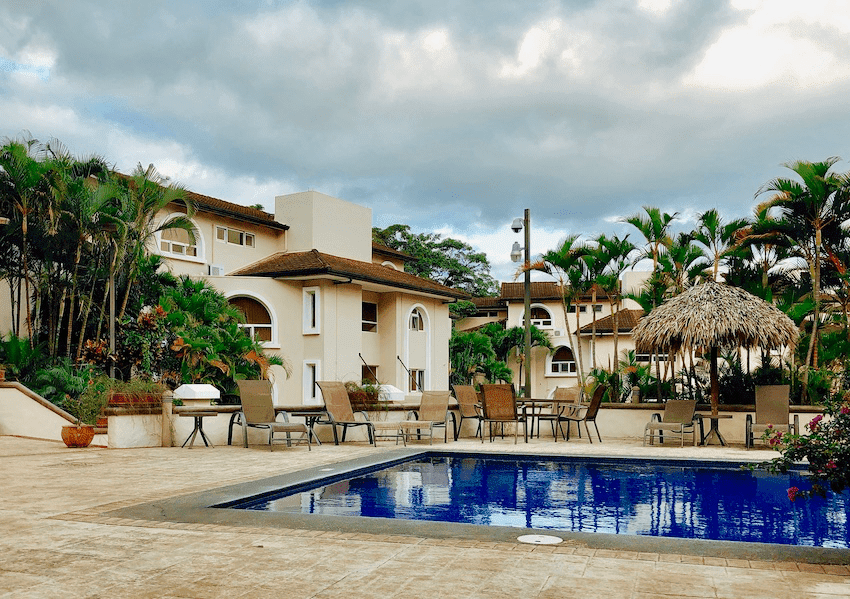 If you are planning a trip and looking for lodging in San José, I recently stayed at the Villas del Rio, on the western side of San José. The apartment style rooms included multiple bedrooms, open living area, and a full kitchen. The pool, complimentary breakfast, and close proximately to the city make it ideal for traveling families.
Thank you again to Stephanie, Emilio, and Diego with Costa Rica Family Holidays by Il Viaggio Travel Costa Rica. Their expertise in family travel created a fantastic itinerary during my recent visit. highlighting great family friends things to do in Costa Rica's Central Valley and Arenal regions. Travel, accommodations, dining, and activities were provided for this article. All opinions are my own. If you looking for a local tour operator for your next visit, I highly recommend them.