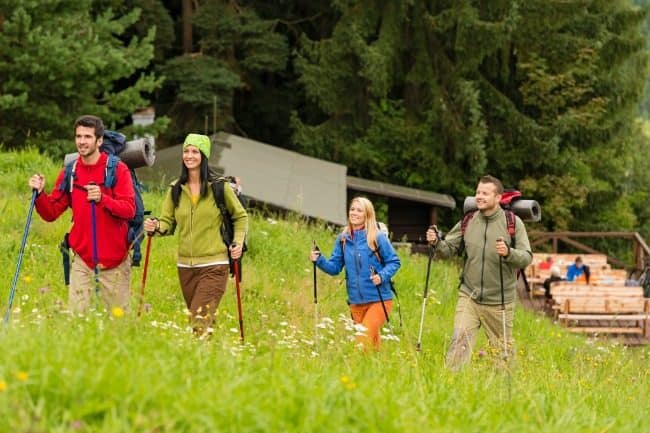 Cool and comfortable in Colorado is easy. Warm is the problem. The second big snow storm in May just hit. It looked like this: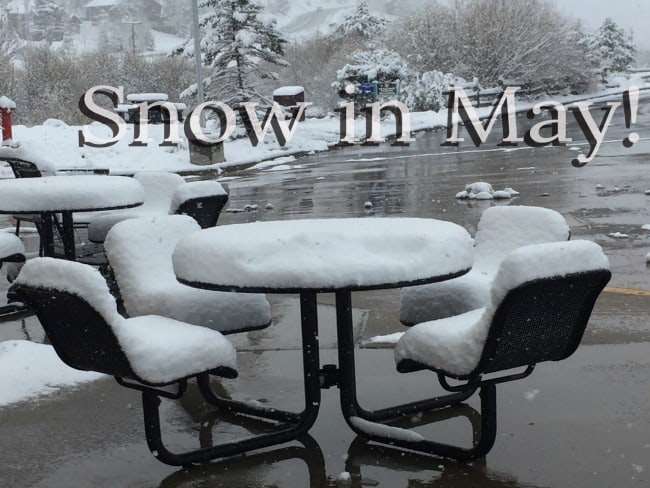 I love Colorado. I love that most houses are built without air conditioning. Yep, in the mountains we throw our windows open wide and let the breezes rush through the months of June, July and August.tips for enjoying a summer vacation in Colorado.
By September we might have a dusting or two of snow on the front steps if you live 8,000 mountainous feet above sea level.
A little preparation goes a long way in the high desert mountains of Colorado. Here are a few tips for enjoying a summer vacation in Colorado.
Disclosure: This blog contains affiliate links. They help pay for the coffee that keeps us turning out adventures week after week. I'll only recommend and share products that I use and love myself. Thanks!
Layer Clothing
When I showed up in Colorado, fresh from Georgia, I was not prepared for a late snow in June. Snow covered the roads, made the day gray and froze the daffodils that were trying to bloom. I almost turned around and went home!
Mornings and evenings in the high Rockies can dip below 40 degrees even in July.
Layering your clothing is a must. Water wicking fleece, light long underwear layers, ultra light down jackets, and light wool socks are some of my favorites. Most mountain dwelling Coloradans will have several favorite fleeces.
On a camping trip in the mountains you are likely to start the morning out with a hat, mittens, fleece layer under a light down layer wool socks and a heavy pair of sweats. All these clothes just to climb out of your sleeping bag and light the camp fire.
As the sun rises each layer is peeled off until by about noon; then you are cooking hot dogs in shorts and a tee shirt. As the sun sinks the layering begins again. Until wrapped in a blanket you fall asleep in front of the camp fire.
Respect the Sun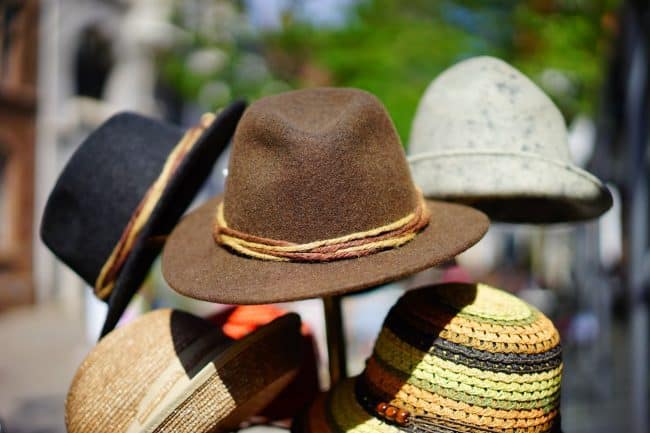 The simplest way to stay cool at this altitude is to step out of the sun. With very low humidity there is no such thing as "100 degrees in the shade."
Without much in the way of atmosphere the sun is intense at altitude. Three hundred and twenty days of sun means that Colorado has one of the highest rates of skin cancer in the nation. Applying sun block just once in the morning is not enough.
Like the beach, protection from the intensity of the mountain sun requires hats with brims, long sleeved clothing and reapplication of a natural sun block every 2 hours.
Often the cool weather and cool breezes can fool you. A sunburn is just as painful in the mountains as the beach.
Add Extra Water
Dehydration at altitude is as epic as the 10,000 foot ski mountains. Water to nourish the body from the inside out is a must. Close to a gallon a day of water is required to stay hydrated in such an arid climate.
Reducing sugary drinks and caffeine will help the body stay hydrated. To avoid headaches and possible altitude sickness, it is helpful to add wool socks to your water even before arriving in Colorado. A few quick hydration tips:
Drink 2-3 litter of water a day several days before you arrive at altitude.
Eat food that contain lots of water and cut down on alcohol and caffeine.
Carry water with you all the time. (Coloradans love their water bottles).
Increase water with exercise. (1-2 cups per hour of exercise).
Watch children for signs of Altitude Sickness. Be sure to hydrate the night before long hikes or outside activities.
In Colorado, Altitude Sickness is No Joke
Altitude sickness looks similar to a common cold. Fever, nausea, headaches, tiredness, muscle aches and general brain fog are some of the common symptoms. Children are particularly susceptible to altitude sickness.
Enjoying the cooler weather in Colorado mountains, children often forget to drink extra water. A full day of hiking, biking, riding. climbing, rafting without adequate water will leave you child achy and dehydrated.
Besides the extra intake of cool clear water the best guard against altitude sickness is rest.
Reduce your regular exercise by 1/4 and when you feel fatigued pay attention. It can take 6 weeks to 6 months to stop huffing and puffing when walking up stairs at altitude.
Watch your children for the first signs of altitude sickness which are normally head and stomach ache. Getting them out of the sun, encouraging plenty of water and a nap are the best remedies in the early stages.
The beauty of Colorado is staggering, but fresh mountain air includes some summer challenges. Even in July temperatures can dip below 40 degrees. A few simple preparations for life at altitude will make your visit to Colorado more enjoyable.