Travel to Nassau, Bahamas and you will undoubtedly see Conch Fritters on the menu. These deep fried orbs of goodness are a traditional Bahamian staple food and you'll find them at restaurants throughout the island. When you visit Nassau and Paradise Island, you MUST try these at least once. It's almost a rite of passage. If you are feeling adventurous, do what we did, try them any EVERY restaurant you visit and decide which is the Best Conch Fritters in Nassau!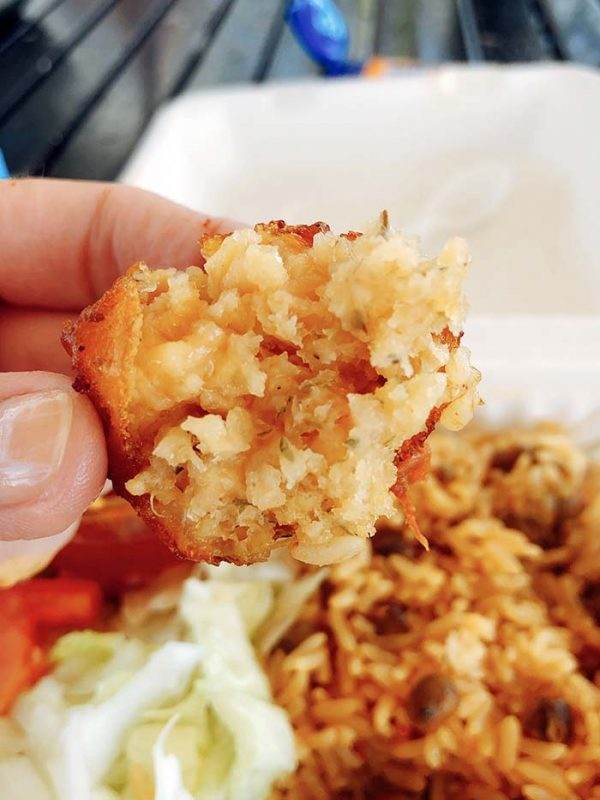 This story is brought to you in partnership with Nassau Paradise Island.
What are Conch Fritters?
Conch is the national dish of the Bahamas. It is a mollusk or snail that lives in the ocean. Conch fritters are deep-fried balls of batter made with chopped local queen conch, onion, and spices. It's typically served with a Calypso Sauce similar to a Cajun Remoulade sauce.
What does conch taste like?
Conch is a mild white seafood that tastes similar to a clam or squid/calamari. The texture is slightly chewy similar to cooked
octopus.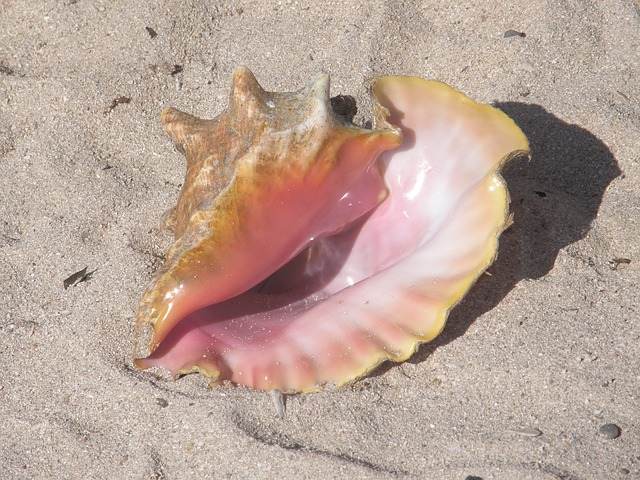 My Favorite Conch Fritters in Nassau Paradise Island
Before my recent Mother Son Trip to Nassau and Paradise Island, a colleague was telling me about all the places she tried conch fritters. During her trip, see and all of her traveling companions challenged themselves to find the best conch fritters in Nassau. So they ate it EVERYWHERE they went. It sounds like so much fun, that my son and I did the same time on our trip this summer.
Related: How to Spend the Perfect 4 Day Family Vacation in the Bahamas ( Nassau/Paradise Island)
Here are the best conch fritters, according to me:
Frankie Goes Bananas
The fritters here at Frankie Goes Bananas (Marina Village across from Atlantis Resort) were my all-time favorite of the trip. Funny thing is that we originally weren't supposed to eat here. A blunder with our dinner reservations led us here to the best meal and dining experience of the trip. Food here is phenomenal and the staff is so great that I'll return here EVERY time I return. Isn't it funny how karma puts you right where you are supposed to be?

Anyhow! Back to Bahamian conch fritters – Frankie's is known for their fish fry and seafood. The fritters here had the most conch as compared to the other spots in this list. The batter was lighter than others and the Calypso Sauce was spice. Not too spicy, but the heat was more to my liking here.
Balmoral Island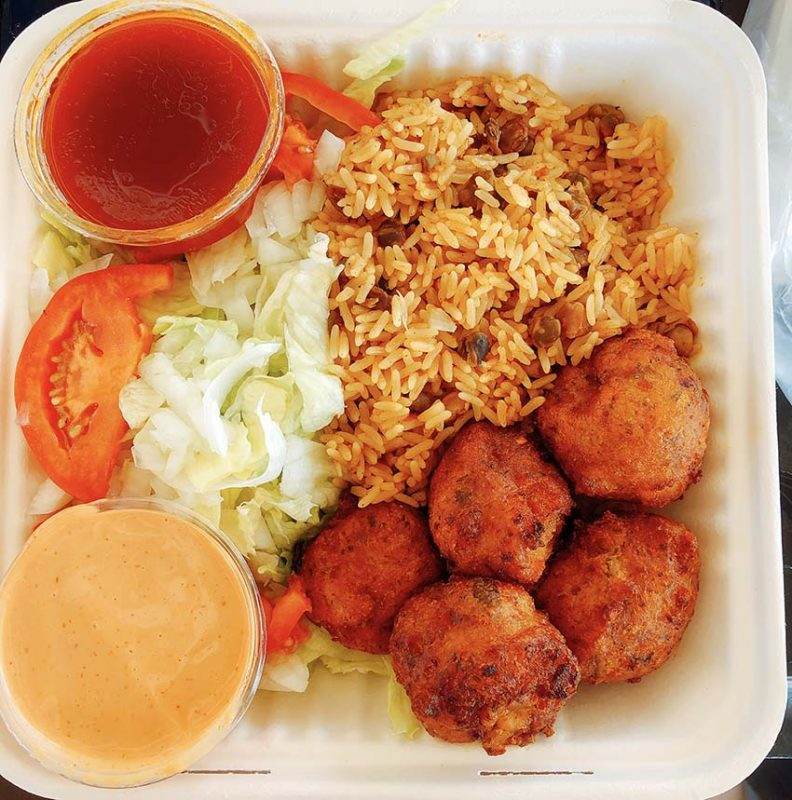 When we stayed at the Grand Hyatt Baha Mar, we took a boat to Balmoral Island, the resort's private island a few minutes away. I loved my beach day here on the island with lunch. This was the only place I found Bahamian Conch Fritters as an entree instead of an appetizer. They came with rice and peas, green salad, and Calypso sauce. These were the least spicy fritters I had during the trip. But they are still delicious and the rice and peas reminded me of food I had in Costa Rica.
Regatta Buffet at Grand Hyatt Baha Mar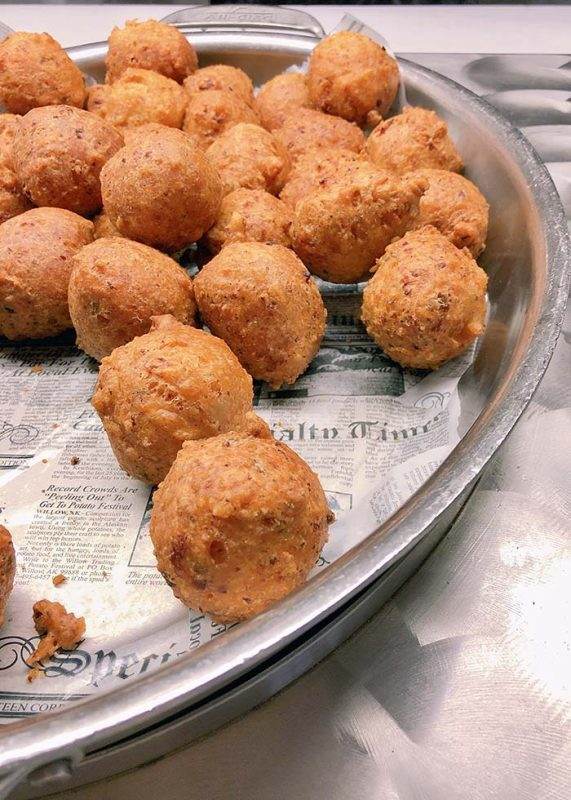 I am not usually one for buffets, but the food at the Grand Hyatt is fantastic. For seafood lovers, the dinner buffet is something you should try at least once. There are conch fritters on the line as well fresh catch of the day, carving stations, and SO much more. The fritters here had a different texture than others I tried. It reminded me more of a Southern hush puppy and was more dense.
Crusoe's Restaurant at Comfort Suites Paradise Island
No two recipes were the same from the four we tried. I am told that everyone's recipe is slightly different. Those at the Comfort Suites on site restaurant has more vegetables than the others we tried and were much darker in color.

Fritters aren't the only conch in area menus. You can also get it in conch salad like this one from Crusoe's, stewed, ceviche style, and more.
Conch Fritters Recipe
Sadly, I haven't been able to find conch in seafood markets here in Oklahoma City. So I haven't been able to remake conch fritters at home. I didn't want to leave you empty handed, so I thought I would gather a few conch fritters recipes from the web and place them here for your convenience. Try it for yourself and let me know what you think.
Thank you to NassauParadiseIsland.com for providing complimentary lodging, attractions, and meals during our trip for review purposes. All opinions are our own.