Located right on Nassau's beautiful Cable Beach, Grand Hyatt Baha Mar is a family-friendly 1800 room resort offering everything you could want in a Bahamas resort getaway. There's spacious accommodations, ample outdoor recreation opportunities, and a mix of on-site restaurants to suit every palate.
This story is brought to you in partnership with Nassau Paradise Island.
My youngest son and I recently traveled to Nassau Paradise Island, Bahamas for a working vacation. The tourism board hosted our visit here at Baha Mar and at Comfort Suites Paradise Island next door to Atlantis Resort. Click those links to read more about that portion of our trip.
Family Friendly Grand Hyatt Baha Mar
Our trip at Baha Mar was by far our favorite. When traveling with teens or tweens, we look for resorts and areas with a great mix of activities, on site entertainment, food, and recreation opportunities. This Grand Hyatt property offers that and so much more. Initially I was going to make this a guide/review of the Baha Mar Bahamas. But instead, I think I'd rather just tell you the reasons why we'd return here again and again with our family. Anyone can visit a location once. Yet when you had a great experience and want to come back, I think that's a better story worth telling.
Complimentary Outdoor Recreation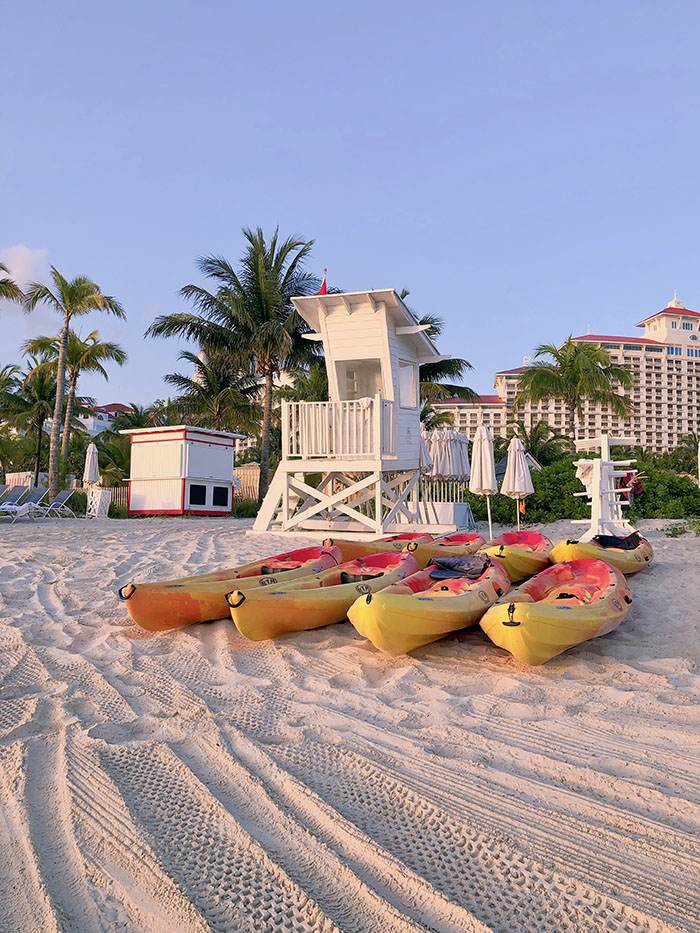 At the very top of my list is the outdoor recreation. Your resort fee includes use of the kayaks, stand up paddleboards, snorkeling gear, floating lounges, and water floats.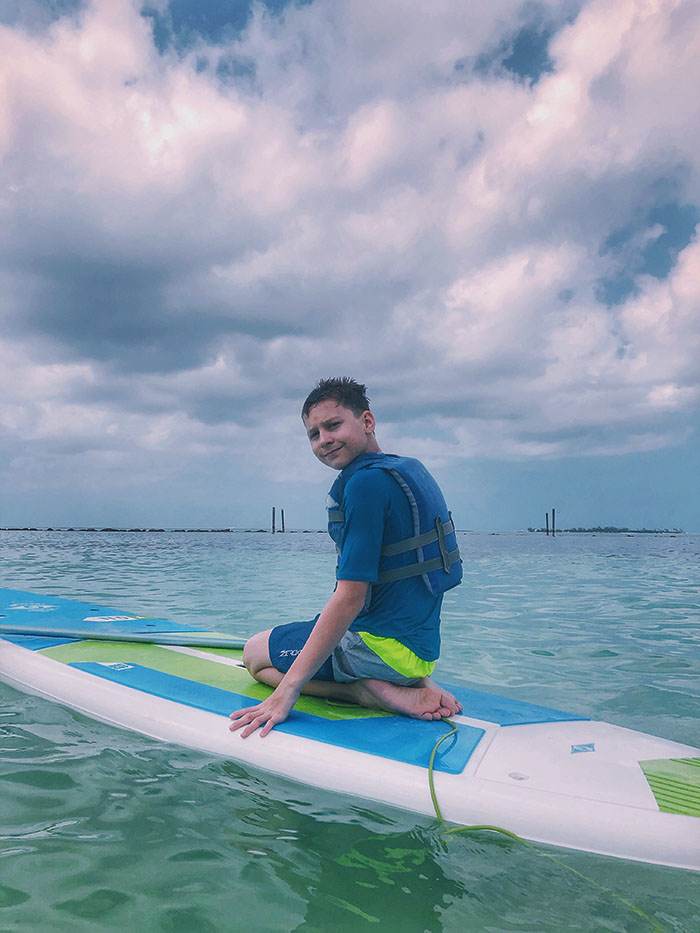 When I asked my son what he wanted to do while in the Bahamas, his answer "paddleboard" and that's exactly what he did. I appreciate that the gear is well maintained and there is plenty for guests to enjoy. Life vests are mandatory for all riders/paddlers.
Cable Beach
Beaches here are white sand and beautiful. The water is crystal clear and you can see fish swimming underneath you. I really liked that there were plenty of loungers available for guests to relax on. I was lucky enough to get up early enough to see this sunrise.
Resort Pools
There are six pools open to all resort guests. The property is laid out in such a way that there seem to be many more, but it's just six. Their layout also lends itself to more privacy. Landscaping provides privacy so it doesn't seem crowded at all. The pool we spent most of our time around was Dean's Blue Hole.
This area was built to resemble a natural feature called a blue hole or underground sinkhole that was formed during past ice ages. Several Bahamian islands have them.
Dean's Blue Hole is complete with waterfalls, cave like grotto with viewing windows into the Sanctuary aquariums, and a 15-ft jumping ledge that divers can jump into the water below.
Another pool I really enjoyed was at the Rosewood, another hotel on the property. Pools here are serene and the atmosphere is more laid back.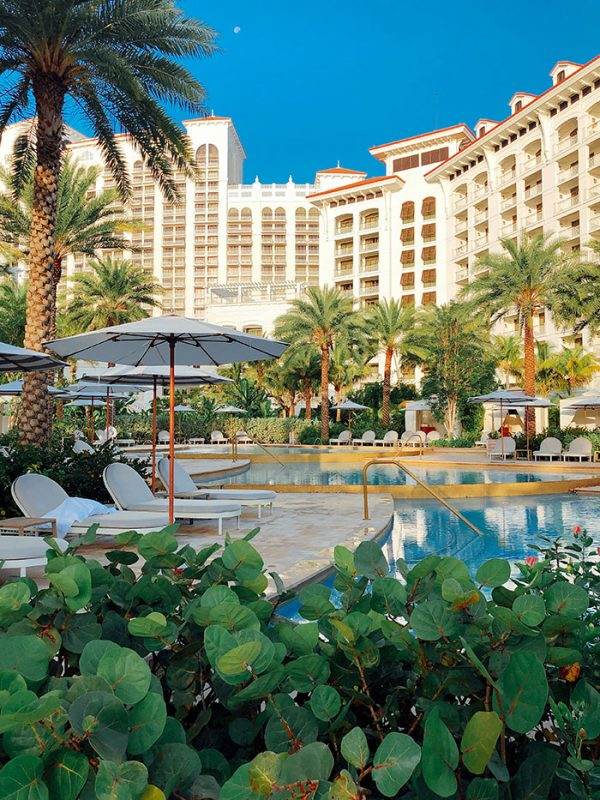 Related: Check out our itinerary for a 4 day family vacation in Nassau, Bahamas.

Sanctuary
Sadly, we didn't get to experience the Sanctuary during our visit. So I want to come back and do this next time. The resort is committed to marine conservation and education. So twice a day, guests can visit the Sanctuary for feeding and information sessions. Guests can also schedule private animal encounters here with the resident stingrays and sea turtles.
Spacious Rooms with a View
Even though we don't spend too much time in our room while on vacation, we want the little time we do spend there to be enjoyable. Our room at Grand Hyatt Baha Mar was spacious, bright, and open. The colors remind me of our time at Grand Hyatt Clearwater Beach. Beds are extremely comfortable and that view is everything!

Is Baha Mar All Inclusive?
Grand Hyatt Baha Mar in Nassau is not an all–inclusive resort. Yet, guests enjoy relaxing in the six on-site pools, white sand beach, and complimentary water activities including kayaks, snorkel gear, paddleboards, and water loungers. It's a great getaway in the Bahamas.
Private Beach at Balmoral Island
Just a short boat ride for the resort is Balmoral Island, the private escape Hyatt Baha Mar guests can enjoy. The island is actually shared with the Sandals resort, but guests are kept completely separate. The Baha Mar part of the island has a Beach Club feel to it with white buildings and an abundance of loungers laid out on the sand, umbrellas, and island music.

We rented the Grand Cabana during our visit so we could have a dedicated space for our group. We enjoyed inner tubes, snorkeling, and beach volleyball.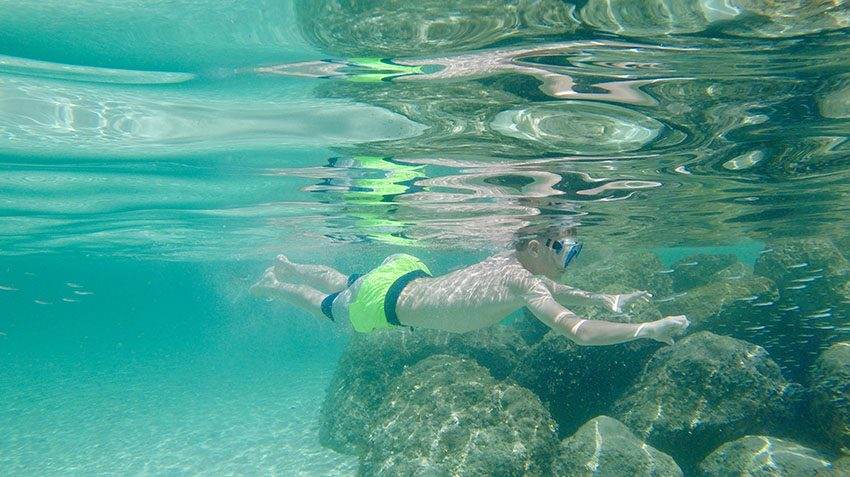 While we were here we really enjoyed the food. You can opt for a Beach Day here with or without lunch. Opt for lunch and try the Conch Fritters. I tried them everywhere we went and they were really good here. Another thing I'd go back for is animal encounters.
Dolphin Encounter at Balmoral Island
On the island you can enjoy Swimming with Dolphins as well as Stingray and Dolphin Encounters. Each of these activities are available for a fee, but they are worth it. We did the dolphin encounter and learned so much about their marine creatures.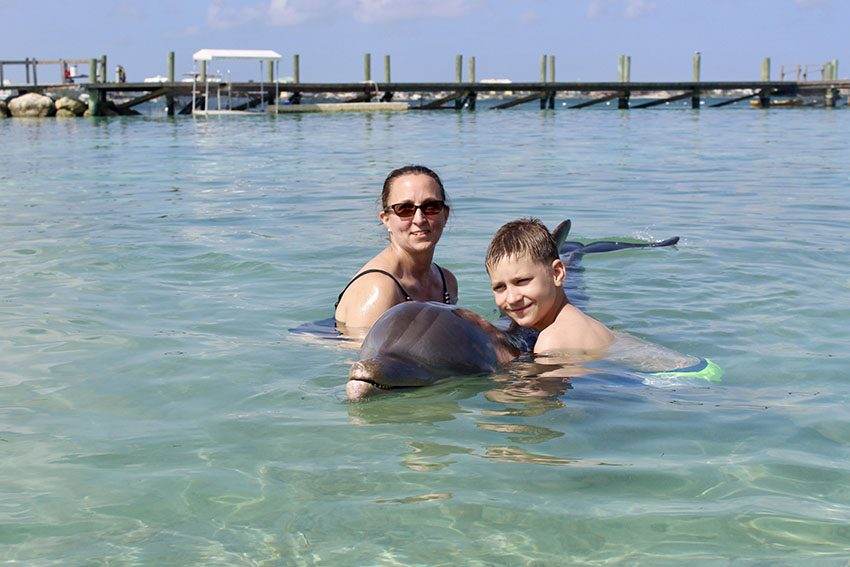 These encounters take small groups of people into the water to interact and learn about Atlantic Bottlenose Dolphins. We got to touch a dolphin which feels a lot like a wet suit material. Go figure! The trainer showed us how fast a dolphin to swim and then it was time for a few pictures.
Baha Mar Restaurants
Baha Mar is situated on the same property as the SLS and Rosewood hotels. Baha Mar alone has over 30 dining options ranging from fine dining to food trucks on the beach.
We ate at the Regatta Food Hall (buffet) twice; once for breakfast and again for dinner. Now we usually are big buffet people, but I loved the variety. Dinner offered craving stations, cook to order fresh seafood, dessert bar, fresh fruit popsicles, tropical fruit, conch fritters, and more. It's really too much to list here. Prices are on the high end, but the food (in my opinion) is worth it. We did go back for breakfast.
Along the beach, we loved the food trucks we found. They were converted Airstream trailers actually, serving up quick service type food ranging from hot dogs to burgers. My son and I both want to return to sample more of the food here.
The Current Gallery and Art Center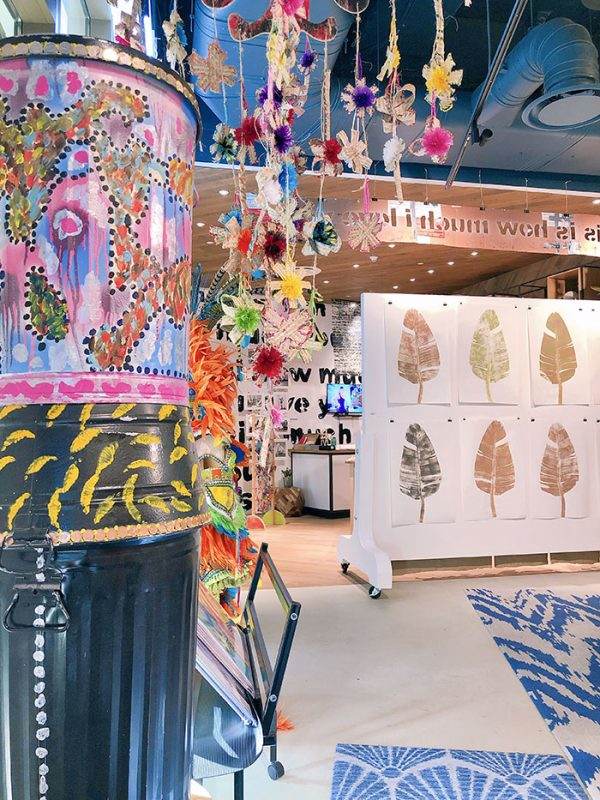 All of my children love art. The resort's art center is part gallery and working workshop. We really enjoyed going into the studio with the artist in residence to learn about their work. There are workshops guests can sign up for, but sadly we didn't get to do this. It's another one of the reasons we want to go back.
Waterpark Coming Soon
Lastly, there is something new coming to Baha Mar. The property is very hush hush about the addition of their water park area. But we have it on good authority from the tourism board that the construction next to the resort is that new area set to open later this year. Once complete families may never leave the property.
Now these are just 10 of the reasons we would love to return to Grand Hyatt Baha Mar, Bahamas. We really enjoyed that we could check in, drop our bags, and just enjoy the activities we wanted. The environment is great for families who love active fun and the outdoors. There are many more reasons to visit here. To discover what those could be, visit the Grand Hyatt's website or the Nassau Paradise Island, Bahamas tourism website.