This article is sponsored by Roseville Visitors Association. Complimentary attraction tickets and meals were provided.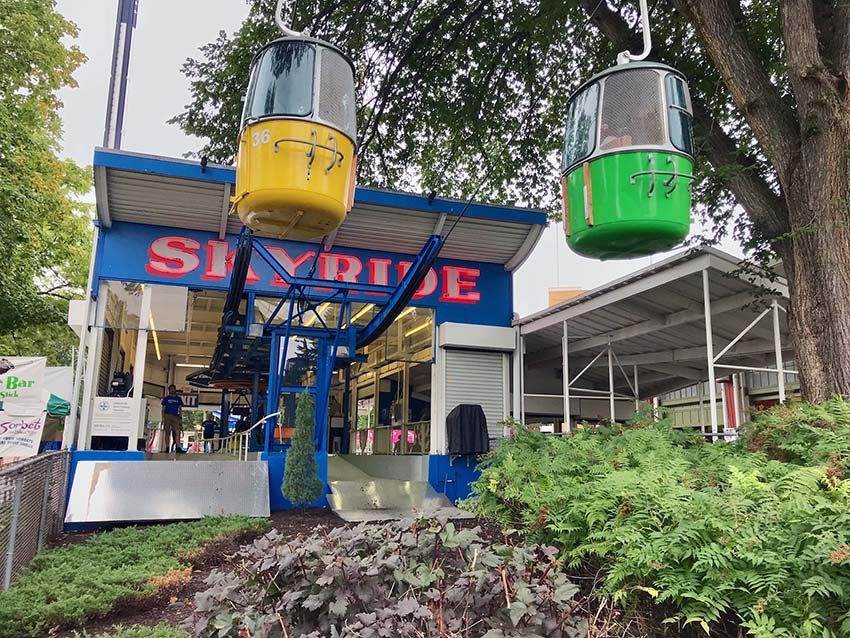 Are the Twin Cities on your family travel bucket list? They should be! Minneapolis and St. Paul are not only jam-packed with amusement for all ages, these neighboring Minnesota cities offer something we all adore—a budget-friendly getaway. From quirky attractions to state fair fun, the Twin Cities offer endless entertainment, at prices that are easy on the wallet.
Your Budget-Friendly Twin Cities Adventure Begins in Roseville
Roseville, Minnesota is a suburb that is perfectly positioned between Minneapolis and St. Paul—just a quick 10 minutes from each city's downtown. Here, hotels are affordable, parking is free, and restaurants are plentiful. It's the perfect jumping off point for your Twin Cities vacation.
I recently spent three days exploring Minneapolis and St. Paul, and three nights returning to the cozy Courtyard by Marriott in Roseville. Thanks to this centrally-located home base, I covered a lot of ground! If you want to see what else is available see the map below.
Hotels and Airbnbs near Roseville, Minnesota
Here are my picks for the best things to see and do (and eat!) when visiting the Twin Cities with kids.
A Trip to the Minnesota State Fair
The annual Minnesota State Fair is only 12 days long, but it is absolutely worth planning an entire vacation around. Attracting visitors each year from all 50 states and 30 countries, the fair has the second largest U.S. state fair attendance (behind the Texas State Fair, which lasts for 20 days). Rest assured, it's big, and popular. Started in the 1850s as a territorial fair to promote agriculture, the Minnesota State Fair is bigger than ever, celebrating good old-fashioned family fun, 4-H, and farming in America's Heartland.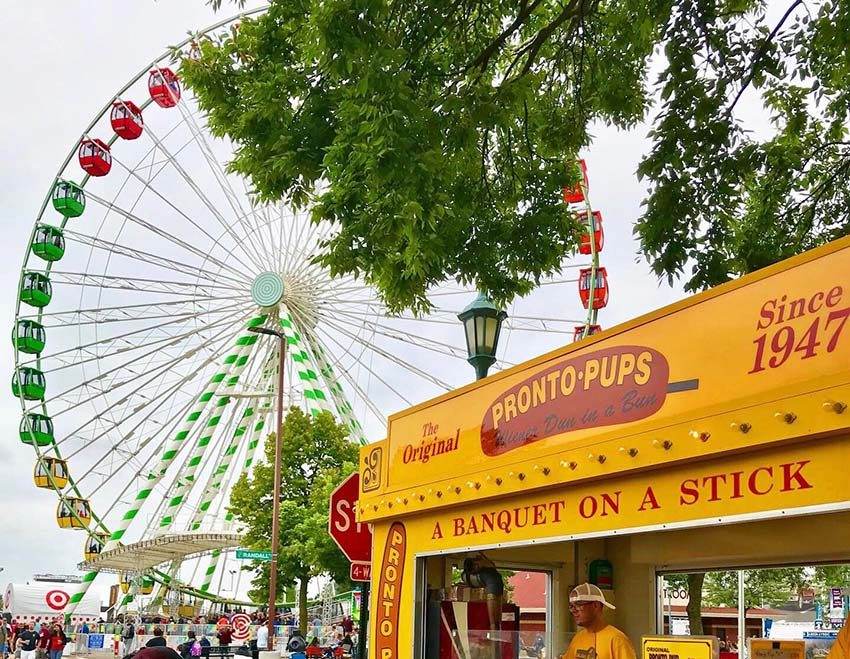 Kids will love all 322 acres of fair fun, from the mini pedal-tractors to the giant Ferris wheel. There's also a vintage Skyride, Giant Slide (celebrating its 50th anniversary this year), aquariums, STEM exhibits, and parades complete with high school marching bands. For hands-on experiences, kids can try milking a cow or playing in a grain bin. Most of the fair's attractions are free or cheap, so you can save your dollars for treats! Don't miss Sweet Martha's Cookies, fresh out of the oven, and strawberry sundaes with all you can drink milk from the Dairy Goodness Bar.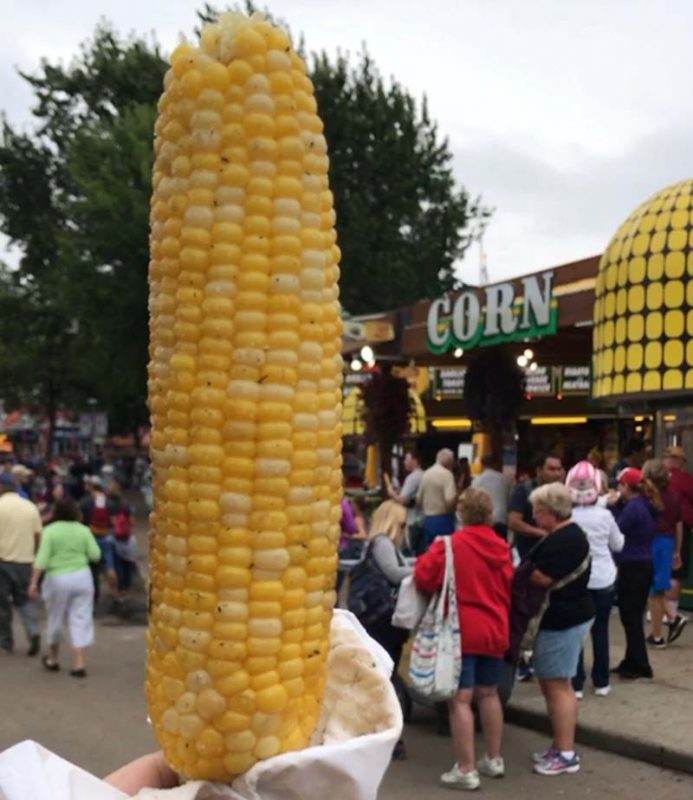 Apart from reasonable prices, parents will appreciate the local craft beers, global delicacies and wares, butter sculptures, live music, and healthy fair foods. My personal favorite snack on a stick was the roasted corn on the cob. The buttery corn was so flavorful, it made me believe I had never actually tasted real corn before.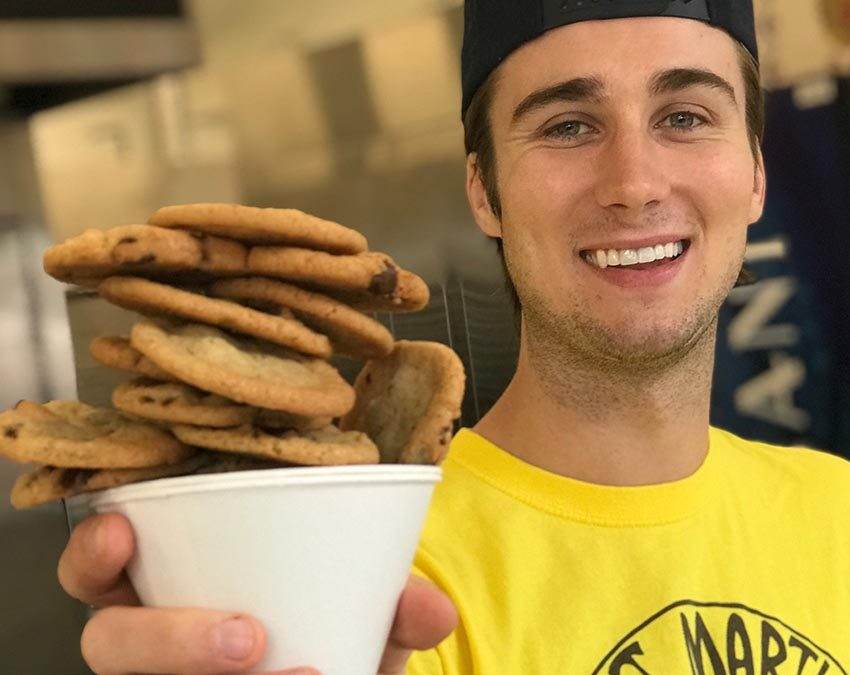 Tip: There is so much to do, see, hear, eat, and drink at the fair, you could easily consider it a town all its own. Download the free Minnesota State Fair app to plan your day, so you don't miss a single concert or cheese curd. And, be sure to bring cash because not all of the vendors accept credit cards. If you're staying in Roseville, you're in luck! There's a Minnesota State Fair shuttle stop right next to Courtyard by Marriott Roseville.
The Most Fun You'll Ever Have Playing Mini Golf
Can Can Wonderland in St. Paul is the coolest. With boozy milkshakes, polka dance, Ping Pong battles, and mini donuts, this hip arcade is a rare gem that the whole family will enjoy. Descend into the basement of an old canning factory building dating back to 1889, and get ready for the mini golf game of your dreams.
What's so unique about Can Can's mini golf course? Well, everything. Each hole was designed by a group of local artists who were seemingly trying to outdo each other with next-level wackiness. At various holes, your ball will make music, dodge a tornado, travel across an optical illusion, and navigate a retro living room to find its hole under the plaid couch. You will even get the chance to hit your golf ball with a tee-ball bat.
An arts-based public benefit corporation, Can Can Wonderland supports the Minneapolis-St. Paul artist community. So, you can feel extra good about indulging in a boozy slushie or cider float while playing a round of eccentric mini golf. You're supporting the arts!
Tip: Try to visit during the day because lines get so long at night the course may stop allowing new guests to play. Can Can Wonderland is closed Monday to Wednesday.
Learn About the Natural History of Minnesota, and See A Wooly Mammoth
Make your mini scientists happy with a visit to the stunning new Bell Museum building, complete with planetarium. The Bell Museum itself is not new, having started as a one-room museum in 1872, but its new home on the University of Minnesota's St. Paul campus is impressive. Walking through the permanent exhibits upstairs takes you on a multimedia journey through Minnesota's unique biomes, from the origins of the universe.
For kids, there are interactive activities throughout. From the Living Lab outside to the Discover Lab inside, there are plenty of things to touch and explore. The museum is a celebration of art, science, and the environment, showing visitors that anyone can make observations and be a citizen scientist.
Tip: Check the website for planetarium showtimes and details on upcoming Star Parties and Solar Sundays.
Give Snorkeling a Try at SeaQuest
SeaQuest in Roseville's Rosedale Center is another great place for hands-on learning. Pet soft wallabies, feed Flemish rabbits, stroke sea critters in the touch tank, and maybe even meet a mermaid! There are animals from around the globe in SeaQuest's three floors of interactive exhibits, and the friendly staff can't wait to tell you all about them. My favorite activities here were hand-feeding parakeets and snorkeling with stingrays.
If you have a have a brave kid who would enjoy swimming with hundreds of aquatic creatures, including coastal sharks, I highly recommend the SeaQuest scuba experience. For $29.95, you'll get a wetsuit and be guided through the snorkeling experience with a guide. Adults can stand in the 5 feet of water, but kids are more buoyant and will float at the top of the 26,000-gallon salt-water tank. You can pet anything in the tank with two fingers (except the yellow puffer fish) and feed several varieties of stingrays. It's an incredible experience, but you must make reservations for this in advance.
Tip: Get a stamp when you leave SeaQuest to explore the rest of the mall. You can come and go all day, and different animals will be out to pet at different times.
For more budget-friendly family fun, check out these 10 Things to do in the Twin Cities for under $10!
Eat, Eat, and Eat Some More
It came as a surprise to me how many amazing restaurants were within driving distance of my hotel in Roseville. From sushi to queso, we had it all, and every bite was delicious. Here are my favorites, starting with the kookiest: Betty Danger's.
Betty Danger's Country Club – The wildest time you'll ever have at a country club, here you can order a frozen cocktail and take it for a whirl on the onsite Ferris wheel. Then, after stuffing yourself silly with deviled eggs, tacos, and mini donuts, try your hand at an indoor-outdoor mini golf course that takes you straight through the restaurant and out the other side.
Pizza Lucé – For dining right in Roseville, Pizza Lucé does not disappoint. Enjoy a breakfast, brunch, lunch or dinner of fresh homemade Italian favorites from Eggs Benedict to Spaghetti with Meatballs. If you're too tired to go out, you can also order Pizza Lucé from Door Dash and have it delivered right to your hotel.
Chianti Grill – If you need a night of fine dining (and you do), Chianti Grill will spoil you with mouth-watering homemade pastas, fine wines, and decadent desserts. Make a reservation, because this Italian restaurant is a local favorite. If you're visiting on a Sunday, you'll also want to make time for their brunch buffet. Fresh fruit, pastries, and omelets, oh my!
CRAVE American Kitchen and Sushi Bar – At CRAVE, you might be tempted to order everything on the appetizer menu: Caprese Flatbread, Firecracker Shrimp, Bamboo Bite, Baked Crab & Artichoke Dip, Truffle Parmesan Fries, Chicken and Avocado Egg Rolls. And, you would not be disappointed. Family style is a great way to dine and these dishes were delectable (the flatbread was my favorite). But, if you save room for a main course, the sushi and fried rice dishes paired with wine are also great options.
Bent Brewstillery – You can't leave the Twin Cities without tasting some local beer, and the Bent Brewstillery tasting room is just the ticket. Leashed dogs and kids are welcome, so it's a nice place to relax and try a housemade draft brew or spirit. You might also want to buy a bottle of barrel-aged spiced rum to take back home with you as a souvenir.
For more dining options, check out these Twin Cities restaurants you need to try.
Stay Close to the Action, for an Affordable Price
If you're looking for the perfect place to stay while exploring the Twin Cities, consider Courtyard by Marriott Minneapolis St. Paul/Roseville. This conveniently located hotel offers comfortable, spacious rooms that are great for families.
Be sure to book The Weekender Breakfast Deal, because breakfast at Courtyard by Marriott Roseville is scrumptious. I especially enjoyed the fresh fruit paired with a Starbucks Mocha. The breakfast plate with scrambled eggs, bacon, and hash browns was also delicious. Food is made-to-order, and arrives fresh and tasty. It's a great way to start your day.
In the evening, plan to circle back to the hotel for Happy Hour in the lobby, a swim in the indoor pool and hot tub, and some time outdoors on the back patio by the stream and gazebo. If the weather is nice during your stay, you'll also enjoy a walk or jog from the hotel to the nearby Langton Lake Park. Minnesota is the Land of 10,000 Lakes after all. You need to see at least one!
Disclaimer: Thank you to the Roseville Visitors Association for the accommodations, dining and attractions tickets. All opinions are my own and are based on my recent visit.