Are you ready to get out and explore the great state of Texas? One very unique activity to try in Texas is cave exploring! Underground caves are like nothing you've seen before and the caverns in Texas do not disappoint. We bet you'll be surprised by the natural beauty in all the caverns in Texas. It's actually kind of mind blowing! And what's really awesome is that cave exploring is something the whole family can do!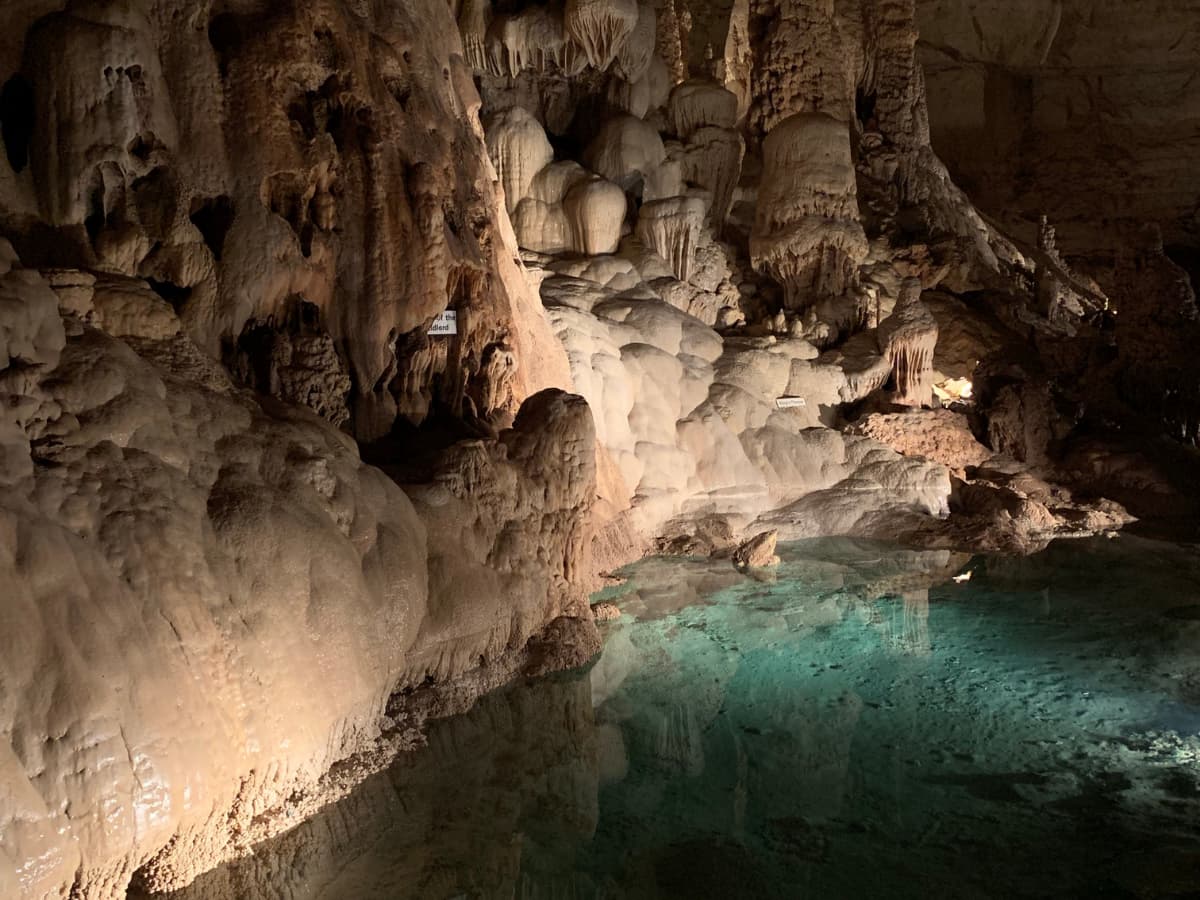 Where Are The Most Caverns In Texas?
There are caves and caverns to discover all around the state of Texas, but many are in the Texas Hill Country between Austin and San Antonio. Since the two cities are so close together, it makes sense to visit both the San Antonio Caverns and the Austin Caves.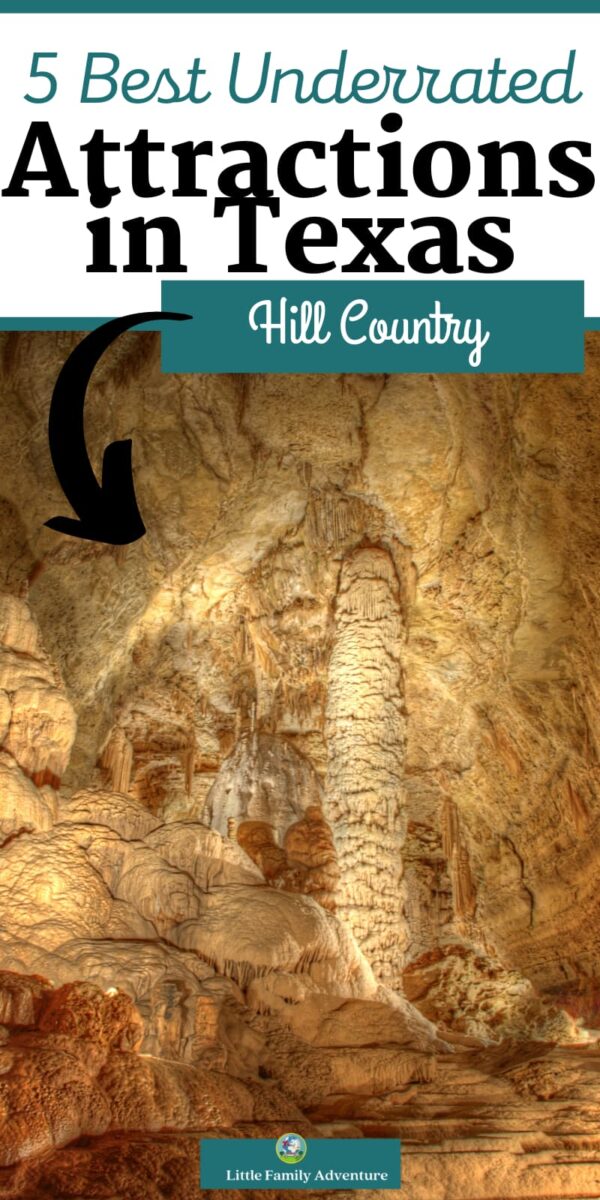 Here Are The Top 5 Caverns In Texas You Should Check Out.
Some of the caves are natural bridge caverns. Others are underground caves. All are incredible natural wonders!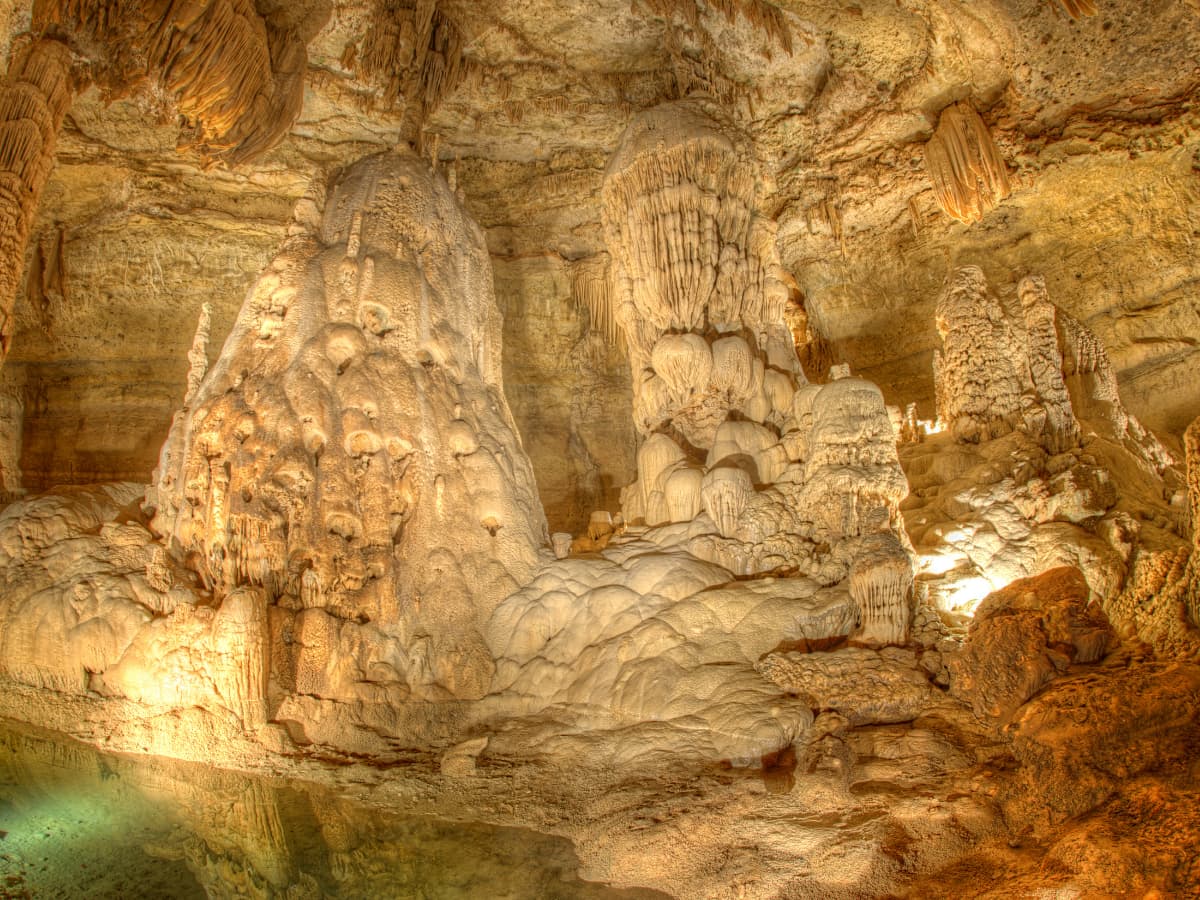 Natural Bridge Caverns – 30 Minutes North of downtown San Antonio, Texas
Natural Bridge Caverns is the largest cave in Texas. And, it's a whole lot more than just underground caves and caverns. Here they have quite a wide variety of activities to keep everyone busy. In addition to the immense caves onsite, there is a gigantic outdoor maze, a mining area, a ropes and agility course as well as zip rails.
The caverns are the most popular activity here and for good reason – they're impressive! Natural Bridge Caverns offers multiple tours that are about an hour in length, and they're open every day except Easter, Thanksgiving, Christmas Day and New Year's Day.
The Discovery Tour is the original tour and most popular. The tour is an overview of the caves and takes you 180 feet below ground to explore the wonders of the underground caves and caverns. This tour is around $25for adults and $15 for kids under 12.
The Hidden Passages Tour will take you to the out of the way parts of the cave and you'll experience total darkness on this tour! Prices are around $25 for adults and $15 for kids under 12.
Combo: Do both tours for a discounted price of per adult and around $40 for adults and $25 for kids. Website
Hotels and Airbnbs near Natural Bridges Cavern, San Antonio, Texas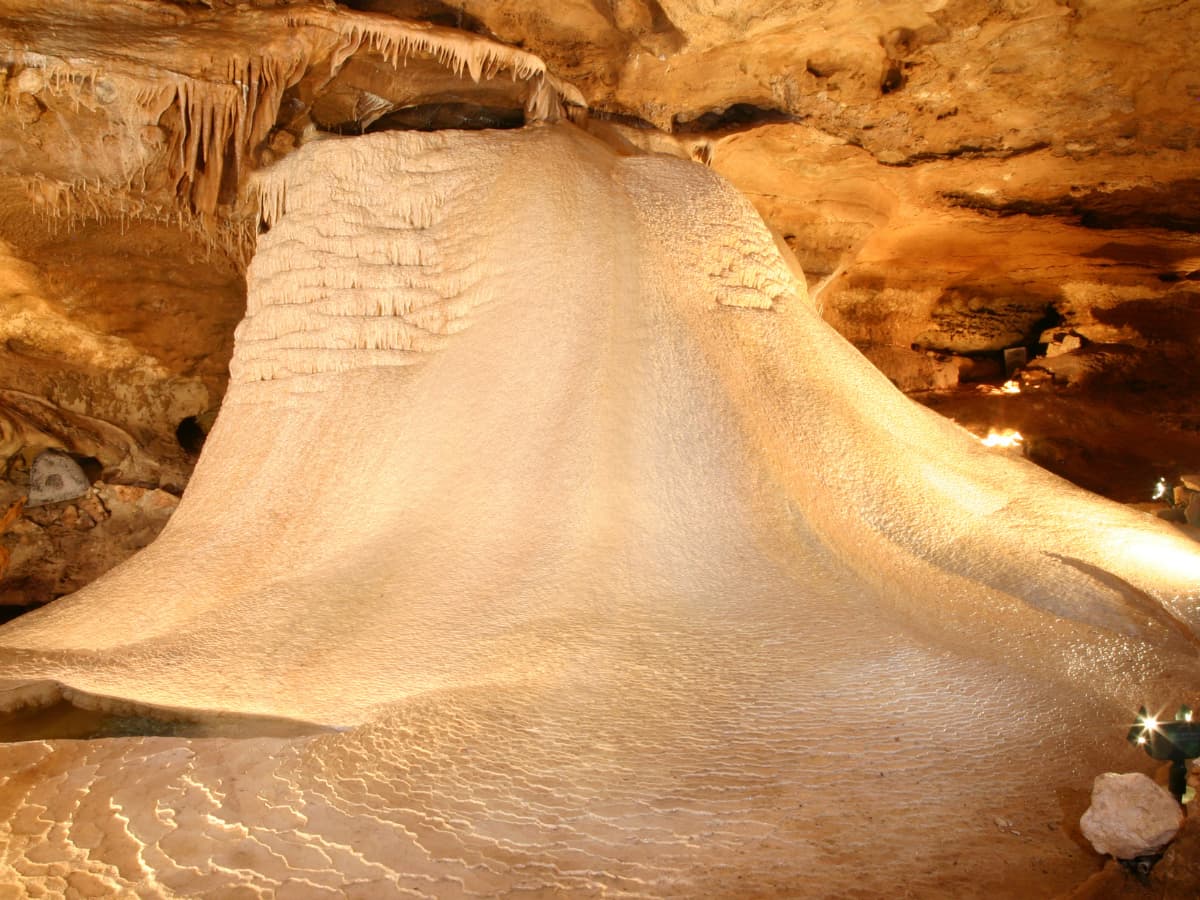 Inner Space Cavern – Georgetown, Texas (30 minutes North of Austin, TX)
Inner Space Cavern is an awesome cave site where you can explore underground caves and caverns that were undiscovered for over 10,000 years! Inner Space Cavern offers various guided cave tours, the most unique being an extreme caving adventure where you can hike and climb for nearly 4 hours!
The Adventure Tour is a 1-1 ½ hour tour where you'll see the largest caves on site. This tour is open to all ages and costs around $22 for adults, $16 for kids 4-12, and under 4 are free.
If you go on the 1 ½ hour Hidden Passage Tour, you'll be able to explore undeveloped parts of the caves, some of them in the dark! This tour is for those 7 years old and older; and costs around $27 for adults and $20 for kids.
The Wild Cave Tour is an extreme caving experience where you'll climb, hike and crawl for about 4 hours. For this tour, you'll want to be in good shape because you actually need to sign a waiver! This tour is for 13 years and up and costs around $100 per person. Website
Hotels and Airbnbs near Georgetown, Texas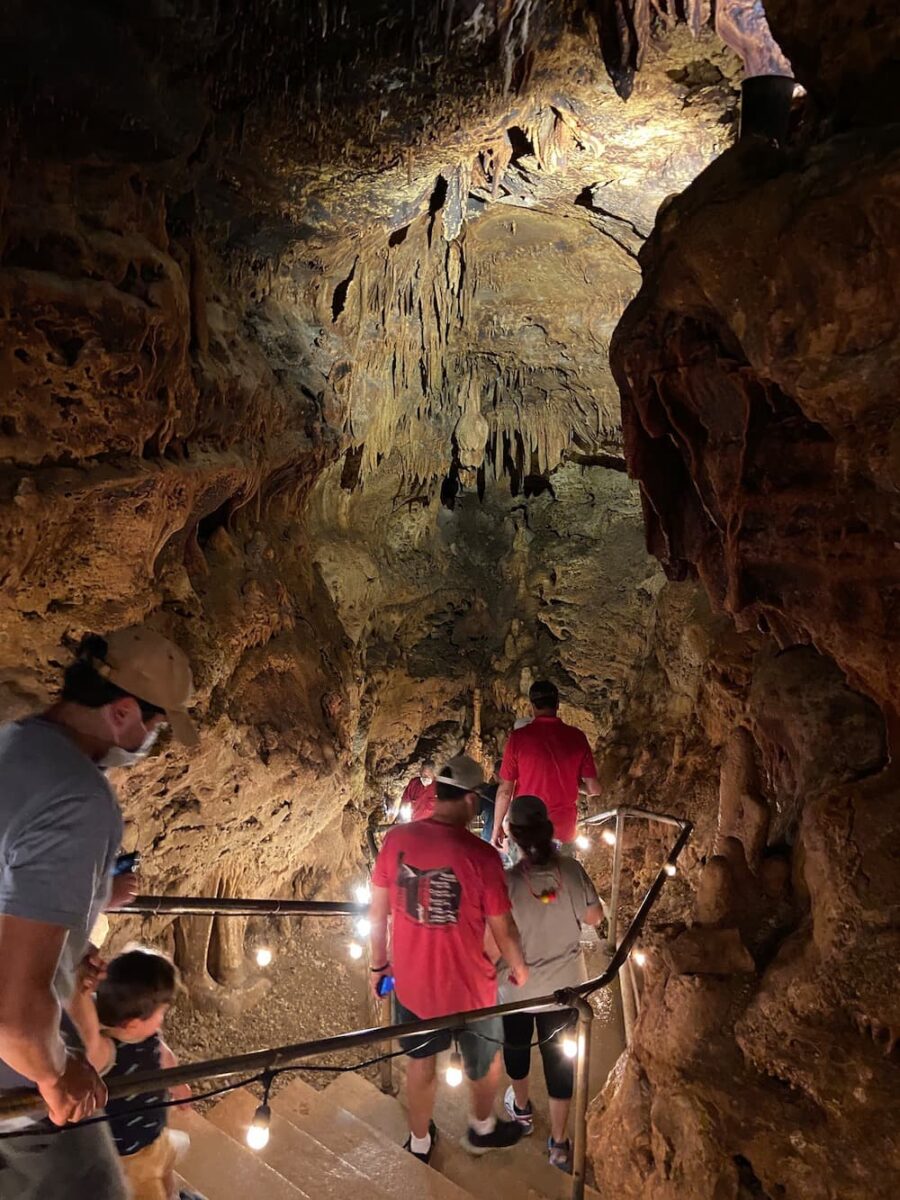 Cave Without A Name – Boerne, TX (30 minutes North of San Antonio, TX)
If you're wondering about what San Antonio caverns to tour, Cave Without A Name may be the perfect underground cave for you. This cave is a national natural landmark where you'll see stalactites, stalagmites and intricate soda straws.
Cave Without A Name offers 6 different major cave rooms to tour, all with easy walkways. This is a bargain cave because admission for adults is around $20, kids aged 6-12 are only $10 and kids under 6 are free! Cave Without A Name is open every day except Thanksgiving Day and Christmas Day. Website
Hotels and Airbnbs near Boerne, Texas
Caverns of Sonora – Sonora, TX (2 ½ hours Northwest of San Antonio)
The breathtaking Caverns of Sonora has been recognized as one of the most beautiful cave areas in the world with absolute jaw dropping caverns to explore! No matter the weather outside, you'll be warm inside the caverns because of the 98% humidity, so it always feels like 85 degrees in the underground cave.
The Horseshoe Lake tour is a group tour where you'll enter the cavern and walk the 1 1/4 miles path to explore the cave passages and you'll go past the underground lake. You'll get to climb over 300 stairs as you go 155 feet below ground. Admission is $20 for adults, $16 for kids aged 4-11, and anyone under 4 is free. Website
Hotels and Airbnbs near Sonora, Texas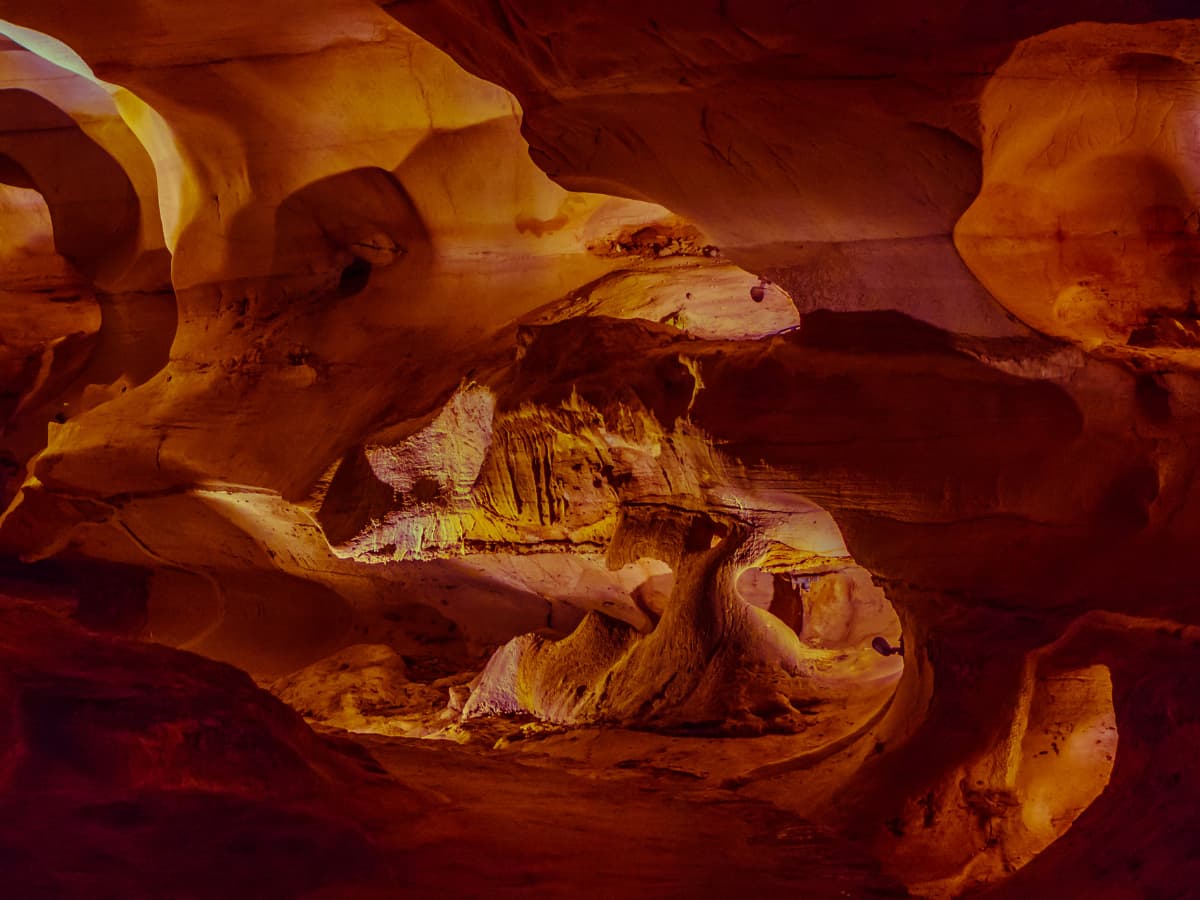 Longhorn Cavern State Park – Burnet, TX (90 minutes Northwest of Austin)
Longhorn Cavern State Park is one of the top state parks in Texas and has quite a few things to do in addition to exploring the caves. Longhorn Cavern State Park offers multiple tours. The walking tour is a one mile tour of the cave and are about an hour and a half. The Walking Tours are around $19 for adults, $15 for ages 4-11, and free for kids 3 and under.
The Wild Cave Tour will allow you to explore the undeveloped parts of the cave and is a real adventure! To do the Wild Cave Tour, you'll need to be at least 8 years old and if you're under 18 you must have your parent or responsible adult with you. Also, due to narrow passages, they do have a size limit of less than 52 inches in girth. The cost for this awesome tour 2-3 hour tour is around $95 per person and includes a free t-shirt! Websitehttps://visitlonghorncavern.com
Hotels and Airbnbs near Burnet, Texas
When planning a trip to the Hill Country, wondering where should I go this weekend for fun, adventurous places to visit near me today, famous for, kid friendly, what can you do in for free, resorts near me, best restaurants near me, natural wonders? See Schlitterbahn in New Braunfels, TX, U.S. Road Trip Destinations with Kids, Kayaking in Austin .