In a recent article, I talked about how to select the right tent for your family. I offered some tips and gave you some questions to consider when choosing a tent for your family. Today I'm reviewing the Coleman 8 person Signal Mountain Instant Tent. Coleman was gracious enough to send this family camping tent for review. All opinions are my own. I'll tell you what I liked, show you how easy it is to set up, and talk about a feature I didn't care for.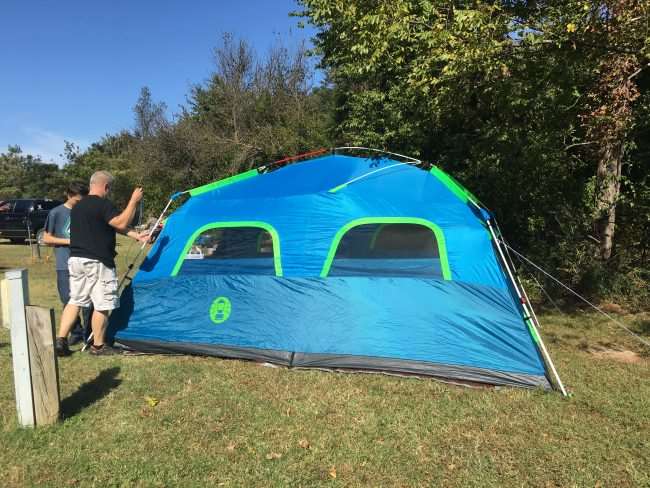 Coleman Instant Tent 8 Person
This season, our family has been doing several weekend camping trips. We will leave right after the kids get out of school and drive to a near by state park or area campground. Usually it's an hour to a 1.5 hours away from home. There have been a few times that we got stuck in traffic and had to finish setting up camp in the dark. That wasn't particularly fun.
Quick Set Up
This Coleman Instant Tent helps make setting up camp SO EASY!! Set up takes minutes! You lay out your tarp to protect the bottom of the tent, pull the tent out of the bag, unfold it, extend the poles, and secure with guide lines.
Here see for yourself!

All in One Camping Tent
Poles are integrated into the tent so there are no poles to snap together, insert, etc, etc. The poles extend and snap in place, just like it's shown in the video.
Note: Initially, we had trouble with top pole that spans the top of the tent. Initially, it wouldn't snap into place. We learned that you may have to twist the pole a little to get it to line up correctly and snap together. Once we learned that, it was smooth sailing.
This Coleman tent has an integrated rain flap and Weather Tec system technology. On our last trip, it rained 0.5" overnight. The tent stood up to the weather and kept the water out.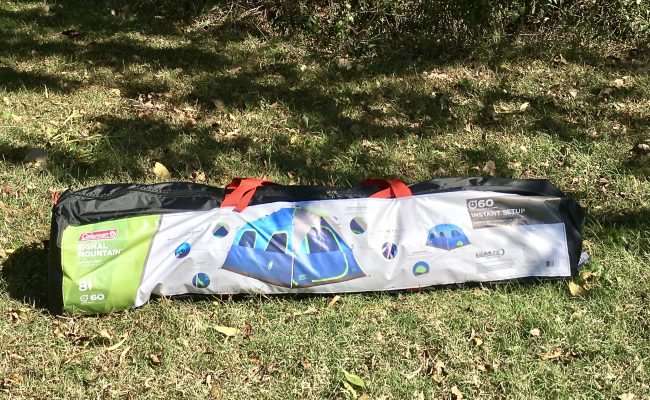 With these integrated features, the tent folds up into a 46" long bag. It's not small, but if you are car camping you won't be carrying it far.

Plenty of Room for the Outdoor Family
The tent we have is an 8 person tent. With 3 children, we like to spread out and store our gear inside the tent to protect it from the weather and little critters that may get curious.
This tent measures 14'x8' and is 6'4" at the center. It's HUGE!! When car camping, you don't have to rough it and there is enough room in there for 2 queen air mattresses plus room for your stuff.
The tent is a rectangle instead of the more common square shape. At the campground we stayed at, it was easy to find level ground to set up on. That may not be the case everywhere.
There is no more stumbling over guide lines with this tent. The tent's guide lines are reflective and can be seen at night. They are faint, but I can see them without my glasses. So that is a big PLUS for us when family camping.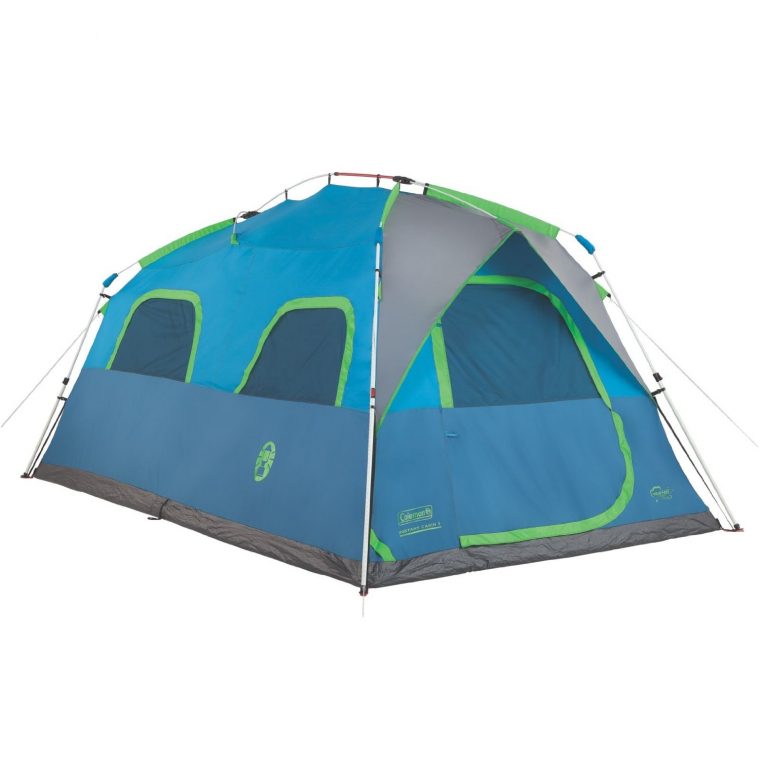 Overall I really like this family tent from Coleman. It sets up easily, can be set up alone, and is well made. It retails for $299, but I have seen it on Amazon for as low as $172.