Have you been to Anaheim and visited the Happiest Place on Earth yet? Have you walked up Disneyland's Main Street U.S.A through Sleeping Beauty's Castle and glimpsed the joy that lights up your kid's face as they see their favorite cartoon character for the first time? If not, it is time to plan a trip! Of course, there are plenty of family friendly Anaheim hotels near Disneyland to choose from. Each offers a range of amenities, accommodations, and rates suited to the way you want to travel.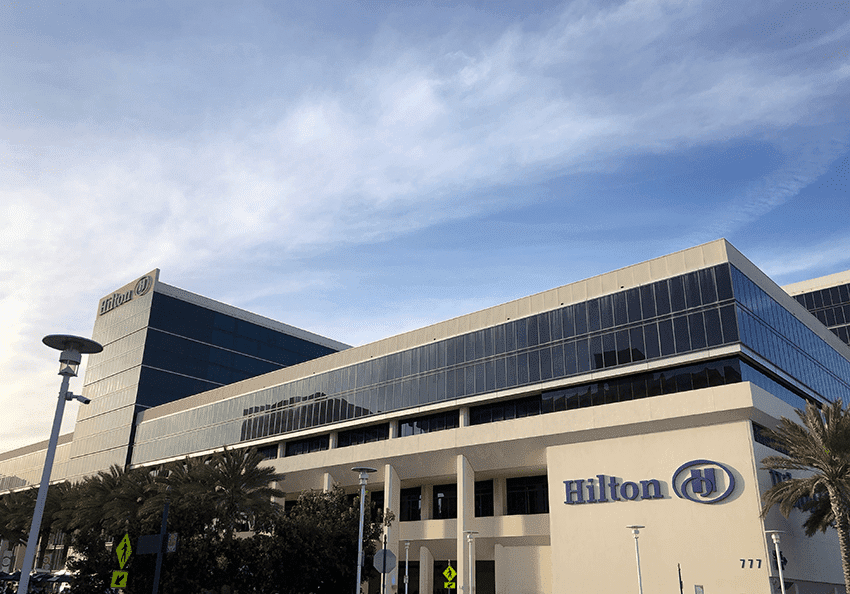 I recently visited Anaheim for Expo West, a natural product trade show. I had a chance to spend a few extra days to enjoy the area. During that time, I was able to check out Disneyland, California Adventure, and Angel Stadium. Each are a good choice for families. While there I stayed at the Hilton Anaheim. It was the perfect location directly across the street from the Anaheim Convention Center and just down the street from Disney parks.
Anaheim hotels near Disneyland
Hilton Anaheim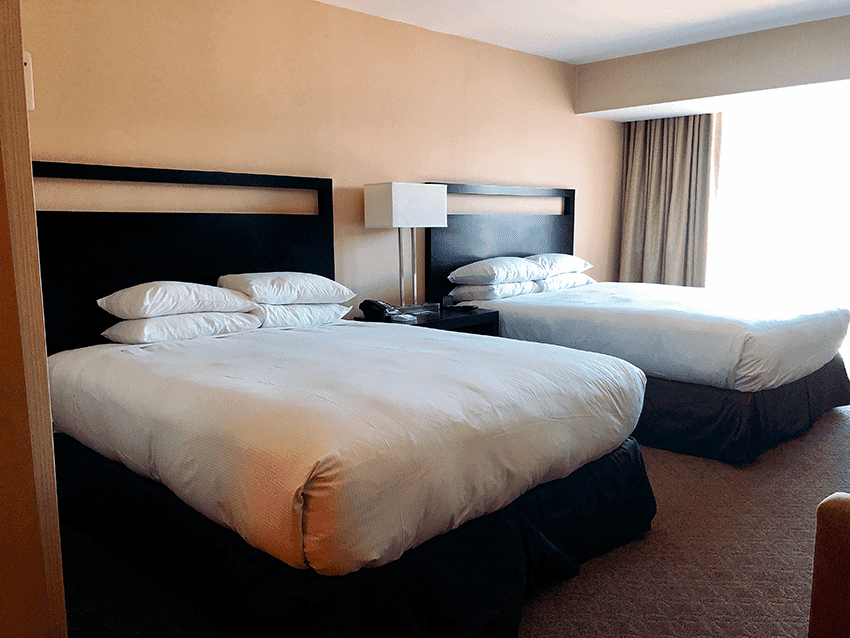 This post contains affiliate links. If you purchase through a link, I may receive a small commission without any extra expense to you.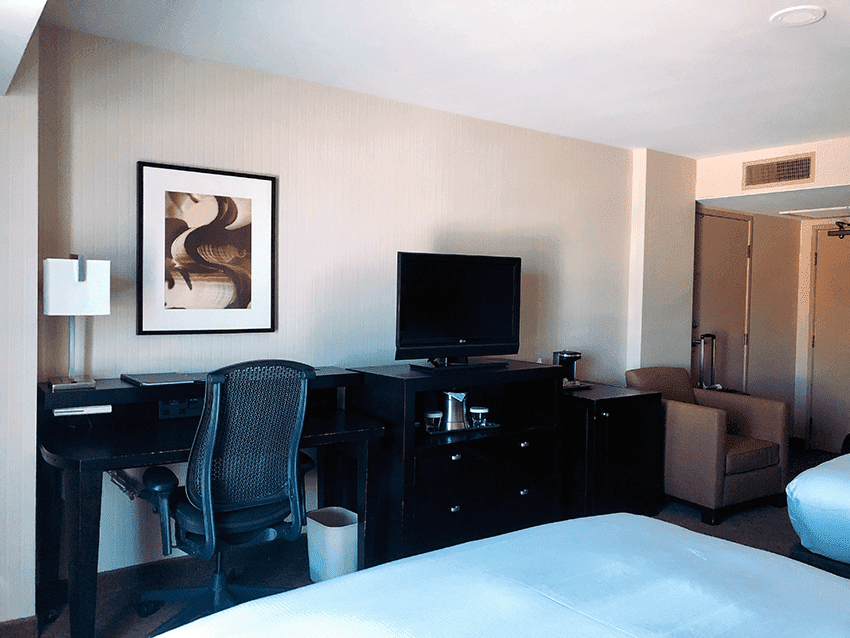 The Hilton Anaheim is ideal whether you are in the area for business, on family vacation, or a combination of both.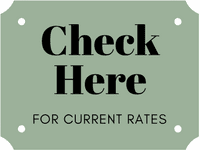 The hotel is the largest in Orange County with 1,574 guest rooms and 93 suites. On my recent trip, I stayed in a two queen room with a pool view. This was my view. The outdoor heated pool sits atop the 5th floor. The building surrounds the pool area to block the wind and provide privacy. If desired, you can request a room with direct access to the pool deck. The hotel can't guarantee the request, but can do their best to accommodate.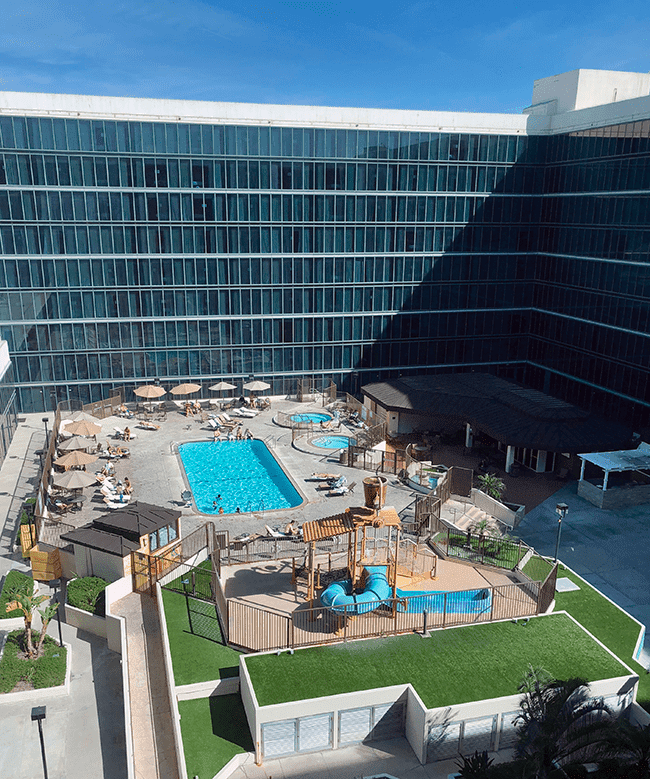 Rooms are spacious and beds are extremely comfortable. After a long day at the pool, exploring Orange County, or playing in the theme park, you just melt into the bed for a great night's sleep. The next morning, the room's coffee pot makes a starter cup of coffee before heading down to the lobby's Starbuck's. Rooms are appointed with a large flat screen TV, a desk and chair, and complimentary hi speed internet for Hilton Honors members.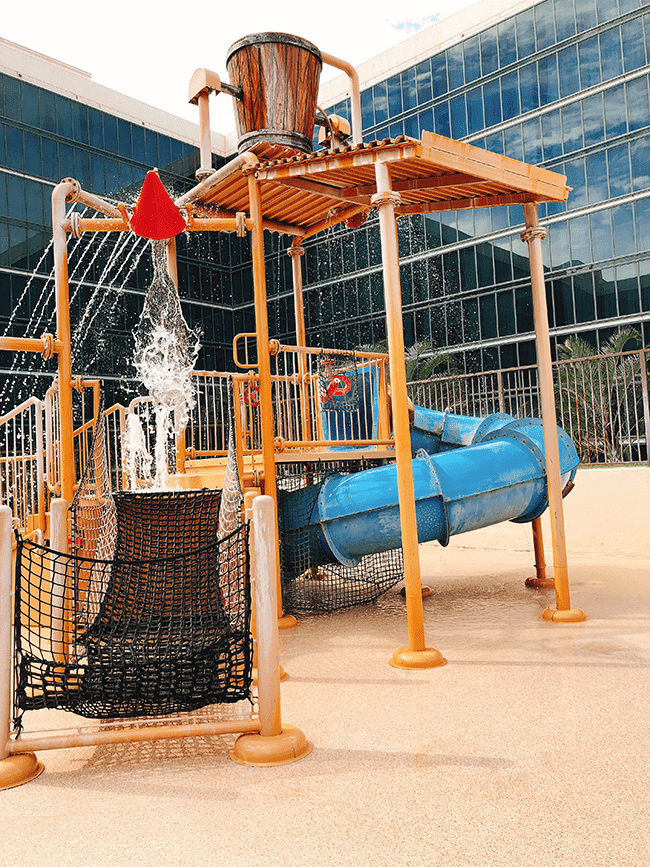 Kids love the outdoor pool and water play area. If you want to stay poolside to enjoy the California sun, you can definitely do that here. The water play area is a hit with its water dump bucket, sprayers, and water slide. When you are hungry, you can order both food and refreshments at Pool Bar & Grill.
Each season, Hilton Anaheim offers families specially themed activities for all ages. Whether it's heading to the lounge on the top floor to view the Disney fireworks to holiday crafts, each extra experience adds a little something extra during your stay.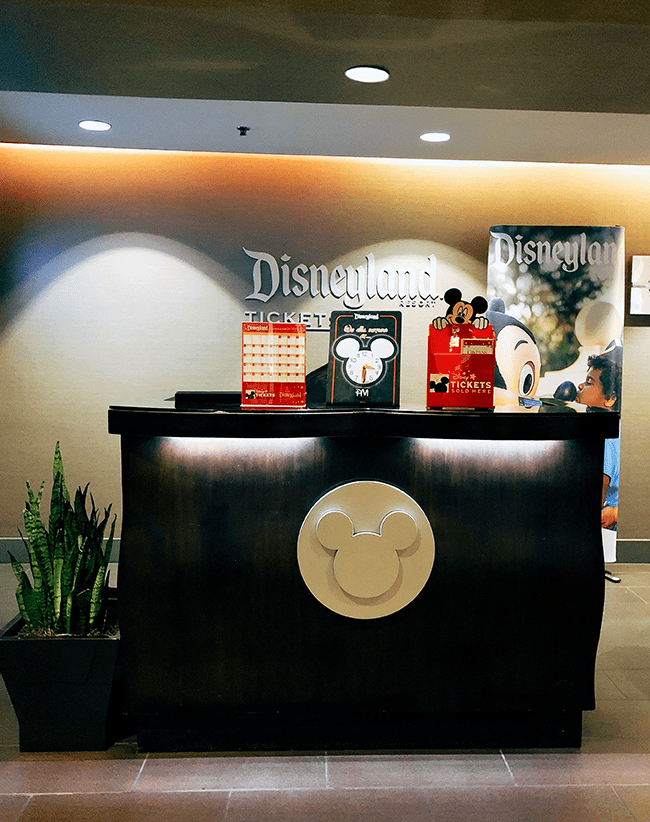 For anyone looking to visit one of the Disney parks, you can skip the ticket lines and visit the hotel's Disney desk. There are only a few Anaheim hotels near Disneyland with their own Disney Desk and the Hilton is one of them. This desk is staffed my trained Disney Cast Members who can answer questions, make dining and shuttle reservations, and sell park tickets. Be sure to ask about Disney's MaxPass to shorten your time in line and get access to all your PhotoPass pictures.
For your Disney and Universal Studios souvenirs, you can stop into the shop just off the lobby. It's stocked with themed t-shirts, stuffed animals, toys, and more. It's a great place to stock up on gifts for the kids or anyone back home. If you need to stock your room's mini-fridge, the shoppette has a good assortment of beverages, snacks, and well as sundries.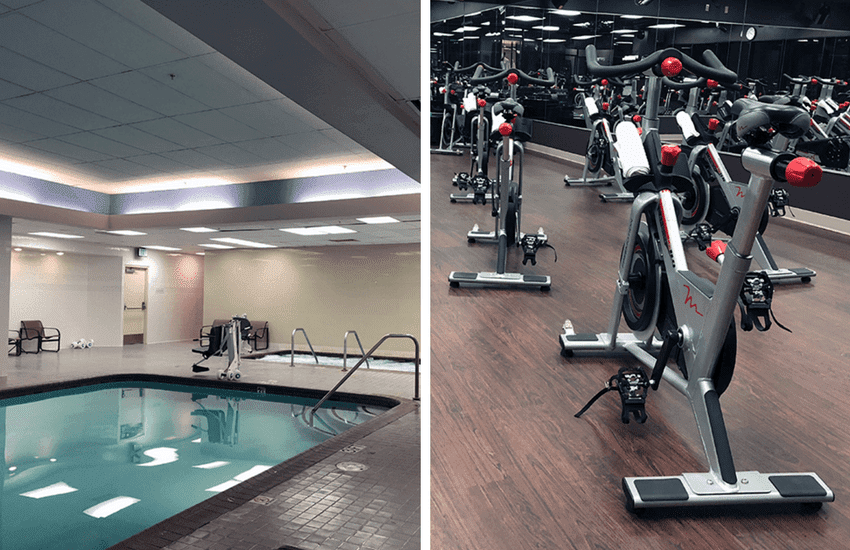 If you are looking to stay fit, the property's health gym, indoor salt water pool, gym, and fitness classes are top notch. For a nominal fee, you can gain unlimited gym access and enjoy a Power Cycling class, Zumba, yoga, or other class during your stay. I really liked the variety of equipment offered. It is nothing like you'd expect in a hotel gym.
When you get hungry, you have several options inside the hotel. You'll find a Starbucks in the hotel lobby to keep you fueled. For breakfast, the Mix Restaurant offers both a full breakfast buffet and an al a carte menu. I found for the price, the buffet was the better option with the omelet, yogurt, and oatmeal stations plus an array of fruits, breakfast dishes, juice, and coffee.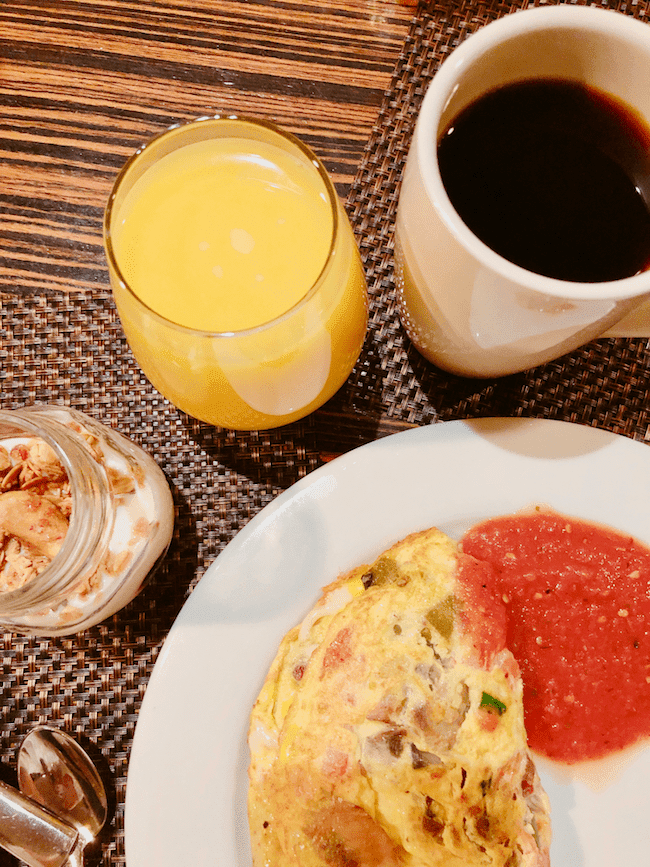 For a quick lunch, the hotel food court houses offers convenient fast food at Baja Fresh Express, Submarina subs, and Just Grillin' Express. You can order tacos, sandwiches, salads, or burgers and then sit at a nearby table or take it back to your room. Speaking of in room dining, room service is really good. Whether it's late night snacks and local brews to a full meal, the menu offers plenty of options. The fresh guacamole, salsa, and chips is really good and a good way to end a day.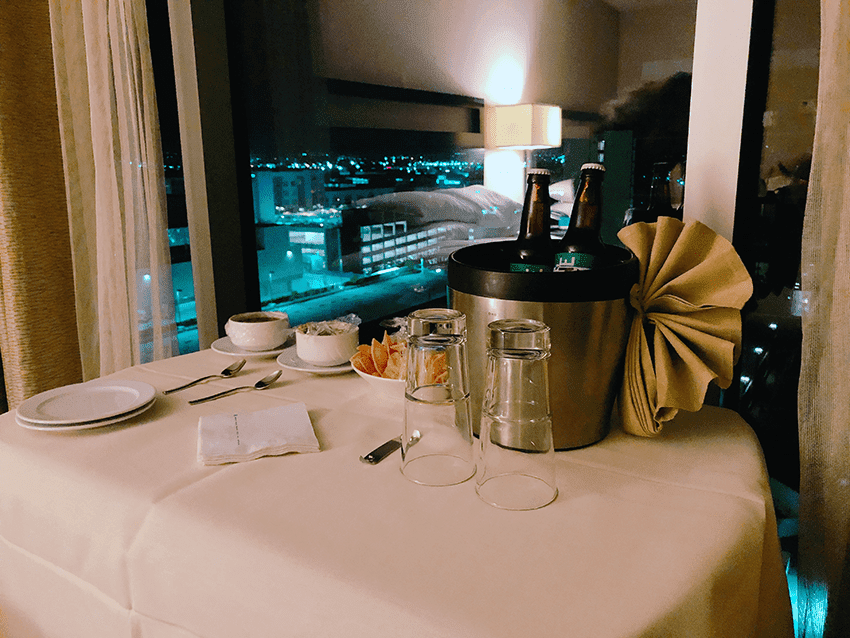 The Mix Restaurant also offers dinner with a variety of American classics. The Rotisserie half chicken is really good as is the Lobster Mac and Cheese. Both are full of flavor and portion sizes are good.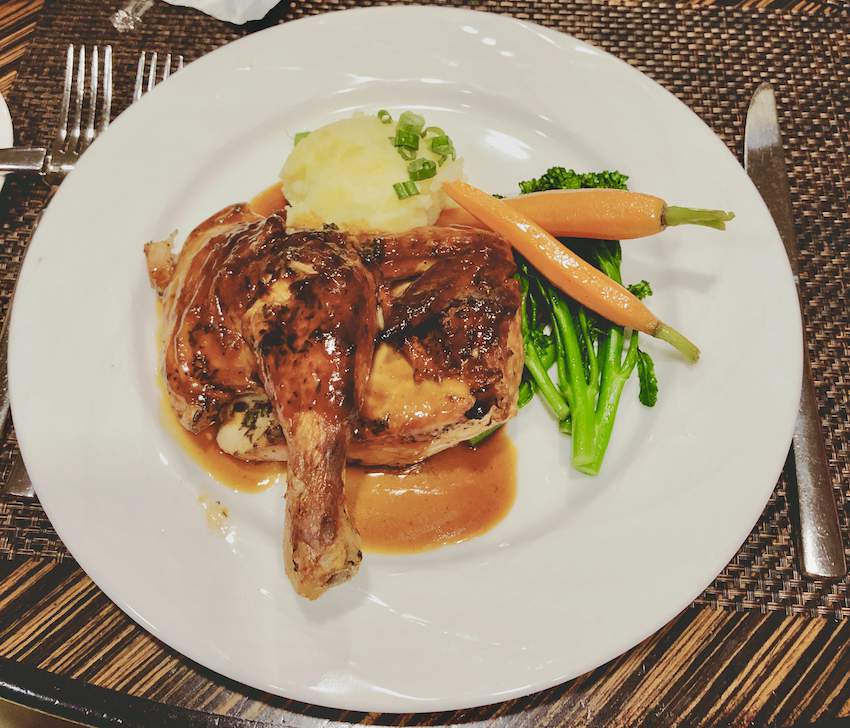 For the kids, there is a separate menu with their favorite dishes. For appetizers and drinks, the Mix Lounge is a good option too.
If you want other dining options, there are a multitude of local and chain eateries. Just two blocks north of the hotel is the Anaheim Packing District with over 27 artisan eateries. On weekends, you can enjoy live entertainment. Downtown Disney is also down the street. It offers a variety of shopping, entertainment, and food venues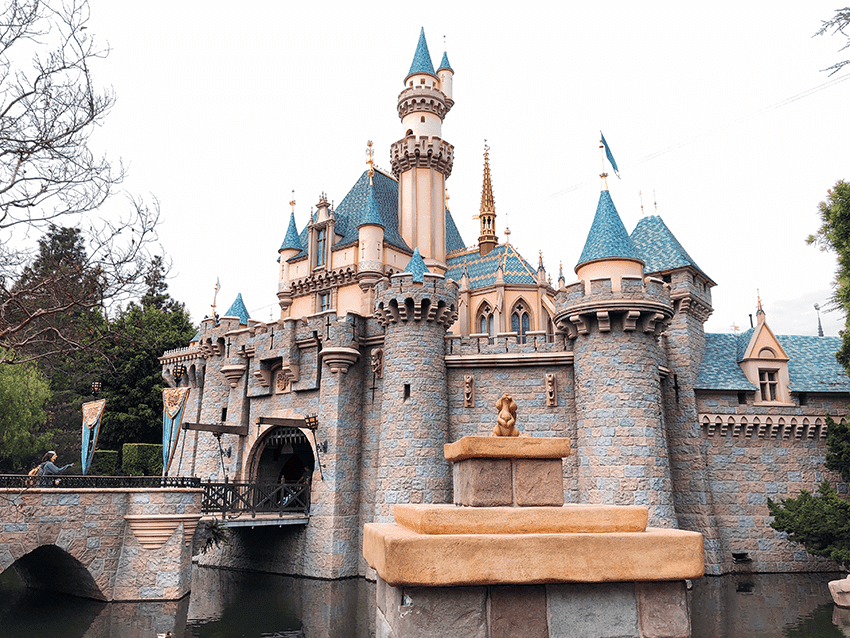 Disneyland and California Adventure are both within walking distance. You can get your tickets at the Disney Desk and then head straight into either park. You can ride classic Disney rides like Splash Mountain and It's a Small World in Disneyland or head to California Adventure for Cars Land or the new Pixar Fest coming summer 2018.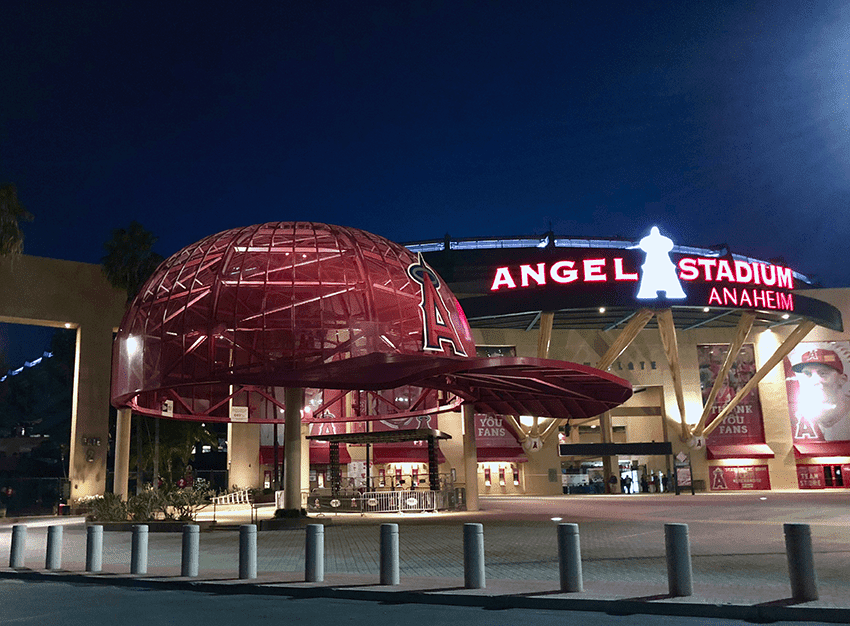 Looking for a ballgame? Journey just 3 miles from the hotel to find Angel Stadium. Snap a picture under the Big A or stay and watch a MLB game. Nearby you'll also find more great family fun that is just waiting for you.
Pin For Later: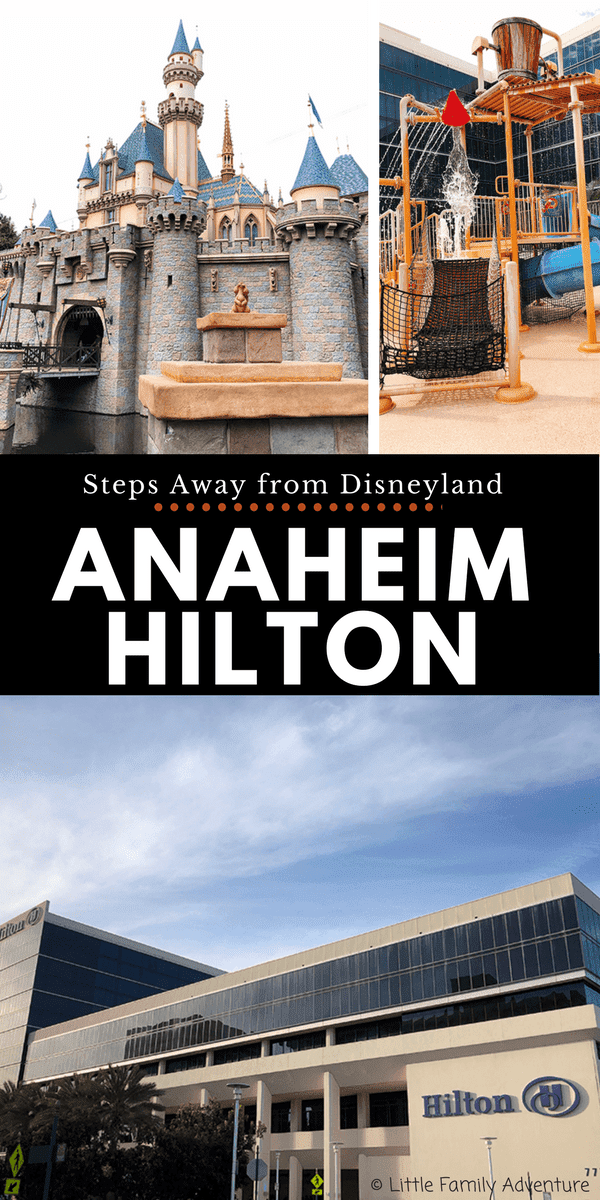 Looking for more great family vacation ideas? How about one of these:
Cannery Row, Monterey Bay, California
9 More Family Vacation Ideas
Note: Hilton Anaheim provided a discounted media rate during my stay. All opinions are my own. This post contains affiliate links. If you purchase through a link, I may receive a small commission without any extra expense to you.