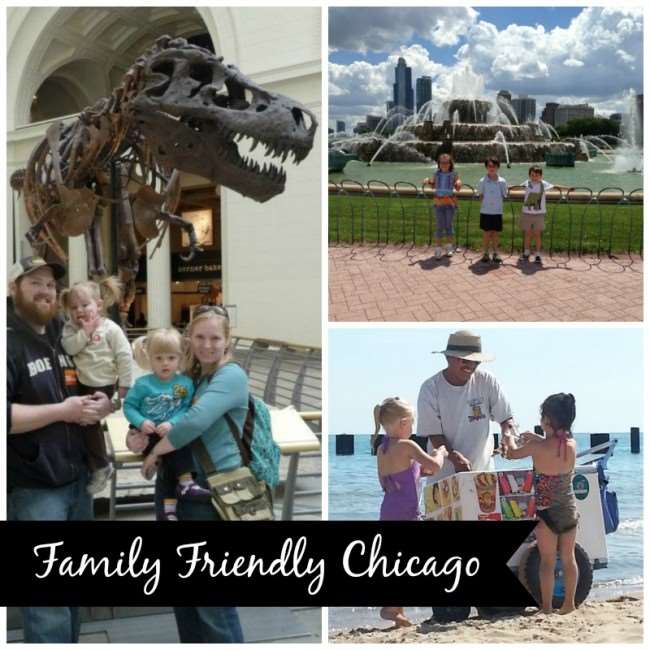 * This article contains affiliate links. Purchase through our affiliate links and we receive a small commission without any extra expense to you!
I moved to Chicago after college having only visited here a handful of times. Not long after unloading my belongings in my brownstone apartment, I quickly fell in love with the tree-lined streets and Lakeview neighborhood. Cubs games, outdoor beer gardens, amazing restaurants, and shopping. It was a great place to spend my 20's. You could try a new restaurant pretty much every day.
Certain things have changed in my life now that I am married with kids, but my love for Chicago has not (I just get to enjoy a lot less nightlife!). We welcomed twins into the family a little over a year ago (I survived the first year, and even had a not-pinterest worthy birthday party), and we are counting down the months until they will be able enjoy all of the kid friendly activities with us and their big sister. Here are some of the things we will enjoy with them this summer.
Museum of Natural History
The Field Museum was founded in conjunction with the World's Columbian Exposition held in Chicago in 1893. In 1921 the Museum moved from its original location in Jackson Park to its current site near the South Loop where it is part of the lakefront Museum Campus that also includes the Shedd Aquarium and the Adler Planetarium. It is open every day except Christmas from 9-5. Sue the T-Rex lives here and that alone makes the trip worth it – Kids LOVE Sue. There are tons of dinosaur and science related exhibits they will love. Visit the Field Museum's website for a few suggestions of "Kids Tours" for the museum. Grownups will love it too.
Shedd Aquarium
Built in the 1930s, on a beautiful peninsula in Lake Michigan, this aquarium can easily fill a day by itself. Some of our favorites are the Beluga whales, the jellies, and the Caribbean Reef. Parking is usually easy to find along the peninsula that leads to Northerly Island and the Planetarium. If you have a stroller, your whole party can go in the stroller/handicap entrance (which has much shorter lines than the regular entrance). If you want to save a few bucks, you can bring your own lunch and eat it at the little cafe near the dolphin/whale auditorium. It has a lot of tables and chairs and no one bothers you if you bring food (it might be nice to buy a drink and dessert from them though). Don't go on a free day- it's too packed! Try to catch the dolphin show, look at the schedule when you arrive and plan accordingly. There are some hands on activities for kids as well.
North Avenue Beach
If you are in Chicago in the summer, don't forget we have a beach! No sharks either.
<div id="amzn-assoc-ad-45c29044-d48e-4f31-9a32-38d03a0bdae0″></div><script async src="//z-na.amazon-adsystem.com/widgets/onejs?MarketPlace=US&adInstanceId=45c29044-d48e-4f31-9a32-38d03a0bdae0″></script>
Chicago Area Restaurants
Chicagoans love food. We have it all, from ethnic, to fine dining, to Chicago hot dogs (has to be on a poppyseed bun!). But, with kids, my favorite meal to eat out is breakfast. The kids are usually still well rested, and they love pancakes. Places are usually casual. And, well, there's coffee. Here are some places to try.
Café Meli or Wishbone Café in the West Loop.
Bongo Room in South Loop or Bucktown.
Panenkoeken on Western Ave
Ann Sathers on Belmont
For lunch, visit one of my favorite healthy and tasty kid friendly lunch spots, Roti Mediterranean Grill at 33 N. Dearborn (it's my favorite work lunch break spot, as you can see here).
For dinner, one night get deep dish pizza. Kids will love it. I love Lou Malnati's at 1120 N. State Street. We get the "Lou". Or, you could go to Gino's East at 162 E. Superior St. (also good deep dish), where the kids are literally allowed to write on the walls (if you think that's something they would get a kick out of).
Visit one of Chicago's many neighborhoods
Last but not least, throw the guidebook out the window and explore. Chicago is full of history and each neighborhood has a little different feel. The good news is that these days, families are everywhere. If you're wanting to try some restaurants out of the hustle and bustle of downtown, head into one of Chicago's many neighborhoods. If you don't have time to research restaurants, I recommend heading to the Lakeview area near the intersection of Southport and Belmont. From there you can just walk north toward Addison. It's a very family friendly area with window shopping, strollers and puppies everywhere. Duck into one of the numerous small neighborhood restaurants lining the street. My favorite café is Julius Meinhl on Southport and Addison. This is an authentic European cafe, with other locations in Austria. It is a little taste of Europe here in Chicago. Fantastic coffee (it's all in the water) and pastries, even live music sometimes.
Be sure to SUBSCRIBE and Follow us on FACEBOOK , TWITTER , INSTAGRAM and Follow PINTEREST to see more delicious recipes, travel destinations and tips, adventures, and more of what we are up to.
Check Out These Other Trave; Destinations:
About our Guest Writer:
Laura is a blogger at Good Not Perfect. She and her husband, three kids, and two cats live just west of Chicago.