This summer, we started kayaking as a family. What a amazing experience! We've been able to get out on the water together and explore local waterways and lakes. Kaying with kids can be a fun family adventure. There really isn't anything like. I have a few tips to help you get on the water and kayaking with kids too.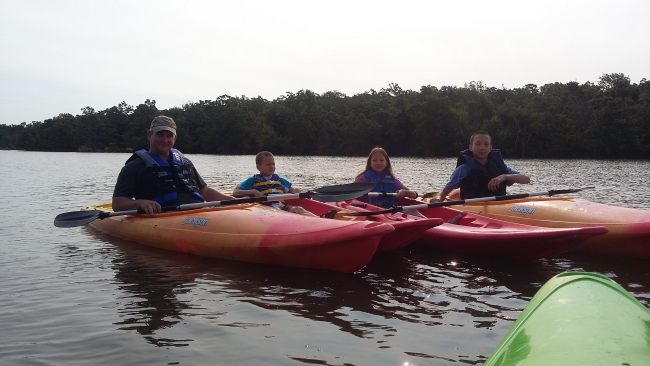 One of the best things about kayaking is it helps you reconnect with one another and with nature. There is something really relaxing about being on the water, away from all the hustle and bustle of our everyday lives. Kayaking is the great way to get active, have fun, and have an amazing family adventure with the kids. I can't tell you the best age to start kids kayaking, because we just started out. My youngest child was when we started and we are all strong swimmers. You know your family best and these tips will help you start kayaking with kids sooner.

5 Tips to Kayaking with Kids
1. Know your kids.
Start the kids on shorter outings to get them used to kayaking and paddling. We started the kids out on a very calm lake and went out for short 30-45 minute sessions to build up their stamina. Once they were ready, we went on longer outings on single kayaks and tandem kayaks. Tandem kayaks can be a good choice when you have younger children. They can sit in the front where you can keep an eye on them.
2. Scout the water.
Know where you will kayak before you go. Find out what the weather conditions and water levels are for where you are going. Some lakes and rivers have extremely shallow areas, especially during the summer months. Unseen obstacles may be just below the surface, so it's best to know the area or ask someone familiar with it before heading out. Plan to visit areas that have visual interest to keep the kids excited.
3. Invest in a dry bag or water proof case.
If you are like me, you'll want to take pictures while you are on the water. They is nothing worse than getting your phone or camera wet while you are out on the water. I bought this Pelican 1040 case for my phone. It fits all our cell phones and just in case we tip over, it floats.

4. Go at the kids' pace.
Kayaking isn't a sprint. You shouldn't be in a hurry to get somewhere, especially when you are traveling with kids. Children will often want to stop and look at the wildlife, stop and rest, or jump into the water to cool off. Take this time to slow down and let the kids take the lead.
5. Have FUN!
You are on the water to enjoy your time with the kids. Relax and enjoy the experience. The kids will be safe on the water as long as they are wearing their life vests and are wearing sunscreen. They will be okay, even if they are in a single kayak. Take a deep breath and "just do it" (as the saying goes). You'll have a great time on the water and create fantastic memories with your family.
Kayaking is a fun way to get the families outdoors. If you kayak, share your stories with us. We'd love to hear how you enjoy getting active with your family.
Take a look at one of our previous kayaking adventures on Lady Bird Lake in Austin, Texas.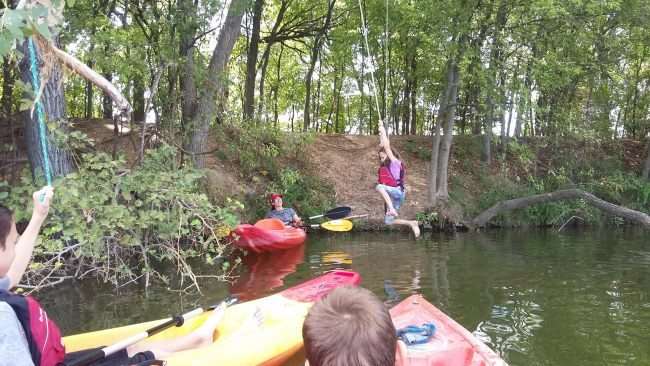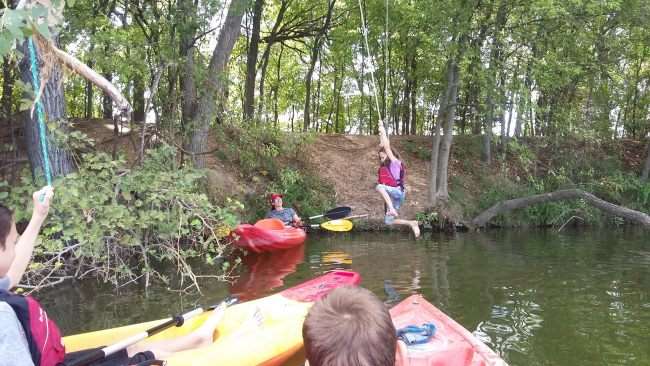 This article may contain affiliate links.