Summer is finally here! Imagine all the fun you are going to have on adventures to new places, new things you'll discover, friends and family you'll see along the way, and the amazing summer memories you are going to make. It doesn't matter if you are traveling the world or just exploring your own hometown. Keep those memories forever with an easy homemade Summer Travel Journal.
Let me ask you two questions?
What was the most memorable souvenir you bought?

What is your favorite vacation memory?
Most of us probably couldn't answer the first question without a lot of thought. But the second question, is pretty easy. Right? We all have cherished summer travel and vacation memories. Those memories stay with us longer than anything you could buy. Capture those memories with a DIY summer travel journal. It will be your record of all of this summer's adventures and travels.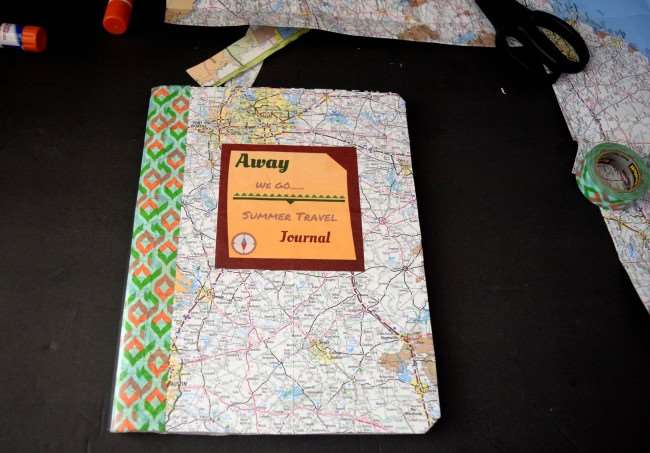 Easy Summer Travel Journal
This travel journal is simple and easy for both adults and children to make. I used some old maps I had laying around the house and a few things I picked up at the dollar store. In the back of the notebook, I created a pouch to place small items; ticket stubs, pictures, bits of this and that. I created a fun graphic for the cover too.
Here it is. I formatted it so you can print at as any size you like. Just adjust the size settings on your printer. I printed mine as a 4×6 image.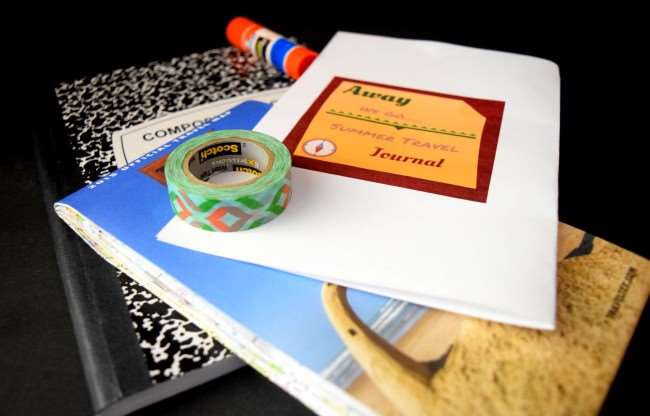 You'll Need:
Old map or atlas page
1 composition notebook
Scissors
Glue stick
Printed graphic
Washi tape for decorative edge
Small manilla envelope or piece of card stock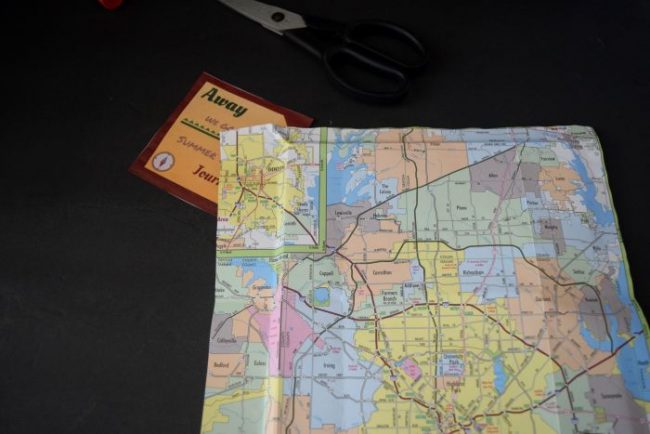 Place the map over the cover of the notebook. Press paper down to create a guideline for cutting. Cut out the paper or atlas page along the guideline with scissors.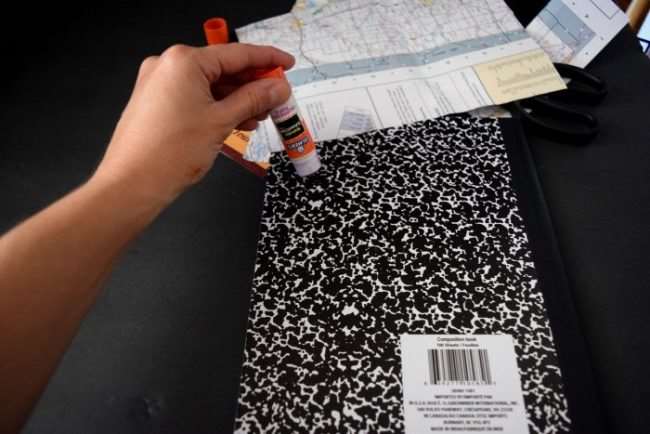 Apply a generous amount of glue to the front cover of the notebook being sure to get glue along the edges.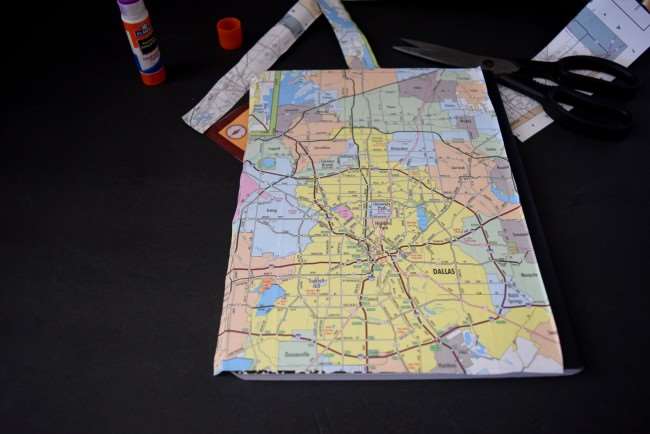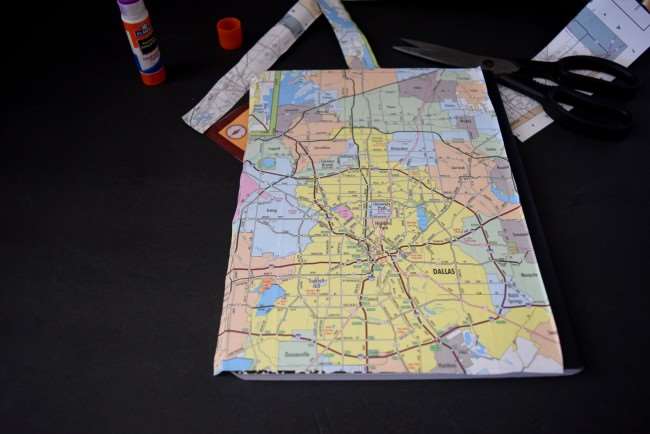 Affix the map to the cover of the notebook. Press paper firmly to remove any bubbles. Repeat on opposite side of the notebook.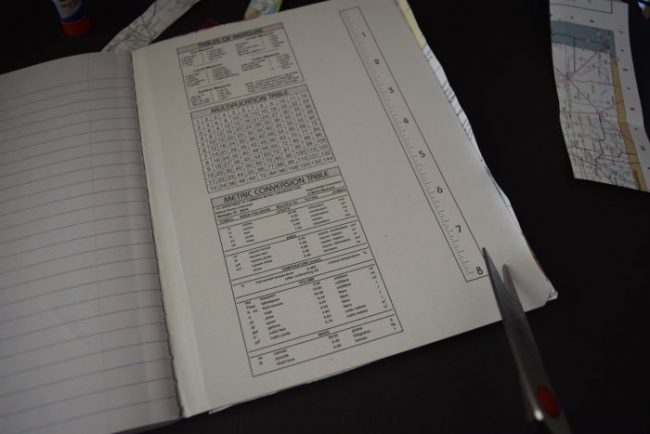 Trim any excess paper overhanging the cover of the notebook.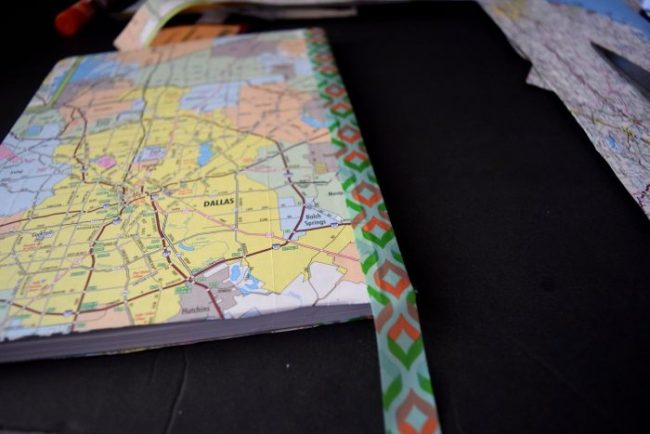 Using Washi tape, create a decorative spine with overlapping rows of tape. This will also help secure edge of map to the notebook.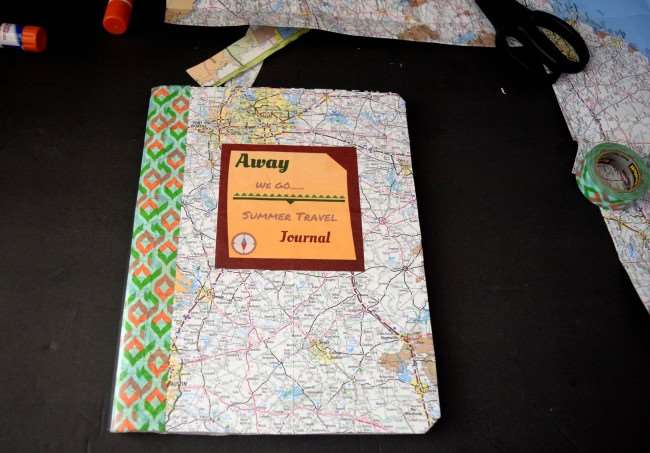 Cut out the graphic with scissors. Apply glue to the back of the graphic and affix it to the front cover of the notebook. Press firmly.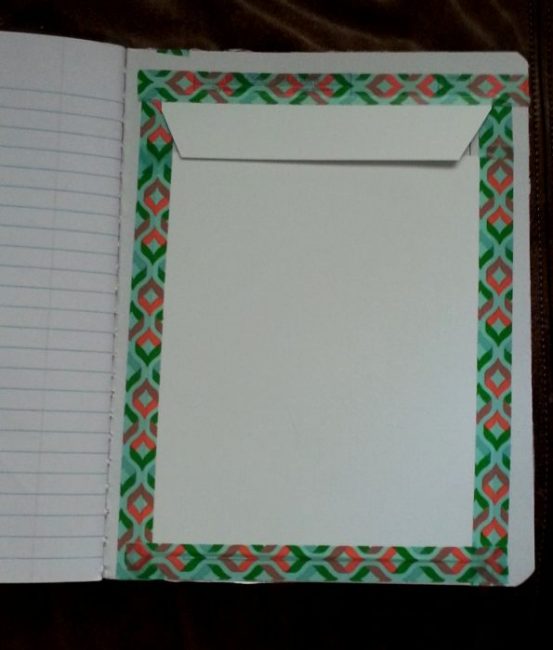 Tape and/or glue an envelope or piece of card stock to the inside back cover of the notebook to store small items.
Now all you have to do if fill it with summer fun memories.
Related: If you have children in elementary school, register them for the Six Flags Read to Succeed Program to receive a free theme park ticket.
Filling your Travel Journal
When it comes to traveling, remember it's about the journey. The destination isn't the only place where you can create lifelong memories. Take time to "Stop and Smell the Roses" as the saying goes.
In your journal you can include:
Hand drawn pictures or images
Printed photographs
Tickets from attractions, places, or events you visited
Stickers
Bits of paper or items you received somewhere
Menus of places you stopped and ate at
Anything you enjoyed or experienced over the summer.
One of my families favorite things is to have an "Exploring Day". We pack travel snacks, hop in the car, and pick a direction. We have no particular place to go, but we just see where the road takes us and what the day brings. Afterwards, we write something about it in our travel journal. We have found some of the best local eateries this way and creating memories we won't of had otherwise.
The best part of a summer travel journal is creating the memories that go into it. Have fun this summer and remember the memories you create for years to come.
Have a tip for creating a fun and memorable travel journal? Tell us about it in the comments.