Traveling is a great way to expose your family to new places, cultures, and experiences. Not only does it broaden your views about life, but it's also one of the best ways to escape the rigid, hectic schedule of everyday life.
More importantly, traveling and spending some time with your family is a sure way to strengthen the family, encourage family bonding, promote global education, learn about culture and diversity, and lots more. You can't be wrong traveling with your family.
But traveling also puts you in stressful situations where safety concerns are more of a priority than they might be at home. In some instances, the stress can put parents on edge, making them feel like they have less control over their environment. To prevent this feeling and keep everyone safe, here are a few important tips to keep in mind.
Proper Travel Planning is Key
As fun and exciting traveling might seem, it can also be very risky, both physical and psychological, if proper planning is not done. Every type of travel comes with some level of vulnerability, and it's so easy to get caught in the thrill of adventure that you forget your travel safety and security considerations.
Remember that accidents happen when least expected, and it's better to be safe than sorry. Hence, plan ahead by doing some research. For instance, you might want to learn about the place where you are traveling. This goes for urban destinations, vacation spots, and outdoor locations.
You can ask a lot of questions to experts and other people who have already traveled to that place or region. The Family Adventure Facebook group is a great place for this. (If you aren't a member already, click here to join). This will give you an idea of what things to expect and how to prepare for them. You can also get advice from other families who have traveled to the same destination, so you don't have to start out from scratch.
You can even take a look at the government-issued travel warnings and check if they reflect your family's situation and needs. If there is something that poses a threat, learn more about it, so you can plan for the best course of action.
Another area where proper research comes in is knowing about your destination's culture and what to expect when there. If traveling abroad, you might want to study up on some of the foreign languages that will be spoken, familiarize yourself with local customs, practice reading signs and directions in the local language, etc. Learning these things will make your trip more pleasant, interactive, and safe.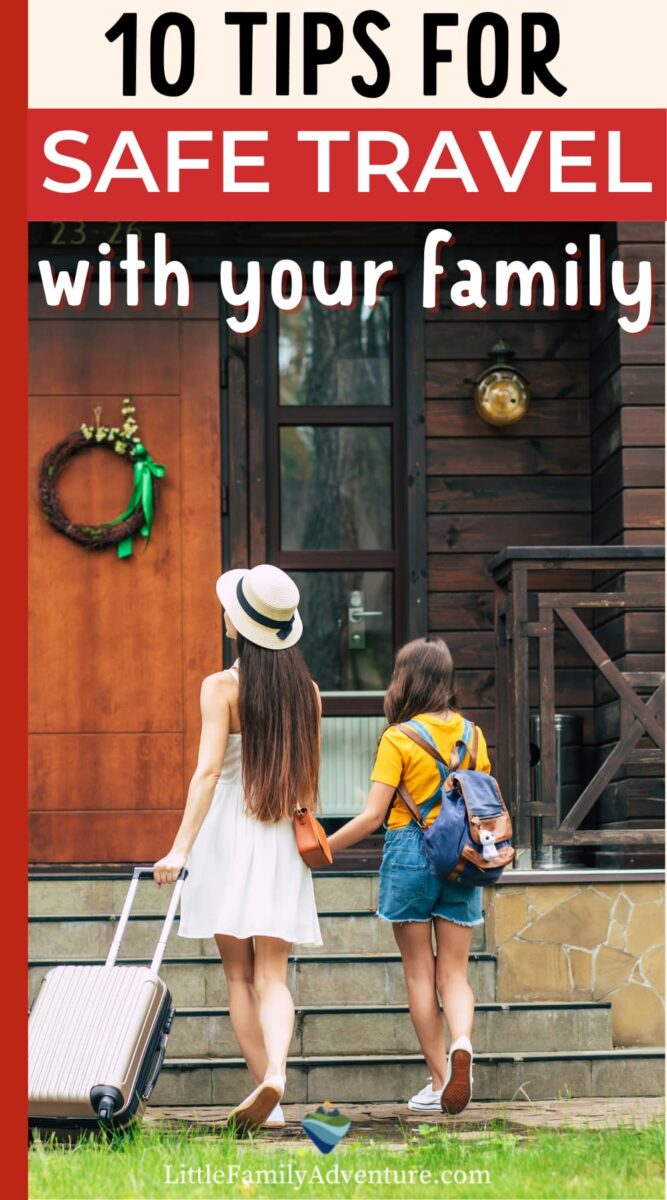 Learn The Right Travel Skills
The most important thing about traveling with your family is to have the right skills for the kind of travel you are in. Each type of travel has its own set of challenges and dangers, and unless you know how to handle them, it's easy to end up in scary situations.
If you are going for a hiking adventure, spend lots of time studying the right gear and preparedness items that can make your trip easier — and safer. Read online articles, ask for advice from experts, purchase the right equipment according to what you need, etc. You will find great tips on how to improve your hiking pace here. The same goes if you will be driving, boating, off-roading, or any other kind of outdoor adventure.
One skill you should definitely learn and practice is the art of self-defense. This includes learning how to deal with a fight, disarm attackers, and do some basic first aid in case someone gets injured. Many people are surprised by how simple it is to disable an attacker with a few basic fighting moves. Here's a good instructional video for some simple self-defense moves you can use.
Basic Travel Essentials
Safety is an important aspect of traveling, and it starts with proper planning and preparation. If you study ahead in terms of destination, travel skills, and safety, your family might even find the experience to be more relaxing than stressful. To help with that, here are some basic and essential things to do and help ensure you travel safely with your family.
Get Travel Insurance
We all want to have a safety net that will save us if something untoward happens while traveling, and the best way to plan for safe travel – Insurance. It can provide both financial protection and peace of mind. Basically, travel insurance is an insurance policy that covers costs and losses associated with traveling. This can cover airfare, lodging, prepaid tours, and activities, as well as travel delays. This is, arguably, the most important consideration and useful protective measure, especially if you're traveling abroad, engaging in adventure activities, or embarking on "off the beaten path" vacations.
Some travel insurance covers damages to rented equipment such as rental cars, personal property, and even the cost of paying a ransom. At the same time, some policies do not provide such luxuries. It all depends on the insurance company and, of course, what you, as the client, want. And since you will be traveling with your children, especially kids, it's more preferable that you opt for the policy that provides broader coverage. This policy comes with different packages.
The main categories of travel insurance are trip cancelation or interruption coverage, baggage and personal effects coverage, medical expense coverage, and accidental death or flight accident coverage. Often, the policy provides 24/7 emergency services. When you need to re-book a canceled flight, replace your lost passports, or maybe you need assistance with cash, the policy can help you cater for all that and more.
Another useful thing about travel insurance is that you can purchase it well ahead of your departure date. That means, even if you are not yet ready to go on a trip but want the protection just in case something goes wrong (like having to quarantine for 10-14 days because of COVID exposure), your policy will be there for you — and your family. In fact, some policies can cover you up to one year before your departure date, saving you time for the planning process.
Pack a Medical Kit
Traveling can be really fun, just like it can be so demanding. Children, especially the younger ones, want to explore their temporal home, which means they could easily get injured. More so, minor accidents in the kitchen, bathroom, or living room, are inevitable and can, sometimes, become a big thing if not treated quickly. Hence, a medical kit is a must-have before traveling. It's an essential kit you carry along on your travel. So, what do you need to pack in the medical kit?
The medical best kits are simple and will have a variety of dressings, equipment, and some medicines to deal with the absolute basics. They include:
bandaids/bandages
pain reliever
gauze
aniseptic wipes
tweezers
medical tape
antibacterial cream
allergy medication
The kit should be waterproof and compact. It's a good idea to put the items in a resealable plastic bag or container for easier access. You can find additional tips in this article on creating your own first aid kit.
Always Have a Working Smartphone
You're traveling with your family to a destination that you, most likely, have never been to; it's safe that you always have a working smartphone. Stay in touch with the people you left behind. Let them know where you are, how long before you'll be home, what places or attractions you've been to so far. This will lessen their worry if they don't get constant feedback from you.
There can be emergencies at any time; you need a working phone to alert someone. You may get into trouble or need help while on a trip away from your hotel; you need an active smartphone to make phone calls and call for help. Traveling without a working smartphone or any means of communication puts you at risk. And also, it puts your friends and relatives you left at home in a state of despair when they lose contact with you.
Choose Safe Accommodation
Before leaving your home or country of residence, you should have in-depth information and details about your destination. Consult with locals, read traveler reviews for information about the safest places and neighborhoods to stay, use an address lookup tool to get information about the owner of the property you're going to stay (Airbnb/VBRO). The importance of this cannot be overemphasized as you don't want to put your family in harm's way.
More so, when you arrive at your destination, a rented apartment or hotel, ensure you do a security check of the environment. Look for possible emergency exits, stairwells, fire escapes, and emergency plans, etc.
Be Aware of Your Surroundings
This tip is very important while on you vacation. Ensure you know what's going on around you at all time, avoid getting caught in the middle of a heated argument or confrontation. Be aware of your surroundings so that you don't fall victim to any crime.
Furthermore, it is highly important that you understand the local language so as to be able to communicate with other people in your environment. You don't want to get lost or have an emergency situation where help won't come your way just because no one around understands what you're saying or vice versa.
Check for travel and health alerts
Furthermore, travel and health alerts give you fore-hand information about the place or country you're traveling to. Weather conditions, public services, transportation, and the possible dangers you can face are all in these alerts. Keep yourself abreast with them to have a more fun journey.
If traveling with kids, familiarize yourself with the US travel guidelines for children. These are designed specifically for parents who want to ensure their child's safety while on the road or when they're out of their home.
Travel and health alerts inform you about the standard of hygiene and sanitation, food and clean water availability, protective measures and vaccination, and many more. To put it simply, travel and health alerts provide you information for staying safe as well as security information for every country of the world you wish to visit to help you assess for yourself the risks of travel.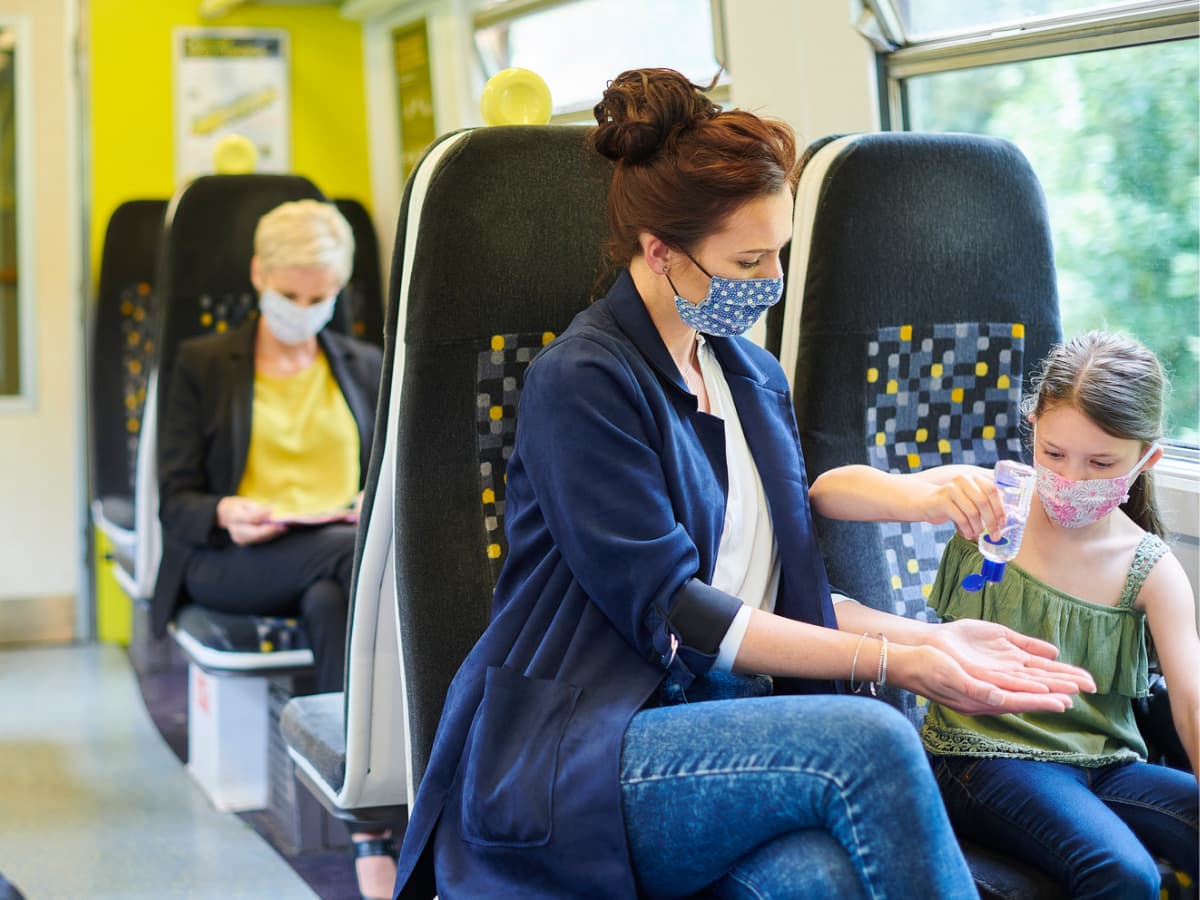 Be Fully Vaccinated and Follow CDC Guidelines
Now more than ever, it's important you and your kids are fully vaccinated. This is a must-have pre-travel habit. You just cannot get away with this one, especially since the spread of COVID-19. It's essential that you're fully vaccinated for this as well as other illnesses before setting out on a trip to another place. You wouldn't want to risk your health and that of your family.
The CDC recommends that you should get the following vaccines before traveling to a country outside of your own.
Hepatitis A and hepatitis B vaccine
diptheria-tetanus-pertussis (DTaP)
measles-mumps-rubella (MMR) or measles-mumps-rubella-varicella (MMRV)
Haemophilus influenzae type B
pneumococcal conjugate vaccine (PCV13)
Varicella – the chickenpox vaccine
CDC recommends that you have been revaccinated for these vaccines if: You were vaccinated more than five years ago. You have not completed a full series of vaccinations or did not finish them before age 13. You are planning to travel outside the United States, especially if you're going to be living in the country where you will visit or staying there longer than six weeks.
In addition to being fully vaccinated, it is recommended (mandated in some areas) that you wear a mask on public transport, follow social distancing guidelines, and follow regional travel restrictions.
Traveling with children can be challenging. But it doesn't have to be if you plan properly and prepare for the trip in advance. We hope this article has given you some helpful information that will make your next family vacation safe and fun!