Whistler, British Columbia is North America's leading ski resort. Yet it is no longer JUST a winter family travel destination. Long sunny days, breathtaking scenery, and an abundance of Whistler summer activities and outdoor events, now make the summer months equally as popular.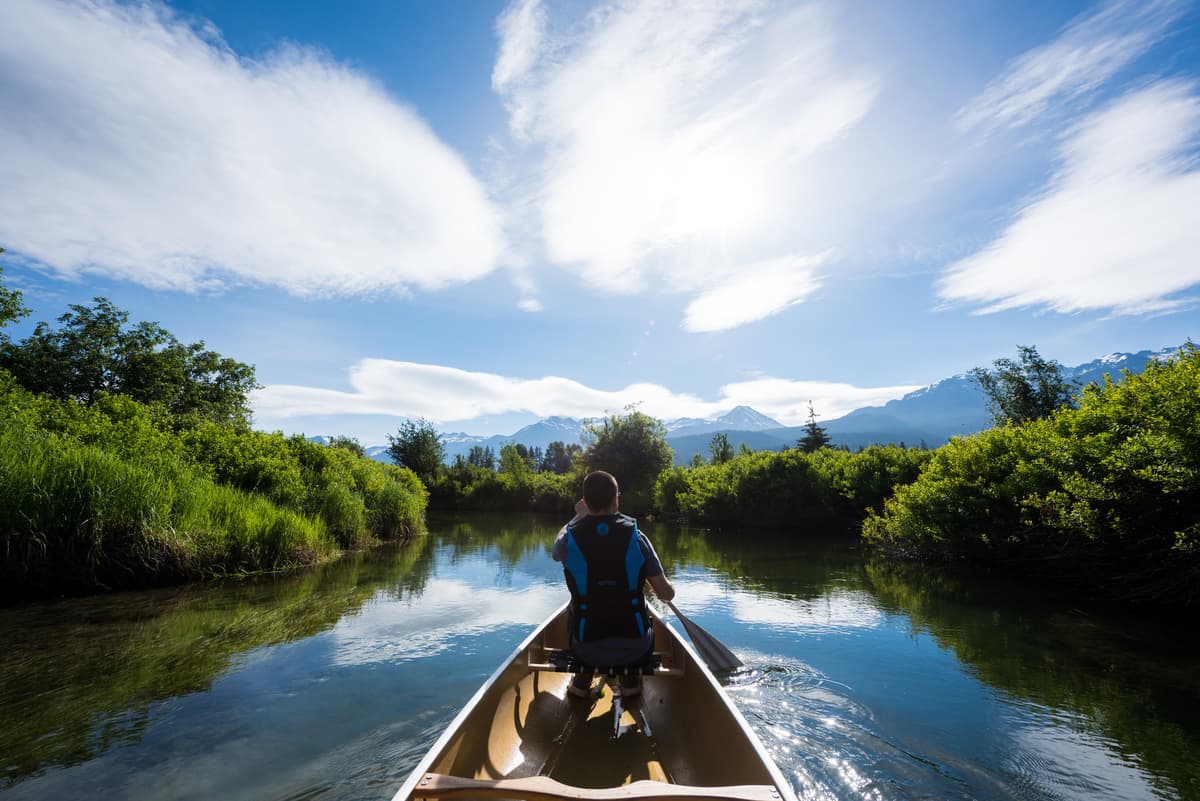 Whistler Summer Activities
While there are many Whistler summer activities to choose from, we've pulled together some of the top family-friendly things to do in Whistler, summer vacationers really enjoy. As you start planning your next trip here this year, you'll want to add these to your list.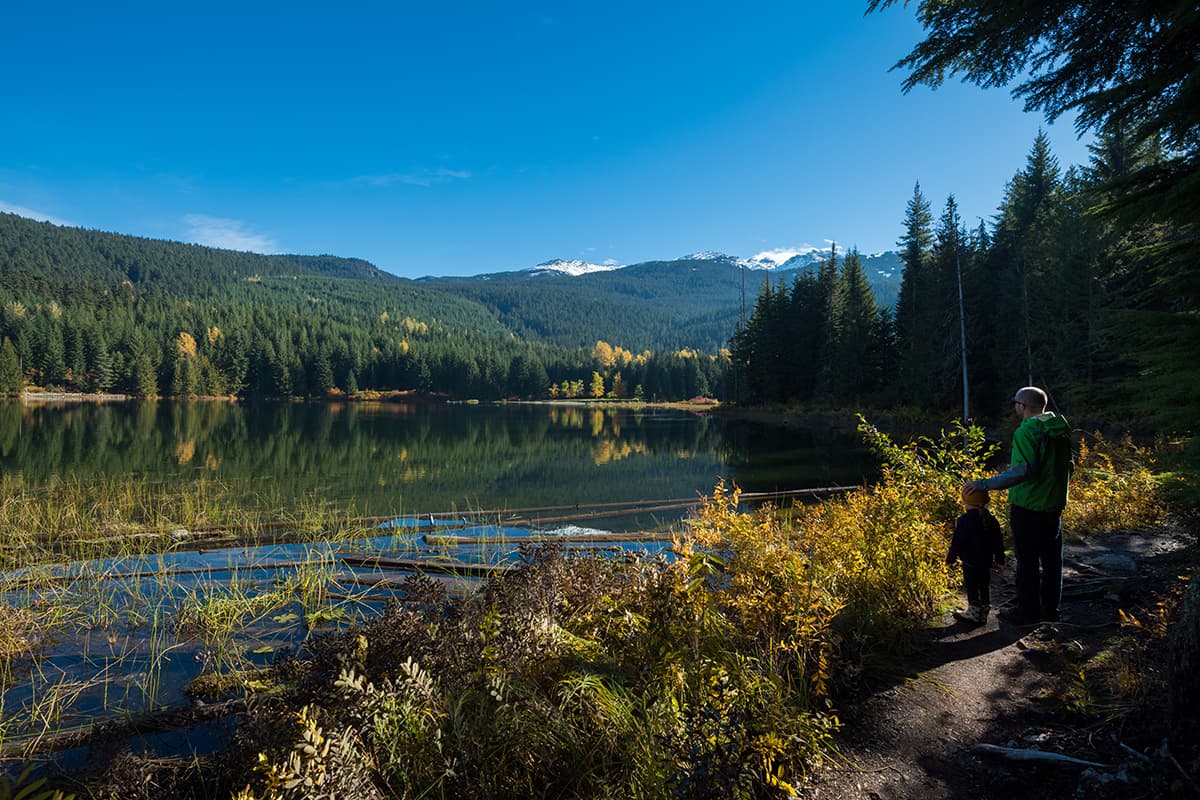 Enjoy the afternoon lakeside on Lost Lake
On a hot, sunny day, a visit to the Lost Lake Trail is a must. Located just a short walk or bike ride from Whistler Village, the well-signed hiking trail guides you to Lost Lake through dense forests, past bubbling streams and close to tadpole-filled lakes along the way. Experienced swimmers can take a dip in the lake too. Water temperatures are typically comfortable throughout the summer months and there are docks and floating platforms. Dry off in the sunshine using one of the onsite BBQs and picnic tables and don't forget to enjoy a game of frisbee on the beach before heading home.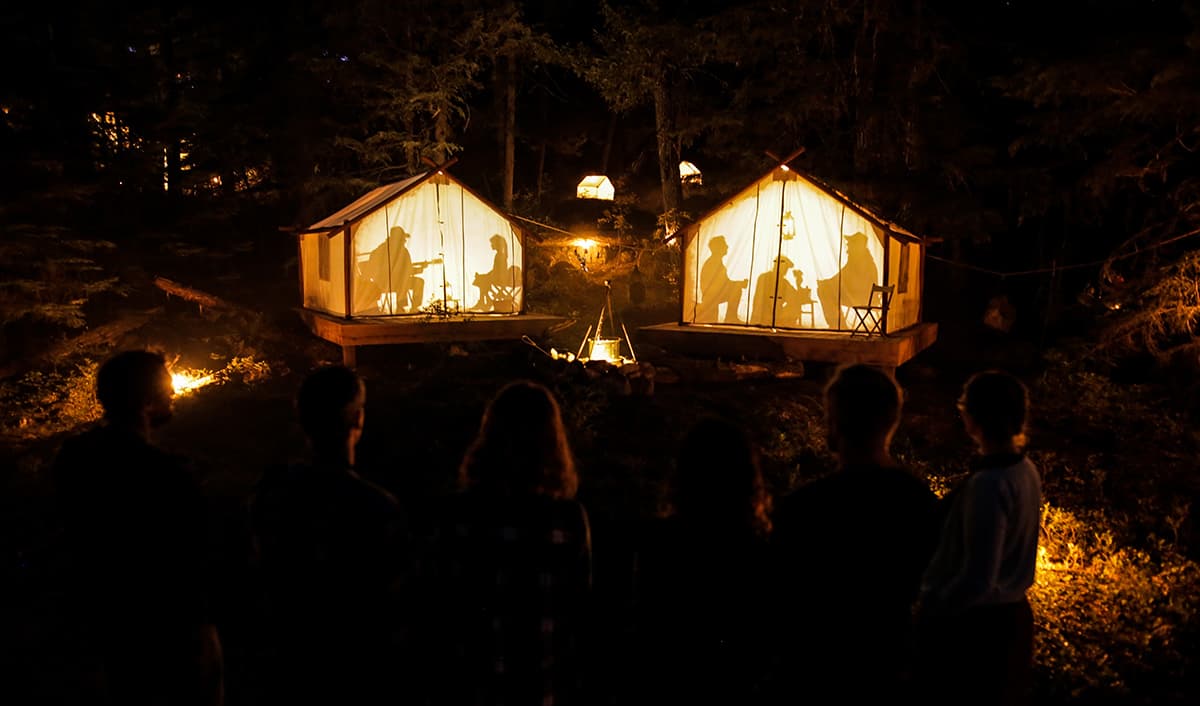 Visit the Vallea Lumina night walk
Add a sprinkle of magic to your Whistler Canada summer trip with the Whistler Night Walk or The Vallea Lumina as it's also known. Journey along 1.5 km of mysterious trails through an enchanting coastal rainforest. This luminescent journey is perfect for kids of all ages and has the feel of a real-life fairy tale. The Night Walk runs throughout the summer months with special rates for kids – those under five go free. Overall, it takes between 50 and 80 minutes to complete but allow around two hours to make time for transportation to its hidden location.
Pin This for Later……
Whistler's Summer Concerts and Outdoor Events
There's never a dull moment here and events take place during every month of the year. Kick off your shoes, bring a picnic blanket and soak up the summer concert series from July through early September.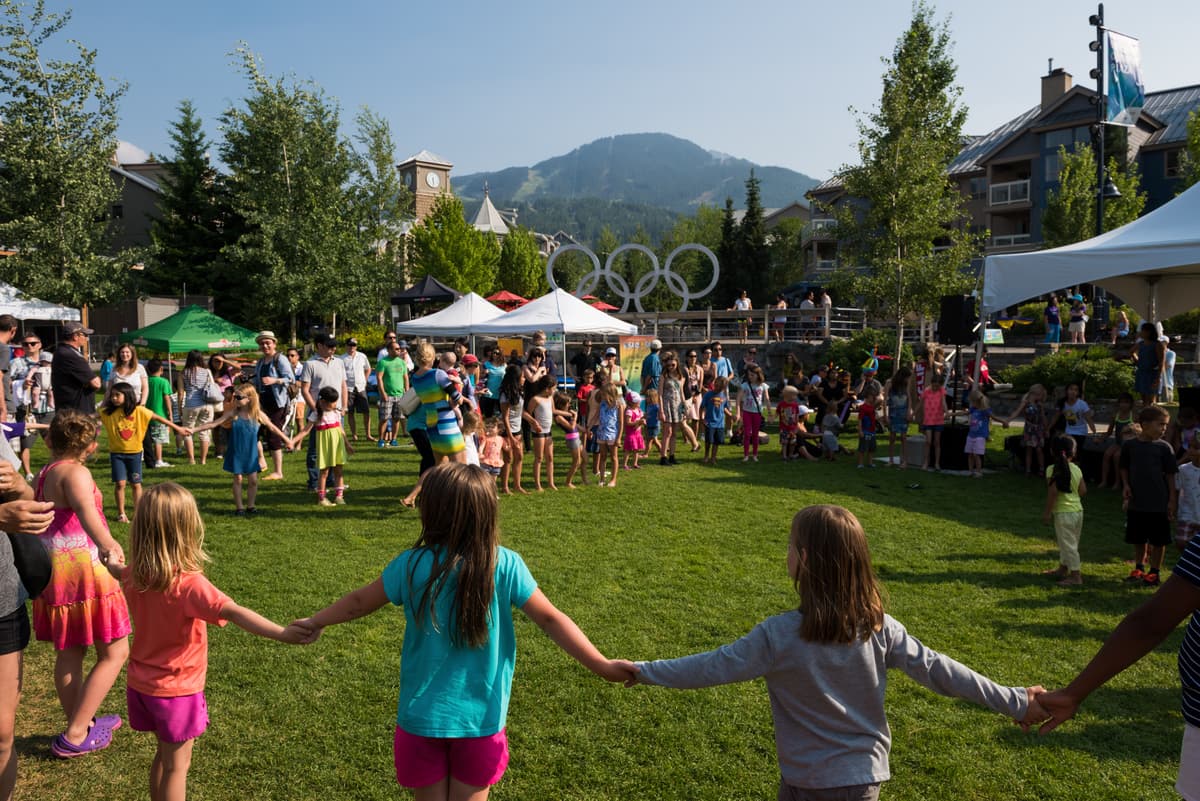 Go Fest takes place during the Victoria Day long weekend (May 14-18), marking the official end of winter and start of summer. Expect sliding on snow, golfing, bike riding and water sports all on the same day, in an eclectic mix of Whistler's summer and winter activities.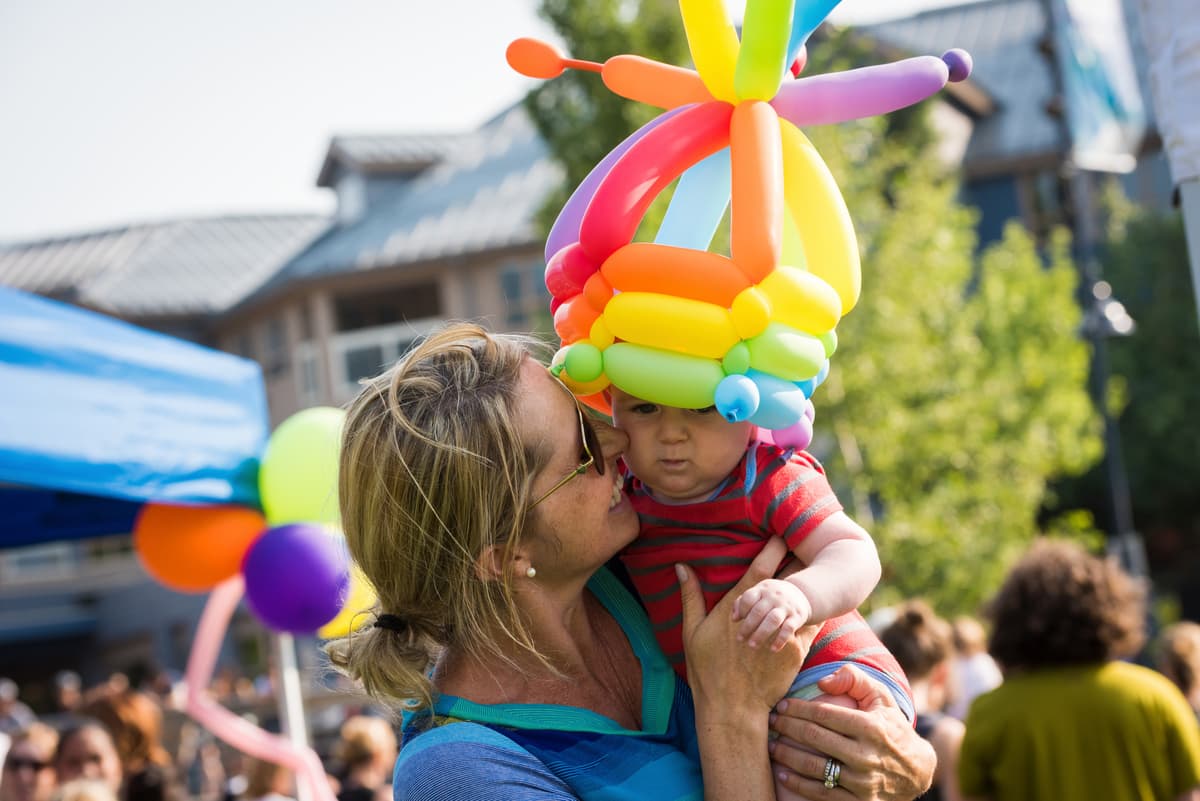 The Whistler Children's Festival runs July 10-12 and is a celebration of arts and crafts activities, theatre, dance, music and magical performances on Whistler Olympic Plaza.
If bikes are more your thing, the annual Crankworx festival held at the Whistler Mountain Bike Park is a must-attend August 5-16. The world-famous festival celebrates the heart and soul of mountain biking, attracting the best riders and biggest bike fans for twelve days of racing, slopestyle competitions, bike demos and more. There's also Kidsworx contests for young riders.
Ride the Peak 2 Peak Gondola
No visit to the mountains of Whistler would be complete without a trip on the Peak to Peak Gondola. You'll ride the highest gondola lift of its kind at 1,427 feet above the valley floor, experiencing 11 minutes of 360 views. Oh, and children aged six and under go free! Feeling brave? Ride the special glass-bottom gondola for the best view of the forest.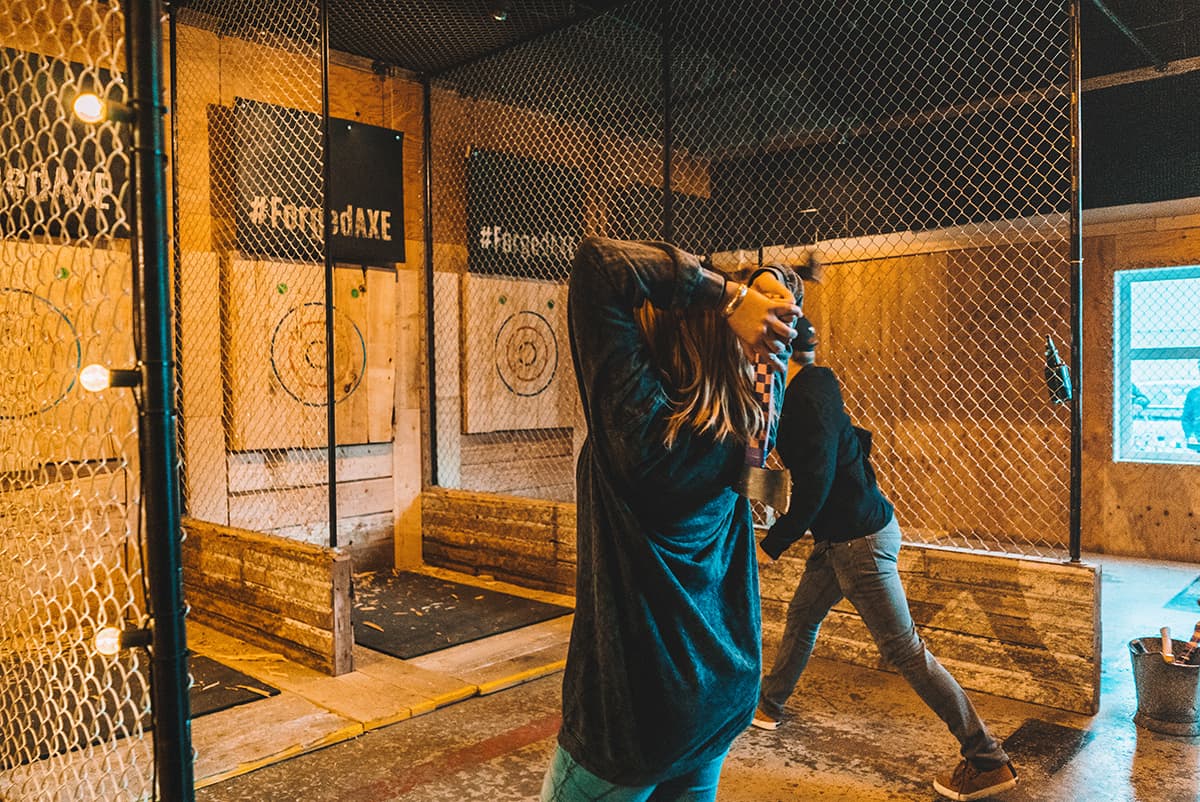 Try axe throwing
The lumberjack sport of axe throwing is perfect for families traveling with older kids (10+) and is one of the best rainy day activities in Whistler. At the award-winning Forged Axe Throwing, you'll hurl axes (known as hatchets) at a target under the watchful eye of experienced axe throwing aficionados. Compete against the teens and strike up a little family competition, aiming for an elusive bullseye and learning a new skill.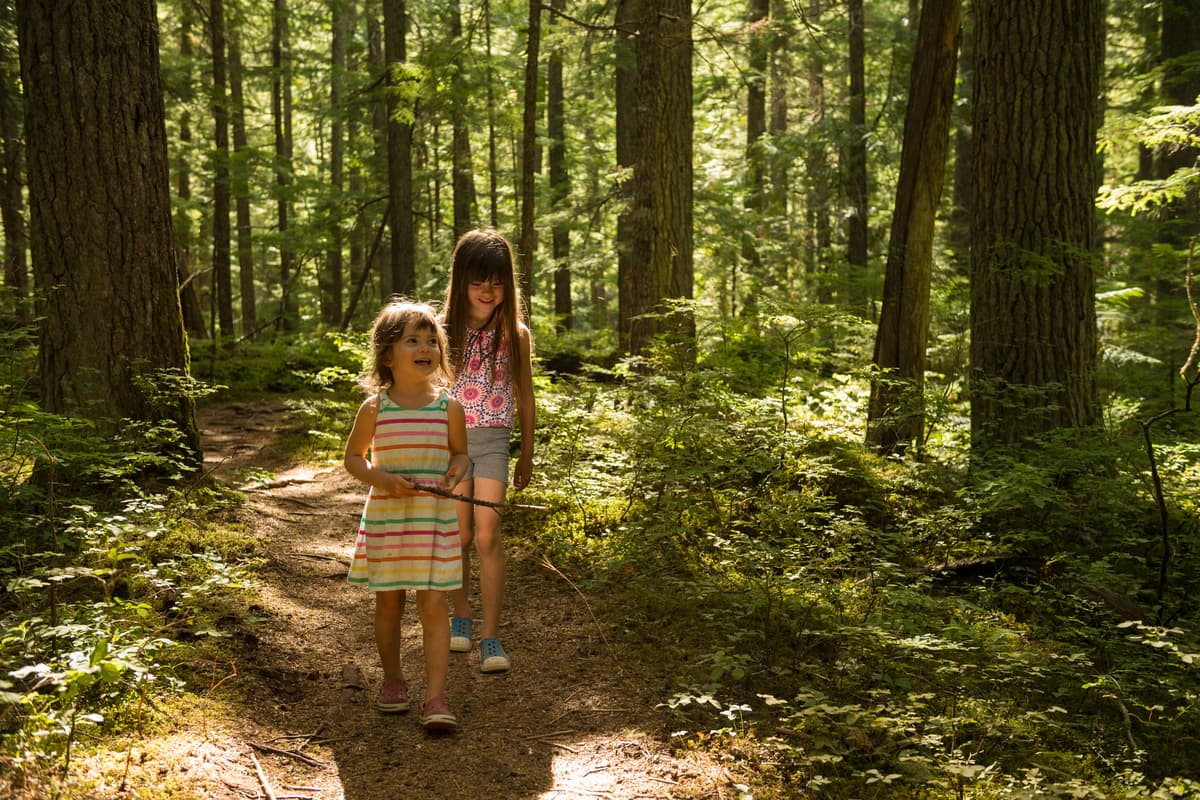 Go hiking
The spring thaw releases miles of hiking and biking trails from winter's icy grip, and Whistler offers an impressive network of paths ready to explore. The best way to explore the wilderness is to head out on a guided hike in Whistler with an experienced local. Your guide will be able to recommend the best hikes according to the age of your kids and overall fitness levels, as well as keeping you safe in the wild.
Note: Be aware that black bears are active during Whistler BC summer months. See this article on tips for hiking with kids.
Climb trees at Olympic Plaza
The area was one of the host locations for the 2010 Olympic Games. The famous Olympic rings stand proudly in the heart of the Village. Nearby, you'll find the Whistler Treehouse Playground where kids of all ages can climb until their heart's content. There are many coffee options close by, so the adults can sip a latte while the kids let off some steam.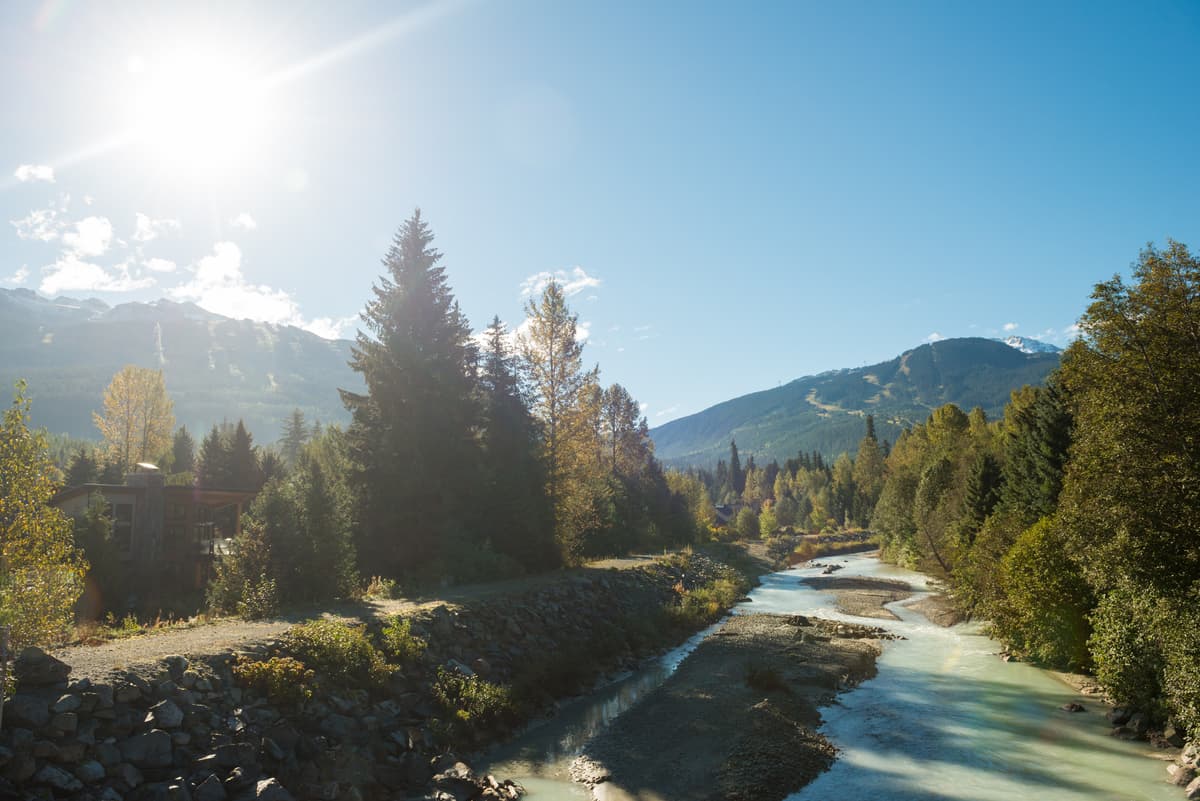 Paddle the River of Golden Dreams
Winter snow melt off makes for ample opportunities to go white water rafting and other water sports. Many families enjoy taking a gentle paddle down The River of Golden Dreams to take in views of snow-capped mountains and wildflower-lined banks. Choose between a canoe or single or double kayak for this top family activity.
Related: Tips for Kayaking with Kids
Walk the Cloudraker Skybridge
Part of the Peak 2 Peak 360 Experience, this 130-meter suspension bridge spanning from Whistler Peak to the West Ridge is fast becoming a sightseeing icon in these parts. Offering spectacular views over the Whistler Bowl, this is arguably one of the most Instagrammable locations in Canada – so long as you have a head for heights.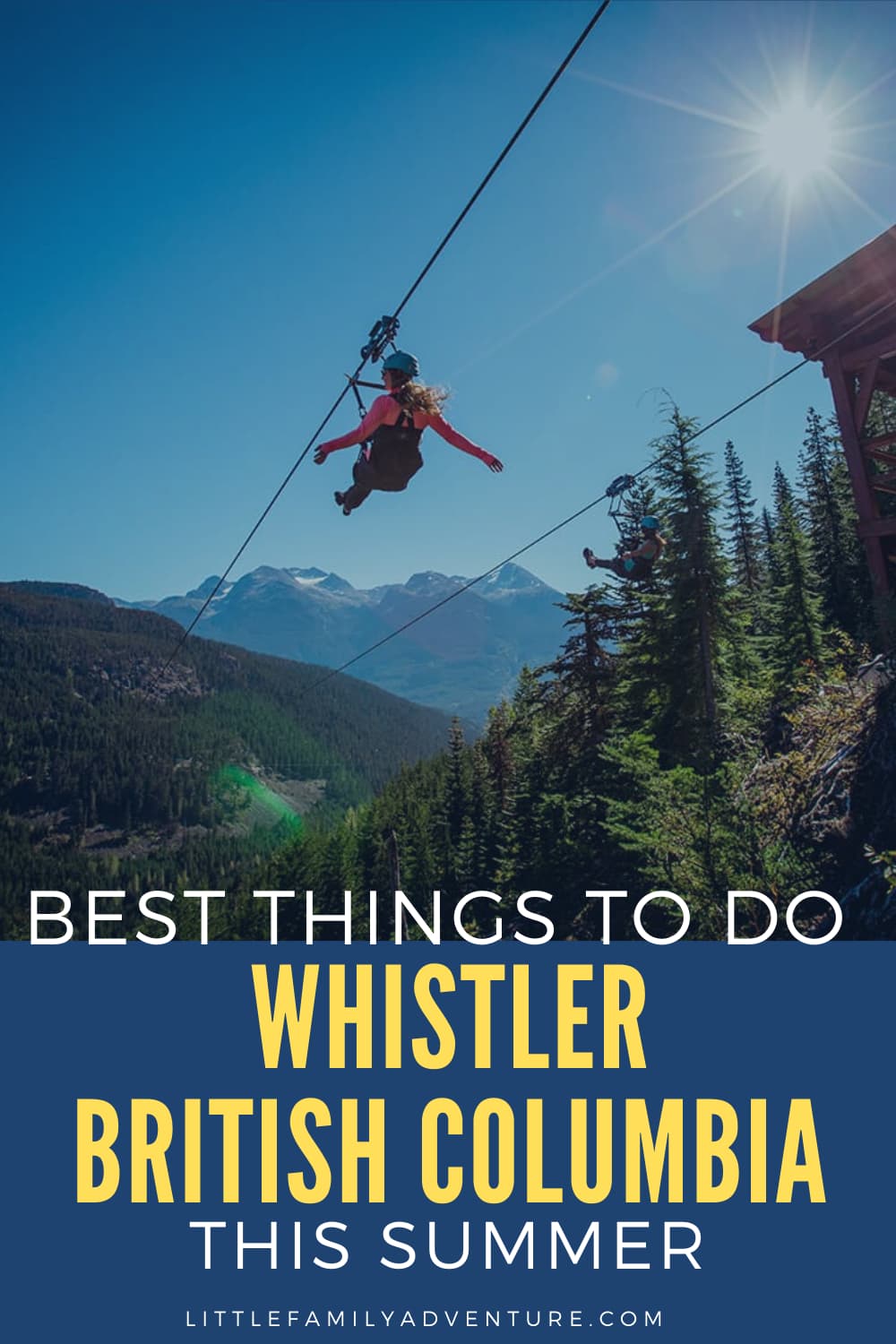 Go sightseeing on the Whistler zip line
Zipline tours in Whistler are one of the best and most exciting ways to see Whistler's breathtaking scenery from above. You'll be safely harnessed before taking off on an exciting and invigorating high-wire flight over old-growth forests and the valley floor. Unleash your inner superhero and soar through the sky, taking in the natural beauty of British Columbia along the way.
Where is Whistler?
Whistler is in the Candian province of British Columbia. It's conveniently located just a two-hour drive north from Vancouver International Airport.
Where to Stay in Whistler?
Hotels and Airbnbs near Whistler, Bristish Columbia
Just like Whistler's summer activities, the area offers accommodations to suit every taste and budget, and kids of all ages are well catered for.
Pan Pacific Whistler Village Centre: Hugely popular with families, the Pan Pacific Whistler Village Centre enjoys one of the most central and convenient locations. The family-sized suites come complete with full kitchen and dining areas and offer plenty of space for kids and gear.
The Four Seasons Resort: If you're a family that enjoys a taste of luxury, then the Four Seasons is for you. The generously sized rooms have large, five-piece bathrooms and an abundance of closet space. There's an outdoor heated pool and a steam room in each change area, and the indulgent buffet breakfast has something for even the fussiest of eaters.
The Aava: This contemporary hotel is another popular choice largely thanks to its location on the edge of Whistler Village Centre. The rooms are clean and snug with queen beds, a sofa bed, and a basic bathroom. The hotel is reasonably affordable so it is perfect as a base for an active family who wants to be at the heart of all their adventures.
Looking for other Summer Travel Destinations in Canada? Take a look at: