You can always find family-friendly fun if you look for it. Want to step back to the Old West or pioneer days? Then visit northern Oklahoma to discover western themed fun, interactive play, a good dose of history with this list of things to do in Enid, Oklahoma.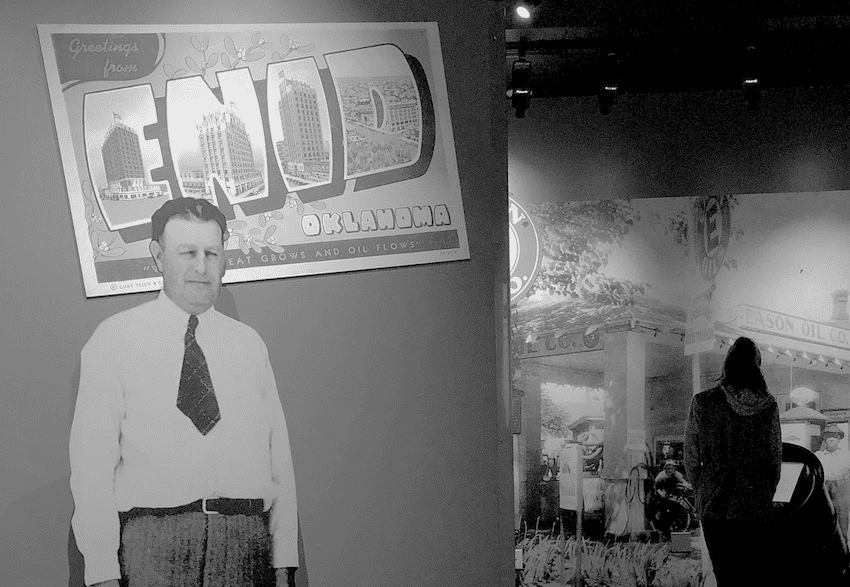 Visit Enid recently asked us to drive up for an Oklahoma weekend getaway. It's been too long since we've taken a local road trip. You don't have to travel far from home to see something new. Adventures can happen in your own backyard, so we packed our bags and headed to Enid.
This area has an important place in Oklahoma history. It was home to the state's largest land run in 1893 and was part of the Chisholm Trail that saw millions of cattle pass through on their way from Kansas to Texas. We spent two days learning about some of Enid's history and discovered several family-friendly things to do in Enid OK that you'll want to explore when you visit.
Where is Enid Oklahoma?
Before I get to talking about the sites and activities in Enid, it would help if you knew where it was. Travel northwest of Oklahoma City and you'll find Enid at the cross-roads of Highway 81 and Highway 412. It's a city of approximately 50,000 people.
Enid, Oklahoma is just a 90 minute drive from Oklahoma City. Tulsa and Wichita are just under 2 hours away by car. So it's a short drive for a day trip, but can be a fun Oklahoma weekend getaway too.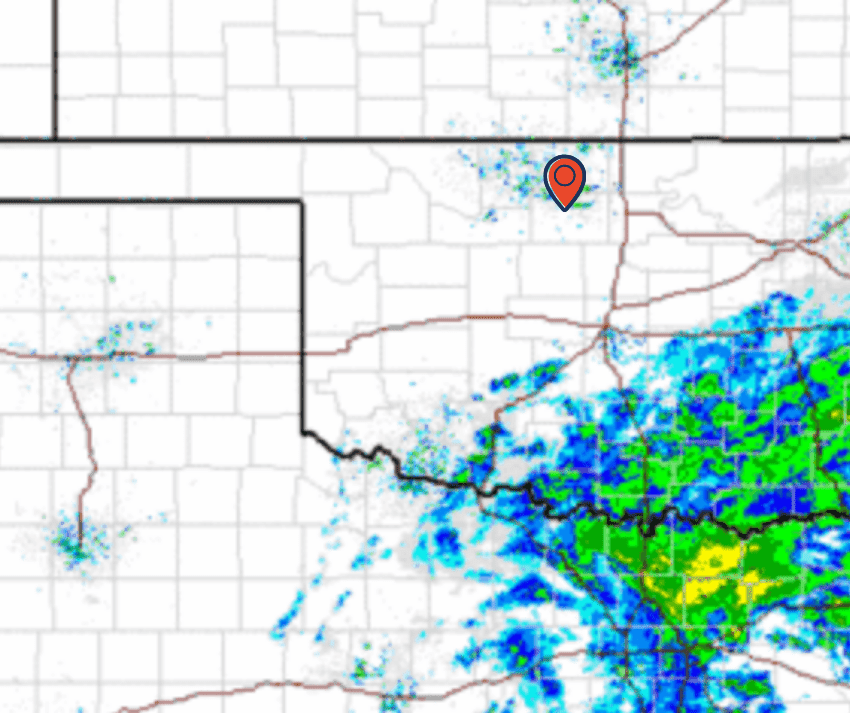 Fun Fact: Severe Weather Maps Don't Show Roads Leading to Enid
Fall months are notorious for bad weather in Oklahoma. Severe thunderstorms are a frequent occurrence. State and local TV stations do a fantastic job of reporting severe weather events to keep local residents and visitors informed of potential situations. But if you look at a weather map, during these bad weather events, you'll see NO roads leading into the city of Enid. Why? Severe weather maps, in Oklahoma at least, show only major interstates and highways. The city of Enid has no interstate highways in or near the city, but there are plenty of roads, like Highway 81 and Highway 412, to take you into Enid.
Things to Do in Enid OK
Simpson's Old Time Museum
Prepare to enter the Old West when you walk through these doors. You can even mosey up to an authentic saloon bar. The Simpson's Old Time Museum has a vast collection of Western memorabilia. Everything from saddles and rifles to antique oil lamps and wagon wheels. But this isn't your typical museum. Simpson's Old Time Museum is also home to Skeleton Creek Productions, a Western movie studio and their indoor movie sets.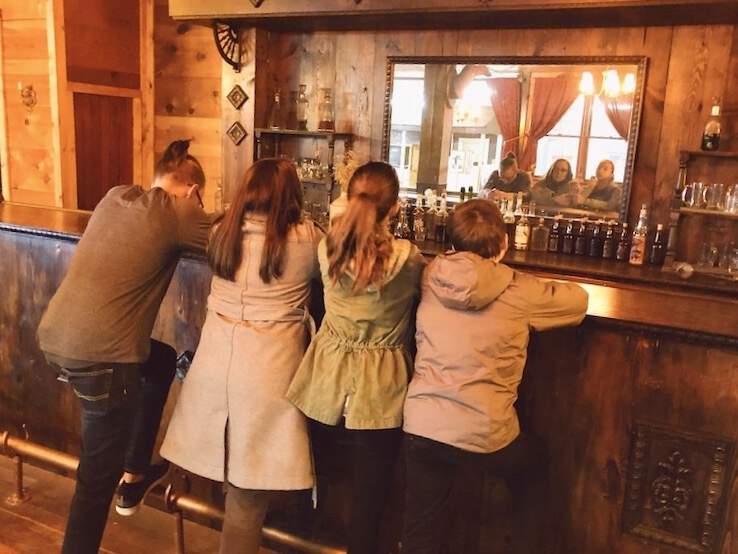 Brothers Rick and Larry Simpson converted their family's retail store, Simpson's Mercantile, into a production studio with indoor movie sets. There's a church, saloon, jail house, hotel, and a room that could be a bedroom or a doctor's office. Each of these sets have been used in their films and in others. Many of the items in the museum have also been used as movie props. It's a little bit of movie magic right here in northern Oklahoma.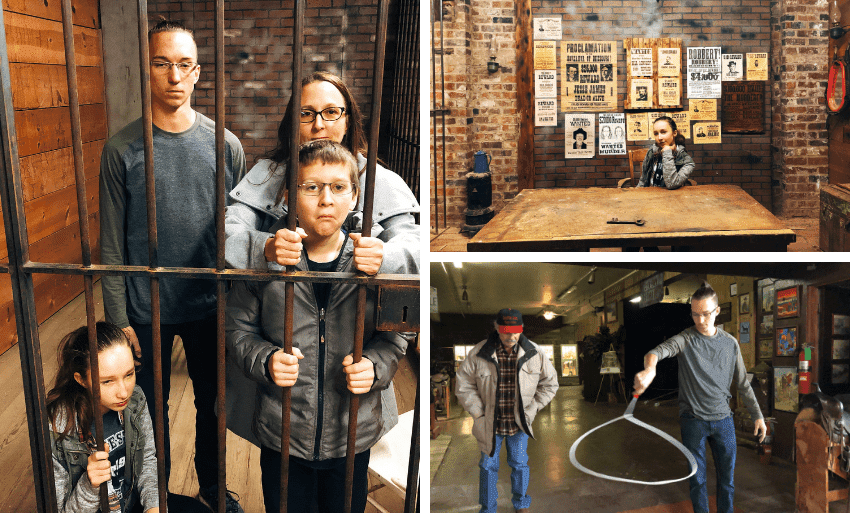 Skeleton Creek Productions has created several family friendly Westerns. When Rick and Larry take you around the museum they can tell you about their films, actors/actresses they have worked with, and the different pieces in the museum. These gentlemen love what they do and it shows. The private tour through the museum is priceless and you'll learn so much! Did I mention it's FREE!
While you are here be sure you:
Take a picture in the jail cell
Take a picture at the saloon
Walk through the saloon doors and say "Howdy Partner"
Ask Rick about Enid's connection to John Wilkes Booth, the man who shot President Lincoln
Try your hand at trick rope twirling
Take home a copy of one of their movies
Visit www.skeletoncreekproductions.com/ for more information.
Cherokee Strip Regional Heritage Center
Start your trip to Enid, like we did, at the Cherokee Strip Heritage Center. This is a museum and education center dedicated to Enid's history through the Land Run of 1893 through the early days of the oil boom. I am not originally from Oklahoma, so my state history is a bit weak. I enjoy finding opportunities where the kids and I can explore and learn about local and state history together.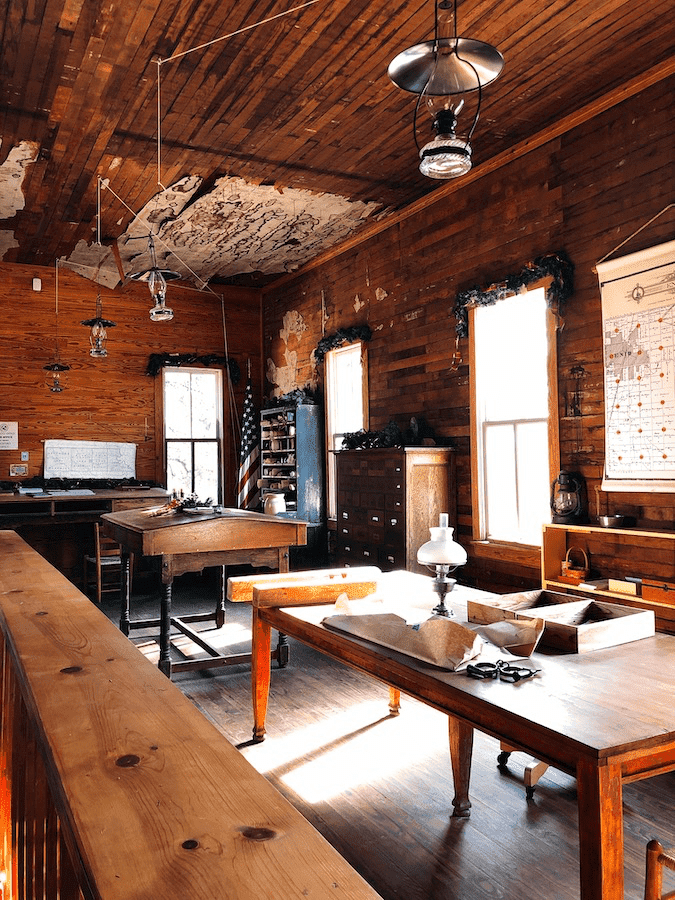 The Land Run brought thousands of new people to the Oklahoma territory with the promise of "free" land within what was called the Cherokee Strip. Turns out it wasn't exactly free. People had to pay a fee to participate in the run with no promise of land. If they were fortunate to stake a claim on a land parcel, they had to pay an additional fee and meet provisions with a set number of years.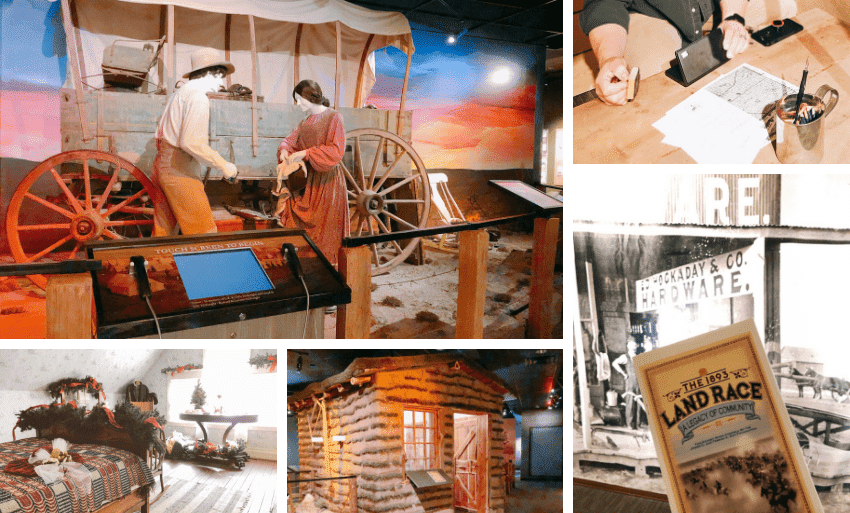 Each of the galleries depict different times throughout Enid's history. The museum does a great job of showing what life was like for these pioneers and homesteaders. Interactive centers help explain what you are seeing, provide additional information, and make it fun for the kids too.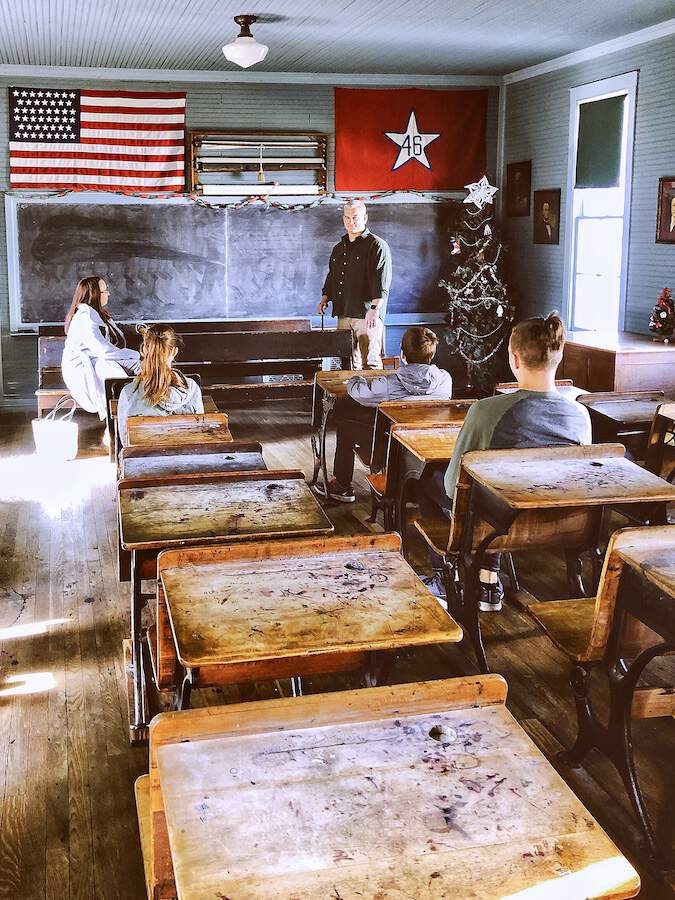 Head outdoors and take a docent led tour of the Humphrey Heritage Village. Each of the village buildings are restored original structures. One of these is the last remaining U.S. Land Office. Inside you can see original and replica furnishings, maps, claim markers, and more. Kids will find Turkey Creek School, a one room schoolhouse, a little different from what they are used to. The Glidewell House is one of the easiest homes in the area belonging to a then Justice of the Peace. Visit www.csrhc.org/ for current events and new exhibits.
Leonardo's Children's Museum
Children love this interactive museum. Two stories filled with exhibits and an outdoor playscape keep learning fun at Leonardo's Children's Museum. There is something here for all ages, even tweens/teens.
My kids (youngest is now 11) loved the tinkering workshop that allowed them to be creative with real tools. They hammered, sawed, glued, and created different projects. The hands on arts centers feature painting and drawing areas. My daughter made frequent trips to the Critter Clubhouse to see the furry residents for subject inspiration.
The larger than life Lite Brite that was a huge hit with me. I had one as a kid, but not this big. Did you have one?
For younger children, there is a dedicated toddler area. Downstairs there is an enclosed playscape that allowed children to drop adventure fuel (energy) and be active. Upstairs different centers provide fun creative themed play.
There's an outdoor playscape too called Adventure Quest. It's a three story wooden play fort/castle and playground. Unfortunately, it wasn't open the day we visited because it was really cold! Visit leonardos.org/ for hours and special events.
Woodring Wall of Honor and Veterans Park
The Veterans Park, located just outside Enid at the Woodring Regional Airport, is a memorial paying tribute to American veterans. It serves as a meeting place and educational resource remembering veterans from the American revolution through today. Here you'll find a 80% scale replica of the Vietnam Veterans Monument, Living Walls with names of service members, and other memorials.
The Woodring Wall of Honor was recently accepted into the "Top 10 Artifacts: Saving Oklahoma's Heritage" program. Read more about this announcement and learn about their special events www.woodringwallofhonor.com. Here's a map to help you get to it too.

Outdoor Art & Murals
Enid has 30 public art pieces around the city. If you are looking for FREE things to do in Enid, OK, go in search of these statutes and wall murals. It makes for a fun scavenger hunt. You can find many of them in downtown Enid. Here are three in that area that are fairly easy to find:
Bright Future across from Leonardo's Children's Museum.
Butterfly Mural next door to Cafe Garcia.
The Trail Mural on the side of the Garfield Furniture store.
Related: Check out these Wall Murals in OKC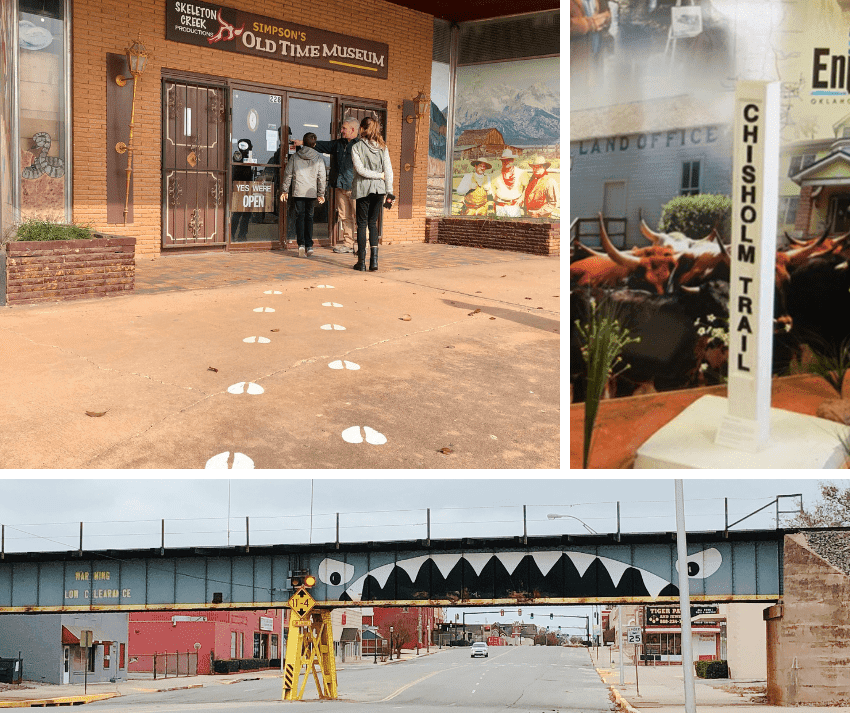 Chisholm Trail Markers
Speaking of scavenger hunts, you can also seek out the Chisholm Trail markers and the longhorn hoof prints around the city. Enid historian, Bob Klemme, created 400 concrete signposts to mark Chisholm Trail points through Oklahoma. The Chisholm Trail was the path cowboys once drove cattle through from Kansas to Texas. Today the trail markers show where the trail crossed section lines. White hoof prints are painted on the roads where the trail ran through the city
In Enid you'll find some of these trail markers and/or hoof prints:
ballpark's 1st Base dugout (Marker)
south edge of Enid Marker)
Hoof-prints along Grand Avenue
Hoof-prints leading through Simpson's Old Time Museum
The East Main Street Bridge
This railroad bridge is a photo stop and worthy quick stop on this list of free things to do in Enid OK. This low clearance bridge is painted with shark teeth and has it's own Facebook page https://www.facebook.com/TheEastMaineBridge/. It's notable because despite road signs alerting trucks to the low clearance, many hit the bridge. In 2014 the bridge was painted with teeth to help draw attention to it and hopefully avert future accidents.
Where to stay in Enid
If you want to make a weekend out of your stay in Enid, the western side of Enid has the most hotel options. During our recent visit, we stayed at the LaQuinta Inn & Suites Enid. The hotel was right across the mall, free breakfast, and standard rooms that slept up to 5 people with a roll away. Rooms are clean and beds are very comfortable.
There are several restaurants nearby, but I highly you try these restaurants in Enid; Katy's Pantry, Napoli's, and Cafe Garcia. Each are local favorites that area residents highly recommend.
More places to check out while in/near Enid
A weekend really isn't enough time to explore everything in Enid. A few of the museums I listed above aren't open on Sundays. So you will need to plan accordingly. Also check their website or call ahead. Two more places that I want to come back and check out include:
1. Railroad Museum of Oklahoma
Dedicated to preserving the area's railroad history. This museum building is on the National Register of historic properties. There's over a million pieces of memorabilia and a rail yard full of engines, cabooses, cars, and machinery.
2. Gloss Mountain State Park
Travel about 40 miles west from Enid and you'll find the Gloss Mountains rising out of the plains. Nicknamed "The Glass Mountains", the high selenite levels make the mountains shimmer like glass. This state park is open from dawn to dusk and it very popular with hikers. A favorite trail is the one heading from the parking lot up Cathedral Mountain.
It may be a small city compared to OKC or Tulsa, but don't let any one tell you there aren't things to do in Enid OK. We went and found some fun places to explore. There's good food, family-friendly fun, and people that are terrific. I urge you to visit Enid soon and discover it for yourself. For a list of special events and happenings, go to VisitEnid.org.
Note: One of our friends is part of the team opening the new downtown Enid Brewing Company. Set to open early 2019, you can expect to see how much pop up in this area including a Grain to Glass tour.
A special thanks to Visit Enid who invited us to come and explore the city. Lodging, meals, and attractions were provided.