Texas is known for a lot of things. From their famous barbecue-style eats to Tex-Mex food and even Chip and Joanna Gaines, the Lone Star State has many defining qualities that make it one of America's most iconic states. Yet, beaches don't jump to the front of your mind. Texas might be a long way from the ocean, but that doesn't mean there aren't any great beaches! In fact, Texas has some of the best beaches for families in America.
Let's take a look at 5 of the best beaches in Texas and see why they're so great for families. If you are looking to escape the big city for a little while, you can relax on one of these beaches, sip on a cold beer or cocktail while your kids play in the sand, and get all of that small-town hospitality that Texas is known for. Many of these Texas beach vacation spots offer features and experiences you won't find anywhere else! If you're looking for a great beach vacation for your family, here are our picks for the best beaches in Texas for families.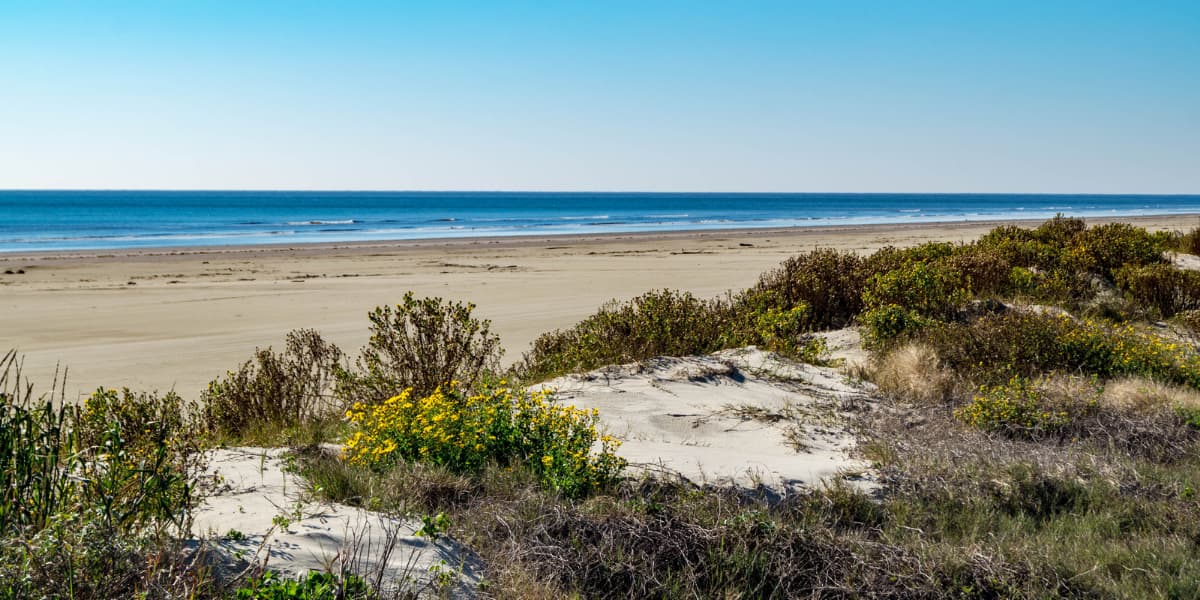 Best Beaches in Texas for Families
Port Aransas Beach
Port Aransas is one of the best places for families who love going to the beach and fishing. Located only a short drive from Corpus Christi on Mustang Island, Port Aransas Beach is a wide-open beach that offers sunsets and views unlike any other. The water temperatures are warmer than other beaches in the state because of how far south this beach is located.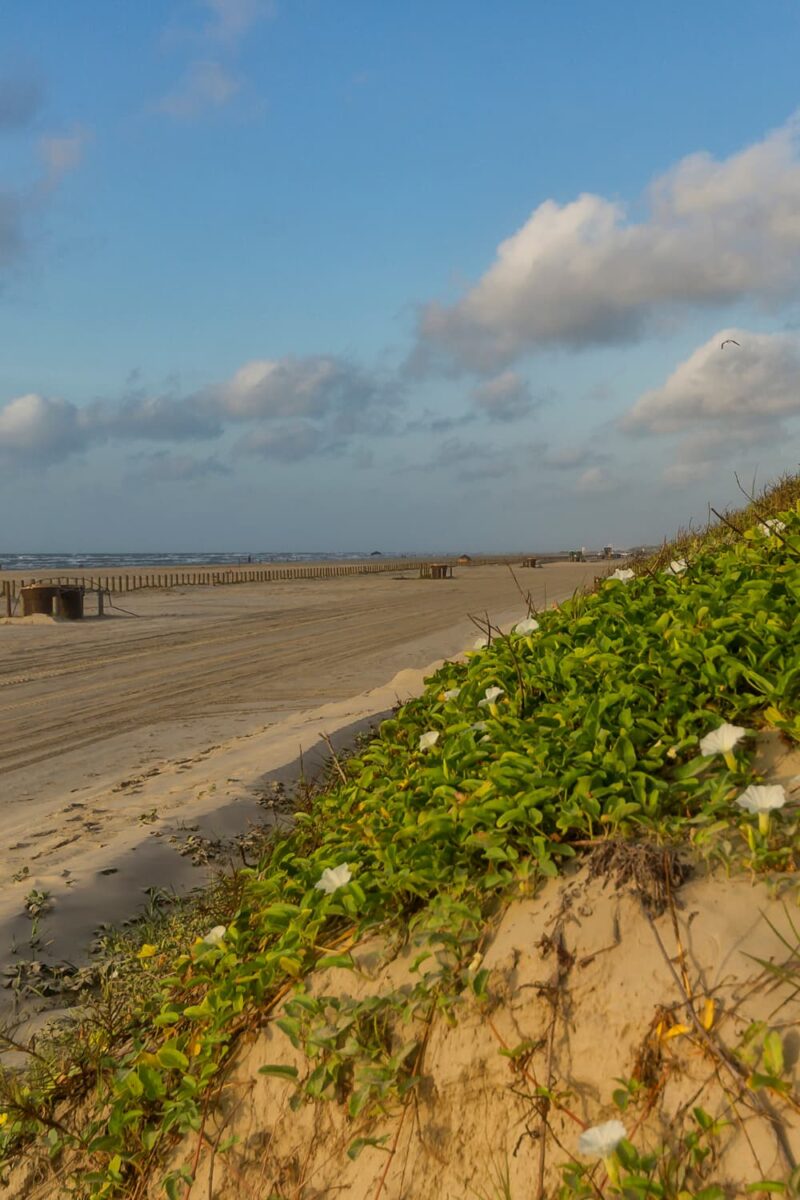 You can camp right on the beach or stay at one of the many hotels and vacation rentals along the coast. This town is very laid back, and there are tons of restaurants, shops, and spots near the pier for fishing. The deep blue-green waters make this a charming beach perfect for people who want a quiet getaway with the family. Corpus Christi is nearby, and there are several attractions to visit when you're done sinking your toes into the sand.
Lodging Options
Nearby Attractions
Port Aransas Museum
Leonabelle Turnbull Birding Center
Port Aransas Nature Preserve at Charlie's Pasture
Horace Caldwell Fishing Pier
Red Dragon Pirate Cruises
If you want to go somewhere that feels more like a remote island than a typical Texas beach, then head to North Padre Island and the Padre Island National Seashore. Not to be confused with South Padre Island, this national park is the world's largest stretch of an undeveloped barrier island in the entire world! With nearly 70 miles of coastline, dunes, and prairies, Padre Island National Seashore is one of the best parts of this beautiful stretch of coastline.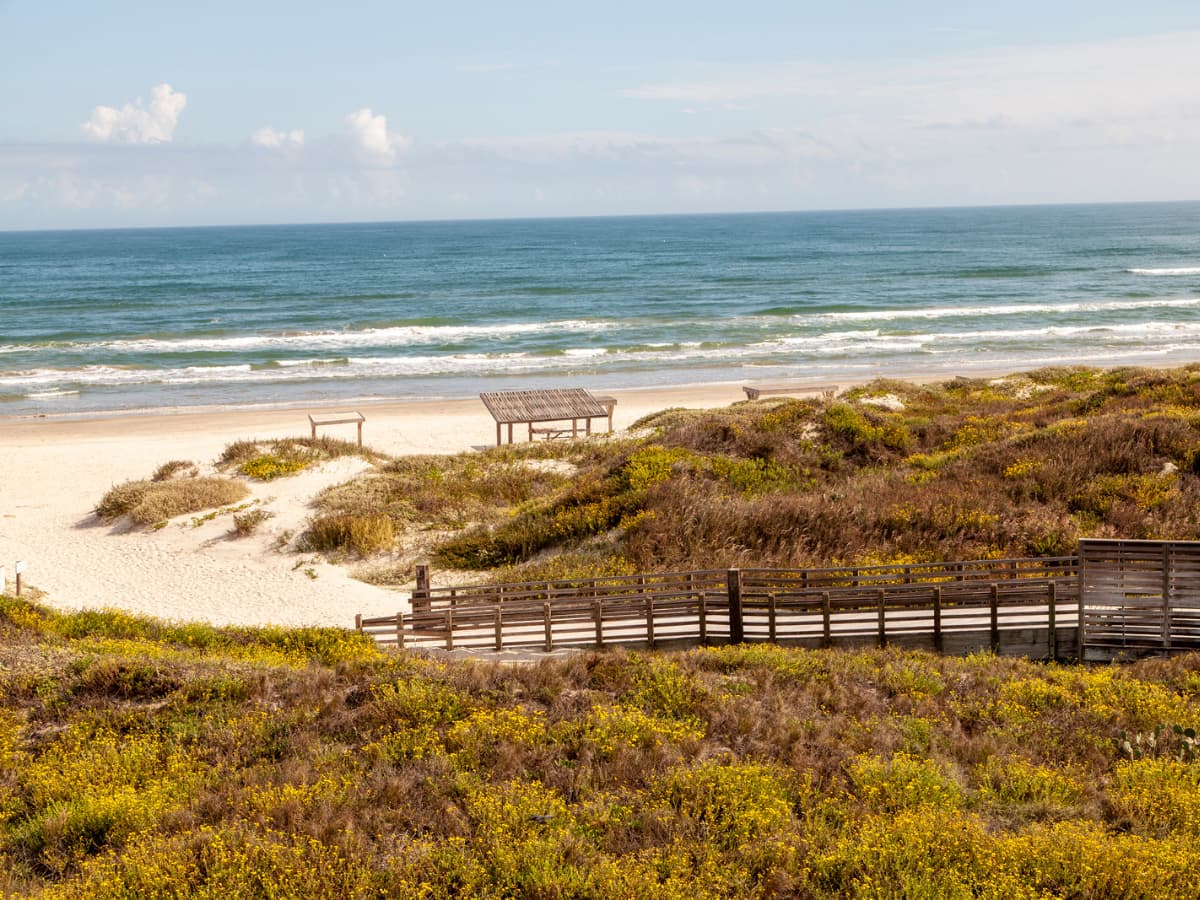 This beach is close to Corpus Christi, so it's easy to visit after a day of exploring the city. Kids can see new birds, sea turtles, collect shells on the beach. Kemp's ridley sea turtles are known to frequent the beaches here, so keep your eyes open and you just might spot one. The waves here are large, and they're great for surfing, bodyboarding, and swimming. This is one of the few beaches where everyone in your family can have fun doing something different!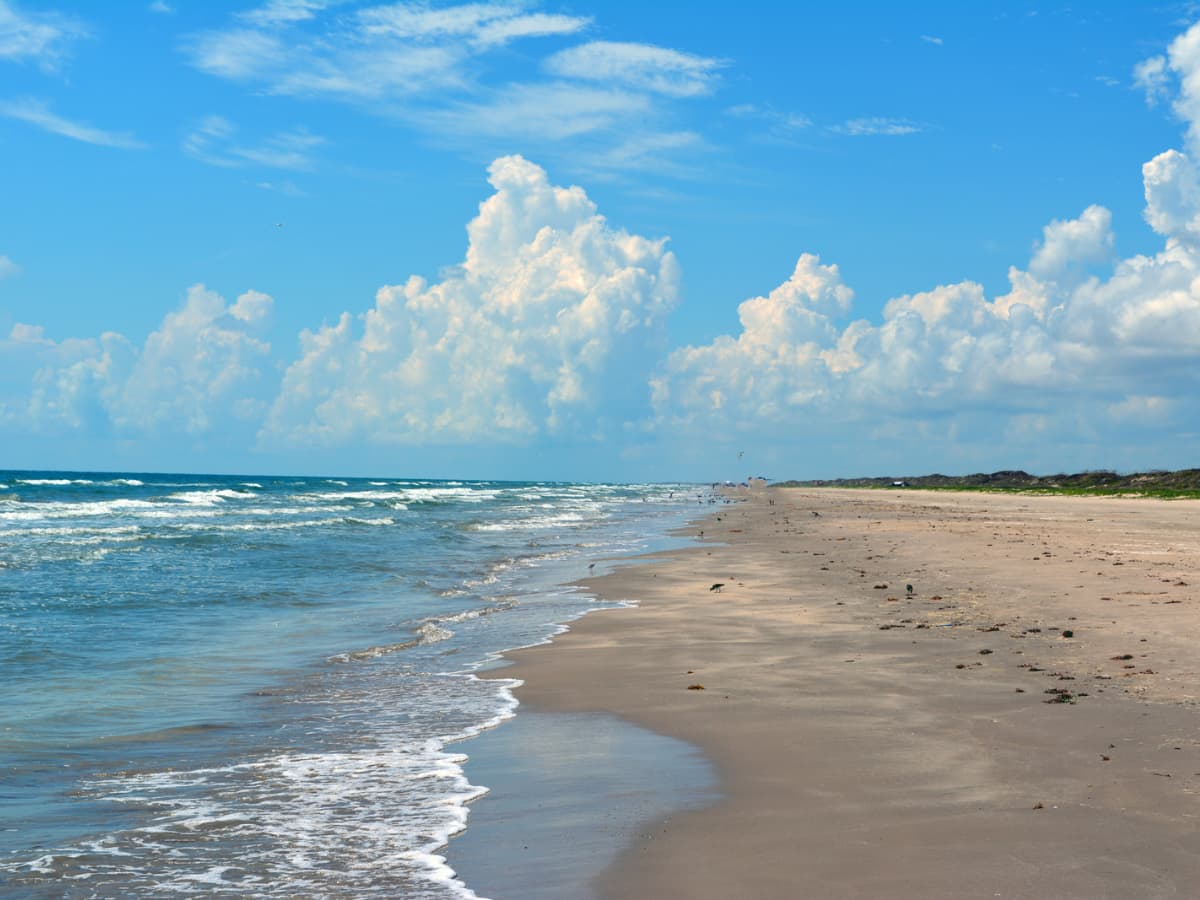 If you want an authentic beach experience with the whole family, then this is a great place to check out. In my opinion, this beach is a more unique experience than some of the other beaches on this list because there are fewer people who come here. There are no hotels on the nature preserve that you can stay in, but camping is available if you want to spend your trip sleeping under the stars. If you want to stay in a hotel room, there are many options on nearby Galveston Island where you can see some of the most beautiful Victorian architecture in the country.
Find Rentals Home Nearby
South Padre Island
I know I just told you not to confuse this beach with the National Seashore, but I'm going to go ahead and tell you that South Padre Island is also a great place for families. Located south of Brownsville, South Padre Island Beach is one of the most popular family-friendly beaches in Texas. It's also known for having one of the best surfing competitions in America. If you're interested in hitting the waves, you can even try surfing lessons while you stay on this beach.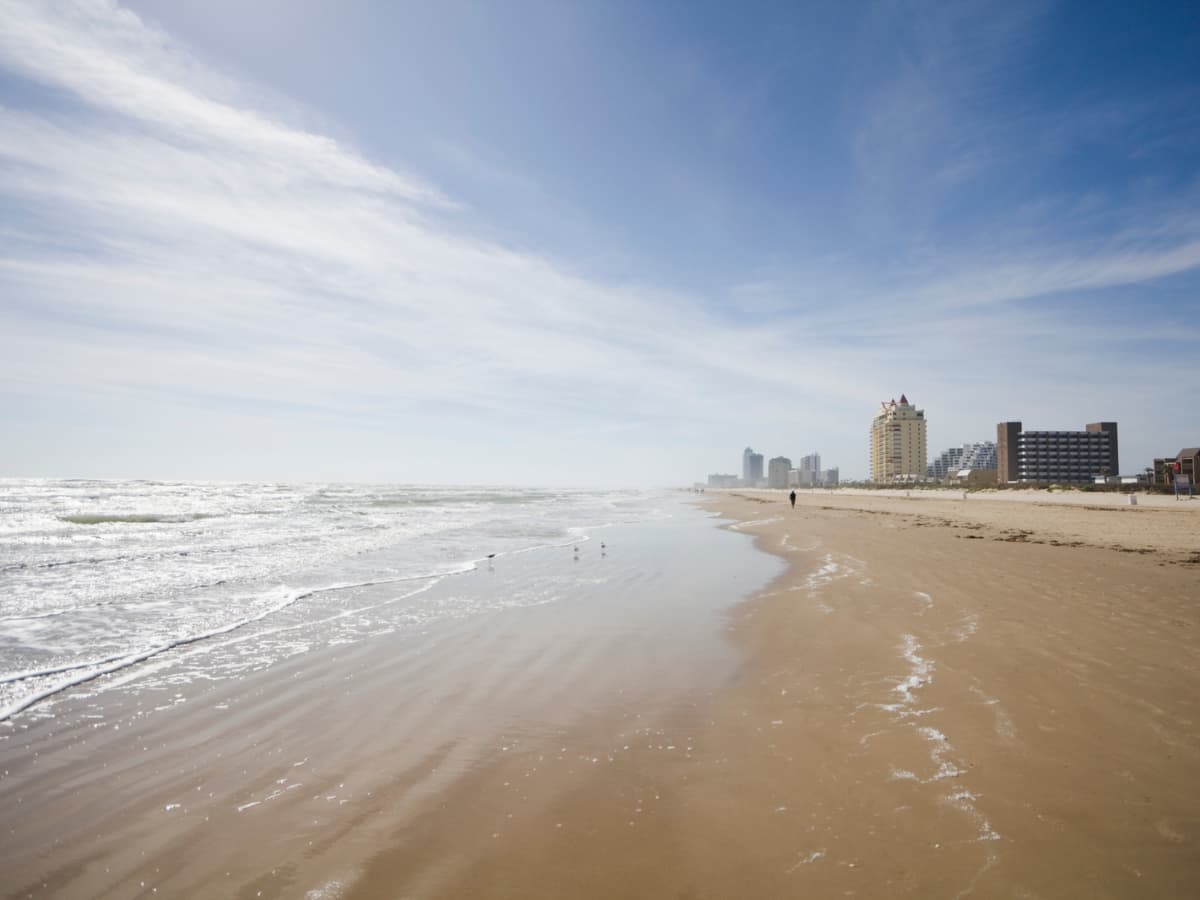 South Padre Island is a beach town that offers tons of activities, restaurants, and shopping. If you want to stay in a hotel or with the camper van on the beach, South Padre Island has plenty of space for that as well. The area also offers boat rentals for fishing, so if you're looking to do something active while you're there, this is a great option. This is a popular Spring Break location, so if you are seeking something a little quieter, see the other options on this list.
Lodging Options
Breakaway Cruises
South Padre Island Birding, Nature Center & Alligator Sanctuary
Island Adventure Park
Sealife Nature Center
Port Isabel Lighthouse
Beach Park at Isla Blanca
Black Dragon Cruises
Gravity Adventure Park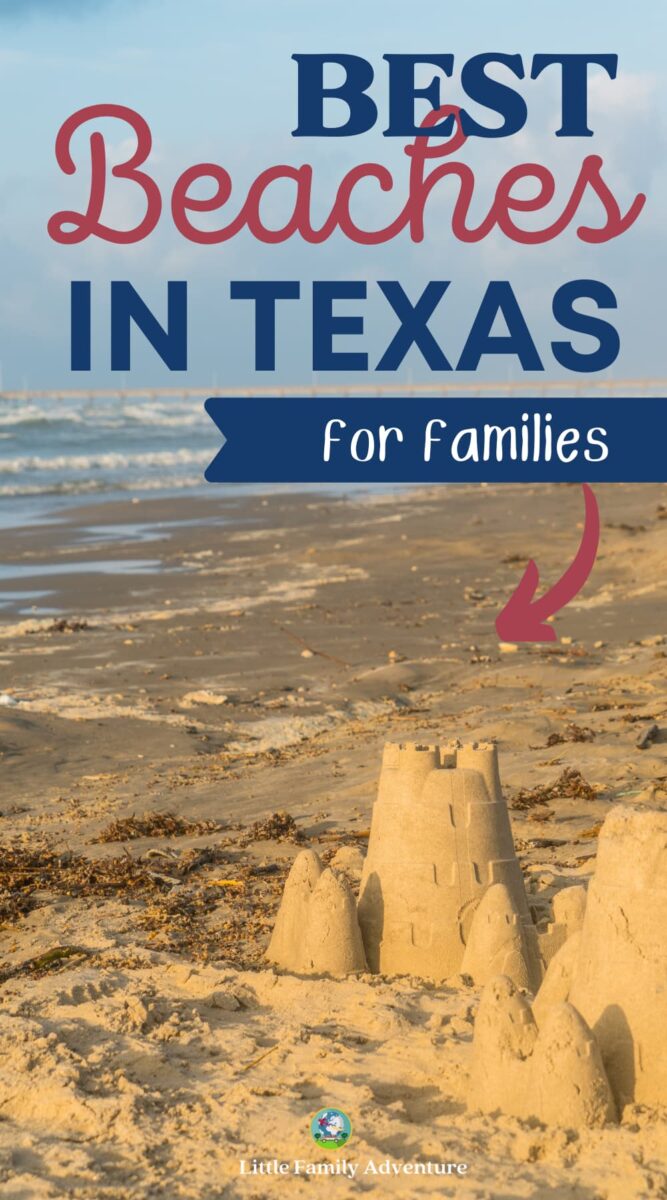 Port Isabel Beach
Port Isabel Beach is another beach town that's worth checking out if you want to visit a different part of Texas. Located right across the water from South Padre Island Beach, Port Isabel Beach offers a quiet escape with fewer tourists. It has several small neighborhoods, fishing docks, and restaurants along the coast. You can also rent boats for fishing or explore a nearby inlet or lagoon. This island offers plenty to do, but it still feels extremely relaxed and inviting. Whether you're staying in a hotel or camping, Port Isabel Beach is an excellent place to spend time by the Gulf of Mexico!
This beach has fewer amenities than others on the list. If you're looking to sightsee or spend time in a more lively area, then this beach might not be the best option for your family. Families who are looking for a quiet getaway and a few different options for meals should consider Port Isabel Beach as an option on their next trip to the coast of Texas!
Stewart Beach
If you're looking for a beach with great sandcastles, you won't want to skip Galveston's Stewart Beach! This beach is rated one of the top Galveston area beaches and is located just off Seawall Blvd between Broadway Avenue J and Ferry Road.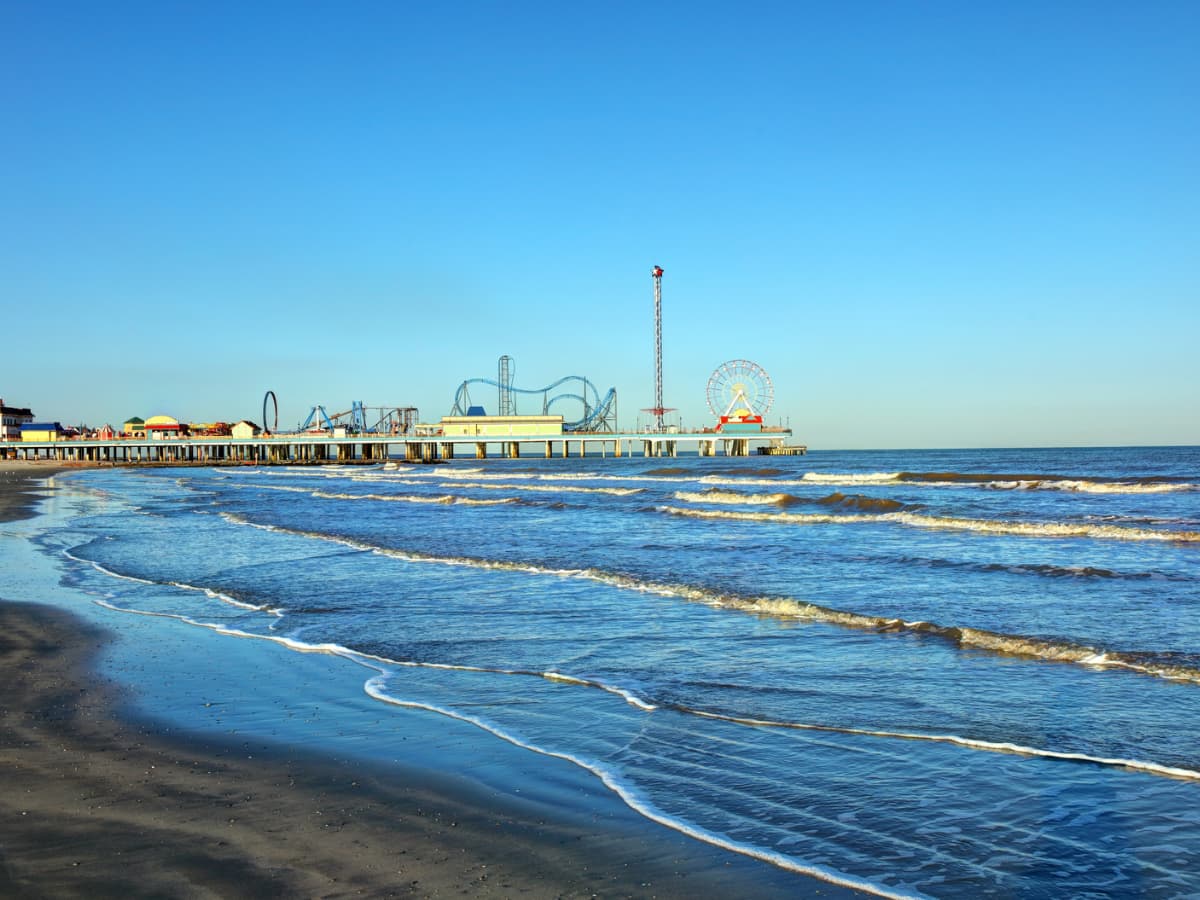 This Texas beach has everything your family could need to enjoy a day at the beach, from restrooms, chairs, a playground, and umbrellas. You can rent beach chairs and a beach umbrella for a small fee if you didn't bring your own gear, and there are plenty of concessions nearby for a quick snack or drink. The water is pretty shallow here, and the waves are calm, making this a great place to take toddlers or little ones. Dolphin pods often pass by here, so keep a lookout, so you don't miss them! Check out this Dolphin Cruise.
Lodging Options
1892 Bishop's Palace
The Strand
Galveston Railroad Museum
Galveston Island State Park
If you want to take a trip back in time, visit Pleasure Pier first. This two-mile pier has been a popular spot since 1914. You'll find plenty of fun and games for kids here, with an arcade, bumper cars, rides such as the Texas Star Ferris Wheel, a mini-golf course, and more. Adults will also find plenty of entertainment here thanks to top-notch nightlife in Galveston! The best part about visiting Pleasure Pier is that it's located next door to its sister beach Galveston Island State Park.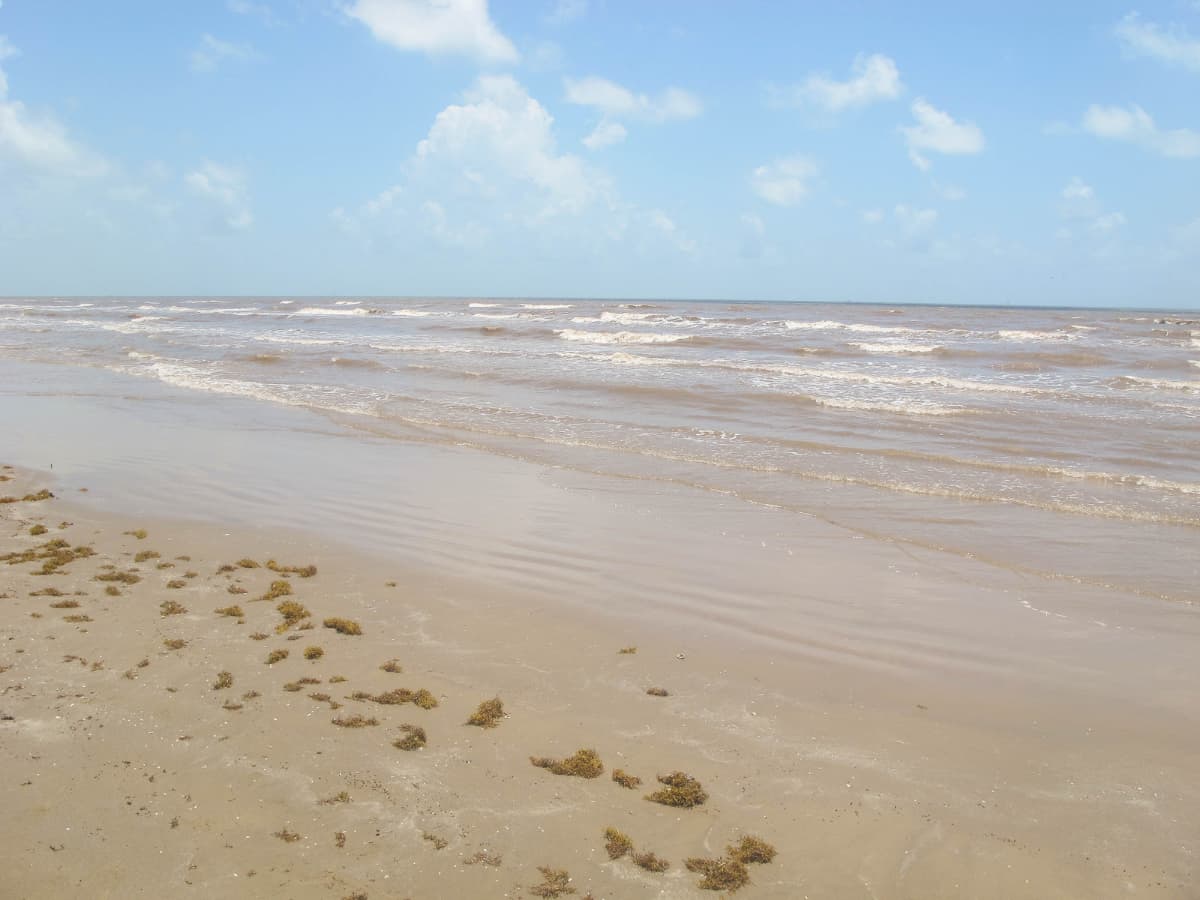 Galveston is a great beach for families because you can enjoy the wide array of entertainment there while still spending a day on the beautiful Texas sand! It's worth noting that this beach stays pretty busy year round, so I recommend arriving while it's still light out so you can find a parking spot. Pleasure Pier and Galveston Island State Park are the ideal beach getaway for families who love fun in the sun, good food, and entertainment!
Crystal Beach
The beautiful golden sand beaches of Crystal Beach are the perfect place to visit near the Gulf of Mexico. This beach sits right on the Bolivar Peninsula, which separates Galveston Bay and the Gulf of Mexico. You can take a swim at the beach, build a sandcastle, or play a game of beach volleyball here. There are also plenty of ocean activities that you can do, such as surfing, kayaking, and boogie boarding. Crystal Beach is also full of seagulls, so make sure you cover up your food to make sure the seagulls don't get your snacks! You can see over 100 different migratory birds here as well as plenty of hermit crabs wandering down the coastline.
Lodging Options
Nearby Attractions
Anahuac National Wildlife Refuge
Smith Oaks Bird Sanctuary
The Gulf Range Miniature Golf Course
Point Bolivar Lighthouse
Fort Travis
Fun Spot Waterslide
San Jacinto Monument and Museum
Kemah Boardwalk
Schlitterbahn Waterpark
Mustang Island State Park is on Padre Island off Hwy 361 just north of the Texas Sealife Center. Here you'll find five miles of beachfront fun. This area is known for being a great place to see wildlife, so bring your camera along to snap some pictures of the cranes, pelicans, deer, lizards, turtles, birds, and more that call this area home! You can hike, bike, and watch sunsets on the beach here as well.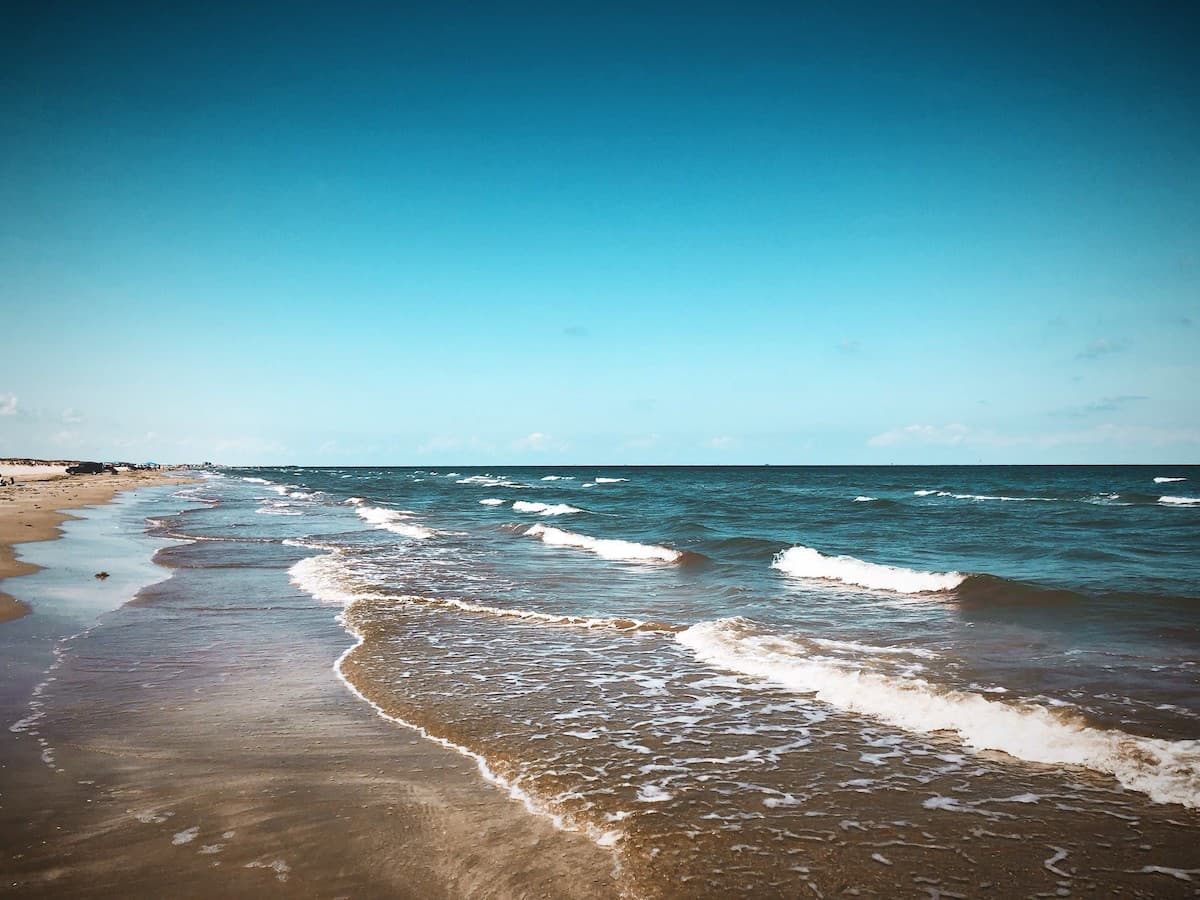 The Gulf of Mexico view is beautiful here, and there is plenty of room for kids to run around. This beach is wide and spacious, so you have tons of room to spread out. What makes it so lovely is that it's so quiet and secluded. You can finally focus on getting a tan, let your teenagers go surfing or kayaking, and let your little ones build a dozen sandcastles. Camping is another popular activity here, so if you've ever wanted to try beach camping, I highly recommend doing so at Mustang Island State Park.
Lodging Options
Nearby Attractions
Mustang Island State Park Paddling Trail
Leonabelle Turnbull Birding Center
Roberts Point Park
Port Aransas Nature Preserve at Charlie's Pasture
Skydive South Texas on Mustang Island
Rockport Beach
If your family enjoys catching fish and you want to show your kids the beauty of nature, Rockport Beach may be a good place for you! Be careful though, as this area is very popular so make sure you arrive early in the day to snag a parking spot. This Texas beach sits at the mouth of Aransas Bay which comes out to the Gulf Of Mexico, so it's a great place to launch your kayak or boat! The water here is flat and calm, making this an excellent beach for kids.
Rockport Beach is also popular with anglers because of its location at the mouth of Aransas Bay with access to Big Shell Beach and the Laguna Madre, which is home to speckled trout and flounder. When you visit Rockport Beach, bring plenty of sunscreen and bug spray because the mosquitoes are pretty bad here! The water isn't too deep here, so keep an eye on little ones while they splash around in the warm water or build a sandcastle with their friends.
Rockport Beach is a great beach for families because there's plenty of room to spread out, and you can still do fun activities like kayaking. Be prepared with sunscreen, snacks, and plenty of bug spray! If you love fishing or just relaxing on the beach, Rockport Beach may be the best beach for your family this summer.
Find Nearby Options At Kayak:
Texas might not be famous for its beaches, but one trip here and you'll wonder what took you so long to visit! These are great beach options for those looking to enjoy a family vacation in The Lone Star state. While some of these beaches are a little more secluded and quiet, they're also perfect for families looking for a beach camping experience. We have plenty of hotels and resorts too that can provide you with all the amenities you need to make your vacation absolutely perfect! So while Texas might not have been the first place to come to mind for a beach vacation, it's well worth the visit to see some of Texas's most amazing beaches!
Looking for more Texas fun? Click on and read these: