Great Backyard Bird Count
The Great Backyard Bird Count is an annual 4 day event that is fun for all ages. It's a terrific way to get the family outdoors, have fun, and help determine the health of bird populations in your area. This year the event is February 14 through February 17. If you miss the event, you can still get outdoors and have fun as a family.

This FREE event asks participants to count birds for as little as 15 minutes on one or more days of the event and report back their findings online at http://www.birdcount.org. This information helps researchers at the National Audubon Society and the Cornell Lab of Ornithology learn more about how birds are doing, and how to protect them and the environment we all live in.
Snap a Few Photos
While you're out bird watching, snap a few pictures and enter the Photo Contest. You find out more information here.
To Learn More
To learn more about how to join the count visit www.birdcount.org and view the winning photos from the 2013 GBBC photo contest winners
To help you identify birds, try one of these great resources.
MOBILE APPS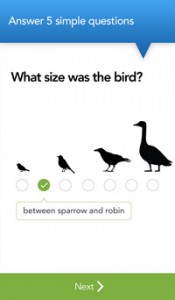 Merlin Bird ID Wizard from the Cornell Lab of Ornithology Free app for Apple users Here's a short video to example what Merlin is and how it works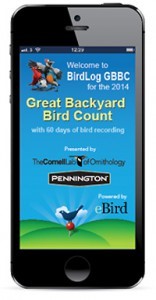 BirdLog GBBC from Pennington App for iPhone and Android is FREE through the end of February. Your bird sightings can be linked shared with the Great Backyard Bird Count if you enter them February 14 through February 17. ONLINE RESOURCES

All About Birds an online guide to over 500 bird species from Cornell Lab of Ornithology

Online Guide to North American Birds by The Audubon Society If you would like to continue your study of birds with your family, here are some educational resources you can use. Bird Cams Free listing of cameras where you can watch birds from the comfort of your home or school. Bird-Watching Project Planner Great pdf from ABCTeach.com. You can print and use this to plan or track what you have learned while exploring birds and bird watching. Bird Watching Notebook Information and resources to help you create a nature notebook, lap book, or sketch book. DIY Field Guide Create your own Bird Field Guide Nature Discovery Center Tips on creating a classroom discovery center. This can be easily modified for homeschool use. Birds – Nature Study Challenges, bird information and more from Handbook of Nature Study. How to Draw Birds Free book by Raymond Sheppard on how to draw birds from Archive.org Inquiry thru Citizen Science A list of educational resources from Cornell Lab of Ornithology Bird Unit Study Resources from Kathy's Cluttered Mind – A HUGE list of free resources for bird unit study.
How do you like to eat outdoors with your family?
Have you been bird watching?
Binoculars are a great way to see birds in their natural environment. If you don't already have a pair, checkout these recommendations from Amazon.