I'm partnering with Stonyfield Yogurt and Walmart to bring you a few healthy camping meals that won't break the bank. After all, spending less money on groceries, means more adventure money!
Part of the fun on any family camping trip is the food. I don't know if it's the fresh air or the ravenous appetites after an afternoon hike, but food cooked over a campfire just tastes sooooo good! Recently someone did tell me that camping food couldn't be healthy! I TOTALLY DISAGREE!! If you want to be healthy and go camping, you can both and be a healthy you. Let me show you!

There are so many ways to get outdoors and go camping. Almost all of our family campouts are "car camping" which isn't primitive in any form or fashion. We park the car/truck near our reserved campsite, unload the gear, pitch the tent nearby, and then sit back and enjoy the outdoors. For meals, we have a large wheeled cooler stocked with food that is usually prepared on site. Think Stonyfield yogurt with granola for breakfast and BBQ grilled burgers, coleslaw, yogurt marinated chicken skewers, etc. for main meals.
Healthy Vacation/Camping Meals
Healthy vacation or camping meals are possible. It all comes down to ingredients and whole foods. Here is a sample of healthy camping meals I like to pack/cook while car camping:
Breakfast
Yogurt Parfaits with Whole Milk Stonyfield Yogurt, Granola or dry cereal
Fresh Fruit dipped in Whole Milk Stonyfield Yogurt

Tip: For breakfast, we usually want to get up and get the day started. So a bowl of Stonyfield Whole Milk yogurt is packed with protein to help us power through the day. It's also quick and easy to put together without starting a fire or a camp stove.
Lunch/Dinner
Cheddar BBQ Sliders, Kale Salad
BBQ Chicken Sliders, Coleslaw
Chicken & Vegetables Dinner (Foil Pocket)
Chicken Caesar salad, Pasta
Red Beans and Rice
Baked Potatoes with Broccoli & Cheese
Tip: These lunch/dinner camping meals are easy to prep at home or at the campsite/vacation rental. They can be cooked over a campfire/BBQ grill or on a stove top/camp stove (depending on the meal).
You can find a full 7 day vacation or camping meal plan here with these meals, recipes, and a printable grocery list. Cost is about $1.60 per person/meal ($135 total for 7 days/4 people).
Tip: Buying chicken or beef in one larger package for the above meals is cheaper than buying smaller packages. Same is true for yogurt. Buy the larger container versus smaller single serving cups.
Healthy Meals for Less
Eating healthy is a priority in our family. That doesn't always mean we eat organic, but we do so about 70% of the time. When buying organic products, I have to be mindful of staying within my budget. I haven't been into a Walmart in years. But for this article, Stonyfield asked me to go in and see the range of organic and healthy options Walmart is now offering. I found three of my favorite Stonyfield Yogurt at Walmart at great prices.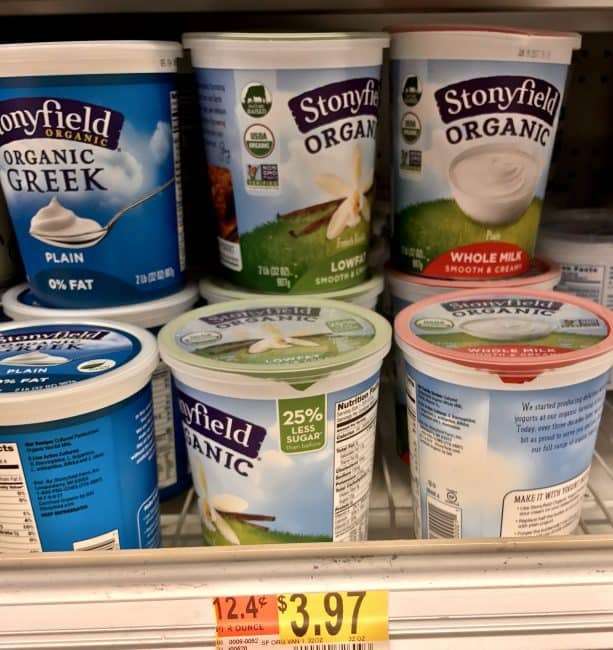 I also found organic 100% grass fed beef for the beef sliders I mentioned, fresh organic produce, organic grains like those from Bob's Red Mill for my pumpkin granola, organic bread options, and much more. I was pleasantly surprised at all the organic offerings!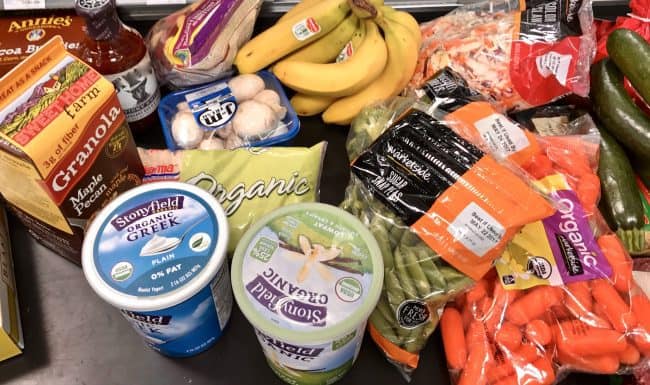 With Walmart's new online ordering/pick up service, available in many locations, I can also order my groceries on the computer and pick them up at the nearest location. So no matter where we travel, vacation, or camp, I could have my Stonyfield Yogurt to start the day and whatever else I need to make healthy vacation or camping meals for less.

Want a few more tips?
Click the image above or this link featuring 7 days of healthy vacation or camping meals on a budget.
If you are new to camping, I have some great tips for you too.
This post is sponsored by Stonyfield Yogurt and Walmart as part of the Stonyfield Yogetters Bloggers Network. All opinions are my own.