When looking for outdoor recreation, the Driftless Area in western Wisconsin, northeastern Iowa, and southeastern Minnesota offers everything from water sports and ice fishing to hiking and camping. On a recent press trip to La Crosse, Wisconsin, I attended an annual outdoor expo, Driftless Sports Convergence, that highlighted this area's outdoor recreation opportunities and travel destinations.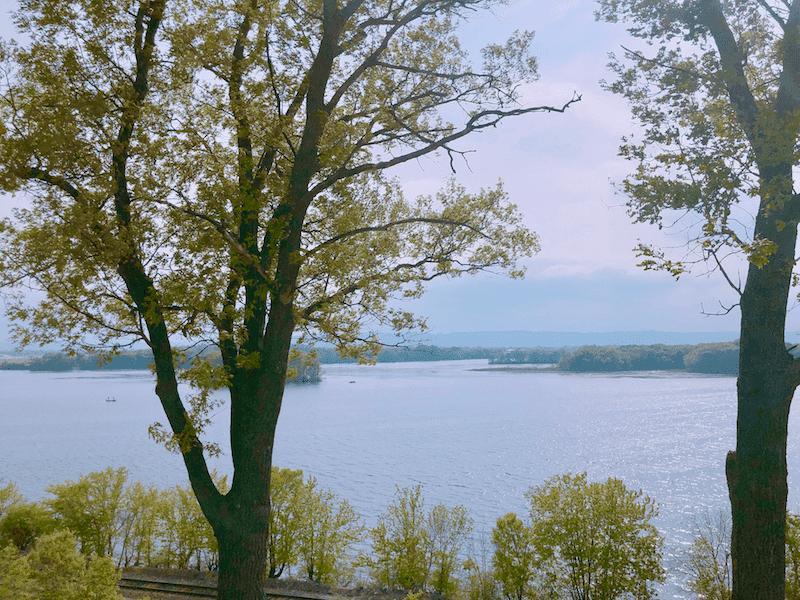 The Driftless Sports Convergence introduces vistors to great people, gear, and places. I'd like to go back to this region again and explore with the kids. Many of the places and businesses below are all new to you and ones that I really want to return and see. They may be new to you as well. So I'm sharing them to help inspire you to discover more in the La Crosse/Driftless region and find a few new adventures.
What Makes the Driftless Area Unique?
Here along the upper Mississippi River, the Driftless Area's topography is very different from the surrounding landscape and makes the perfect destination for families looking to explore outdoors. Millions of years ago, glaciers missed this area, so you don't see land flattened my glacier erosion. Instead you find valleys and rock bluffs like those in La Crosse and in Minnesota's Great River Bluffs State. If you haven't had the chance to drive along the Great River Road, I highly recommend it. It provides views of this landscape along the Mississippi.
Pin This For Later…….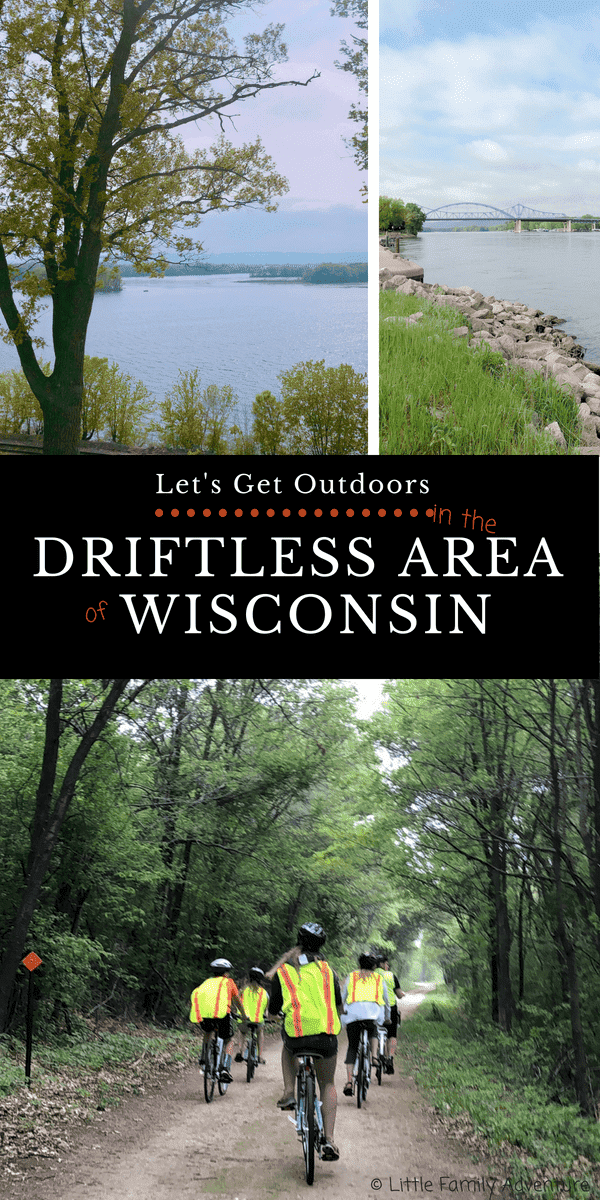 Plus find other family travel destinations on our Family Travel Pinterest Board.
Outdoor Expo – Driftless Sports Convergence
Outdoor expos are a fun way to discover new places to explore and/or products made by local companies. In May, I attended the Driftless Sports Convergence in western Wisconsin which brings together the area's outdoor gear companies, tourism destinations, and volunteer organizations. This was part of my fun filled La Crosse, Wisconsin media trip. This annual event highlights the regions countless outdoor activities, new gear created by local companies, and new locations to explore. The 2019 date has already been set for May 17-18, 2019. Visit https://driftless.explorelacrosse.com for more information.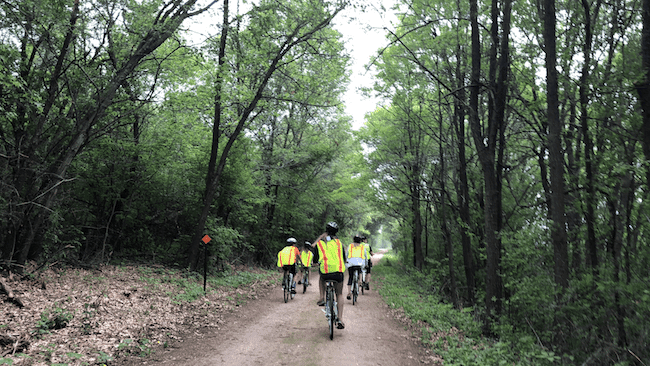 Exploring by Bike
You may be familiar with the Katy Trail, the longest (240 miles) developed rail trail in the country. But Sparta, Wisconsin was were the first rail to bike trail began. That first rail trail is known at the Elroy-Sparta State Trail. This 32 miles multi-use trail converted an unused portion of railway line into a recreational trail back in 1967. Today, Wisconsin offers 101 miles of connected state trails. Along 4 trails, you can travel from Marshland to Reedsburg. Along the way, you can journey through old railway tunnels, enjoy scenic views over the Mississippi River, and explore this area of the Driftless region.
August 31 to September 3, 2018 – The Bike Fest is in it's 8th year and offers a variety of family-friendly rides from ice cream rises to more challenging road rides. Most rides, the Open Streets Fair, and live music is FREE.
Outdoor Recreation Alliance (ORA)
If you are new to the area or to getting outdoors, ORA can help. Their mission is to encourage more people to get outdoors. They provide services for all kinds of outdoor recreation. From guided hikes and advice on the best biking trails, they can help. At the Driftless Sports Convergence show, they were there to answer gear questions and offered workshops on mountain bike skills.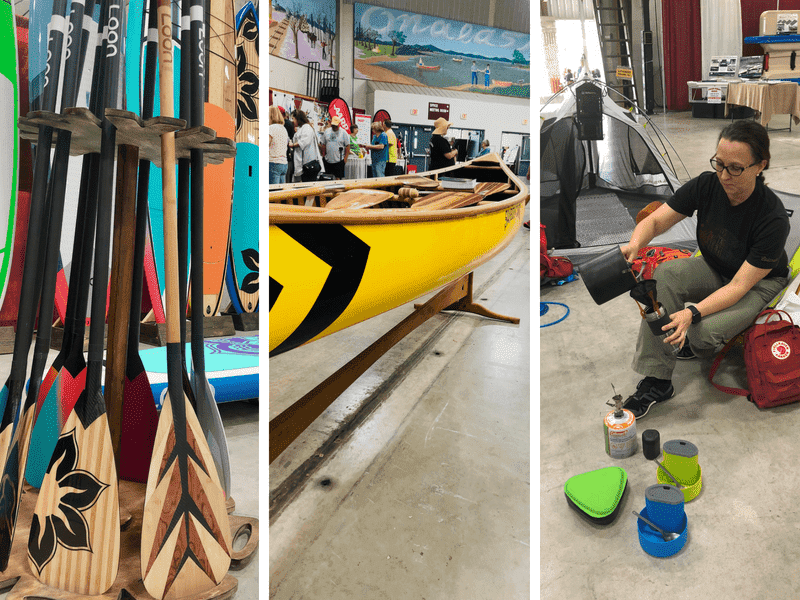 Paddling the upper Mississippi River and Surrounding Backwaters
Below are a few Driftless area companies that really stood out. For sites to set in, waterways to explore, or other companies, visit ExploreLaCrosse.com.
I loved the lotus artwork on several of their boards. This small Appleton, Wisconsin based company offers both hard and inflatable stand up paddle-boards, plus paddles.
For the past 50+ years, this Winona, Minnesota company has been meticulously crafting canoes and paddles that are nothing short of beautiful! They are nice to look at but also float any waterway effortlessly.
This La Crosse outdoor shop offers everything you might need to get on the water from rentals to bait. During my visit, I visited their location on French Island and took out a kayak. The day was dreary but it was still a lot of fun to get out on the water.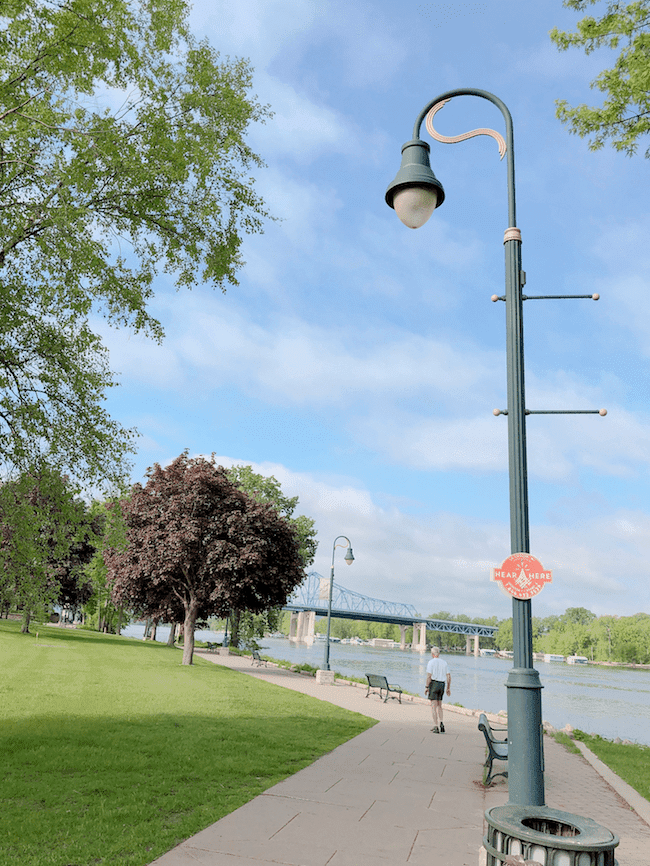 Driftless Region Destinations
I had a great time in La Crosse during my recent press trip. It was a girls trip without the kids. Whether you are traveling with the family or as a getawat without little ones, there is a lot here to explore. Take a look at everything I did and what I would recommend here in La Crosse, WI.
Sparta, Wisconsin
I mentioned earlier that Sparta is where the Rails to Trails system got it's start. The area is full of opportunities for outdoor fun from its biking trails and summer events to snowmobiling in the winter. Another guest at the Castle La Crosse B&B, where I stayed on my trip to La Crosse, highly recommended Sparta. She said to be sure to visit the bike trail tunnels and bring a rain coat. bikesparta.org
Pine River, Wisconsin
Just 4 hours from Chicago or the Twin Cities, Pine River is an outdoor escape offers visitors fishing, trails, camping, golf, and more. pineriverwisconsin.com
Wisconsin Canoe Heritage Museum
This museum in Spooner, Wisconsin is dedicated to preserving and continuing the craft of canoe making. Visitors learn from exhibits or take one of the museums hands-on classes. www.wisconsincanoeheritagemuseum.org
International Owl Center
North America's only owl education center is located in Houston, Minnesota. This non-profit organization and their resident owls educate and entertain. They host an annual International Festival of the Owls the first weekend in March. All though small, this museum is packed with information. Stop by and view the owl themed artwork from around the world. www.internationalowlcenter.org
When you visit an area, it's just not possible to see everything and do all the things you want to do. The same is true for my visit to La Crosse, WI and the Driftless Sports Convergence. Above are just a few of the highlights from my day at this annual outdoor expo. Whether you are in the La Crosse area or not, I highly encourage you to get out and discover your own area. Outdoor expos like this bring everyone together to help you find new adventures and gear to make to get out more.
Note: For an adults only trip, consider The Castle La Crosse Bed and Breakfast. It's a beautiful historic home turns B&B.
Looking for more great family vacation ideas? How about exploring:
Thank you to Explore La Crosse for inviting me on this press trip. I loved visiting the Driftless region and plan to bring the kids next time. All opinions are my own and all information is current as of publication.
SaveSave
SaveSave