Looking for a Midwest getaway for your next girls weekend? Head to La Crosse WI if you want great food, a fun downtown district, and plenty of outdoor recreation. This bustling college town sits along the Mississippi River half between Minneapolis and Milwaukee. It's the perfect spot for a weekend with the girls.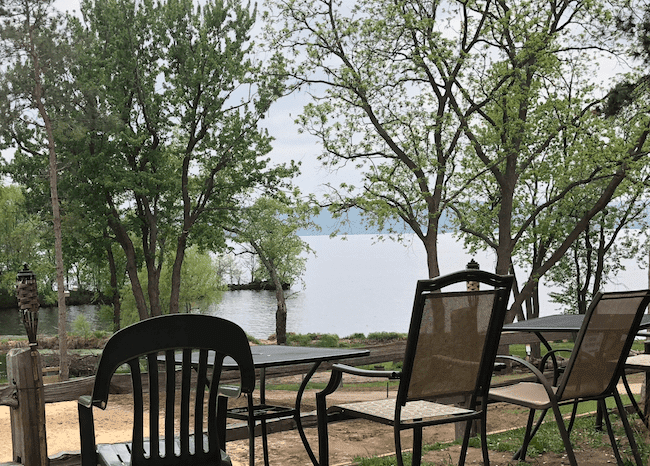 I recently traveled to La Crosse, WI for a weekend press trip to cover the annual Driftless Sports Convergence event. I'll have more about that event in a future article. But I was delighted with La Crosse. I wasn't traveling with kids this trip, so instead of a "Best of Children's activities" article, I'm going to share an adult-focused weekend. A friend and fellow family lifestyle writer Michelle from SimplifyLiveLove.com was also on this trip. We have actually traveled together quite a bit together lately and have talked about taking our spouses along for a kids-free all-inclusive vacation someplace warm. But THIS weekend in La Crosse was a girls weekend heavy on good food and fun.
Thank you to La Crosse County CVB for hosting me on my visit to La Crosse. This post includes affiliate links from partner brands. *Purchase through our affiliate links and we receive a small commission without any extra expense to you.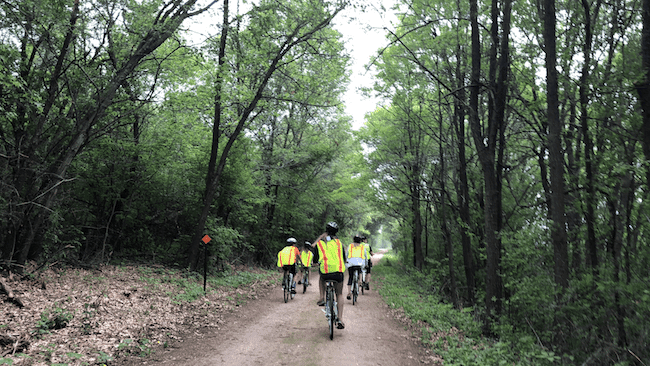 Where is La Crosse, WI?
Let me start with the all important question first. Where is La Crosse? Situated in Western Wisconsin along the Mississippi River, it is home to the University of Wisconsin La Crosse. It's 2.5 hours from Minneapolis, 3 hours from Milwaukee, and 4 hours from Chicago.
If you can, drive up the Great River Road to La Crosse. I did it from Iowa and the scenic views are beautiful with windy roads and overlooks providing glimpses of the vast Mississippi River. Small towns along the road would be ideal for antique browsing, winery stops, and shopping.
Pin this for later…..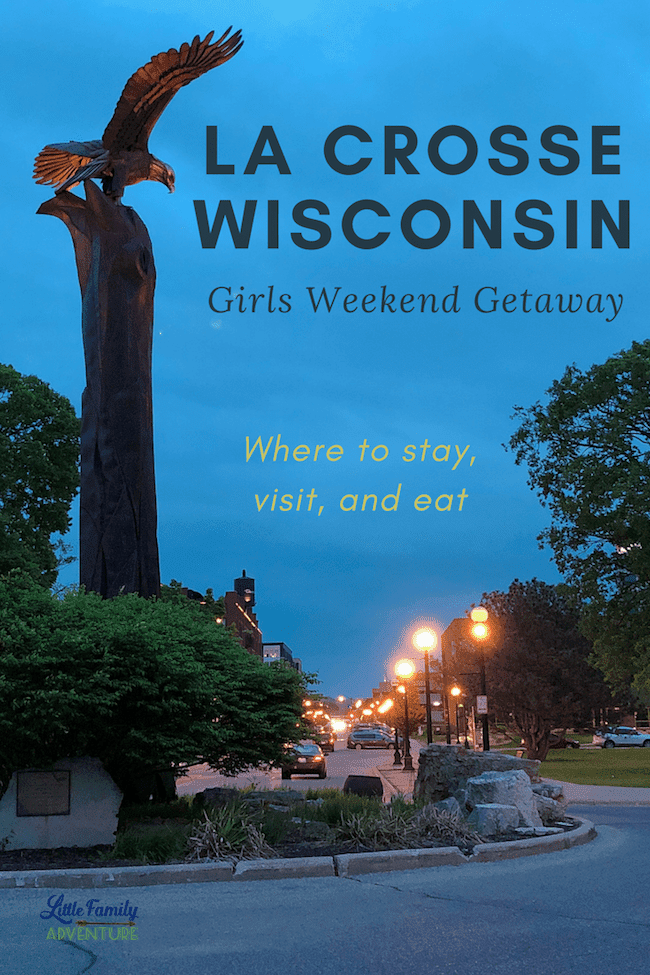 Where to Stay in La Crosse
Upon arriving in town, you'll want to check into your hotel, cabin, or B&B. There are several options in the area. You can check TripAdvisor's rates for La Crosse hotel properties* here. I opted to stay at the beautiful Castle La Crosse Bed and Breakfast. With 5 luxuriously appointed guest suites, this is a perfect location for a girls or couples getaway.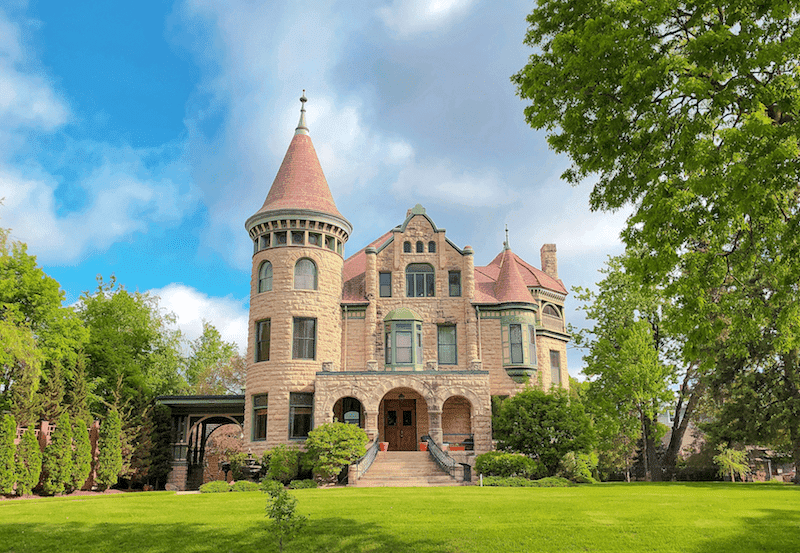 This historic home was built in 1891 for a local lumber baron. The detailed wood work in the home is exquisite. I stayed in the Oak Suite. Owners Billy & Brendan converted this room from what was once the nanny's room and nursery. Now, it features a king sized bed so comfortable, I could spend all day in, and a full bathroom with shower. A full breakfast each morning is included in your stay. Brandon, co-owner and chef, sources locally as much as possible. Many of his ingredients come from farms within a 30 mile radius.
Friday Night Dinner and Drinks
The area is home to several breweries, wineries, and a distillery. ExploreLaCrosse.com has a comprehensive list of those in the area.
We opted for Two Beagles Brewpub* in nearby Onalaska. This local favorite opened May 2016 and was celebrating their 2nd anniversary that first night we were in town. This is a popular place with both locals and visitors. Request a table overlooking Lake Onalaska and get a glimpse of this view.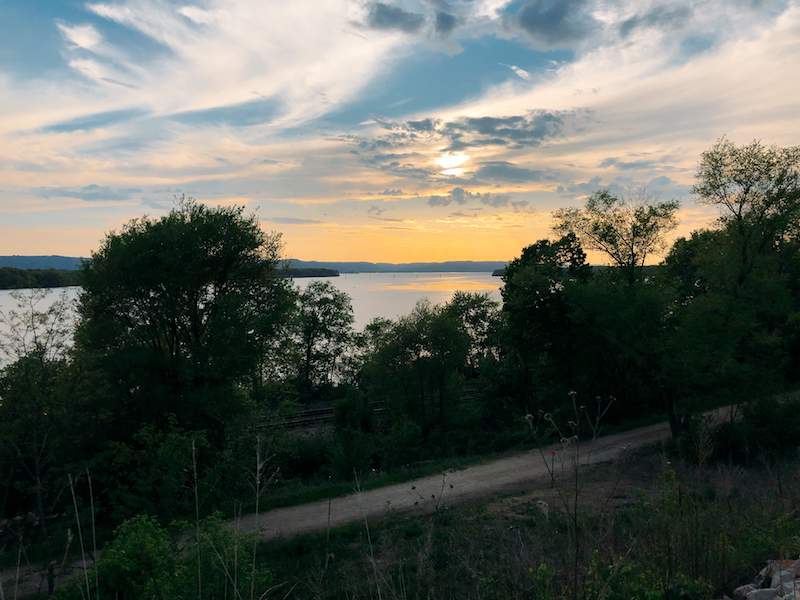 The menu features classic pub fare such as hamburgers, pizzas, and pig wings (smoked pork ribs). On Friday's you can't go wrong with the Fish Fry Friday special. There is a full bar plus at least 6 of their craft beers on tap.
Saturday – All Day Fun
Morning Hot Yoga
Start Saturday morning with a yoga class. Root Down Yoga Studio was recommended by Yelp and the staff at the Explore LaCrosse office. It's the only studio in town offering hot yoga. Saturday mornings, they offer two hot yoga classes plus a third unheated class for all ages.
Coffee at the Charmant Hotel
A morning doesn't officially start, in my opinion, without coffee. In my media bag, I had a wooden nickel for a free cup of coffee at the historic Charmant Hotel. It is a short drive away, so I requested an Uber it to the hotel and enjoyed a well balanced cup of java before walking through nearby Riverside Park. I didn't explore the hotel much because it was early and I'd be returning here for dinner.
Walk through Riverside Park
Just past the Charmant Hotel is this well kept public park overlooking the Mississippi River. You can stroll the pathed walkways, jog (if you skipped yoga), enjoy art in the park, or listen to local stories and poems via Hear, Here.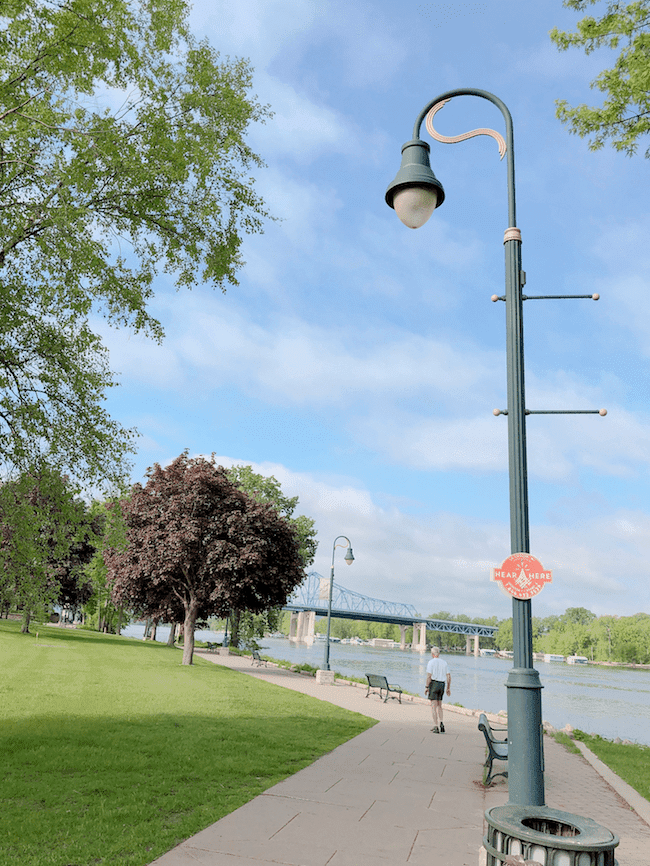 All around downtown, you'll see these orange Hear, Here signs with a location number and phone number. As you walk, dial the number and listen to stories from local residents, visitors, and pre-recorded poems.
Cameron Park Farmers Market
The best way to experience a community is to visit its local farmers market. Brandon at the B&B mentioned this farmers market. It's open Friday nights and Saturdays from 8am to 1pm. You'll find fresh fruit, vegetables, baked goods, pasture raised meat, fresh cut flowers, live music, and more.
During my May visit, it was still pretty early in the growing season. So vendor offering were smaller than one would find in summer months. Some of my favorites included:
Driftless Skincare – natural body products
Hoch Orchards – pasture and orchard raised sheep, hogs, and chickens
Opus Bakery – Baked goods (Rhubarb Lime Cardamom Scone was AHmazing!)
Food Truck Lunch
The area is home to delicious restaurants and food trucks. One of the trucks I tried was the Apothik Food Truck. Their seasonal and local menu really showcases the area's farms and their culinary skill.
Chile Verde Pork Tacos with chopped cilantro, kale, radish, lime cream and pepper jack on a corn tortilla with a glass of freshly made strawberry lemonade. Oh My Goodness! Oh My Goodness!
Countless Opportunities for Enjoyment
Depending on what your definition of fun is, you can find it in the La Crosse area. You can find local events on the ExploreLaCrosse calendar, go shopping in the downtown area, or hit the trails for active fun.
I mentioned earlier that I was here for a press trip to see the Driftless Sports Convergence at the Onalaska Omni Center. During this annual outdoor recreation event, I went on a bike tour with local company Wrench & Roll Collective.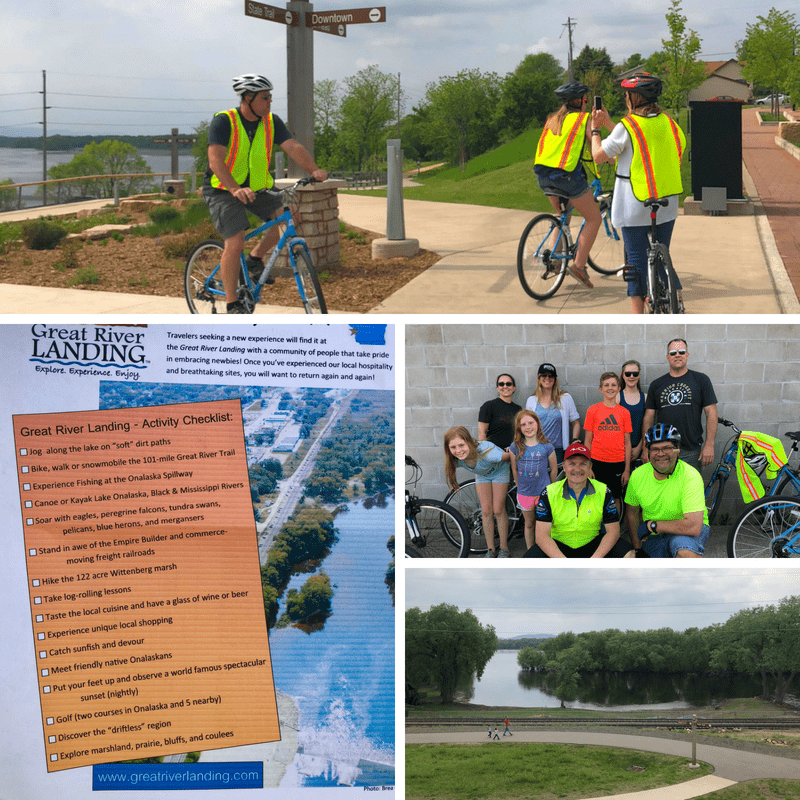 The regions multi-use trail system is not to be missed. There are 4 state trails which connects over 101 miles. In nearby Sparta, WI, their Elroy-Sparta Trail was the first railway path to be converted to multi-use (bike/hiking) trails. In La Crosse and Onalaska, the Great River State Trail takes you along stretches of the mighty Mississippi River. That's the trail we took and it was fabulous! Trails are compressed rock or similar surface and are well maintained. Several area bicycle shops rent bicycles and/or offer guided rides.
Drinks and Apps at Red Pines Bar & Grill
After all that active fun on the trails, one can get mighty thirsty. After our bicycle ride, we headed to nearby Red Pines Bar & Grill from hard cider and a snack. Get a table outside and you can view Lake Onalaska from your table, play a game of sand volleyball, or listen to live music every Saturday night.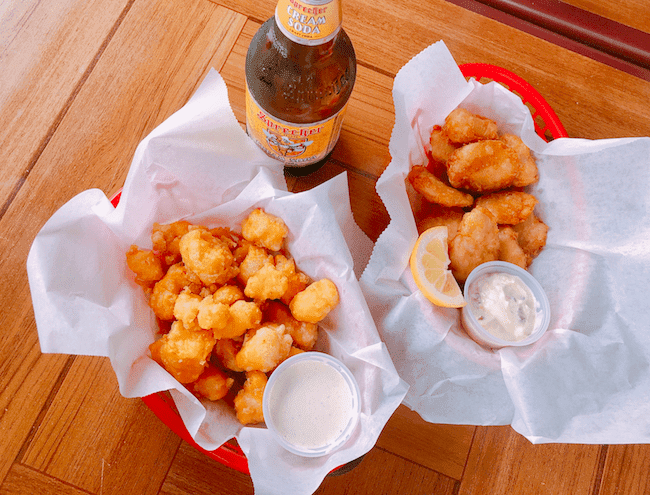 Since you are in Wisconsin, the fried cheese curds and fried walleye cheeks are a must! They have a full menu including sandwiches, pizzas, seafood, and steak.
The Ghosts of Historic La Crosse Tour
I don't know if I believe in ghosts or not, but this ghost tour* of historic downtown was a lot of fun. Our tour was lead by Jess who works at the La Crosse Library during the day. She shared plenty of factual information about the city, ghost stories that COULD be true, and many local stories from library patrons.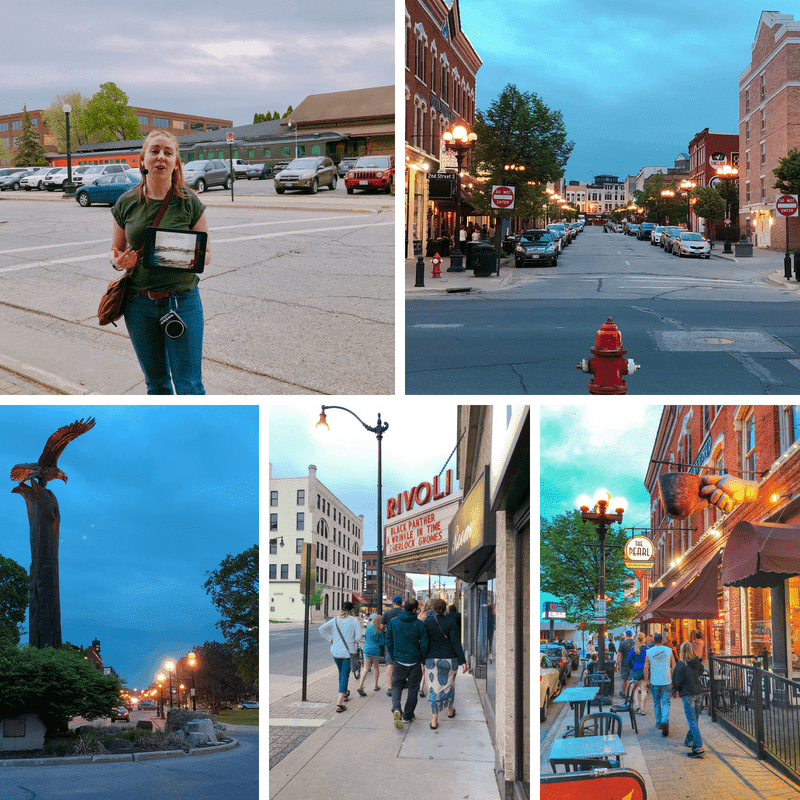 While on the tour, we see local favorites like the Pearl Ice Cream shop, the Rivoli Theatre, and the Bodega restaurant. All haunted, so they say. The tour ends in Riverside Park, just down from the historic Charmant Hotel.
Dinner Atop the Charmant Hotel
Return back to the Charmant Hotel dinner at one of its' two restaurants. I recommend the Rooftop Terrace for wood fired pizzas and drinks. Be sure to call ahead for reservations as this is a popular spot. The atmosphere is laid back and the views of the downtown area are phenomenal.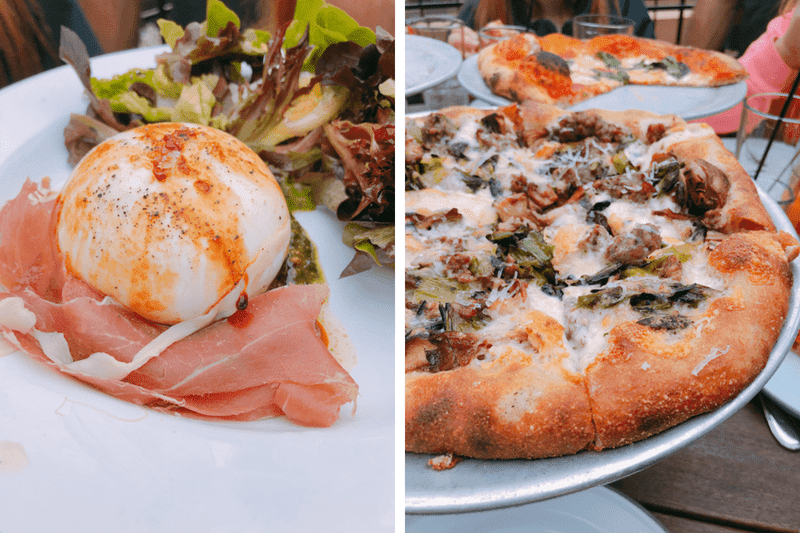 My recommendations are the Burrata Salad and the Fennel Sausage pizzas. The Burrata just melts in your mouth. The pizza crusts are crisp on the outside with a chewy interior. It's perfect fare to accompany drinks after the Ghost Tour. There is also a full bar with a good selection of wines and bottled beer.
Sunday – Sleep In Then Enjoy the Water
Sundays are made for sleeping in. Enjoy your chance for some "me" time and relax this morning. A leisurely paddle on the Black River around French Island would be fun when you are ready. The water on this river is calm and easy to navigate. I rented a kayak through Island Outdoors. They also offer canoe, SUP, and paddleboat rentals.
Stop for Famous Baked Goods
If you are hungry, you need to make a stop downtown at Fayze's Restaurant & Bakery. They are famous in the area for their baked goods.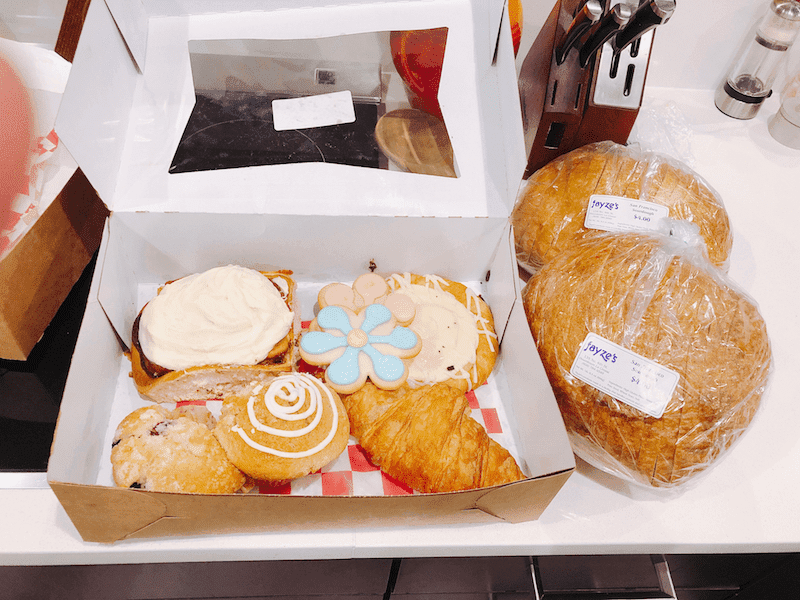 Pick up a few things to take home or enjoy a meal at the restaurant. I opted for their dinner rolls to make sandwiches on the drive home, cinnamon rolls the size of pancakes, croissants, and cookies for the kids. Oh so good!
Downtown Shopping
Before heading home, do a little shopping downtown. From The Toy Store for the kids to Duluth Trading Company and the All Gazed Up! pottery studio, there is plenty to discover and take home.
As you can see, I had a fun filled weekend in La Crosse, WI. Whether with the family or with friends, the area offers a multitude of recreational opportunities, local restaurants, and events to enjoy. For more information about the area, visit ExploreLaCrosse.com.
If you are looking for more vacation getaway ideas, check out:
SaveSave