Holiday appetizers should be festive. This year, let's have some food fun starting with this Frosty the Snowman Cheese Ball.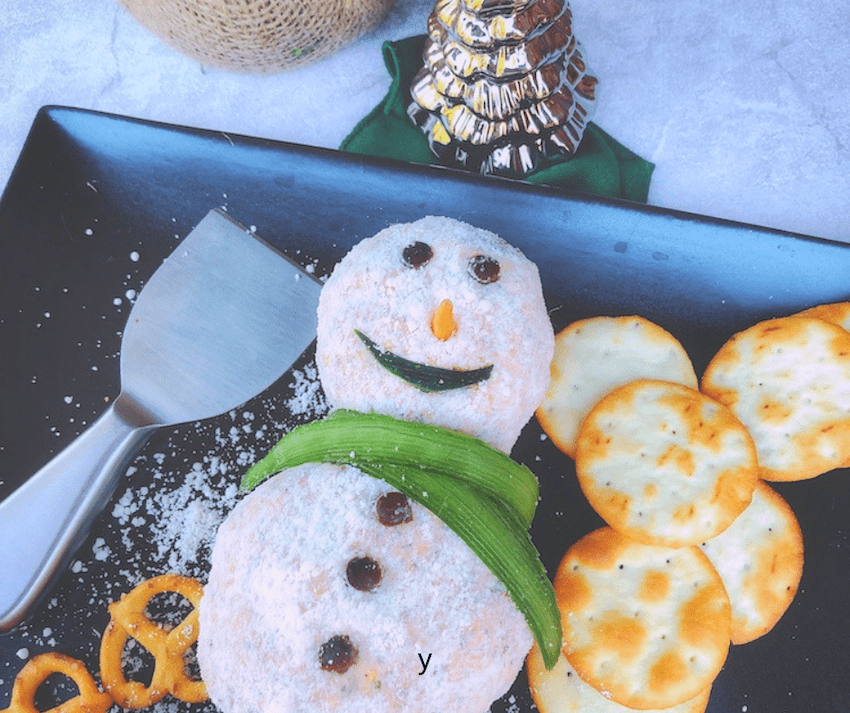 Maybe the Christmas jingle should go something like this……….
Frosty the Snowman Cheese Ball was a jolly yummy treat
With a carrot slice nose
and two eyes made out of olives
Frosty the Cheese Ball is a fairy tale they say
He was made of cheese but the children
know how he came to the table one day…
O, Frosty the Snowman Cheese Ball
was as yummy as he could be
And the children say we could eat
and enjoy it with crackers today
Yummity Yum Yum
Yummity Yum Yum

Christmas cheese ball
Have some holiday fun and play with your food this season! It's all in the spirit of the season after all. Nothing livens up a food table than something fun and whimsical. Taking a classic Christmas cheese ball recipe, we've split it up and added a little edible decoration to create Frosty the Snowball Cheeseball.
Kids will LOVE this holiday themed treat! We created this appetizer for our children's annual school Christmas Party. It was nice to have something on the table other than chocolate, cookies, and candy. There always seems to be plenty of those. But when it comes to savory offerings, a vegetable platter is a little lack luster for kids. Plus when it comes to kids, no one wants to be seen eating something "healthy". So this Christmas cheese ball is a great option because they don't know it's not filled junk. more importantly it's a protein rich snack made with real ingredients. Win – Win!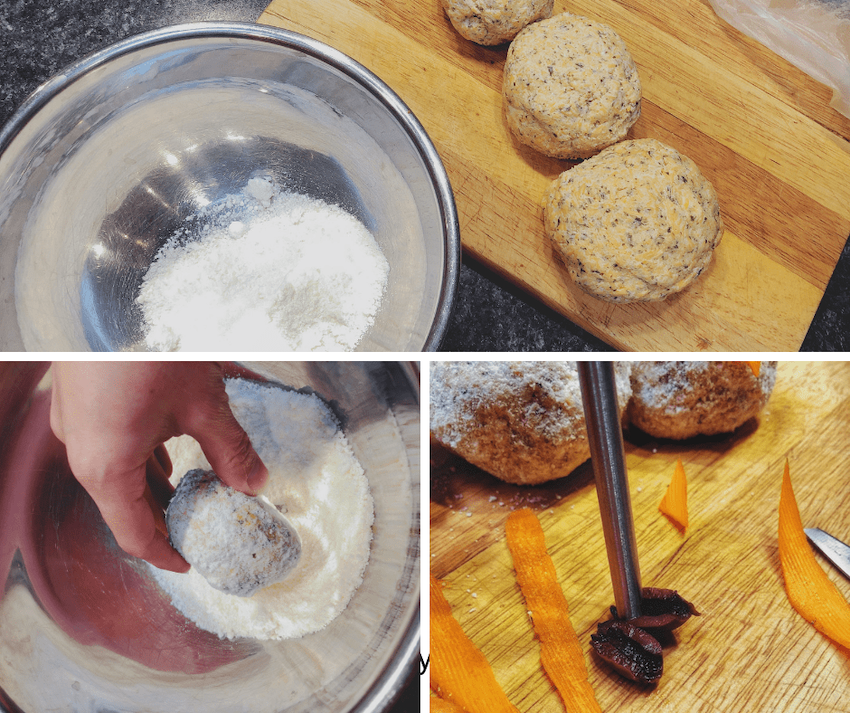 Edible Features How To
To make Frosty come to life, he is going to need a few snowman features; nose, mouth, eyes, buttons, etc. We use a carrot and a few black olives for those. First for the nose, I cut a triangle sliver out of a carrot. Then for the eyes, mouth, and buttons, I used a straw to punch out the circles from sliced black olives. Finally, to remove the olives from the straw, I just blew into the opposite end and out they came. Now my Frosty didn't have a hat because I didn't make time to do one. But you can easily take a piece of black construction paper and create one. (Note: if you have any other ideas on how to decorate a snowman cheeseball, I'd love to hear them.)
Frosty the Snowman Cheeseball
Additional Time
1 hour
20 minutes
Total Time
1 hour
30 minutes
Ingredients
8 ounces cream cheese, softened
8 ounces Red Leicester or sharp cheddar cheese, shredded
2 Tablespoons butter, softened
2 teaspoons Worcestershire sauce
1/4 cup minced onion
1 garlic clove, minced
1/2 teaspoon dry mustard
1/8 teaspoon black pepper
1 Tablespoon minced fresh parsley
1/4 cup crumbled queso cotija or parmesan (any fine grated cheese will work)
1 carrot
Sliced black olives
Crackers or fresh vegetables
Instructions
Place all ingredients in a large bowl. Beat with a hand mixer on medium-low speed until well combined.
Divide the mixture into three sizes (small, medium, large) and place onto three pieces of plastic wrap. Cover with the plastic wrap and shape into balls. Place the cheese balls in the refrigerator to harden, at least 1 hour.
Remove the cheese balls from the refrigerator. Roll each ball in the crumbled/grated cheese. Place on a serving plate with larger ball on the bottom, followed by medium, and finishing with the small ball. To avoid balls from rolling around, press slightly into serving plate.
Create the face and body of the snowman with a sliced carrot and circle cut black olives. Press features into cheese ball to secure them.
Serve with crackers or fresh vegetables.
Note: The flavors are best if it is allowed to sit at room temperature for 15-20 minutes before serving.
Nutrition Information:
Serving Size:
1
Amount Per Serving:
Calories:

2097
Total Fat:

172g
Saturated Fat:

106g
Cholesterol:

491mg
Sodium:

2884mg
Carbohydrates:

65g
Sugar:

27g
Protein:

73g
So there you have my Frosty the Snowman Cheese ball. Serve him up with a few crackers, pretzels, or freshly cut veggies. Your kids and/or party guests will love them.
Be sure to SUBSCRIBE and on FACEBOOK , TWITTER , INSTAGRAM and Follow PINTEREST to see more delicious recipes, travel destinations and tips, adventures, and more of what we are up to
If you liked this holiday appetizer, then you may also like: