German Beer Cheddar Cheese Fondue – This is the ultimate way to share a family meal that actually encourages kids to eat their veggies. So grab your long handled skewers, gather around the communal fondue pot and get ready for a quick and easy meal ready in about 15 minutes.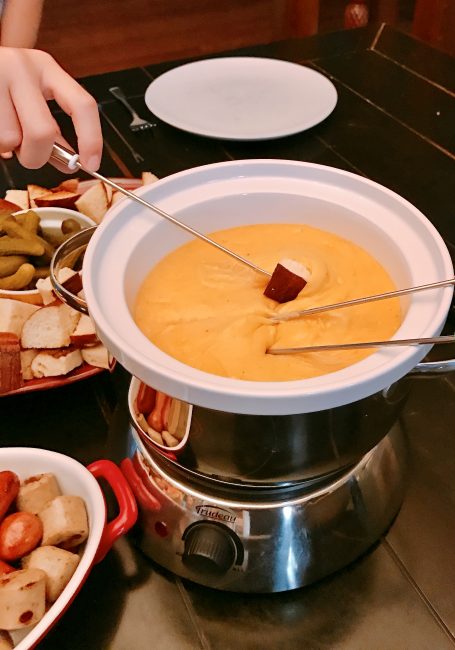 This Cheddar Cheese Fondue recipe with it's German Hefeweizen, sharp cheddar, and Gruyere is great for any occasion. It's upscale enough to serve at a dinner fondue party with adults and but easy enough to enjoy a fun dinner at home with the kids. I have even been known to serve these fondue fireside while camping (story for another day).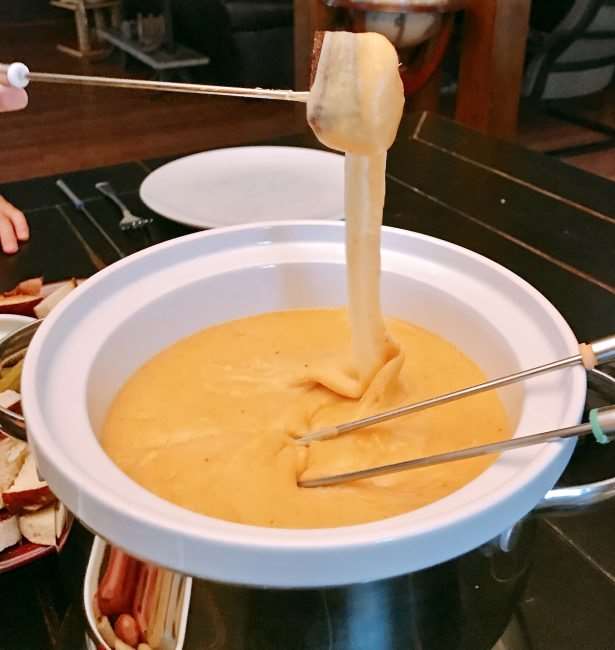 EASY CHEDDAR CHEESE FONDUE RECIPE
This recipe is patterned after something I had at the EPCOT Food and Wine Festival and the Canadian Pavilion's full service restaurant, Le Cellier, Canadian Cheddar Cheese Soup. It's a Disney Parks visitor favorite and has almost as much of a cult following as a Disney Dole Whip (click that link for my homemade version).
Instead of a soup, I created this cheddar cheese fondue after a little trial and error. It's very easy to make (only takes about 15 minutes) and a big hit with the kids. Swiss fondue is a more traditional fondue, but my kids aren't always fans of the strong flavors of Gruyere and Emmental cheese (the two types of cheese in Swiss Fondue).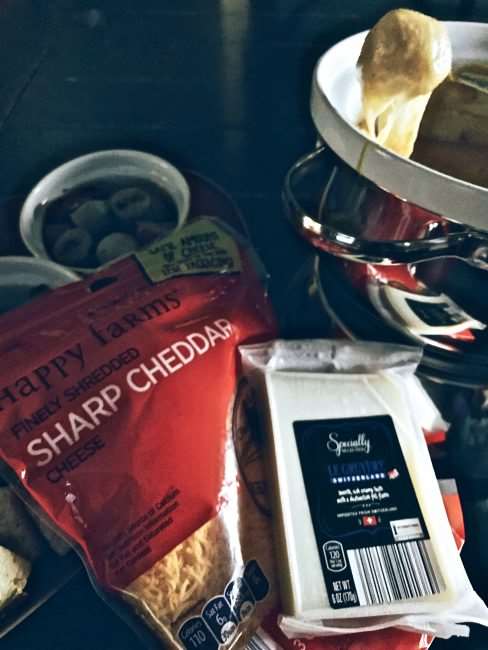 This Cheddar Fondue has equal parts sharp cheddar and Gruyere cheese. They blend well together and have a taste the kids really like. I don't recommend straight cheddar as it can be very oily when melted. If you don't want to use Gruyere, try Gouda or a Manchego instead.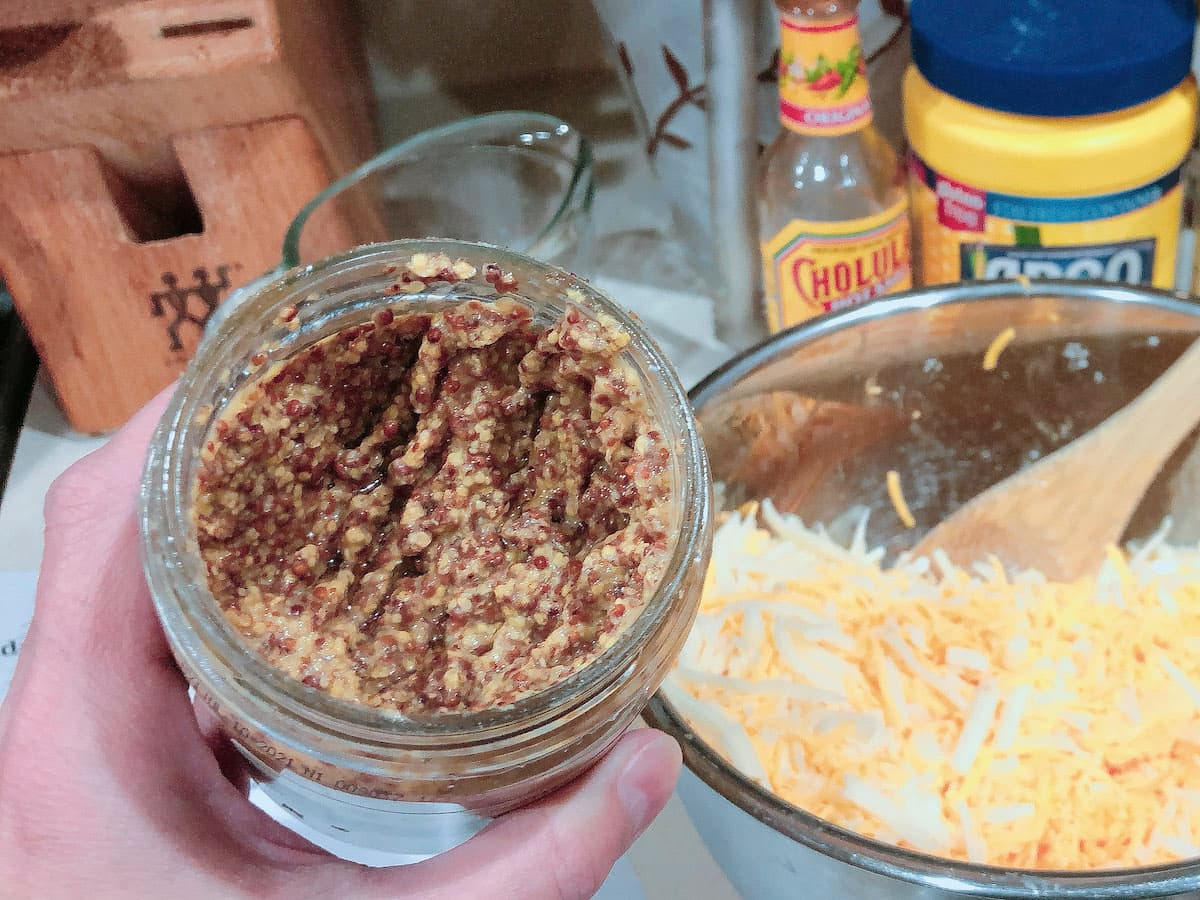 I use a tablespoon of this whole grain mustard in my fondue recipe. If you or your family prefers, substitute 1 teaspoon of ground mustard powder instead.
Use Beer in Fondue Instead of Wine
White wine compliments swiss cheeses. German Hefeweizen and lager beer compliment sharp cheddar. During the summer months, Shiner makes a Ruby Redbird with notes of grapefruit that also REALLY good.
When you cook with wine or beer, the alcohol is cooked off and you are left with the beer's flavor. I've heard some people say to use cheap beer or wine to cook with, but I disagree. You should always use a beer or wine you like to drink. You'll get those same flavors in the cooked food.
Want more cheesy recipes? Try: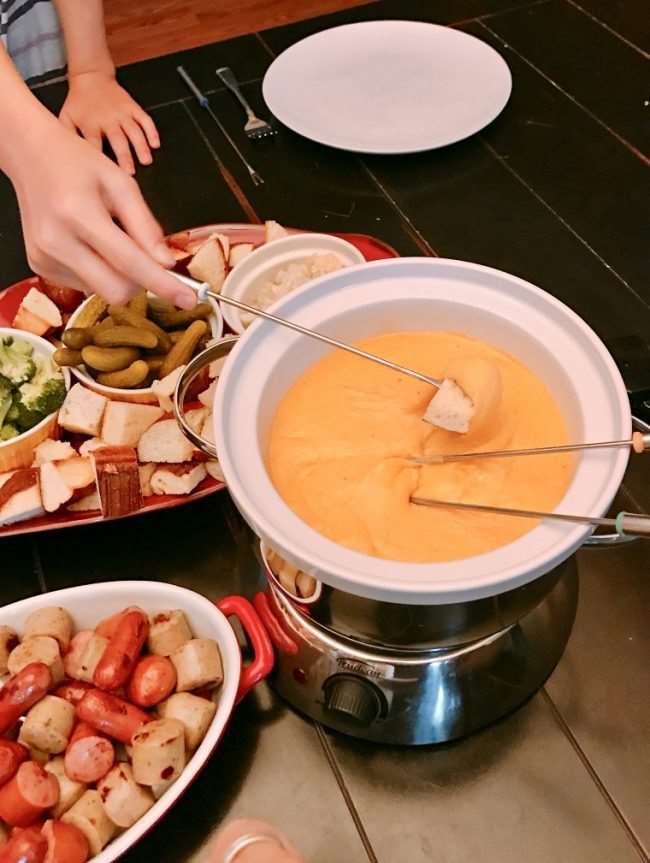 Beer Cheese Fondue Dippers
A cheddar cheese fondue is very versatile and you can offer a variety of breads, meats, vegetables. When I serve this for dinner, I like to offer two meats, two vegetables, and two types of bread cubed and toasted as fondue dippers.
Here are some of things my family really likes with this fondue recipe:
Soft pretzels or pretzel rolls
French bread
Baguette
Seeded rye bread
German bratwurst, sliced
German knockwursts, sliced
Cocktail sausages
Small meatballs
Unbreaded chicken cubes
Cauliflower
Broccoli
Carrots
Asparagus spears
Blanched green beans
Roasted potatoes (fingerlings work best)
Sliced apples
I want to add a note on cooking the vegetables for fondue here. You want the vegetables to hold their shape once inserted into the melted cheese. For broccoli, cauliflower, and carrots I steam them with a bit of the remaining beer for flavor for 3-4 minutes, They are past being blanched but not fully cooked. Potatoes are fully cooked and fingerling varieties hold their shape really well as a fondue dipper.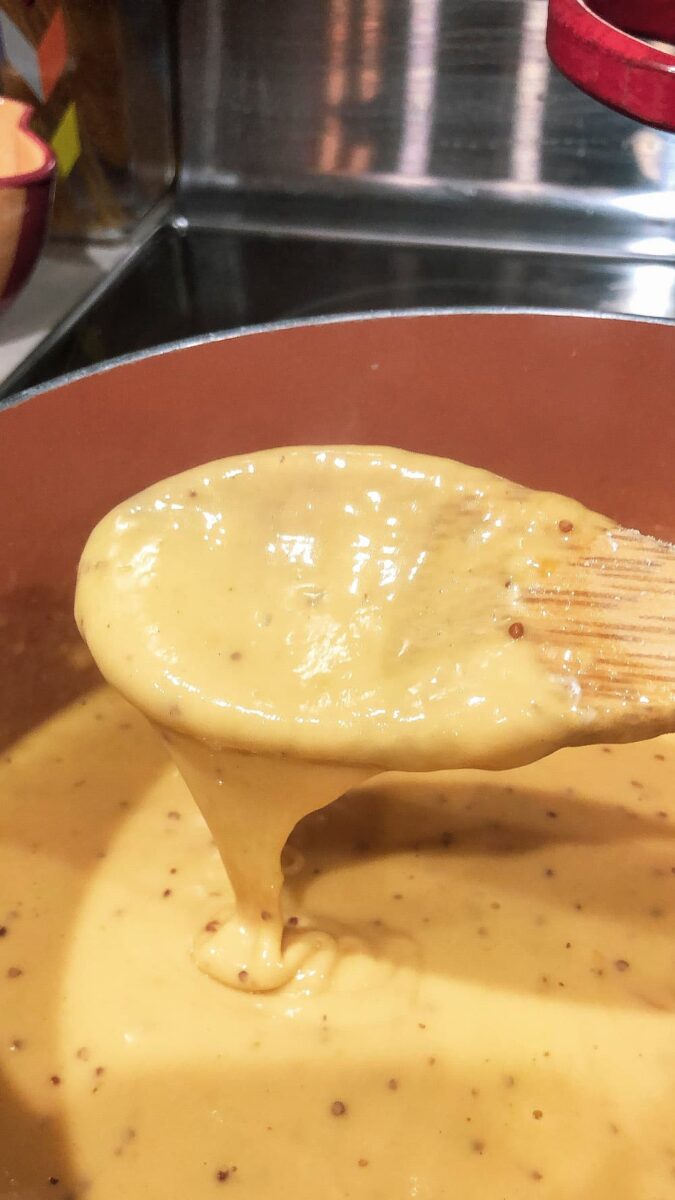 How to Make Cheese Fondue
On the stove top, add beer and whole grain mustard or ground mustard to a saucepan. Bring to a low boil over medium heat.
In a large mixing bowl, combine shredded cheeses with the cornstarch.
Once beer is at a low rolling boil, reduce to a simmer.
Add cheese in three stages (one cup or handful at a time), stirring in between each addition. After that stir constantly until fully melted.
After all cheese is fully melted, add in hot sauce and Worcestershire sauce.
Transfer cheese to a preheated fondue pot.
Serve the cheddar cheese fondue with fondue dippers of your choice; toasted bread, vegetables, meat, etc.
Yield: 4
German Beer Cheddar Fondue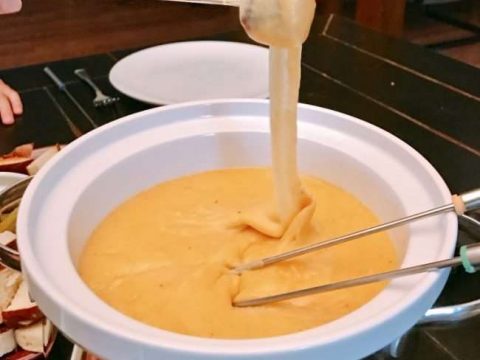 Ingredients
Fondue
1 cups shredded sharp cheddar cheese
1 cup shredded Gruyere cheese
1 Tablespoon cornstarch
1 cup German Lager or Hefeweizen
1 Tablespoon German whole grain mustard or 1 teaspoon dry mustard
2 Dashes of Hot Sauce
1/4 teaspoon Worcestershire sauce
Accompaniments
4 pretzel rolls, cubed and lightly toasted
1/2 pound German bratwurst or knockwursts (cooked), cut into 1/2" bites
Cocktail sausages
Blanched ir steamed vegetables like cauliflower or broccoli
Instructions
Fondue
In a large sauce pan, add beer and bring to a low boil over medium heat.
In a large mixing bowl, combine shredded cheeses and cornstarch.
Once beer is at a low rolling boil, reduce to a simmer.
Add cheese 1 cup or handful at a time. Stir constantly.
When cheese is fully melted, add in mustard, hot sauce, and Worcestershire sauce.
Transfer cheese to a preheated fondue pot.
To Serve
Serve with desired steamed or blacnhed vegetables, sliced cooked meats, toasted bread cubes, etc.
Nutrition Information:
Yield:
6
Serving Size:
1
Amount Per Serving:
Calories:

645
Total Fat:

40g
Saturated Fat:

18g
Trans Fat:

1g
Unsaturated Fat:

18g
Cholesterol:

105mg
Sodium:

1257mg
Carbohydrates:

33g
Fiber:

4g
Sugar:

5g
Protein:

29g
Note: When Cooking with Kids, be sure that you supervise children when using a fondnue pot. The cooking surface may be hot and care should always be used.