You can make wine and cheese pairings with ease when you understand a few basics. Take a look at these 7 tips on which wines pair best with what cheese and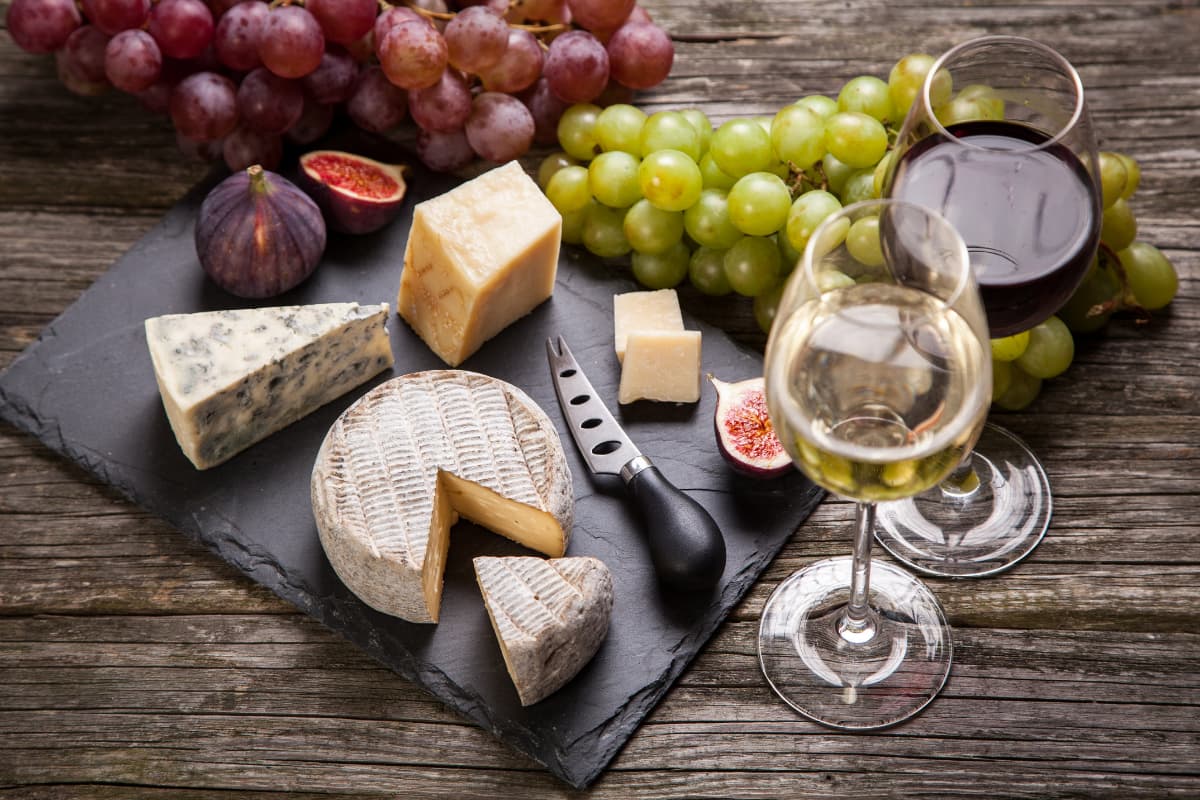 Add a cheese board or charcuterie plate to your next party or holiday get together. It makes an easy appetizer to serve as guests arrive or can be enjoyed as the dessert course.
Pin This for Later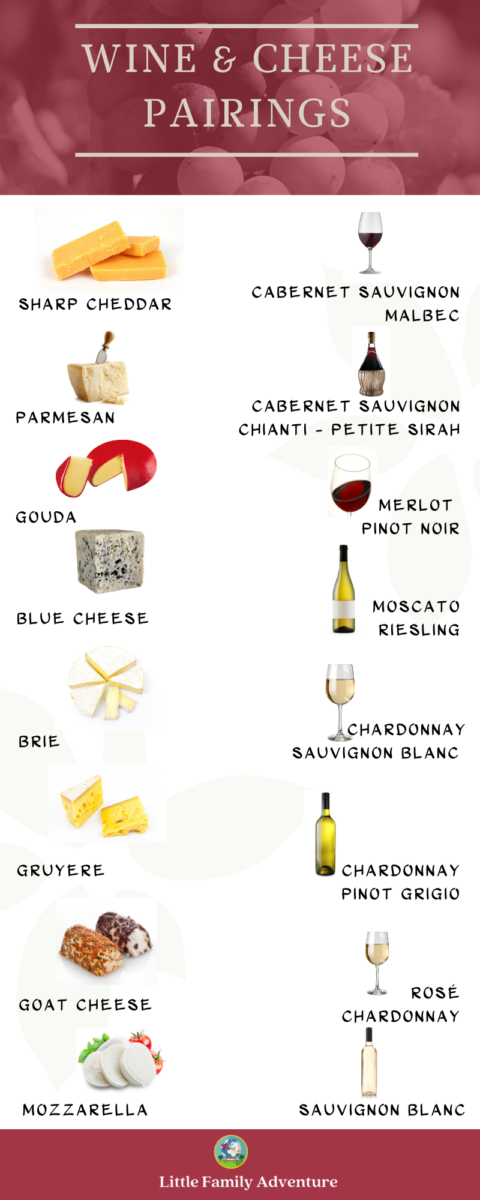 7 Tips for Wine Cheese Pairings
1. Pair a harder, aged cheese with a bold red wines
Aged Cheddar, Gouda, Manchego, Parmesan and Gruyere pair very well with full bodied red wines with more tannins. Water is lost as cheese ages and what remains is deeper flavored cheese. Select a rich, more intense red wine such as a Malbec or Cabernet Sauvignon.
2. Match your wine and cheese intensity.
Bolder cheeses are best paired with a full to medium bodied red wine. Funky cheeses like blue cheese is best with a sweeter wine like a Port or a Moscato. Softer cheeses like a goat cheese or mozzarella do very well with a sweeter or less robust wine like a chardonnay or Sauvignon Blanc.
3. When in doubt, choose items from the same region.
A region's climate and soil affect both its wine and food. If you aren't sure which cheese and wine to buy, select those from the same region. An example is Manchego cheese with a Spainish Garnacha. If you have a dedicated cheese store, or a Whole Foods nearby, you can ask there for suggestions.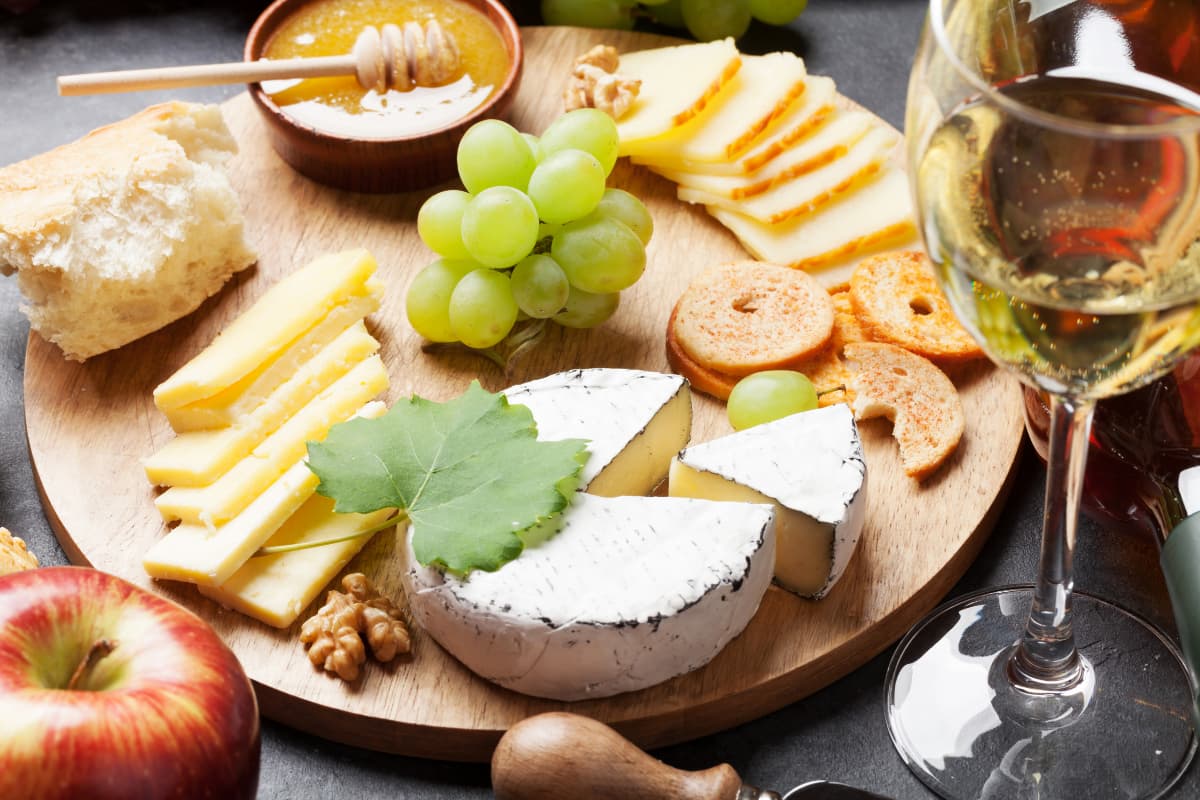 4. Creamier cheeses do well with higher acidity wines.
Cremier, softer cheese like a Brie, Goat Cheese, or Camembert are best combined with a higher acidity wine. The acidity cuts through the creamy texture of the cheese and highlights the subtle flavor in the cheese. Good options: Rose, Sprakling wine, crisp Sauvignon Blanc, or unoaked Chardonnay.
5. Match sweeter wines with salty cheeses.
Sweeter Reislings are a good match for a salty Feta. The fruity undertones help balance out the flavors.
6. When in doubt, go nutty.
If you aren't sure which cheese to serve with which wine or you are serving several wines, choose a nutty, firm cheese. Nuttier cheeses balances old full bodied reds like a Cabernet, compliment a medium bodied Malbed, and enhance the sweetness in a Reisling. Good options: Goudam Swiss, Emmental, and Gruyere.
7. Have a well round cheese board to accompany your wine.
Choose at least four cheeses with varying textures, flavors, and/or regions. Add accompaniments like fresh or dried fruit, crackers, honey, sliced meats, etc. to balance out the board.
Save on wine and have it delivered!
Join the Firstleaf Wine Club and get 6 bottles of wine delivered for ONLY $39.95!
I subscribed this year to the First Leaf Wine Club and have been loving the wine I have received. I'm finding that the quality and price are cheaper than ALDI. It is a subscription box, but you can cancel after receiving your 1st box. So that works out to less than $7 per bottle. Great Value!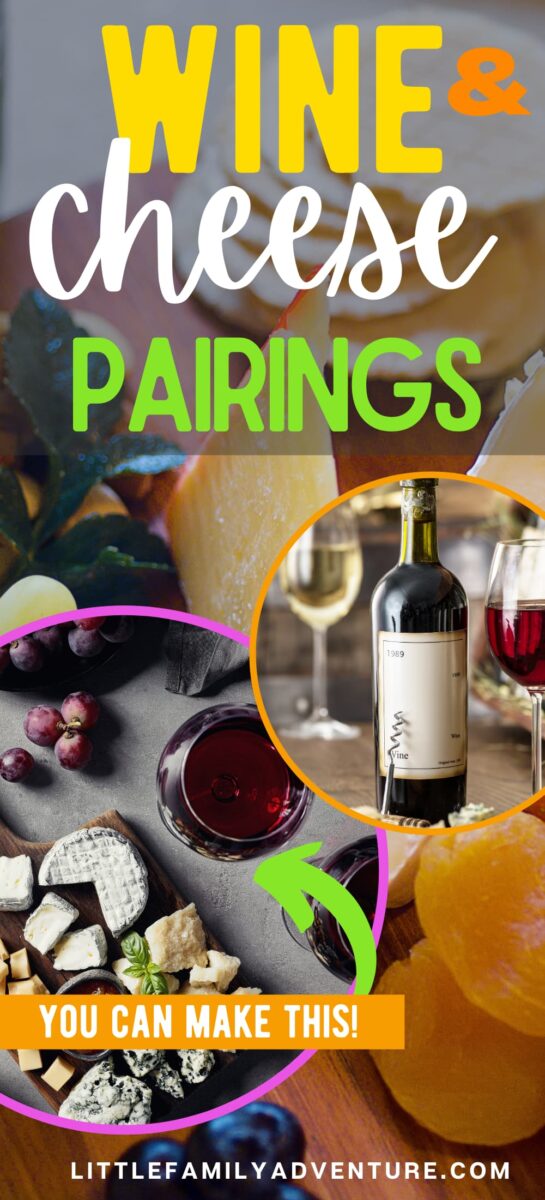 Want to learn more about wine? Take a look at this course at The Great Courses: The Everyday Guide to Wine. It covers the different types of wine, information on wine regions, what wines to drink with dessert, and so much more.
Delicious Final Touches
Round out your cheeseboard with these crowd favorites:
Roasted nuts – add a little crunch to any cheeseboard. Roasted walnuts or pecans are good options. If you want somethong sweeter, try our recipe for candied pecans.
Honeycomb – Sweet honey pairs perfectly with pungent blue cheese.
Olives – Green olives go very well with sharp cheeses. Greek Kalamata olives go well with Feta (of course) as well as other softer cheese like brie. If you want a hot app to accompany your cheeseboard, try this quick Greek Olive and Feta topped Italian bread.
Fresh Baguette – You can never go wrong with fresh baked bread. A baguette is wonderful with any type of cheese.
Crackers – Add your favorite water crackers, crisps, or flatbreads to accompany your cheese board.
Jam or Chutney – Fig jam is a crowd favorite when serving soft, creamy cheese like brie and goat cheese. But fruit chutneys also pair really well. You can add this Mango Chutney infused with Indian spiced for a little kick.
Fresh or Dried Fruit – Add your favorite fruits to help refresh your palate and add a little sweetness. Popular options include figs, apples, pears, grapes, dried apricots, and dried canberries. Add what you like!
Proscuitto or Salami – If you want to add meat to your board, both of these are no-brainers. These salty meats pair very well with a wide variety of cheese and wines. Try our recipe for prosciutto wrapped breadsticks.
For more tips on crafting a charcuterie board or cheese plate – I regularly shop at ALDI for my cheese boards. Then head to Whole Foods for a specialty cheese I can't find there. Read my tips for crafting a cheese board for less at ALDI here.