Honey Pecan Pork Cutlets are one of our easy weeknight favorites. This dish will have dinner on the table in less than 15 minutes. Plus, what's not to love about honey pecans and a simple pork chop?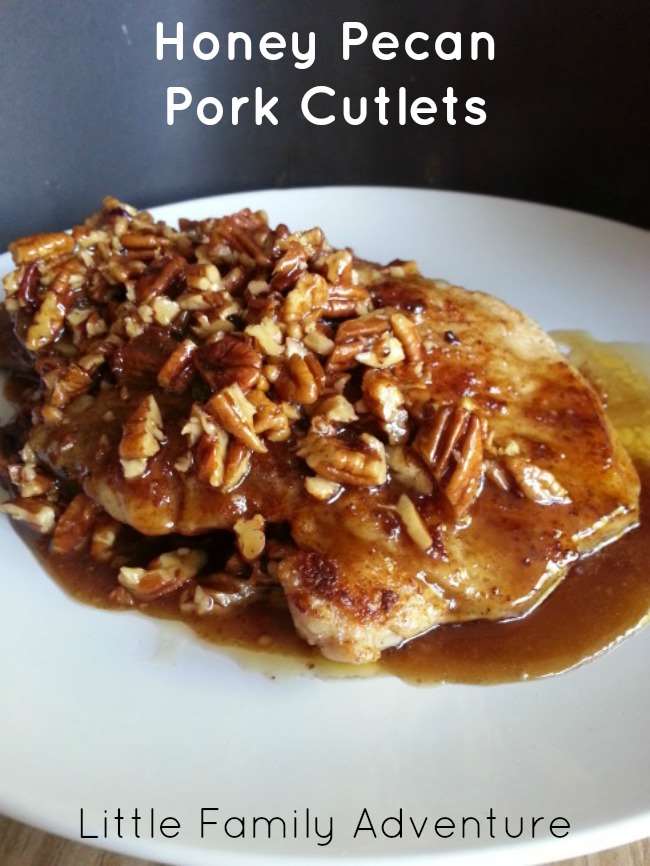 Pork cutlets or thinly sliced pork chops cook quickly, less than 10 minutes. Because this dish cooks quickly, it's a good idea to keep an eye on it during cooking. There have been a few times, that I have walked away for a minute and came back to pork chops that were over cooked or burnt honey. Please heed my advice and just stay with them.
For this recipe, I use an all purpose Greek Seasoning. I love the flavors it imparts to the honey and pork. If you don't have a Greek seasoning, you can use any all-purpose seasoning you have on hand or simply salt and pepper.

Yield: 4
Honey Pecan Pork Cutlets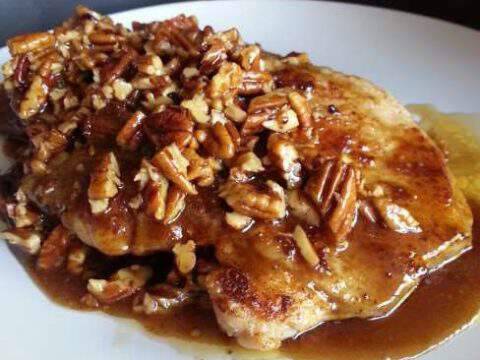 Pork cutlets make an easy weeknight meal. Combined with honey pecans, this dish is soon to be a family favorite.
Ingredients
2 tablespoons olive oil
4 pork cutlets or thin cut chops
1/2 cup pecans, chopped
1 1/2 teaspoons Greek or all purpose seasoning, divided
1/4 cup honey
Instructions
Heat olive oil in a large skillet over medium heat. Season pork chops with 1 teaspoon Greek or all purpose seasoning on both sides.
Place pork chops in skillet and cook until brown, about 3-4 minutes. Turn the pork chops over and continue to cook for an additional 2-3 minutes.
Remove pork chops from pan and place on a plate. Keep warm.
Add chopped pecans to the pan drippings in the skillet. Stir pecans constantly for 1 minute to lightly toast them.
Add honey and remaining 1/2 teaspoon Greek or all purpose seasoning to pecans. Stir constantly for 1 minute.
Remove from heat.
Plate pork chops or place on a serving platter. Pour pecans and sauce over pork chops. Serve immediately.
Try these Honey Pecan Pork Cutlets with some
Tricolor Coleslaw
or
Cran-Broccoli Salad
for dinner tonight.