Here in a few weeks, my husband and I are taking a vacation without the kids to Walt Disney World. All the reservations have been made, the trip is paid for, and now I just have to wait. I am not very good at the waiting part. I CAN NOT WAIT for this adventure! 🙂 Our trip coincides with EPCOT's Flower and Garden Festival. This year they have added food tasting to the event. So my husband and I are thrilled. I already know which foods I want to try. If you haven't noticed, I'm a little OCD when it comes to planning and my food. But it's not a problem because I can admit it and work with it. We've had some great food experiences along the way.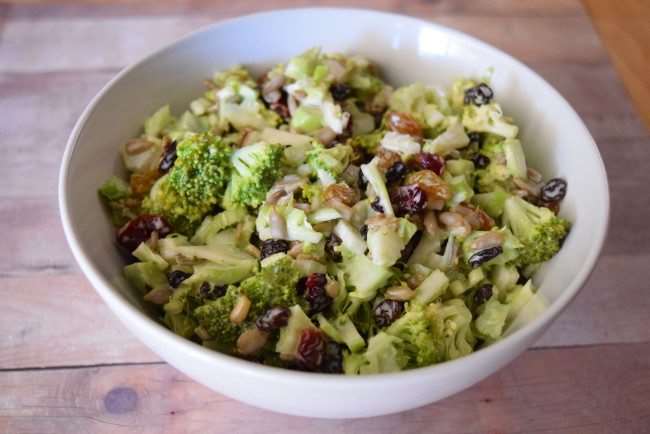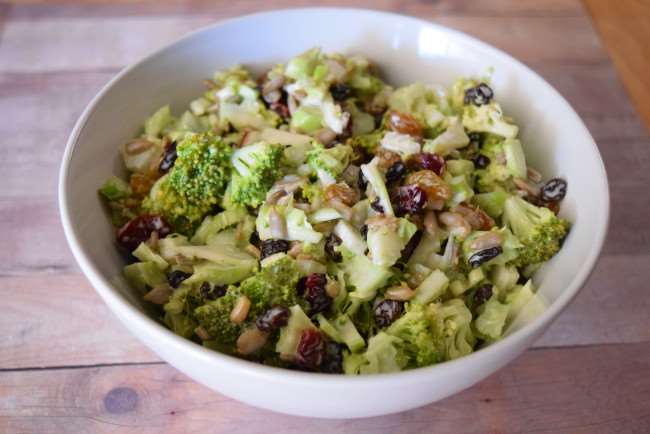 On our last trip to Disney World, we stayed at the Beach Club Villas. It was a great resort. We loved that it was within walking distance to EPCOT. Inside the resort, you can find the restaurant Cape May. It's an all you care to eat buffet restaurant that offers character meals. So you can eat with Goofy and other characters. The restaurant has a wonderful broccoli and cranberry salad available for lunch and dinner. I like to eat my broccoli raw or lightly steamed. My children, however, are a different story. They like their "trees", as my youngest calls them, fully cooked and soft. One of the only ways to get them to eat raw broccoli is to add it to a salad and sweeten it up.
My recipe for Broccoli Salad with cranberries and apples is a sweet raw broccoli salad that has crunch. The celery, apples, broccoli stems, and walnuts give it that crunch. The honey, apples, and raisins give it sweetness. There is no refined sugar, unless you get the dried cranberries with added sugar.
This recipe is also great as broccoli slaw. It's the same salad but prepared a little differently. To make slaw, shred your broccoli stems, celery, and apples in a mandolin or food processor. Finely chop your broccoli flowerettes and walnuts. Add the remaining ingredients.
Broccoli Cran-Apple Salad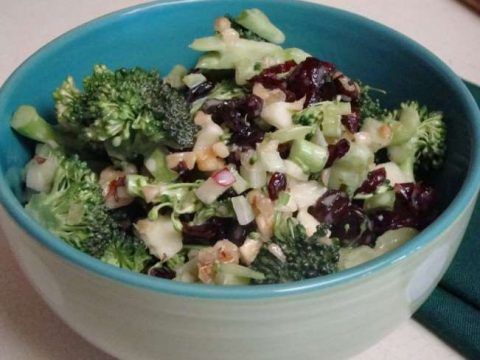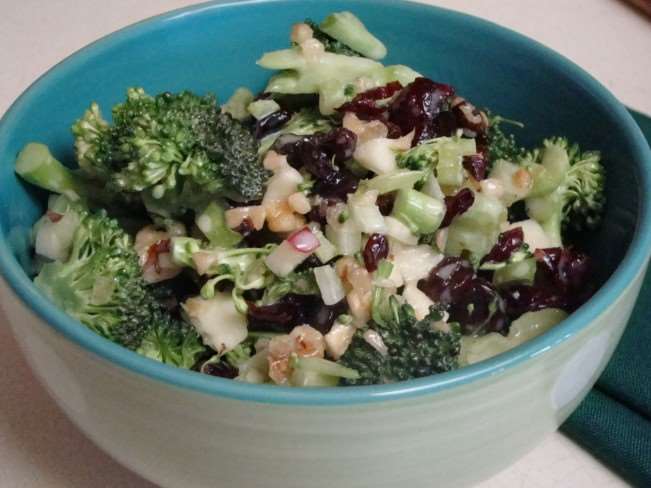 Ingredients
1 head of broccoli, stems sliced and heads cut into bite sized pieces (about 4 cups)
1 celery stalk, diced
1/2 cup dried cranberries
1/2 cup raisins
1/4 cup walnuts, chopped
1/2 apple, cored and chopped
3/4 cup mayonnaise
1/4 cup honey
1/4 cup apple cider vinegar
Instructions
In a large bowl, combine broccoli, celery, cranberries, raisins, apple, walnuts.
In another bowl, combine mayonnaise, honey, and cider vinegar. Stir until honey is incorporated.
Pour dressing over salad and toss.
Serve immediately or refrigerate until ready to use.