This Breakfast Eggnog Bread Pudding takes everyone's favorite holiday eggnog and creates a delicious breakfast that tastes like dessert. The best part of this recipe is that it is SUPER simple to make.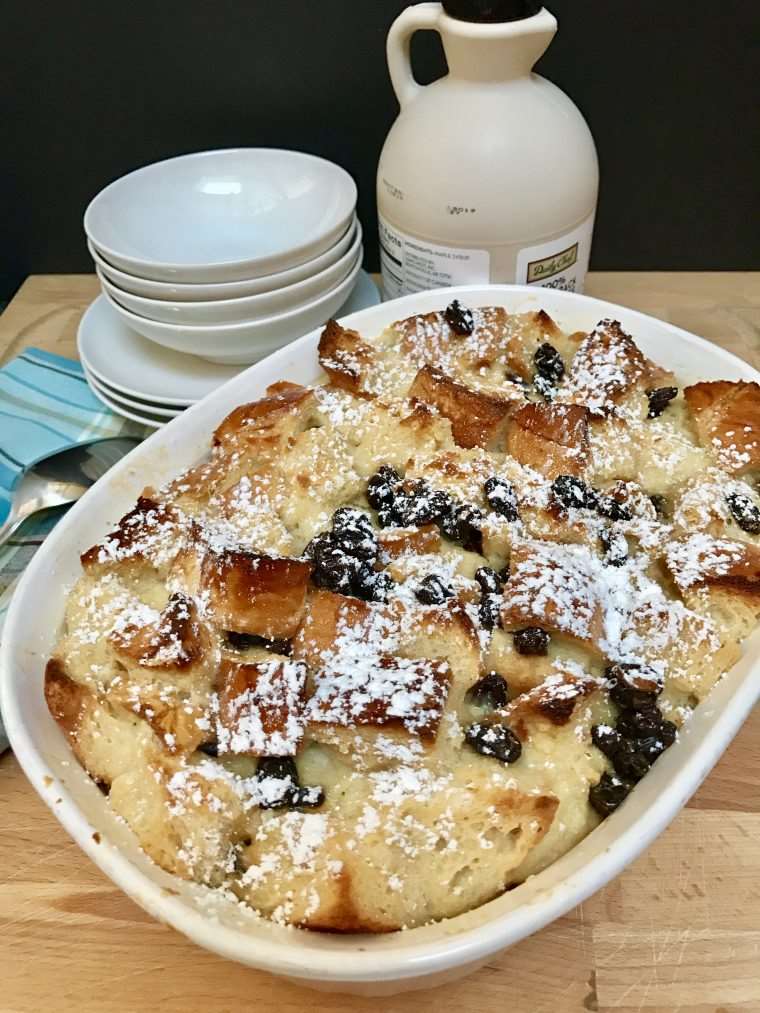 This is the perfect dish to cook when you have overnight guests, Sunday brunch, having friends over for morning coffee, or Christmas morning.
Here are some other breakfast recipes you can try: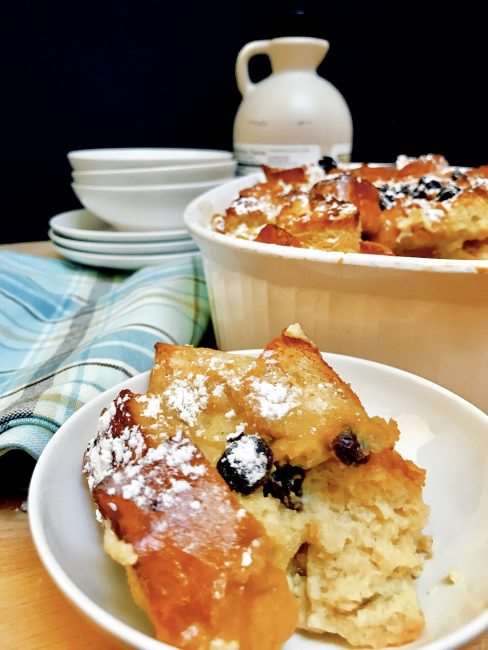 Make this Breakfast Eggnog Bread Pudding a new holiday tradition with your family. Get the kids involved in helping to make it. You can create some great traditions and memories in the kitchen. One of my favorite kitchen memories is cooking with my grandmother. I lived right next door to her growing up. I'd often go over after school and help in the kitchen or in the garden. After Thanksgiving, she started making her German Christmas cookies like German Sour Cream Twists Cookies, Kringla, and German Lebkuchen. These are still 3 of my favorite cookies to this day. After she passed away a few years ago, I asked to have her recipe cards and books. Now I continue baking with my kids using her recipes.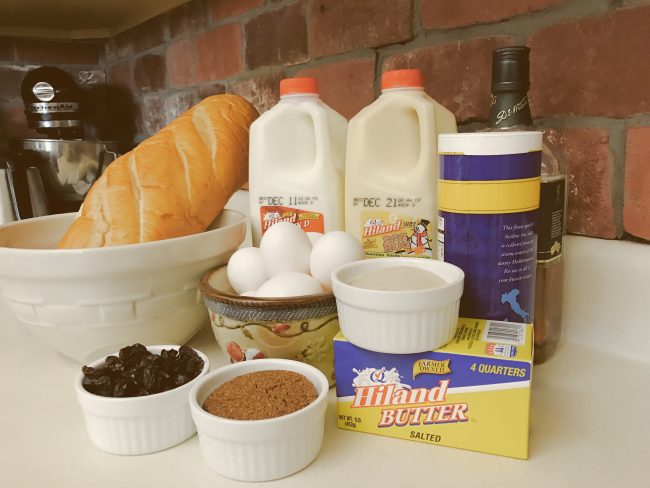 One thing all my recipes have in common is real food ingredients. I'm using real butter, whole milk, whole grain bread, etc. in this recipe. It's a difference you can taste.
Substitutions: This recipe has a little bourbon or whiskey in it. The alcohol bakes off in the oven. If you prefer not to use alcohol, you can substitute 2 Tablespoons vanilla extract. If your family doesn't like eggnog, you can substitute 2 cups heavy whipping cream and add 1 more cup of whole milk and 1 teaspoon nutmeg.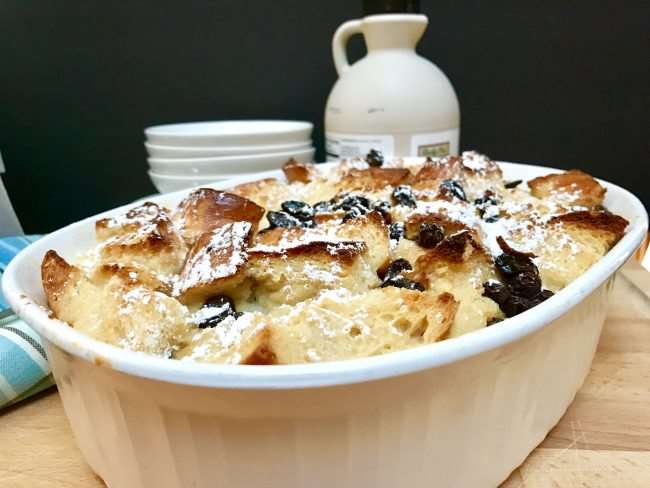 There you have a great breakfast recipe for Eggnog Bread Pudding. It's delicious for breakfast or dessert. It is the holidays, so do both and enjoy!
Yield: 12
Eggnog Breakfast Bread Puddin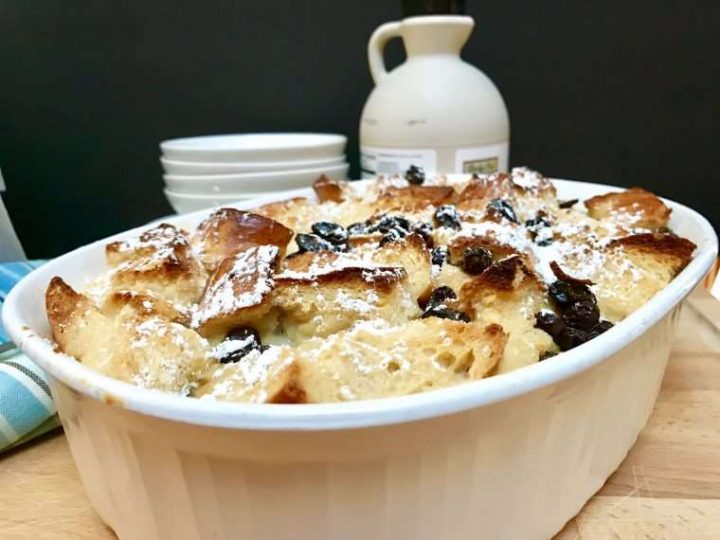 Total Time
1 hour
10 minutes
Ingredients
1 loaf whole grain French Bread, sliced
4 ounces salted butter, softened
1/2 cup raisins
3 cups Eggnog
2 cups Whole Milk
5 eggs
4 egg yolks
1/2 cup cane sugar
1/2 cup light brown sugar
Pinch of salt
2 Tablespoons Bourbon or whiskey
Powdered sugar and maple syrup for serving
Instructions
Butter each bread slice on one side and cut into 1" inch cubes.
Place bread cubes into a 2 quart baking dish.
In a large saucepan, heat eggnog and milk over medium heat until hot, but not boiling.
While eggnog and milk are heating up, combine eggs, egg yolks, sugars, and salt in a large mixing bowl. Whisk egg mixture until well combined.
Once eggnog and milk are hot, remove from heat. Whisk one cup of hot eggnog mixture into egg mixture at a time. Whisk vigorously so eggs don't curdle in your custard.
Add bourbon or whiskey into custard.
Pour custard over bread cubes a insuring that all the bread is soaked. Press bread down with your hands if needed.
Cover and refrigerate for one hour to overnight.
When ready to cook, remove bread pudding from refrigerator and preheat oven to 375*F.
Bring 4-5 cups of water to a boil in a saucepan or in the microwave.
Place your bread pudding in the 2 quart baking dish in a larger casserole dish or roasting pan.
Place that in the oven on the middle rack.
Pour the boiling water into the roasting pan or casserole dish. The water should reach about halfway up the side of the bread pudding dish.
Bake for 50-55 minutes or until the custard is set and the bread is golden brown on top.
Carefully remove the roasting pan or casserole dish from the oven and remove bread pudding from the hot water.
Allow bread pudding to cool for 5-10 minutes.
Serve with powdered sugar and/or maple syrup is desired.
Nutrition Information:
Yield:
12
Serving Size:
1
Amount Per Serving:
Calories:

426
Total Fat:

16g
Saturated Fat:

8g
Trans Fat:

0g
Unsaturated Fat:

6g
Cholesterol:

201mg
Sodium:

306mg
Carbohydrates:

59g
Fiber:

2g
Sugar:

38g
Protein:

11g