Looking for a recipe for soft Norwegian cookies? Let me introduce you to Kringla. This recipe for cookies shaped into a figure eight is my grandmother's recipe. Now I'm giving it to you!
Traditional Kringla Recipe
Imagine soft, pillowy sugar cookies. That's what these are, but SO MUCH better. These cookies are baked just long enough to just barely turned a faint shade of gold/light brown. By doing that, you get this soft cookies without any crispy edges. Added bonus, this kringla recipe is REALLY easy to make.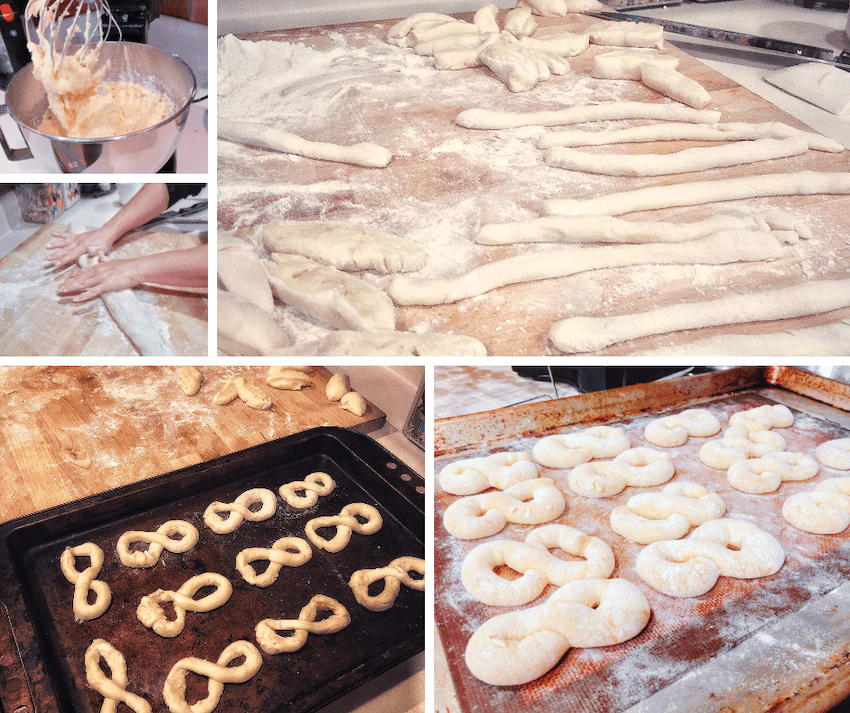 Above is a visual look at the different steps from mixing to rolling and baking. First, you combine the wet and dry ingredients separately. Then you add them all together and let chill in the fridge for at least 30 minutes, but overnight is best. At this point the dough is sticky and you can kinda see that in the picture. When ready to bake, you'll divide the dough in half and shape each half into a long strip of dough resembling a log. Next you'll cut indiviudal section, roll into thin 7-8″ strings that will look a little like a pencil. Last you'll shape each dough strip into a a figure eight shape and bake.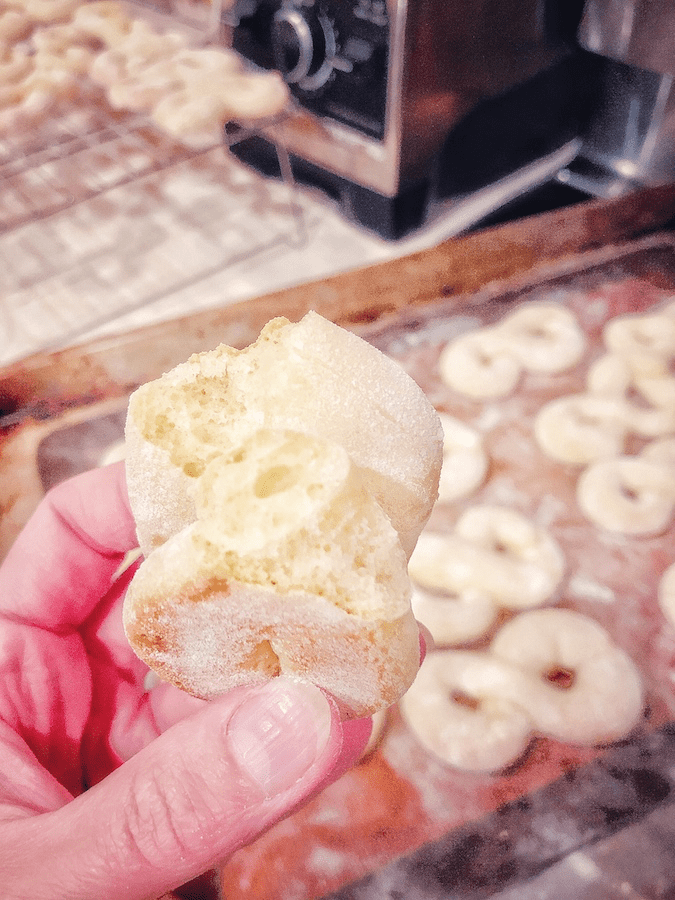 Holiday Norwegian Cookies
When I was still homeschooling the kids, we did a yearly Christmas Around The World unit study. The year we studied the country of Norway, we made these as part of the unit study. The origin of the recipe is Norwegian, but this version came from my paternal grandmother. I remember what an amazing baker she was. We would get in the kitchen together and she'd let me help her cut out sugar cookies, add almonds to the lebkuchen, and roll out the dough for these Kringla. She wasn't endless in the kitchen, but she ALWAYS had homemade cookies on hand. Whenever we came over, which was often because we lived next door, she had these for us. Turns out she would make huge batches and freeze them. This Kringla freezes really well.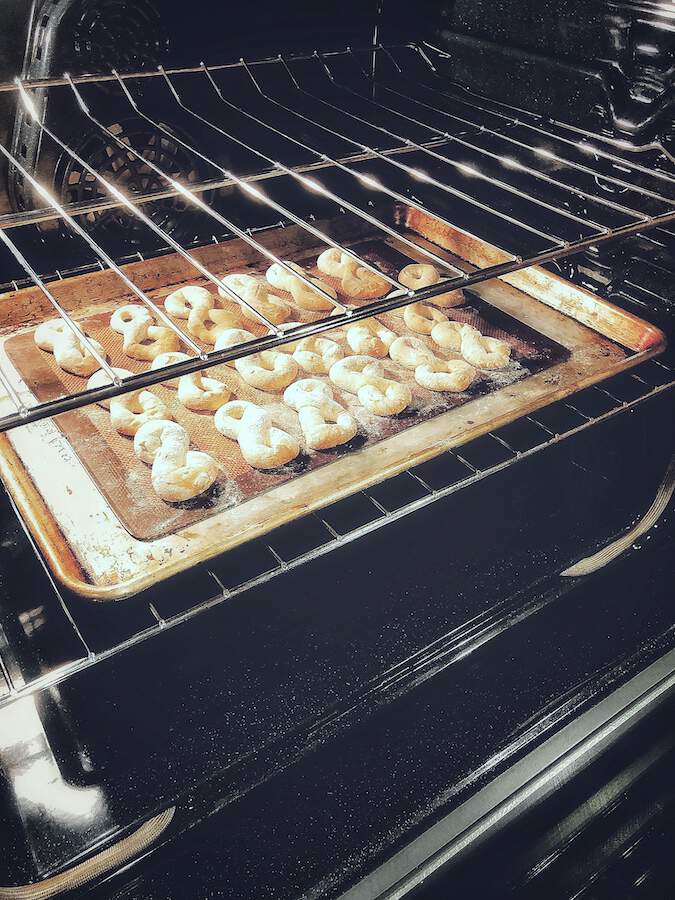 I'm thrilled that I can make this easy cookie recipe with my kids now. My grandmother has passed on but I remember her every time we make one of her cookie recipes. There's nothing like an old family recipe to start the retelling of stories. I hope you enjoy baking these as much as my family and I do.
Want more cookie recipes? Try these:
Yield: Makes 3-4 dozen
Kringla Cookies
Additional Time
30 minutes
Ingredients
1 1/2 cups sugar
1 large egg
2 1/2 cups sour cream
4 cups all-purpose flour
2 teaspoon baking soda
1/4 teaspoon salt
Instructions
In a medium mixing bowl, combine sugar, egg, and sour cream.
In another bowl, combine flour, baking soda, and salt.
Add the flour mixture to the cream mixture and combine completely. Dough will be a little sticky.
Refrigerate for 30 minutes.
Preheat oven to 350 degrees.
Divide dough in half and return 1/2 to refrigerator.
On a floured surface, form dough into a 18" long roll with your hands.
Cut off a narrow (1/2" more or less) slice of dough. Roll lightly with hands on lightly floured board into a pencil width strip about 7-8" long.
Create a figure 8 and pinch the ends together to fasten securely.
Place on lightly greased baking sheet or one topped with a silicone baking mat. Repeat with remaining dough.
Bake 8-9 minutes or until just barely lightly golden.
Recommended Products
As an Amazon Associate and member of other affiliate programs, I earn from qualifying purchases.
Nutrition Information:
Yield:
48
Serving Size:
1
Amount Per Serving:
Calories:

87
Total Fat:

3g
Saturated Fat:

1g
Trans Fat:

0g
Unsaturated Fat:

1g
Cholesterol:

11mg
Sodium:

69mg
Carbohydrates:

15g
Fiber:

0g
Sugar:

7g
Protein:

2g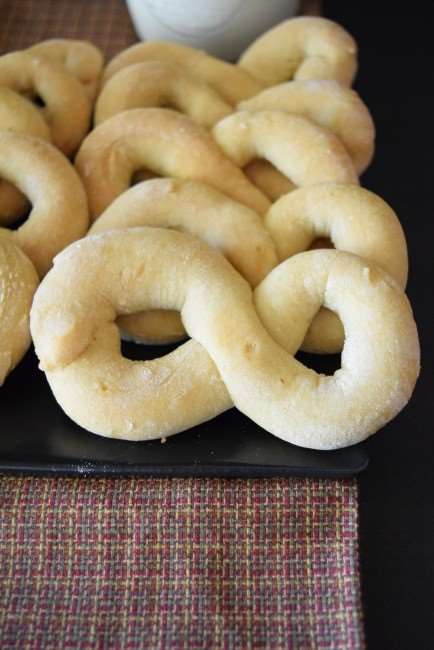 Holiday Cookie Exchange
One of my favorite holiday traditions is my annual cookie exchange. I invite friends and neighbors to come over and exchange homemade cookies and candies. Everyone bakes/creates dozens of one type of cookie and then when we gather, we swap cookies. At the end of the night, everyone goes home with an assortment of homemade goodies.
When I host a Holiday Cookie Exchange, I almost always make these Norwegian cookies. It's almost guaranteed that no one else will be making them. Everyone really enjoys the fun figure eight shaped cookie. Plus if there are any nut allergies, these do not contain nuts.