Southern comfort food holds a special place in my heart. After living in coastal North Carolina for a few years, I grew to love fried green tomatoes, collards, and anything with bacon. So after spending the morning in Belmont, NC at the Daniel Stowe Botanical Gardens, we headed to a downtown local favorite, Nellie's Southern Kitchen, for lunch. This is the ultimate in southern comfort with locally sourced goodness. If you are in the area or are looking for a food-themed road trip, plan to visit this gem in eastern North Carolina.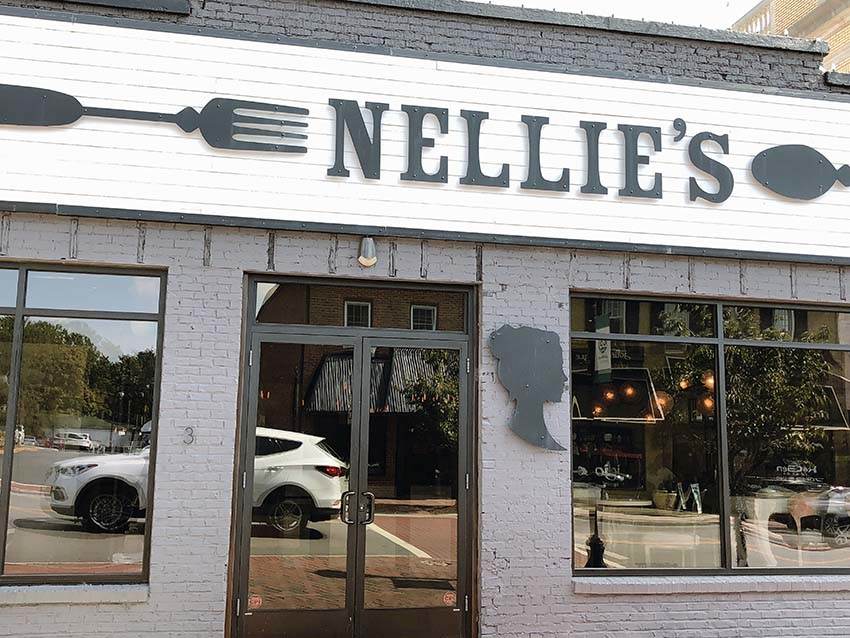 There's Nothing Better Than Grandma's Recipes
When my grandmother passed a few years ago, I asked for her recipe books and recipe card box. I have so many fond memories of her cooking. So when I cook one of her recipes, I think of her. Here at Nellie's, the kitchen is inspired by Nellie Jonas, owner Kevin Jonas Sr.'s grandmother. I'm told that she was an amazing cook and her biscuits were legendary. The food here is time tested and filled with a bit of love from her kitchen.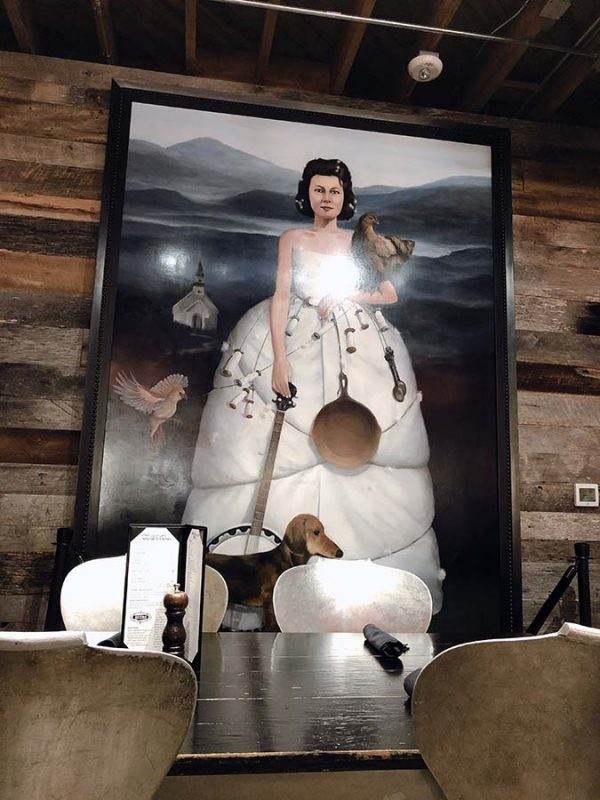 What to Try
On our visit, we were there at the tail end of lunch. Here is what we ordered. We loved everything and would recommend everything here again and again!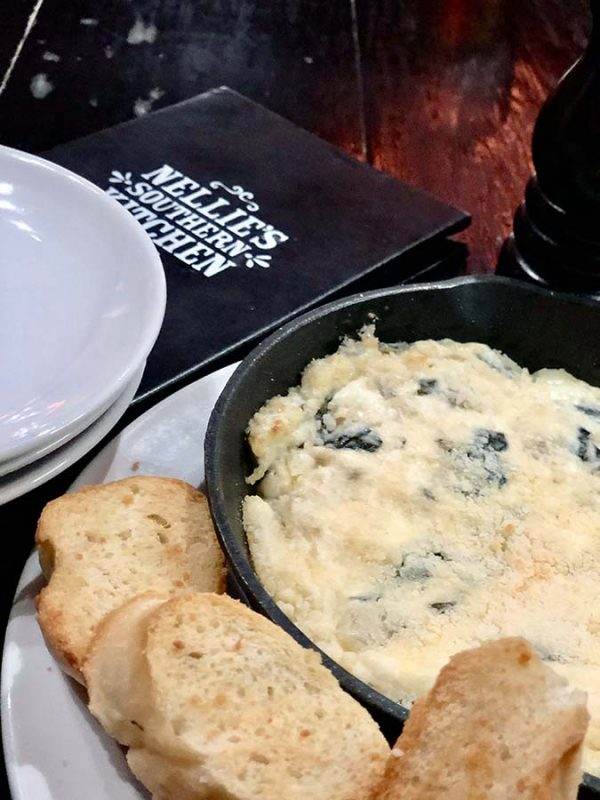 Collard & Artichoke Dip with Toasted Bread
Anyone can make a spinach dip, but these collards and artichoke hot dip beats them all. This is cheesy goodness served in a cast iron skillet.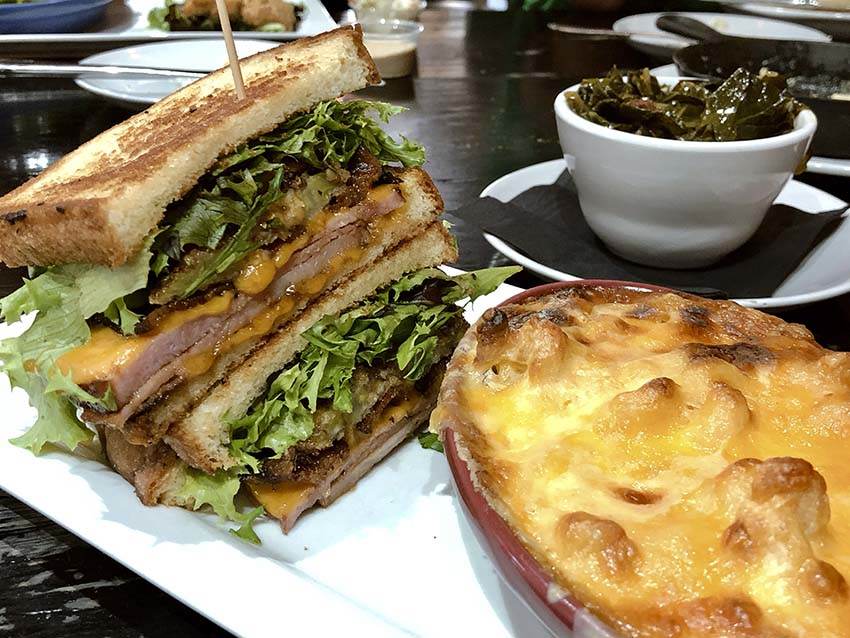 Fried Green and Ham Sandwich
I was sold on this sandwich as soon as I saw fried green tomato, ham, AND bacon! This lovely blend of flavors is loaded onto brioche and topped with cheddar cheese, sliced tomato and spring mix. The ham adds a bit of salt which is perfect with the green tomato.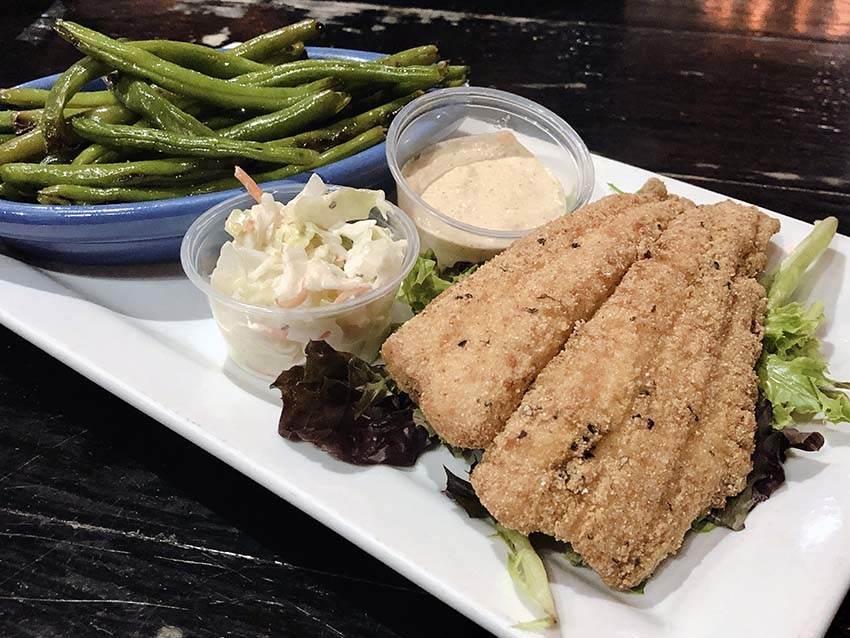 NC Catfish with Spicy Remoulade
It isn't everyday that you find catfish that is light and doesn't taste that the bottom feeder that it is. So when I find that light flavor, I remember it and tell everyone. That's what you'll get here. Their catfish is fresh and very lightly flavored. Served with a spicy remoulade that brings out the cornmeal and natural flavors. Get it as a sandwich or if you want to ditch the bread, leave it off like we did. Either way, you won't be disappointed.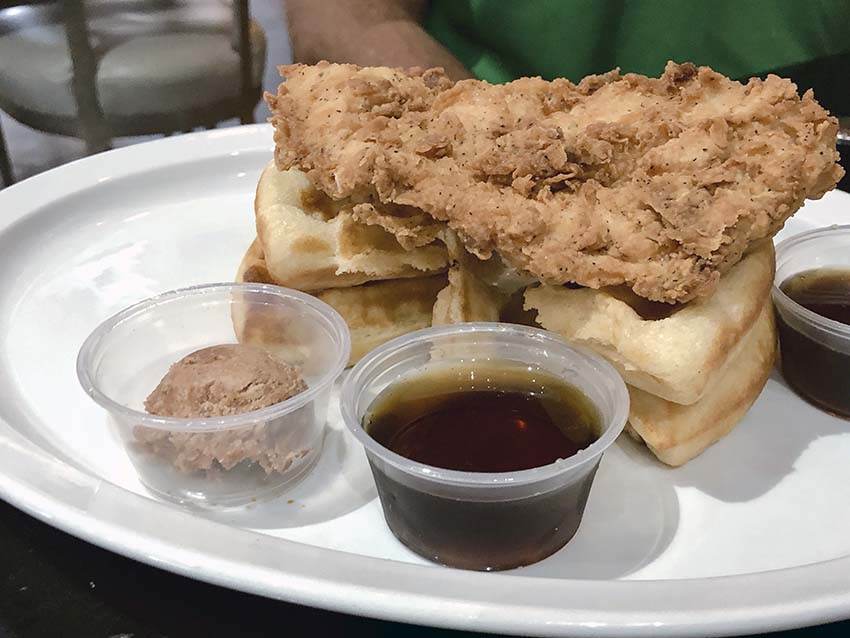 Chicken and Waffles
Flaky buttermilk battered fried chicken served over a crispy waffle is great any time of day. I love that Nellie's serves there's with both maple syrup and a homemade cinnamon honey butter.
Magic in the Sides
I have been known on many occasions to just order a bevy of side dishes. That option is on the dinner menu, but I'm sure you could ask for in during lunch. Here the server said that the collards and macaroni and cheese were must orders. So I did! It was way too much food with my Fried Green Tomato and Ham sandwich. But how could I resist?
Dunken Collards
So I've made collards before at home. It's low and slow in the Le Creuset dutch oven with a little bacon pork belly. But these collards were a little spicy (which I LOVED), but then there was a sweetness that I couldn't place. Turns out a touch of molasses at the end makes this amazing! I will have to try that the next time I make collards at home. But this one also had bacon!
Four Cheese Mac
I love my Homemade Macaroni and Cheese recipe. But this one at Nellie's is a really close second. It's creamy and loaded with cheesy goodness. Before it's served, it placed under the broiler for that crust that makes this something you have to order when you're here. This is also the kind of mac and cheese I would let my kids order while at a restaurant because it's the real deal.
Famous for More Than the Food
Nellie Jonas' last name may be a little familiar. Her great-grandsons made it famous. You may know them as The Jonas Brothers. Their great-grandmother is the inspiration for this place. Her love of food, family, and music is evident here. There is a stage set up inside the restaurant for what I am told are impromptu performances by staff and local musicians.
What to Expect When at Nellie's Restaurant
When you visit Nellie's Southern Kitchen, you'll get great food in a relaxed atmosphere. It's one of the most popular Belmont restaurants for brunch and dinner services are busy! The atmosphere is white washed and barn wood with hues of grey and black. The cotton bole chandelier over the bar is stunning! I would love to get that in my house.
Their weekday take out is perfect for travelers. The take out window opens early with fresh coffee, breakfast, and other food options. So if you are heading out to explore along the Carolina Thread Trail, US National Whitewater Center, or other nearby outdoor fun, this is a great place to pick up food and take with.
When you are in the area, be sure to check out this must-eat stop for true Southern comfort food. You'll be so glad you did.
Address – 36 North Maine Street, Belmont, North Carolina Website
When you are in the area, also check out these: