Want creative ways to get your kids active outdoors AND excited about learning? Then you'll want to check out Think Outside Boxes. This is a monthly subscription box that provides fun educational activities and outdoor gear the kids and your whole family will engage with. Let me tell you more AND give you an exclusive discount code to save $15 off your 1st box. (affiliate links included)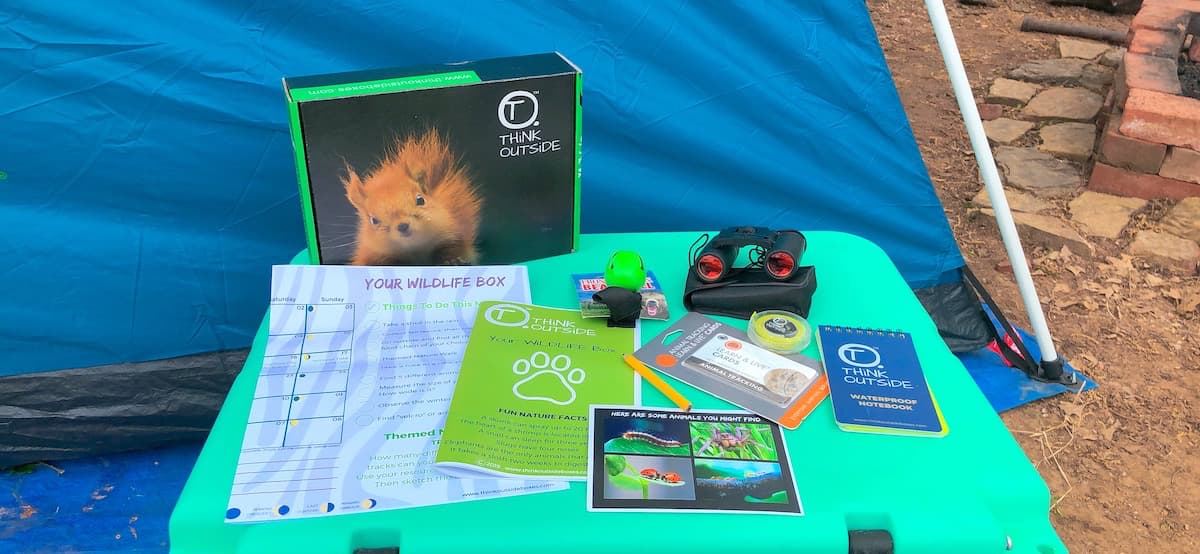 Think Outside Boxes
We all know that when kids are having fun, learning comes naturally. Pair that with getting outdoors and there are endless educational opportunities. At the moment we are all looking for creative, out of the box ideas on how to keep our families active as we shelter in place. I find that outdoor time is essential for us. So much so that we actually started setting up the tent in the backyard for #campathomesaturday. It really does help improve our mood, focus better, and it's just enjoyable!

Get Them to Explore the Outdoors
We recently received two different Think Outside Boxes to try out with our kids; the Knot Box and the Wildlife Box. Each themed box is filled with STEM education activities, outdoor gear, a monthly calendar and personal challenge cards.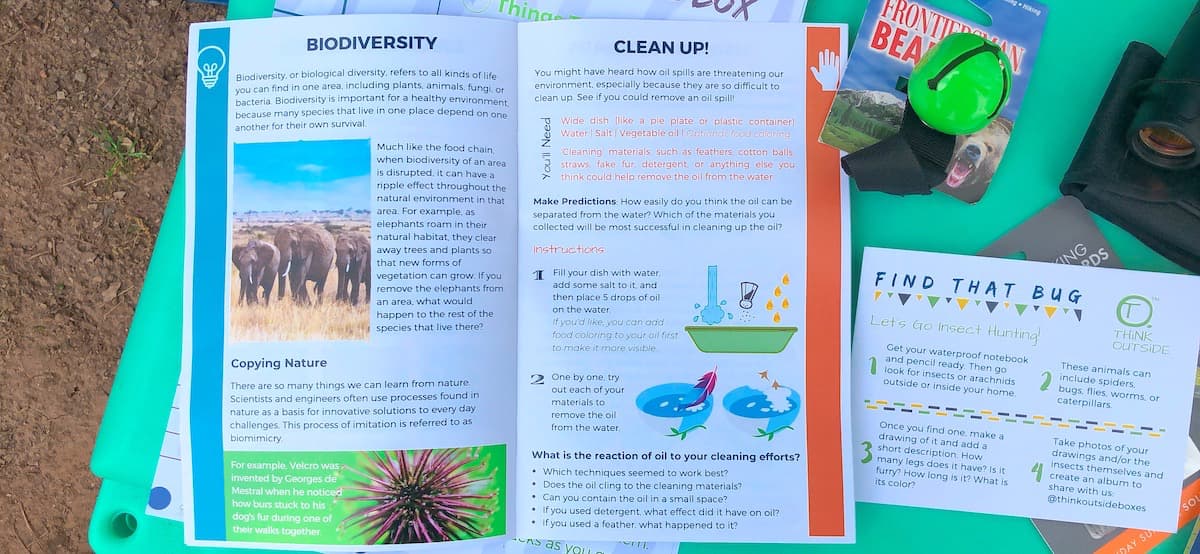 Each box we received had a 25+ page student guide loaded with activities. The company says the activities can be completed by children ages 4-8 with parental help or solo by children ages 9+. My younger two children are 12 and 14 and they really enjoyed the activities. The knot-tying tutorials were a big hit and will be skills they can put to use for years to come. The animal tracking cards in the Wildlife Box are practical and ideal for quick reference on the trails.
Pin This for Later…..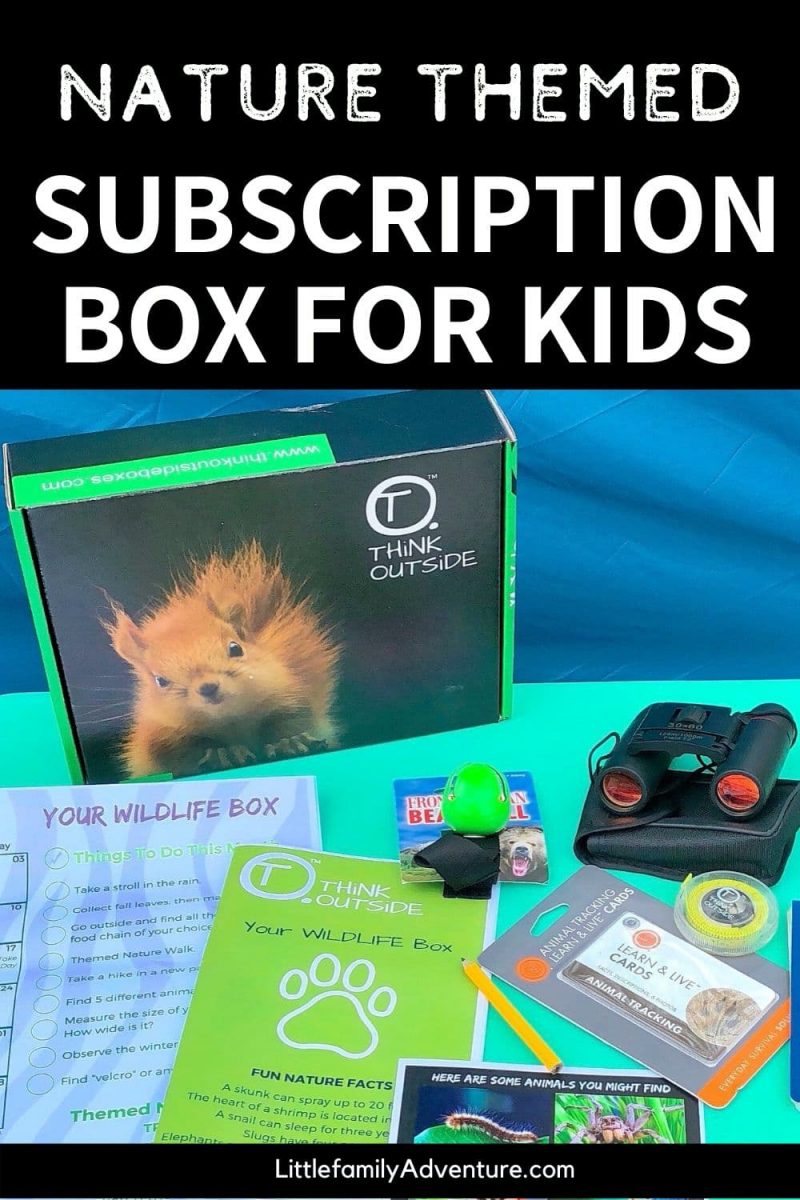 Think Outside the Box

The monthly calendars is a nice feature as you prepare for the month ahead. It includes national celebration days like national holidays, but also things like National Nothing Day and Send a Card to a Friend Day. For the future astronomers, there are moon phases too. But the best part of the 'Things to Do This Month" section in the side bar. These are additional ideas for getting outdoors. Most are family friendly and things you can do together.
Related: You can find more buzz worthy outdoor activities for kids here. There are over 30 ideas from crafts to recipes to activities that focus on pollinators.
Outdoor Gear for Kids
There is no denying that I am a gear junkie at heart. So I loved the gear that was included with each of these kits. It's designed to be kid-friendly and is durable. It all provides hours and hours of fun activities. Below the youngest is busy learning to tie knots.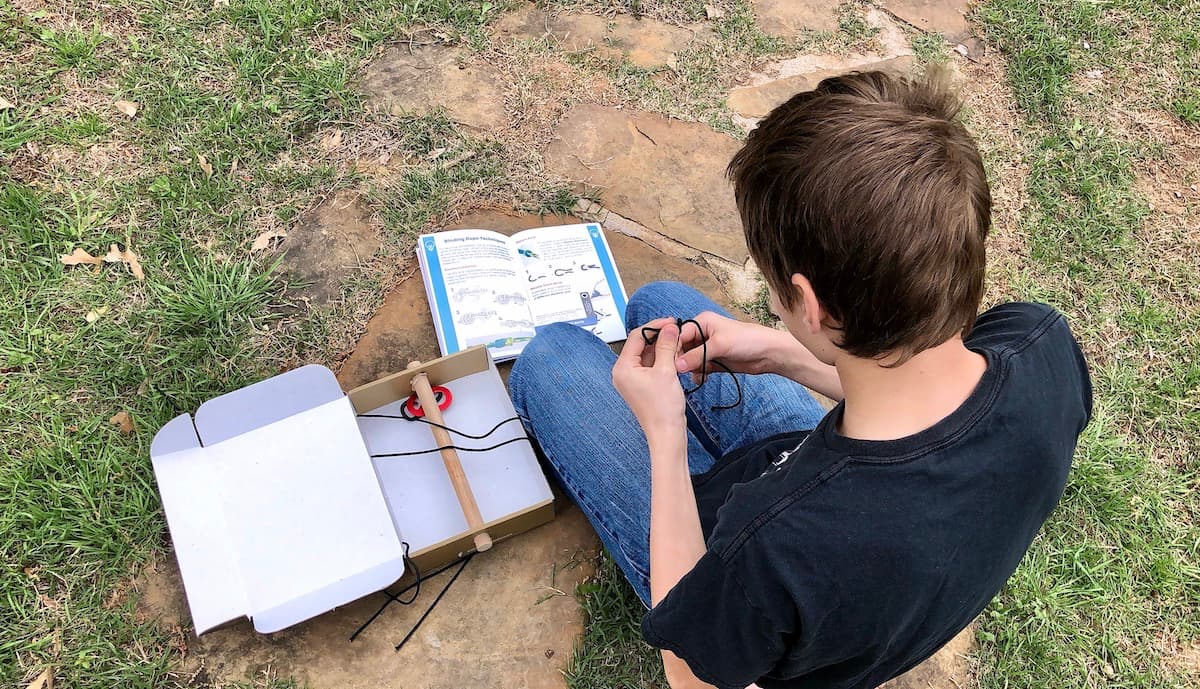 Outdoor Curriculum for Kids
For those that are homeschooling on your own or are looking for more enrichment opportunities, Think Outside has a year-long curriculum with lesson plans. Ideal for children ages 7+. Visit this special Homeschool page for more information.
Ordering – Subscription Box for Kids
New Subscriptions – You can start your subscription for as low as $33.95 a month and get a new box every month. Your first box is an intro box to get you started and includes a new Think Outside backpack. After that, each themed box will be tied to a particular month. Think Outside knows that we are all looking for activities now, they are currently shipping daily. Something I really appreciate!

2 Box Combo – You can get started with two boxes right away, starting at $65. You'll save $15 this way.
Past Boxes – If you'd rather save some money, you can order past boxes for $25 each, while supplies last.
Coupon Code
Use coupon code HOMEBOUND15 to get $15 off the regular subscriptions.
Start your subscription here and start thinking outside with this box.
Two other subscription boxes to check out:
Nomadik is another outdoor gear subscription box I really like. This one is geared towards adults and a great way to discover new to you products for your next adventure. We have reviewed past outdoor gearboxes to get a sense of the value (usually between $50-$70) and what you can receive for as low as $29.99. Start your Nomadik subscription here.
Universal Yums is a candy and snack subscription box that we really like too. It's a great way to teach geography! Each box features snacks from one country. We recently received the Turkish box and reviewed the international snacks inside. There are three different price points to fit every budget and start at just $13.75. Learn more at Universal Yums.
Discover more family fun here: