Here in the wilds of Colorado, we slap the skis on our kiddos as soon as they stand up. It's a common site to see families skiing with toddlers. We buckled both my boys in and as toddlers skiing around the age of 2 ½. Starting your toddler skiing earlier has some great perks. Not only is it fun to be outdoors, but toddler skiing is free at most resorts. Teaching your toddler to ride the magic carpet does not require you to ski either!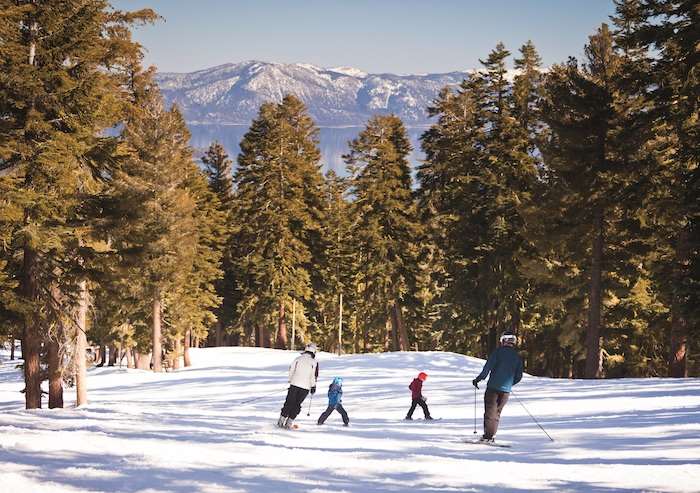 This article contains affiliate links. Purchase through our affiliate links and we receive a small commission without any extra expense to you!
Tips to Get Your Toddler Skiing
Naturally curious toddlers enjoy a new challenge, especially, if the parent looks and sounds excited about the event. You can start with excitement over the gear.
If you are wondering if your child is ready to start skiing, read this News-Herald article. A Stowe Mountain Resort ski instructor provided some really good points.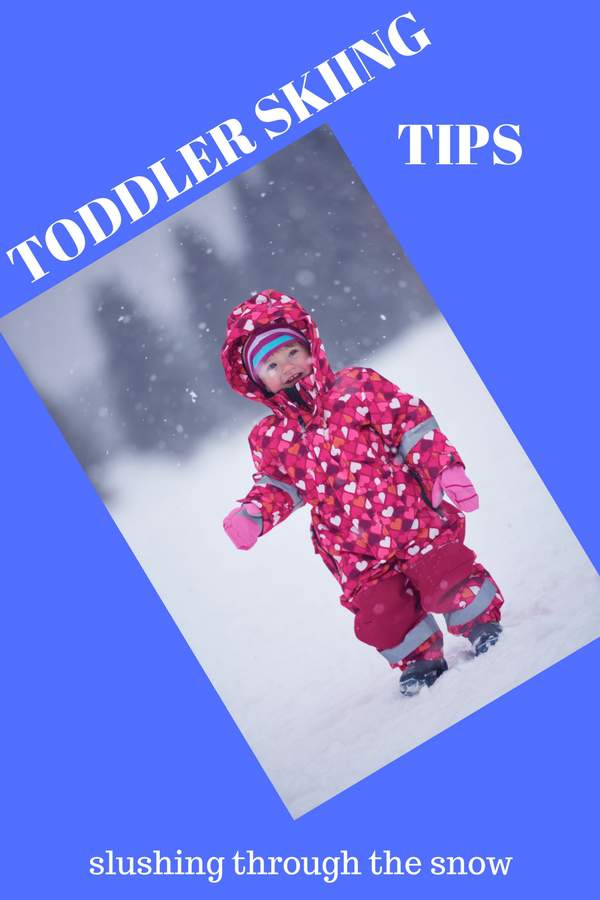 This article contains affiliate links. When you purchase through one, we receive a small commission at no cost to you.
Basic Toddler Ski Equipment Tips
To start, rent the boots, helmet, and skis. Do so at least the night before and play with them at home or at your resort. Ski poles aren't necessary for you or your toddler. It's best to keep your hands-free and besides, "What is a toddler or preschooler going to do with ski poles?"
The Toddler Ski Suit
When my boys were toddlers, I never used the whole jumpsuit ski suit because of diapers. Yes, both boys still wore diapers when we started hitting the slopes. There is nothing worse than trying to wrestle a tired, wet kid out of a full snowsuit.
Plus in a full suit, they can overheat. My best girlfriend used to cram her daughter into the cutest fur trimmed pink snow suite at the very last minute before skiing because of overheating. If she overheated, this young lady was done!
A ski jacket and bib overalls style ski pants is what I recommend. The bibs keep them warm and prevent snow getting down their pants when they fall. If they overheat easily, layer a fleece jacket under the coat and remove coat when needed. Or, if they really overheat, buy a ski shell that is lightweight like a windbreaker and just layer underneath. If you have a cold toddler, then buy good wool socks (I prefer Smartwool brand), thermal long underwear, a down under-layer vest and a neck gaiter. Here's a full ski trip packing list that can help you get packed and on the slopes.
Help Maintain Balance with an Edge Wedge
The Edge Wedge is a must-have ski device for toddlers. This little rubber contraption keeps the skis from separating. Pointing your skis downhill is easy. Keeping equal weight on each ski and holding them together is harder. It takes muscle memory.
As your toddler skier graduates to the bunny slopes, the edge wedge proves its worth. Your feet go where your eyes go and a toddler is forever looking in all directions at once. As their helmets swivel left, the right ski follows the left because the edge wedge is attached!
Child Ski Harness
Hitting the green slopes with your toddler? The ski harness is a back saver. Bending over to hold a toddler between your legs as you ski wears you out, even as an expert skier. Mom's like me that learned to ski in their thirties need a little help. I found skiing the toddler between my legs made me worry about falling on them or worse yet having them slip behind me!
The ski harness gives your kiddo free rein, up to a point. Then you can reel them back in or in case of an emergency you can pull them to a halt. The child remains out front and mostly independent.
The Magic Carpet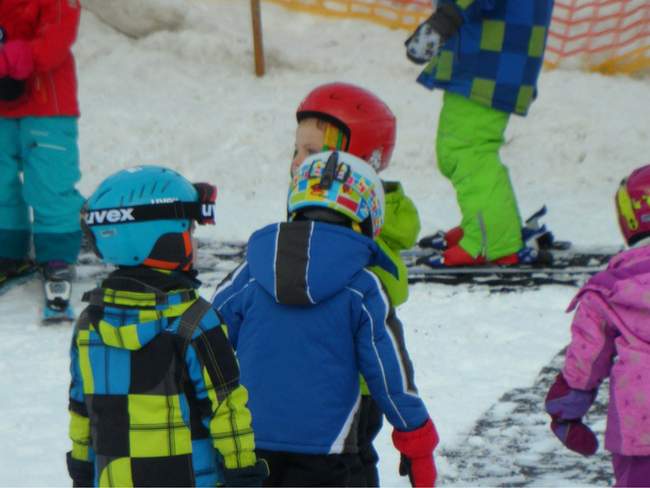 Whoever thought up this name spoke toddler-speak. A magic carpet ride! Adults say it with the same gusto we might say to our dogs "want to go for a walk?!" The promise of fun just drips from our tongues when we exclaim "Let's ride the magic carpet!"
The Magic Carpet is a conveyor belt up a small incline of snow. It lets parents run alongside their wee one as they ride up, penguin waddle over to the tiny hill, and shush down. Shushing down involves the top speed of a parental walk.
Normally located right next to the lodge, spectators for the "first ski" event stand at the bottom of the tiny slope cheering loudly for the toddler skiing their first run.
Snacks for Toddler Skiing
Bring their favorites! Connecting an event to their favorite food increases the chances of success. A lot of energy flows through those little toes as they concentrate on how to move their bodies up and down the tiny hill. Dehydration poses a problem at high altitudes as well. Start drinking extra water a couple days before. Be sure to pack electrolyte replacing foods and drinks with limited sugar. More on avoiding Altitude Sickness here.
Ski Boots off!–Keep Toddlers Skiing Short and Sweet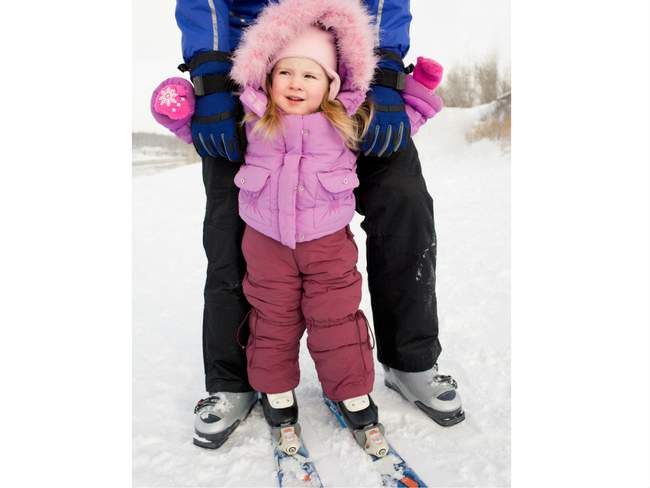 I chose to stop the ski sessions with my boys as soon as they began to get tired. Maybe an hour or so after we got all geared up. Remember gearing up, loading up, getting to the ski hill, unloading and getting started takes a while, too. My main mission at the end of any ski time went like this:
get them in their car seat with minimal snow gear on, so they don't overheat
get boots off and snuggle shoes or socks on
make sure no one is wet anywhere (change the diaper if needed)
give them a high protein tasty snack and water for the ride home
talk about the awesome day we had
A twenty-minute ride home with two comfortable toddlers normally falling asleep meant a great nap for the rest of the afternoon.Less is more for these toddler skiers. Keeping the sessions short ensured their cooperation the next time I said, "Hey Guys, Let's Go Skiing!"
MORE TO KNOW:
Once the kids get skiing, consider a family ski trip. We have a few ideas on our Ultimate Travel Experience Guide For Families
Not skiing this year? Try snow tubing – no equipment or lessons required!
If you're looking for how ski town locals manage to find free kids ski equipment? Take a look at what Winter Park does.