Before you lose your mind to cabin fever grab your toddler and head to a Nordic Ski Center. Teaching your toddler to Nordic Ski is much easier than downhill (Alpine Skiing) and much cheaper. In fact, my boys learned for free at the YMCA of the Rockies Snow Mountain Ranch. The YMCA's Free Sunday Kids ski program provided equipment, a lesson and a pass for the day. This more leisurely style of skiing benefits the whole family during the long winter months.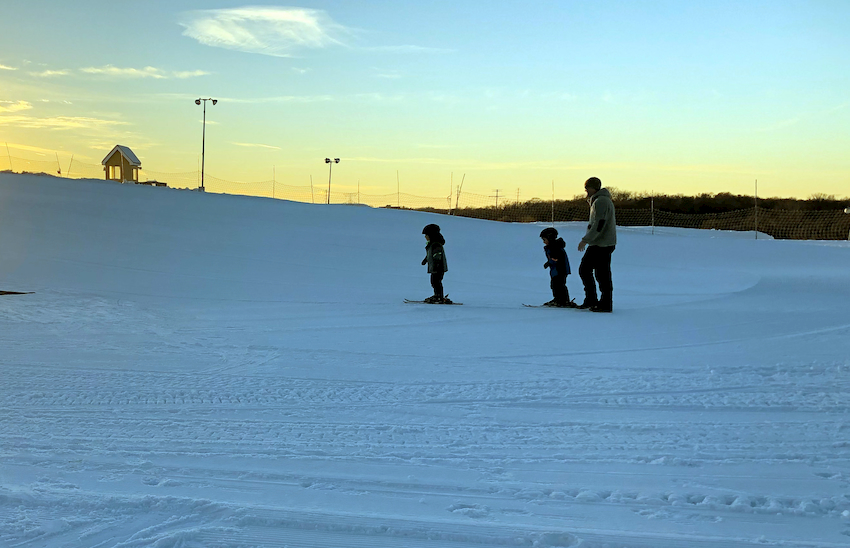 Why Teach Your Toddler to Nordic Ski?
The natural curiosity of toddlers lends itself perfectly to this gliding through nature type of skiing, Plus if your toddler can walk they can Classic Ski. Teaching your toddler to Nordic Ski is easy.
Nordic Ski Passes are usually a 1/4 of cost of downhill ski passes
No waiting in lines
Classic ski boots are easy to get on and feel almost like tennis shoes
No tricky chairlift to get on and off
Teaches balance and coordination
Quicker to learn independence on skis
No danger of child flying down the hill out of control
Highly unlikely that you or your toddler will break a bone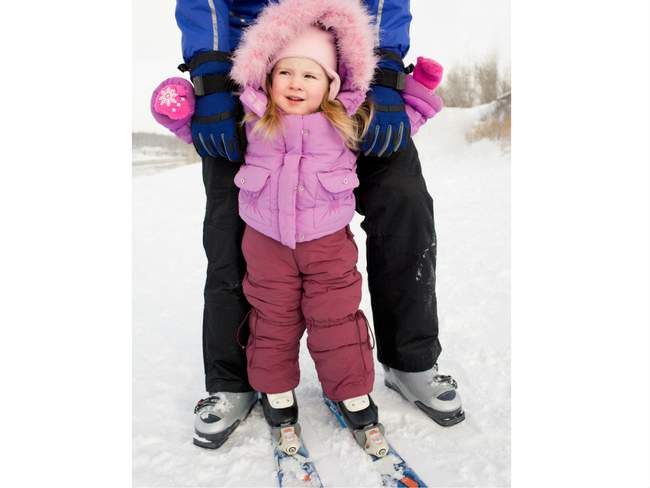 Starting On Groomed Trails with Tracks
Groomed trails with tracks are magic for beginning skiers. The two parallel tracks keep a wiggle toddlers skis pointed forward and next to each other. The next movement is something all toddlers do well, kick forward and glide. If the toddler feels a little wobbly you can either walk beside them or take one ski off. With one ski off the little fella can push and glide and push and glide until they feel comfortable to add the other ski.
The ease of this shuffle step is so intuitive that your toddler will be gliding off before you get your skis lined up.
Pin this for later….
Increase the Nordic Skiing Fun
Keep the first sessions short
forget the ski poles to start with
Wait until the temperature is above 25 degrees
Layer clothing – Nordic Skiers work hard and sweat. The last thing you need is an overheated cranky toddler.
Pack high protein snacks. On groomed trails, there are often places to stop and rest.
Point our animal tracks, scat and other signs of how alive the forest is in winter.
Water! Water! Water! Walking in the snow is a lot of effort. A camelback or easy to open water bottle in a lite backpack saves your little person from dehydration.
Limit Your Instructions
The first several times out on Nordic Skis "just do it". Let your little guy cruise around and get the feel of the skis without to much chatter. Experience is the best teacher. As they get more confident and stable add in a few games.
play eye spy as you move along the track (the little bodies can just move without focus)
step out of the parallel tracks and play tag on the groomed trails (classic skis will work in the V formation like skate skis)
bring a hockey stick and a soccer ball to push the ball in front of you or play a modified game of hockey
do a few short sprint races (all kiddos love beating mom or dad in a race)
play red light/green light to let them get used to stopping and stating on skis
Where to Nordic Ski and How to Get Gear
Most Nordic Skiers and fanatics! In an effort to popularize the sport most Nordic Centers have free days. In Colorado, a lot of town parks and rec centers groom their trails for the use of the public. Ask around your community to see if something like that exists in your area.
Finding ski gear is easier than you think. Read How do I Start Cross Country Skiing With Kids for some thoughts on gear. Be sure to check your local Facebook garage sale and swap groups for ski and snow clothes deals.
As your family gets older and stronger check out the national forest for real adventure in backcountry skiing. Why stay inside in the winter, pop on your skis and enjoy the day.
Taking your toddler downhill skiing too this year. Try these Top 10 Tips for Alpine Skiing with Toddlers for the best day out this year.