If you're looking for the perfect gift for an RV owner, this list is for you. If they're anything like us, they love to be on the road and are always up for a new adventure. They can't wait to explore all of the natural beauty that our country has to offer! I've compiled a list of great practical gifts as well as unique, fun gifts that are sure to please any RVer.
From the best camping gear and kitchen supplies to solar gadgets, these items are perfect for RVers because they're lightweight, compact, or take up little space! No matter what your budget or needs may be, these are the best gifts for RV owners. There's something here that is sure to delight them!
What Makes a Good Gift for RV Enthusiasts?
Campers want to get back to relaxing as soon as possible. High-quality gifts that make their time away more seamless are what they will appreciate.
A good gift is something that's lightweight, takes up less space and, presumably, is more compact than what they already have. It probably goes without saying that the easier it is to store, the better.
Remember that this lifestyle is about freedom & the perfect excuse for trying new things. So experience gifts are also welcomed!
Best RV Gifts Under $25
Let's start out with these budget-conscious gift ideas for RV owners.
It's relaxing to sit outside at night. Gift this USB light rope that's lighter than traditional hanging lights and can be hung from the RV awning or between two poles, so they aren't sitting in complete darkness. Hook up to a solar-charged battery or lantern like this floating LuminAID PackLite Nova.
Photo Credit: thewanderclub.co
The Wander Chain from Wander Club allows travelers to collect their travels in one place. Fill the chain with a token of the national parks of places they have been, then look back and recount your favorite memories.
Perfect for roasting marshmallows over your campfire or while cooking on the grill. This set of 5 telescoping sticks fold down compactly and can be stored in the included storage bag. These are fun gift that will get lots of use with marshmallows, sausages, hot dogs, bread spirals, and more.
A USB solar-powered cellphone charger is a must-have for any RVer, and this solar-powered option offers endless opportunities to charge your phone and other USB-powered devices. Can be used inside or outside of the RV! This one from Yelomin includes built-in LED flashlight and compass. It's the best rated solar power bank currently listed on Amazon.
This is a great gift idea for RVers who love coffee or loose leaf tea. This canister from Coffee Gator has an airtight lid and stores coffee beans keeping them fresh.
Photo Credit: newverest.com
A great way to keep track of all the states visited on RV road trips. Scratch off each state as you visit and track travels as they happen.
A folding stool is a great gift for the RV because it can be used to sit on when getting in and out of the trailer, used as a step up at campgrounds that don't have steps or benches, or in the kitchen to reach top shelves. This one from Camco holds up to 300 pounds and weighs only 3 pounds.
An RV cookbook is another perfect gift idea. This one, like so many others, is available in hardback or Kindle version. It has so many of our family's favorite recipes best suited for RV life.
For the hard-to-buy person, gift cards are a great idea! They are convenient and thoughtful gifts that most people will use. Many RVers and campers would prefer Amazon gift cards but may also enjoy Camping World, REI, Academy Sports & Outdoors, and/or Walmart.
This is a great game for adults and kids to play in the backyard or on an RV camping trip. It's a classic hook toss game that can be set up anywhere and is super compact.
Photo Credit: www.stasherbag.com
These reusable silicone bags containers are perfect for storing food and snacks, make-up, game pieces, and so much more. They are something every RV kitchen needs. Available in a range of colors and sizes including half-gallon. Great gifts for Rv owners on the go!
Photo Credit: seatosummitusa.com
If you're like most RVers, there are times when an item just isn't staying put - especially if kids or pets are around. These straps attach to the back of anything and loops around to firmly secure your belongings.
Photo Credit: seatosummitusa.com
Every RVer knows there are certain things they need when visiting another campground - toilet paper, wipes, extra soap, toothbrush. This is a great bag for keeping all those items together and ready to go at a moment's notice.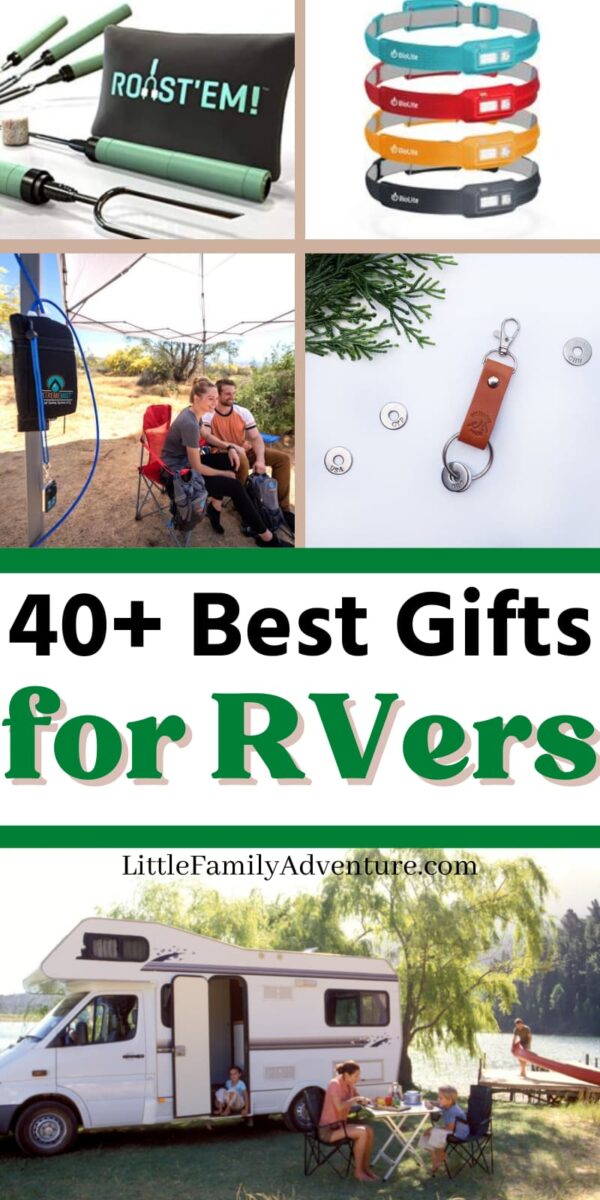 Handy Kitchen Gadgets and Gift Ideas for RVers
Cooking gifts are always fun, but they're also practical gifts too. These are our picks for RVers who like to cook on the road.
You can never have too many camping dish towels. These hand towels are great for anyone who loves the outdoors and enjoys being reminded of that when they are back home!
A coffee lover on the road needs a good French Press. This is why I love my Coffee Gator so much - it's durable, easy to use, and makes great coffee.
RVers that cook often may find themselves standing for hours. This anti-fatigue mat from Sky Solutions helps make standing more comfortable and enjoyable. This mat is ideal for the kitchen and the outdoor grill.
This is the most practical gift of all for RVers, and a must-have appliance for any RV kitchen. It's a multifunctional pressure cooker that can be used as an electric skillet, rice cooker, yogurt maker, and even slow cooker.
Many RVers prefer not to cook in their RVs, especially when the weather is nice outside. Get them a gas stove or griddle for cooking outdoors. This Coleman stove weighs under 5 pounds and can be outfitted with a cast iron griddle top.
A complete utensil set includes commonly used tools. This one also has collapsible measuring cups and an oven mitt will make any kitchen feel homier too.
Photo Credit: www.zwilling.com
A complete set of knives will be useful in any kitchen situation, not just RV cooking. I have been using Henckels for years because of their durability and quality. This three-piece is a great start and makes a great gift.
This is a great way to make the most of small spaces. The picnic table folds up and fits nicely in a closet or under bed when not in use, but can be set up for large family dinners with friends!
Fun & Unique Gifts for RV Owners
These gift ideas for fun and things RVers may not buy themselves but really want.
We hope this list of gifts for RV campers and camping enthusiasts has been helpful. If you're looking to give a gift that will make them smile, one of these items is sure to do the trick! From gifts under $25 to kitchen gadgets perfect for small spaces, from practical tools they need but never buy themselves to fun toys only an RV owner would love – we've got it all covered in our gift guide. Happy shopping!
Want more gift ideas? See these: