Whether you are planning to take a summer road trip, head out on a European vacation, or pack it in for a backwoods camping trip, having the right gear is essential. For the active woman, that is even more true. Lately, I've been crushing on a few things that are travel and outdoor fun related. Since I've been traveling a LOT lately, these are all now on my list of must haves. Some are versatile clothing pieces and shoes, while others are travel accessories. Take a look and you may find a new piece to add to your travel essentials list.
This list of summer travel essentials for her are ones I love. Some I bought while a few are products sent for review. Regardless, this list will introduce you to a few new things that you'll fall in love with too. I've included links to the products if you'd like to learn more or want to buy it for yourself. These links may be affiliate links where we earn a small commission when you make a purchase.
Yellowstone National Park Travel Scarf from Waypoint Goods
Last year's trip to Yellowstone left me in awe of this national park. Everywhere you look, there is a new wonder to behold. On a recent trip to Quebec for WITS (Women in Travel Summit travel conference), I saw this scarf and just had to have it. This Yellowstone travel scarf has a printed topographic map of the park and a hidden zippered pouch for money, passport, or small wallet. You have wear your valuables while on the go and still be stylish. The fabric is super soft too!
Waypoint Goods supports the National Park Foundation, the official charity of the National Parks system. Take a look at the company's other Park Collection and solid color scarves, and other travel products. I also have their vegetable tanned leather passport holder and metal money clip.
Find this online at waypointgoods.com or on Amazon.
Terradora Ethos from KEEN

Need a summer hiking shoe? Whether you are playing at the beach, hiking a trail, or exploring the city, these shoes will take you through any adventure. Designed as a warm weather hiking shoe, the Terradora Ethos provides support, traction on a variety of terrains, and is stylish. The shoe's breathability make it a great choice for summer activities too.
I have a pair of these in the Grape Wine color. They are really comfortable and I can walk in them all day. I'll wear them with shorts, yoga pants, capris, and summer knit dresses too. I'll wear them kayaking and find that they dry quickly when wet . The website says that they fit small and to order a 1/2 size larger. I found them to be true to size and just ordered the size I needed.
Find them at keenfootwear.com or at Moosejaw (currently on sale) $110
Related: To help save money and create a travel fund, check out these apps that pay you money.

Performance Denim – High Rise Straight Jeans from Dish by DUER
I could live in jeans all spring and summer long. They can be dressed up for a night out with a cute wedge, worn around town with a pair of sandals, or paired with KEEN Hikers to hit the trails. This year, I am loving these jeans from Dish by DUER. Best thing about these jeans is they are made with Coolmax. These fibers are woven into the fabric to provide that cooling. Moisture is moved away from the body to keep you cool and dry. The fabric is lightweight and really soft making them a great pant.
The length on these High Rise Straight is a touch shorter than traditional cuts (27" inseam) and rests just above the ankle. I'm 5'2", so I like to wear as is or roll the cuffs up twice for a mid calf length. The Juniper wash has a vintage look with varying tones of blue so it looks well loved.
Find these at ShopDuer.com $119

High Gloss 27oz Chaser from ORCA
I do really like a refillable tumbler that stands out from the crowd. This double-walled, stainless steel, vacuum sealed cup has personality in spades. ORCA debuted a variety to new colors and designs to suit nearly every one. I am loving their seafoam green floral meadows design. It's unique and no one mistakes it as theirs at the ball field or backyard BBQ. What I like best is the specially designed flip top lid. It resembles a whale fluke which is nice, but that grove in the tail prevents me from bumping my nose into the lid. I REALLY dislike other lid designs that leave water or whatever I'm drinking on my nose while drinking. This design prevents that. The cup design keeps beverages cold or hot for quite a while and fits into a car cup holder.
Find it online at OrcaCoolers.com or on Amazon.
Explore Mountain Women's T-Shirt
A graphic tee is a must for traveling. This graphic tee from The Mountain is hand dyed with organic dyes and is super soft. The slim cut runs small, so I'd recommend going up one size on this one. Be sure to check out their other tees like the Smithsonian collection too.
Find this at TheMountain.com
FlexSafe Portable Travel Safe from Aquavault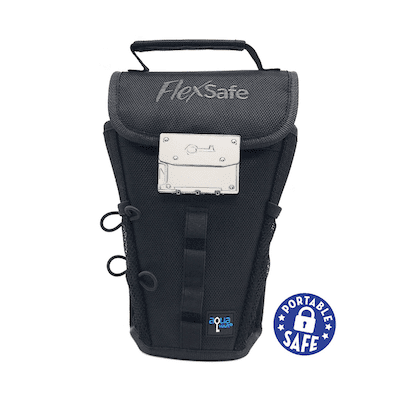 Whether you are at the pool, at the beach, or on a cruise, you either have to hide your valuables while away from your stuff or you have to stand guard. Neither option is a fun one. But with the Aquavault, you never have to worry again. I started using this while on our Disney Cruise. Just store your room keys, phones, cameras, etc. inside the zippered pouch and lock it around a lounger, beach chair, bike frame, etc. The fabric is waterproof, rip proof, and can't it be cut open. So your items are safe and secure until you unlock the vault. It's really easy to use and keeps your stuff safe so you can have fun.
Find this on theaquavault.com or on Amazon.
Totepack No. 2 from Fjallraven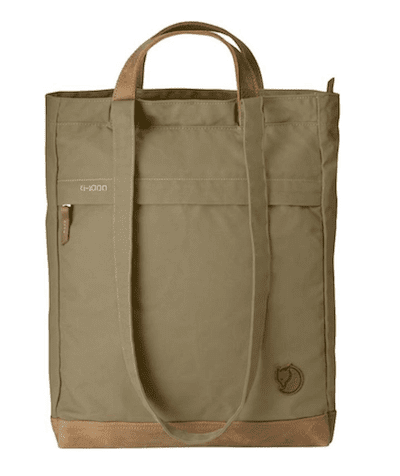 This totepack is my new everyday bag. It goes from city to trail effortlessly! Use the short leather handles or longer fabric handles to carry like a tote around town. Want to go hands-free? Extend fabric straps and this bag converts to a backpack. Plus it's just the right size to throw in whatever you need for the day.
Size specifics:
Capacity: 16 liter
Height: 42cm
Width: 33cm
Depth: 12cm
Best of all, it's made with Fjallraven's G-1000 fabric. This tightly woven material is ultra-durable and waterproof. Bag's leather bottom makes it perfect for the active family. This bag/tote will wear well and be really for many adventures to come. Multiple colors.
Find it at on fjallraven.us or on Amazon

Woven Joggers from Avalanche
Whether you are touring the city or just enjoying a lazy day lounging around, these joggers will let you do that in comfort. An elastic waistband and active fit cut, provide stretchiness to these pants. Pair with a tee and tennis shoes or tunic and pair of flats or sandals.
Find it online at avalanchewear.com or on Amazon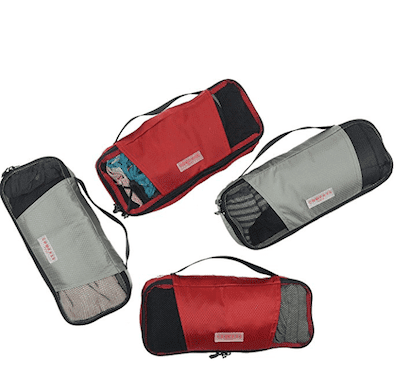 Slim Packing Cubes from Compass Rose
Packing cubes are life savers when it comes to maintaining one's sanity while packing suitcases. With 5 people in our family, I like to be as organized as I can. Packing cubes REALLY help with that. I got these cubes for me because I like the slimmer design. That smaller width means they will fit into a smaller international carry-on suitcase, plus the numbers on the outside pack it an all-in-one organization system.
Find these on Amazon.
Mineral Sunscreen from Goddess Garden
Not a new product, but a summer staple none the less. A good quality sunscreen is essential to protect your skin from the sun. The sunscreen stick is my go-to when I fly with a carry on. It's a solid stick so I don't have to pull it out at TSA checkpoints and it can't leak out while in transit.
Find it on Amazon.
Zoran Blazer from Avalanche

A light jacket is always a good idea for lower temperatures. Cooler summer nights and air conditioned rooms that border on being frigid are two great reasons to add this knit blazer to your summer essential list. This medium weight knit is soft and packs easily. Pair it with the DUER jeans from above or a pencil pant with basic tee.
Find it online at avalanchewear.com.
These are my new additions to my spring/summer travel essentials list. I'd love to hear what you are packing these days. Let me know in the comments below. If you need a new packing list, get our printable family travel packing list here.