Before your next family adventure, I have 10 easy packing tips to help get you organized. Plus I want to give you my printable family vacation packing list. This is the list I use on EVERY trip.

It's time to take a well deserved break from the ordinary and head out on a family vacation. Whether you are going on a weekend getaway, heading to the beach, or visiting a theme park, packing your bags with family vacation essentials SHOULD be easy and stress free. But many times that's NOT the case. I can't tell you how many times I have arrived at my destination only to learn that I've forgotten something. The worst trip was the resort vacation where I forgot my underwear and everybody's socks. We were without a car and these weren't something the properties C-store carried. So we arranged for a rental (this was before Uber/Lyft) to drive into town and gather what we needed. As a result of that trip, I started using a vacation packing list. Using this list helps me stay organized and ensures I pack all the family vacation essentials we'll need.
We travel a LOT! Along the way, I've learned a few things on how to pack and make traveling with kids easier. Here are the best packing tips I have for you. The Family Vacation Packing List printable I mentioned is also down below for you to print and use on every trip.

Family Vacation Packing Tips
1. Pack bright colored clothes for the kids.
In crowded areas like theme parks, dressing the kids in bright colors, like orange and red, makes it easier to find them if they wander off or get separated from you. Dressing them in bright, bold patterns helps too.
2. Pack your carry-on smartly
If you are flying, your carry-on should include an extra change of clothes, a swim suit, entertainment items, and snacks. If your checked luggage gets delayed, you will have extra clothes. When you finally get to your destination and it has a pool, it's often nice to relax after a day of traveling.
3. Bring more than 1 pair of shoes per person.
Enclosed sandals are perfect for a summer getaway. They can be worn to the beach, pool side, around town, hiking, etc. Waterproof sandals like those from Keens can get wet, provide toe protection on hikes, and are really comfortable. If you are planning any nights out, bring something a little dressier. We also bring a pair of athletic shoes. They are handy if we will be doing a lot of walking, outdoor activities, or active sports.
Note: Always bring shoes that have been broken it. New shoes = OUCH!
4. Bring a pair of jeans, regardless of the weather.
Jeans can be dressed up or kept casual. They are versatile for both kids and adults.
5. Bring a big bag to keep everything organized.
A big bag is perfect for beach trips, the pool, or shopping around town. It keeps everything in one place and prevents you from feeling like a pack mule. I got this fabulous bag on sale at Kohl's. so it's makes me really happy!
6. Pack healthy snacks.
Pack an assortment of healthy snacks for your trip. You can purchase these or made them yourself ahead of time. This will help you save money and avoid unhealthy fast food. These are a few of the healthy snacks my family likes to travel with.
Related: To help save money and create a travel fund, check out these apps that pay you money.
7. Pack light to save on space and excess baggage fees.
Make the clothes you pack do double duty. A dress or long skirt can be worn to the beach or out to dinner. A pair of shorts with a t-shirt is casual, but can be dressed up with a collared shirt or blouse. See the tip on jeans above for the same idea. If the piece of clothing can't be worn at least 2 ways, don't bring it.
8. Bring warm clothes, even in summer.
Bring a long sleeve shirt, hoodie, sweater, or light jacket for everyone in the family. These can save you when a cool front or afternoon shower comes through unexpectedly. Plus in many locations, evenings are always a bit cooler than the daytime.

9. Bring activities for the trip.
Electronics are nice to have while traveling. Be sure to bring batteries and charging cords with you. Also bring other non-electronic items for entertainment. I like to bring coloring pages and games for the kids. They can play together and keep themselves entertaining in the car, in the airport, or in the hotel.
10. Protect yourself and your family.
Always pack a first aid kit and sun protection. A first aid kit is a must with kids. Pack it with the basics; band aids, antibiotic cream, pain relievers, etc. Sample sizes are great for this. For skin protection pack sunscreen, sunglasses, and some type of hat. Sunglasses and a hat will help shield your eyes and face from the sun. A good sunscreen will protect your whole body from the effects of the sun.
Printable Vacation Packing List
Raise your hand is you are in charge of all the packing for road trips, weekend getaways, and family vacations. If you are like me, you are in charge of getting everyone's stuff (clothes, snacks, toys, essentials) organized and packed. With three kids, it can get a little crazy in my house. What about you?
Well, I've put together this vacation packing list that saves my sanity on every trip. It included a checklist so I can check items off my list and ensures that I haven't forgotten anything. Since I've been using this vacation packing list, I'm happy to say that my family has arrived at every destination with everything they need.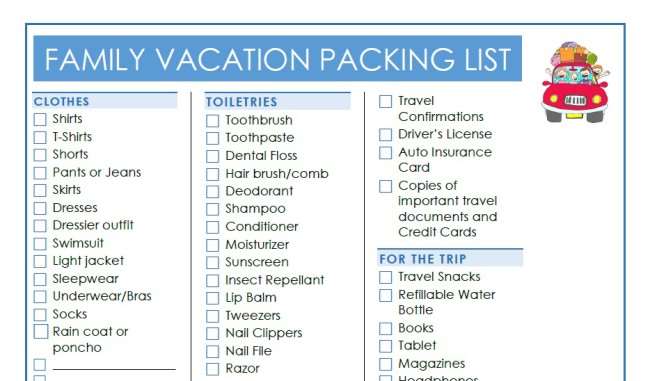 Click here for the full Family Vacation Essentials Packing List printable to help you pack for your next family vacation.
What has been one thing you've forgotten on a trip?
SaveSave
SaveSave
SaveSave
SaveSave
SaveSave
SaveSave