How do you find the BEST things to do in Oklahoma City this weekend? You ask a local of course! I love to travel, but OKC is where I've called home for most of my adult life. I keep finding myself coming back here and telling others how great the city is!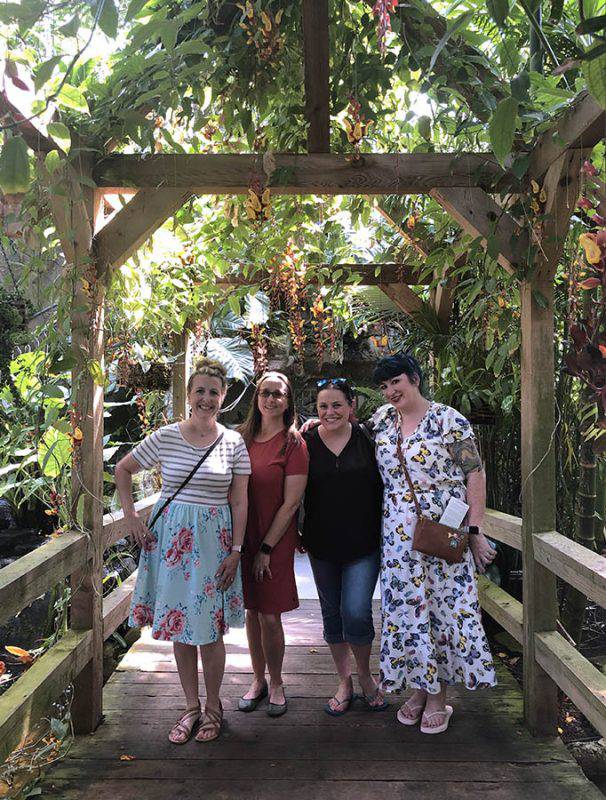 When my girlfriend's come to town, we want to enjoy great food, be pampered, and have fun together. Over my birthday weekend, friends Jana and Carol who flew in, Melissa who lives in Edmond, and I got together for a Girls Weekend sponsored by Visit OKC. I was able to show them a few of my favorite places and now I want to share them with you.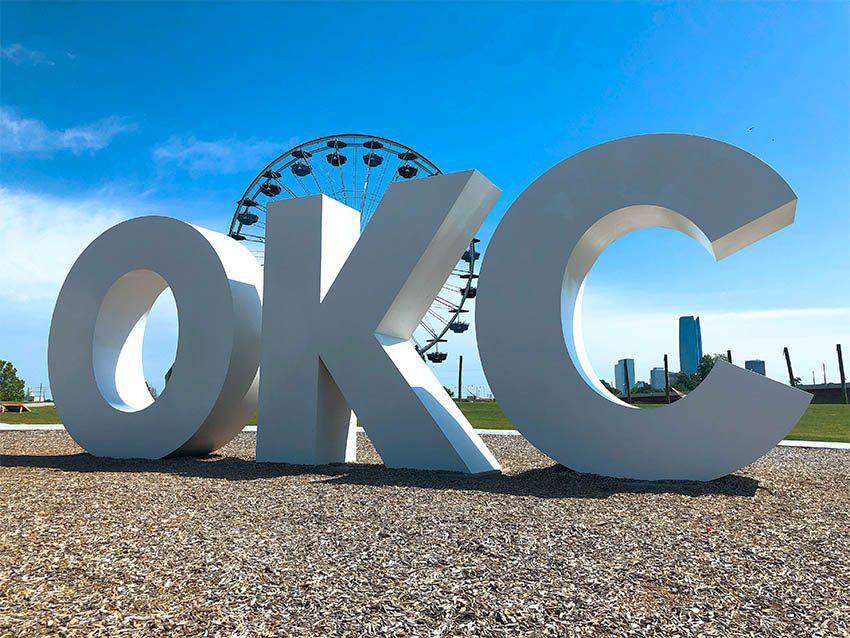 This is NOT a story about which museums to see or which historical sites you should visit. Although I think every visitor should see the Oklahoma City Bombing Memorial. If that is what you are looking for, you'll find all that on my favorite 35 Things to Do in Oklahoma City Guide. Instead, this is a girlfriend's guide to what to do in Oklahoma City this weekend.
We quite literally circled the wagons to spend the night in a Conestoga wagon AND then spent the next night at the museum. Then we brunched, ate some more, visited a few Oklahoma City spots, and pampered ourselves at one of the secret spas in OKC. Let this itinerary/list below inspire you to explore more in the city I call home.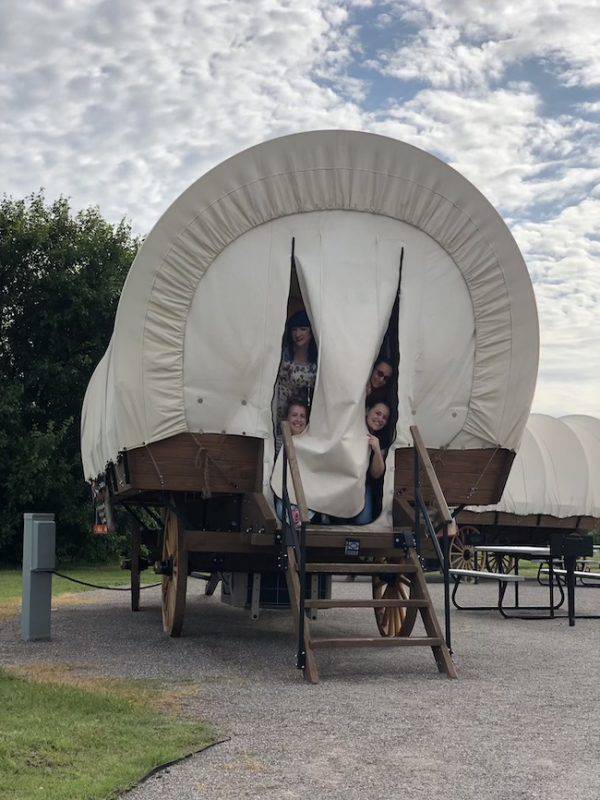 What to Do in OKC in a Weekend
Since I first moved here back in 2000, the city has changed A LOT!!! More so in the last five years, the city's entertainment and food scene has EXPLODED! Every time I turn around, I'm finding new exhibits at local museums, new OKC attractions, and new local restaurants doing extraordinary things with food. Plus there are so much more on the horizon. I'm a little giddy at the concert announcement that Kings of Leon will be opening the new downtown Scissortail Park.
Glamping at Orr Family Farm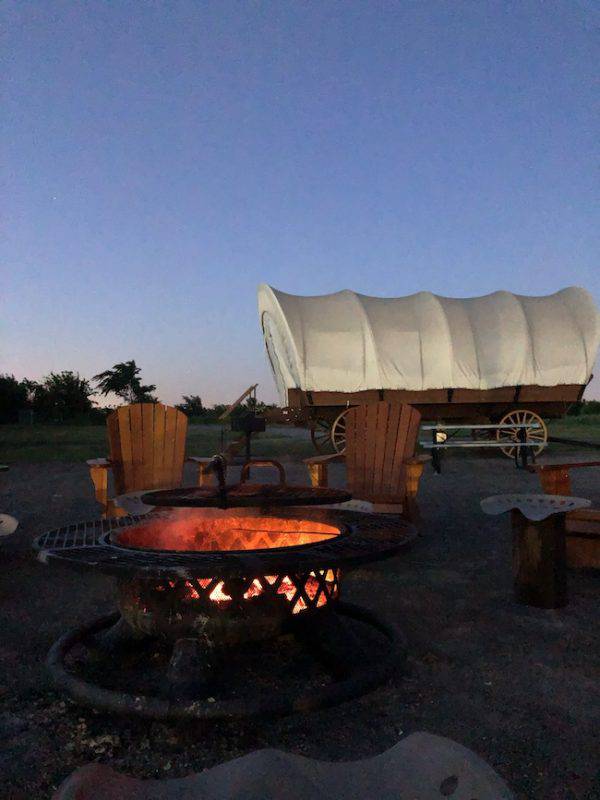 Many locals know Orr Family Farm as the Go-To place each fall for its pumpkin patch, hay rides, farm attractions, and Zombie paintball. Yet many don't know the farm now offers a unique glamping experience with covered wagon camping in Conestoga Wagons.
Anybody can spend the night in a hotel, but why not spend the night under the stars in a canvas covered wagon? But there is no roughing it here. Wagons outfitted with heat/air conditioning and premium bedding sleep up to 8.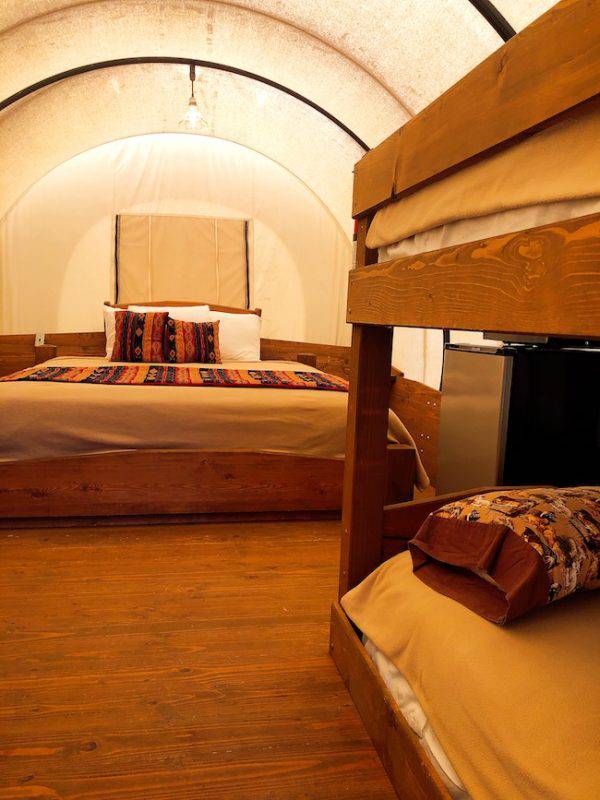 Best of all, campers/glampers can play on the farm (even during the off season), enjoy the onsite Michael Phelps Signature Swim Spa, and close each night with s'mores over the campfire. Read more about our glamping experience at the Conestoga Wagons here at Orr Family Farm. Coming this fall is a new ADA complaint teepee.
Barrios Fine Mexican Dining
The outdoor patio here at this Midtown restaurant is a wonderful gathering place for drinks, share-ables, and dinner. Here you won't find classic or traditional. Here they have a knack for combining flavors and ingredients to make something truly extraordinary.
Start with the cheesy goodness that is Queso Fundido with sautéed poblanos and mushrooms. Smashed Guacamole is a must here too!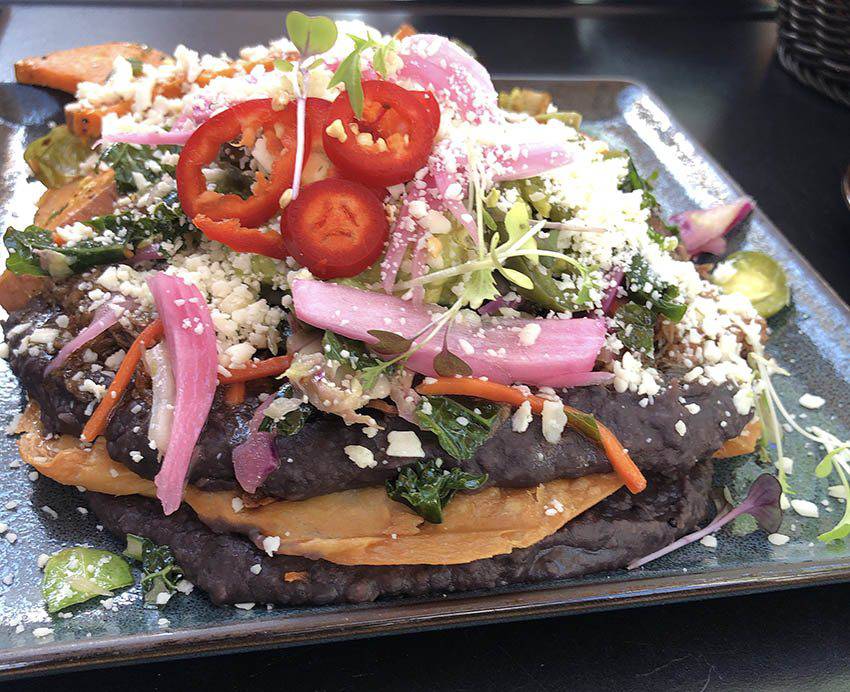 Feast your eyes on this Short Rib Tinga Chalupa with pickled peppers and onions. black beans, and kale sale. If you'd rather have tacos, I highly recommend the Lamb Barbacoa Tacos.
The Bleu Garten
Down the street from Barrios is this popular outdoor food truck park. It's another great Midtown meeting place with an outdoor bar, patio/outdoor games, and big screen TVs. If you want to see great local art, there are quite a few in the exterior walls and nearby.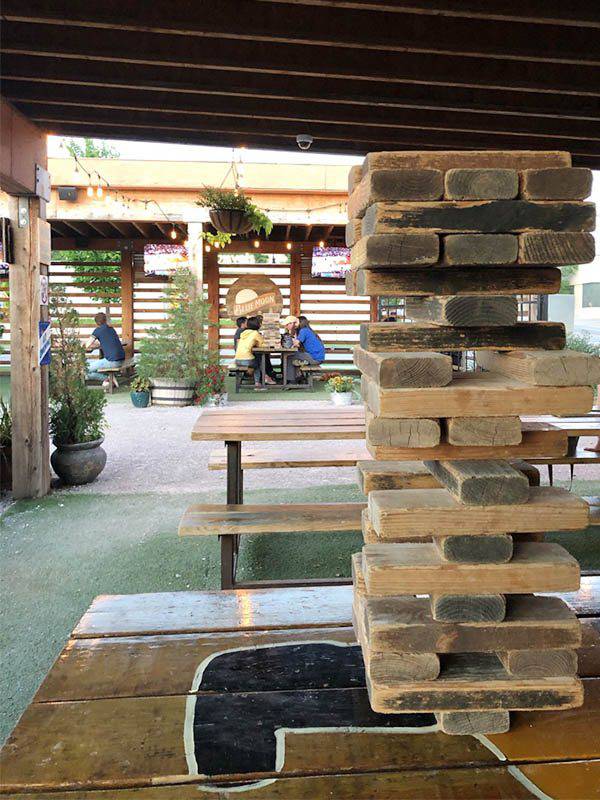 Every day you can find local food trucks here for lunch and dinner. We were all stuffed from dinner at Barrios. So it was drinks, mural pictures, and life sized Jenga.
Stitch OKC
After a good night sleep, head closer to downtown for breakfast/brunch. Stitch OKC in the West Village is one of the places on my best brunch in OKC article. Adjacent to the Plant Shoppe, this neighborhood cafe is a gathering place you can enjoy a meal over coffee, tea, or drinks after 5pm.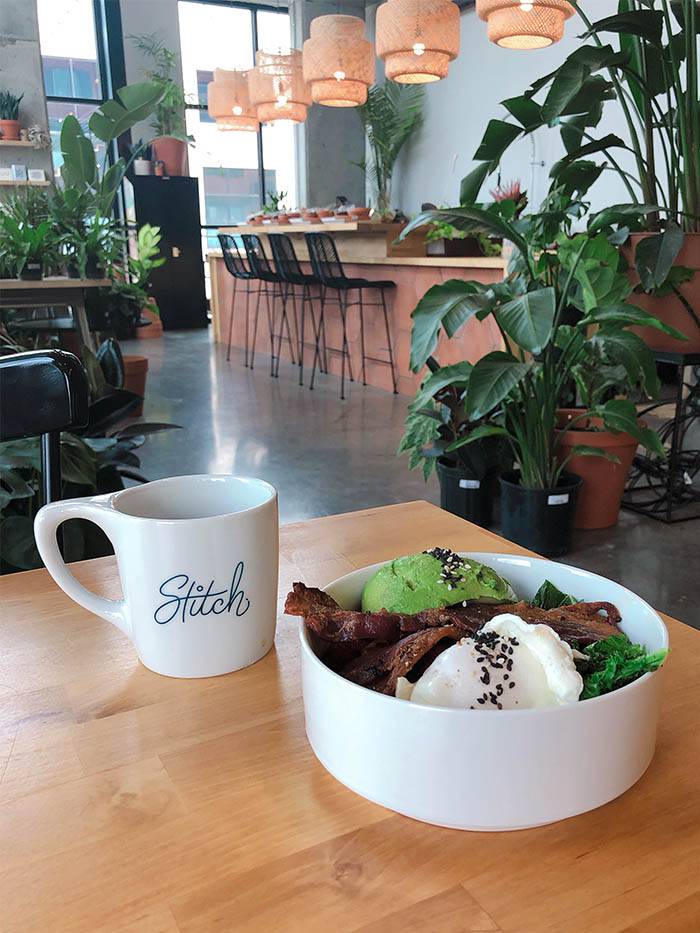 Order something off their coffee menu for a morning pick me up and opt for a protein packed breakfast for the day ahead. This Breakfast Bowl was loaded with protein with peppered bacon, poached egg, avocado, sautéed greens, and sweet potatoes. If you want something lighter, opt for Spring Avocado Toast or an acai bowl.
Note: One day I will be back to get my hands dirty in one of the Plant Shoppe's workshops. Seems I am always out of town when they are announced for reservations or I'm out of town for the event.
Udånder – Spa OKC
I hinted earlier at a hidden spa in OKC. Udånder is that spa. It's a Scandinavian style steam and sauna spa. Here you can relax in comfort as you melt stress away alternating between aromatherapy steam room and dry sauna.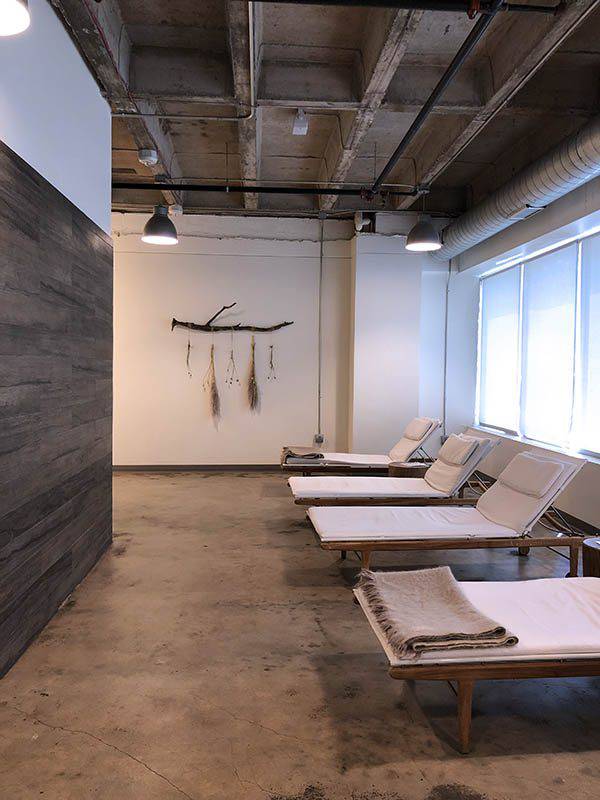 I recently discovered Udånder, across from Kitchen 324, one of my favorite downtown restaurants. It quite enjoyable for a girls getaway because unlike more tradition spas, here you can enjoy the services together. There are treatment rooms for specialized services. But the spa/sauna areas are communal (same sex only).
Enjoy a herbal foot soak and apply a DIY facial mask. Note: If you are hungry, you can order in from a great vegan restaurant in the building. Ask the staff for more info.
Myriad Gardens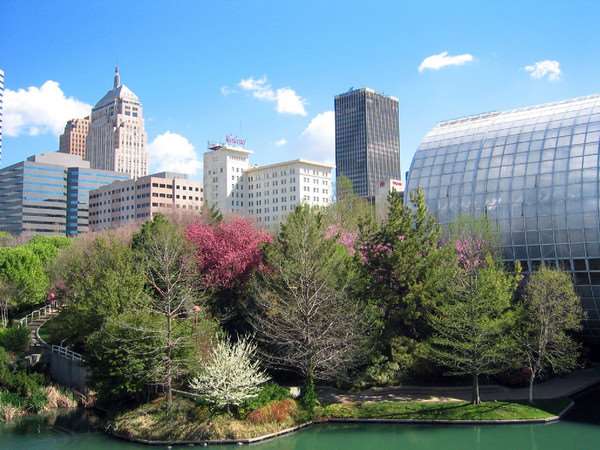 This is my favorite city park and it's at the heart of Downtown OKC. Not only are the public gardens beautiful, but Myriad Gardens offers a range of public workshops and classes. During the summer months, there are free SONIC Summer Movies on Wednesday evenings, free Sunday Twilight Concerts, yoga classes and more. On this day, we headed to the Crystal Bridge Tropical Conservatory. Learn more about the gardens and their classes on their website.
Factory Obscura at the Womb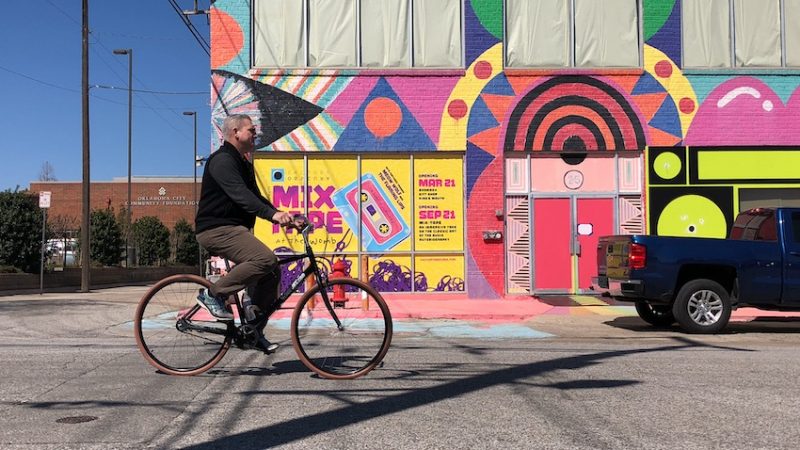 Factory Obscura is a local art collective that creates unique, immersive experiences. They recently moved to The Womb, an infamous building owned my Flaming Lips frontman Wayne Coyne. The building's exterior mural, painted by Maya Hayuk, is the most Instagrammed place in OKC. It's easy to see why with its colorful imagery.
Currently, Factory Obscura is in Phase 1 with Mix Tape at the Womb. As they work to complete the project, visitors can experience the exhibit for free (thru September 21, 2019). Learn more at their website.
Plaza District
After a morning full of art and pampering, it's time for lunch. The Plaza District on NW 16th Street is one of my favorite areas. There's a vast array of cuisines ranging from fried chicken at The Press to ramen at Goro then Roxy's ice cream and Pie Junkie for dessert. There's also unique shopping and the ever changing Plaza Walls Art Project.
Pie Junkie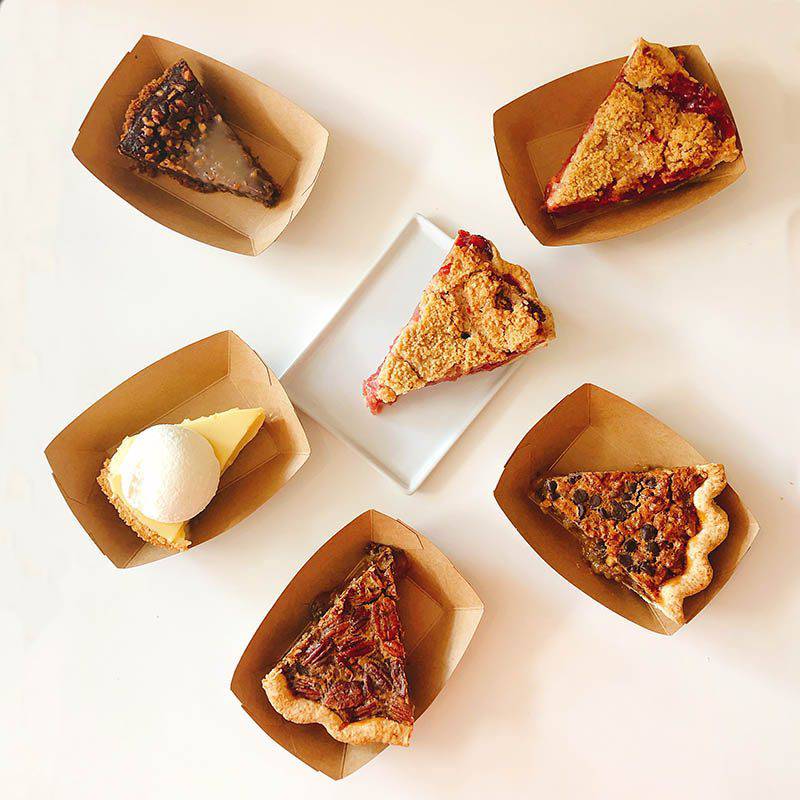 This was my birthday weekend after all, so we celebrated with a heavenly slice of pie here. Here at Pie Junkie my favorites include the Bird Dog, chess pie made with blackberry whiskey, and the Strawberry Rhubarb.
Plaza Walls Art Murals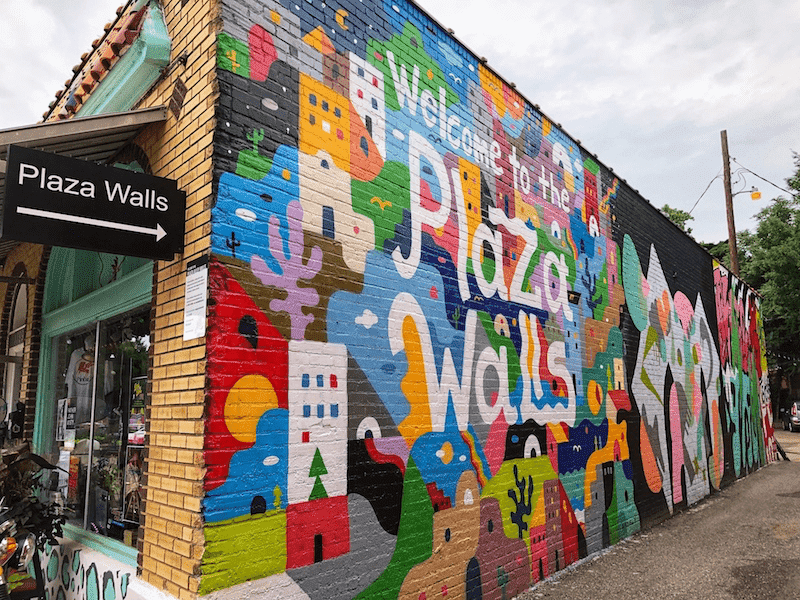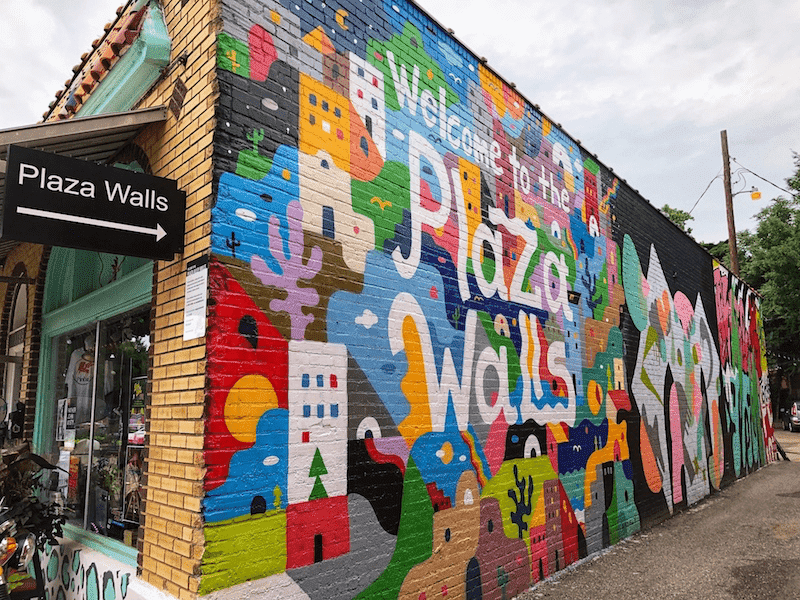 The alley behind the 16th Street shops is vibrant experience of local art. People come from far and wide to the alley between Indiana and Gatewood to see murals from local artists like Denise Duong, Kris Kanaly, Tony Thunder, and others.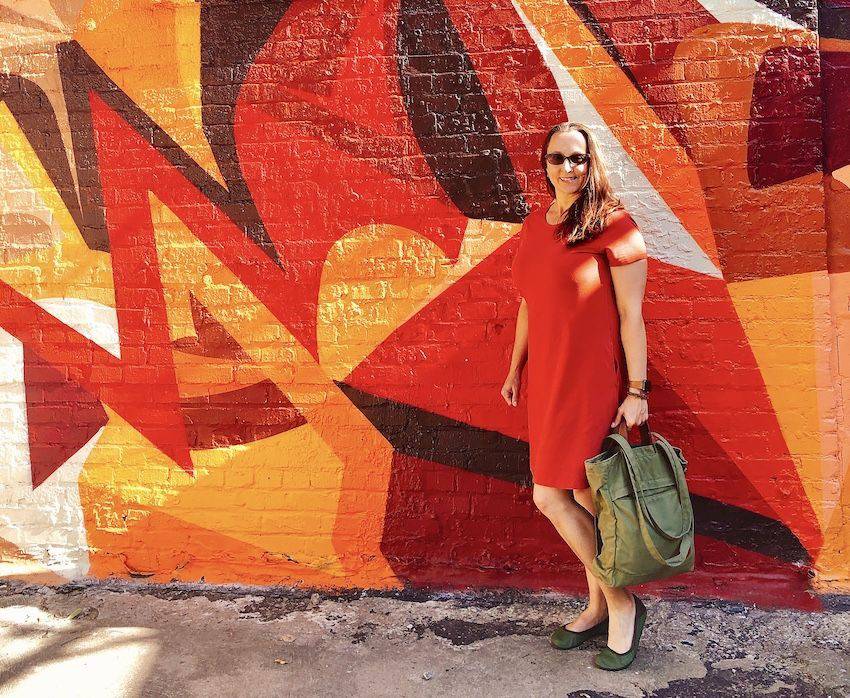 Plaza Walls is a rotating mural project that was one of the first mural districts in the state. You can see some of the past OKC art murals here. Be sure to stop into the Plaza Walls gallery where you can buy mural prints.
Plaza District Shopping
Looking unique shopping, you'll find it here. There are vintage stores like Bad Granny's Bazaar and Dig It Boutique. DNA Galleries is a great gift shop offering work by local artists. I found some wonderful Route 66 gifts for my oldest son's trip to Japan. There are also clothing boutiques and other stores to check out.
H & 8th Night Market
H & 8th Night Market is an annual Midtown event featuring food trucks, live music, and the Pro Am Bike Race. The event used to be held one a month during the summer, but now it's just once and many locals come out for it. The city has a full event calendar making it easy to find things to do in Oklahoma City this weekend.
Oklahoma City Bombing Memorial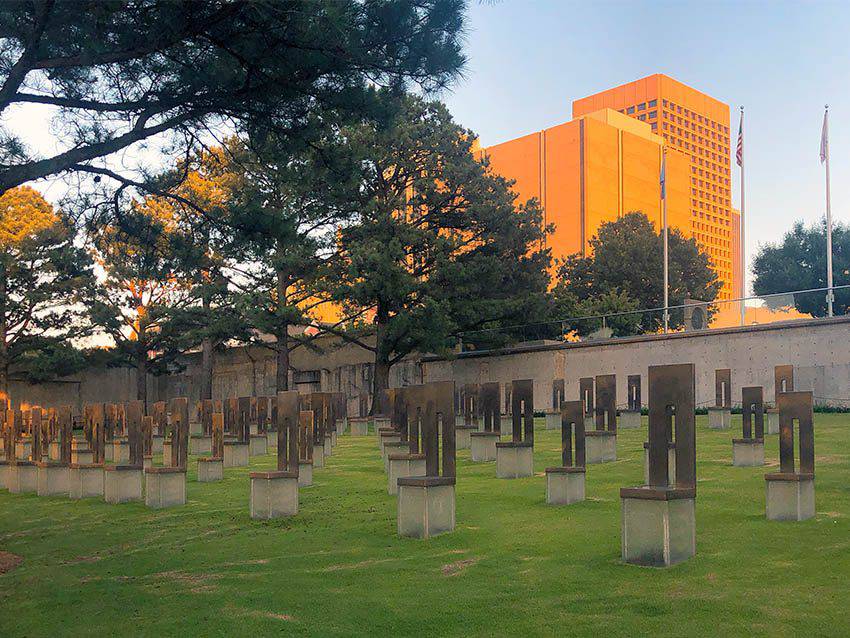 The bombing memorial is a somber reminder of what happened here in 1995. The memorial marks what happened that day and how the community banded together afterward.
21c Museum Hotel OKC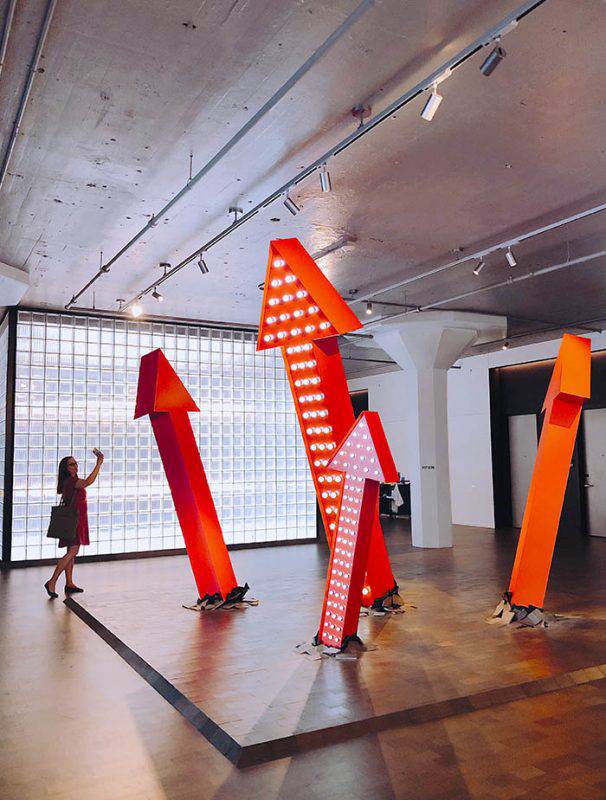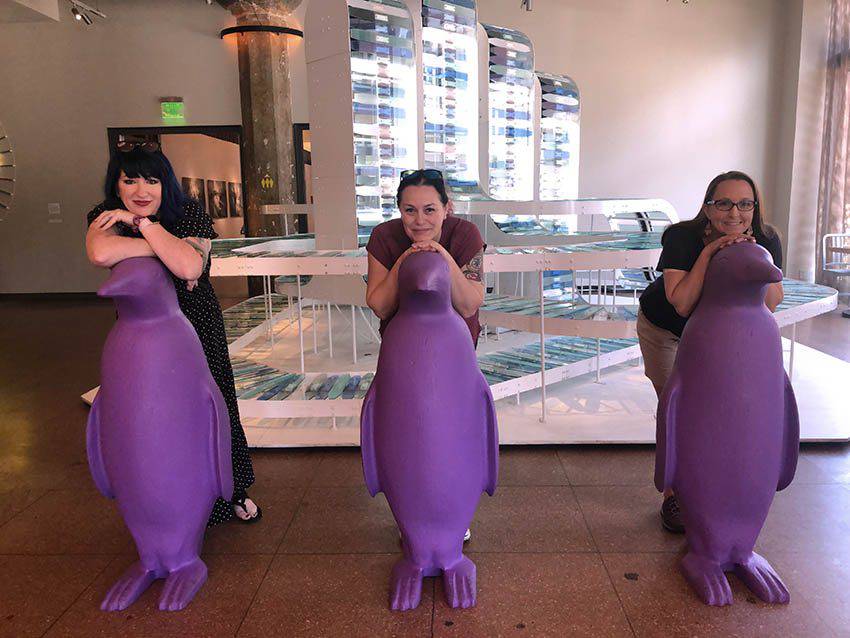 Have you ever wanted to spend the night at a museum? Now you can at 21c Oklahoma City. 21c is a 135 room boutique hotel is used to be the Ford Motor Company assembly plant. Today the hotel houses an extensive contemporary art collection exhibited across over 14,000 square feet. Exhibits rotate throughout the year and it's free to view anytime.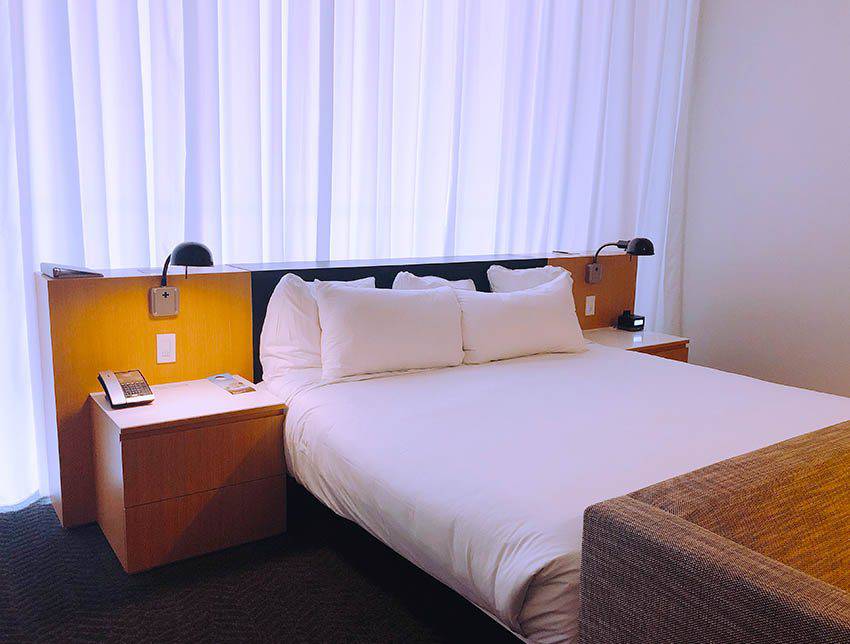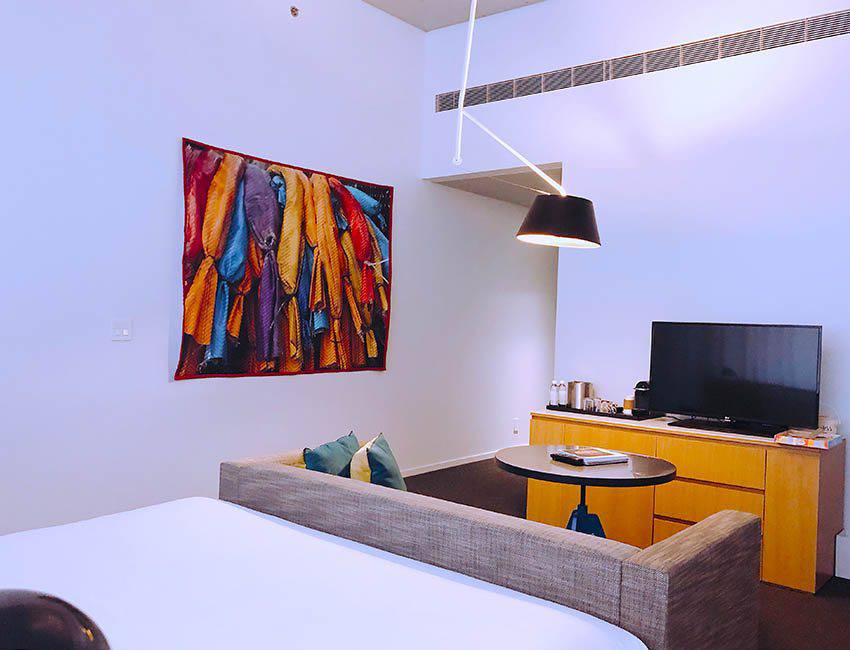 I stayed in a king room that has a super comfortable bed, seating area, and original art. You can read more reviews and get current rates on Tripadvisor.
The onsite Mary Eddy's restaurant serves amazing food for breakfast, lunch, and dinner. On select evenings you can enjoy live music and a limited menu at the Train Shed, Mary Eddy's outdoor patio. You'll love the outdoor murals here from local artist Denise Duong. You may recognize her work from the Plaza Walls.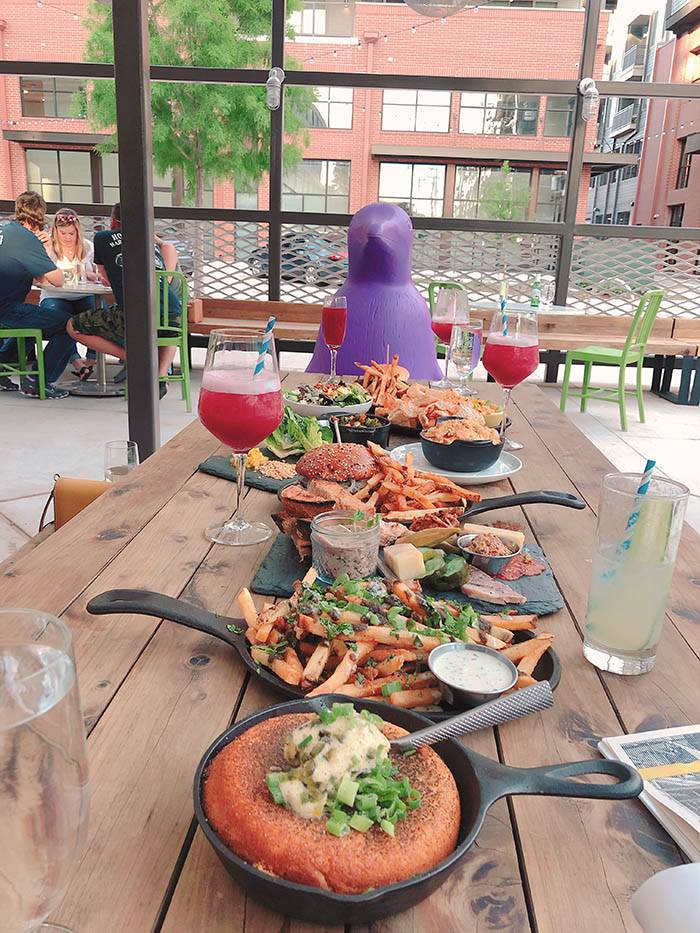 We ordered the menu (I mean the entire menu) and can say that everything is delicious. I highly recommend the charcuterie board they call the Tool Box, Rock Shrimp Lettuce Warps, cornbread, and the OKC Hot Fried Chicken Sandwich. Be sure to ask about the signature cocktail of the month that donates the proceeds to a local organization.
Brunch at Jones Assembly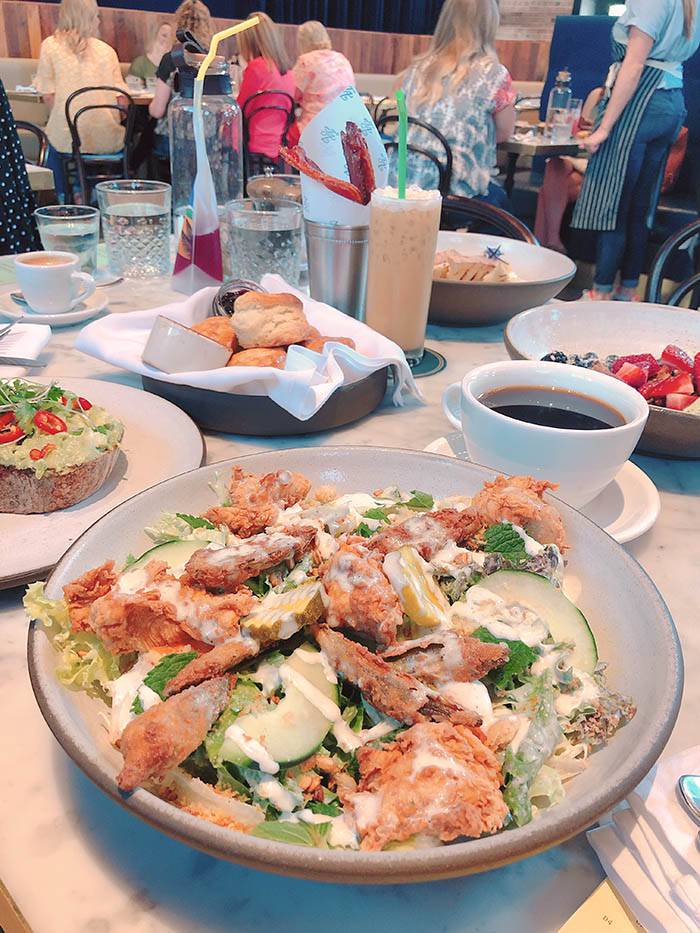 Many come here to Jones Assembly for dinner and live concerts. Later this fall, I'm looking forward to seeing Lucero. There really isn't a bad time to come to the Jones Assembly. You can easily walk from the 21c is you are staying there.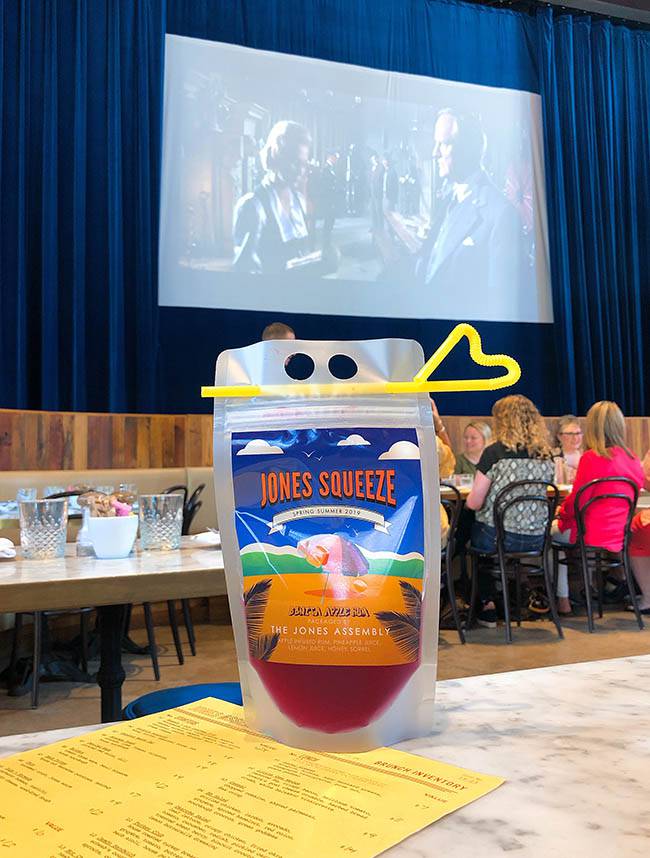 Weekend Brunch here is a must with adult only juice pouches called the Jones Squeeze, cups of candied bacon, and strong black coffee. Try the scratch made biscuits with house made jams, fresh burrata, Okarche chicken salad, and avocado toast.
Wheeler Ferris Wheel
You know you have something special when you can start a story, "Let me tell you about this ferris wheel we found on Ebay….." That's the start of how the Santa Monica Pier Ferris Wheel came to Oklahoma City and found a new home in Wheeler District.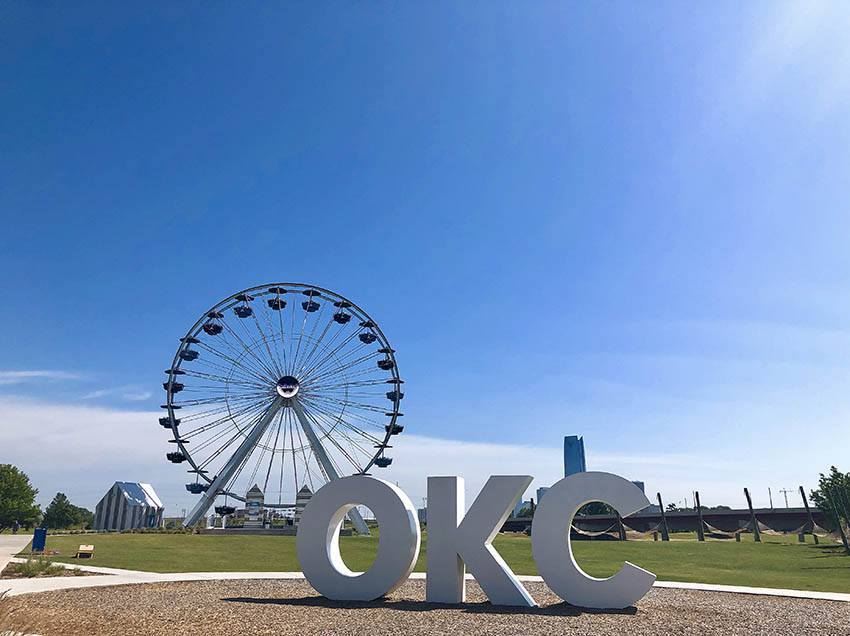 Take a ride on the ferris wheel then enjoy the park. Grab a hammock and relax with friends or a good book, play a game or two of corn hole, or just kick a soccer ball around. The park offers a variety of free games to enjoy.
If you want to take a walk along Oklahoma River, you can park here and find the path behind the wheel. It's easy to spend a few hours here playing around. Throughout the year the park is home to events, concerts, and Sunday morning yoga classes.
This was our Oklahoma City weekend. It's 2.5 days of fun, food, and friends. Whether you are here visiting for the weekend or live here and are looking to discover something new, you'll find some great ideas to start with.
Hotels and Airbnbs near Midtown, Oklahoma City, Oklahoma
LOOKING FOR MORE TRAVEL IDEAS IN OKLAHOMA?
Thank you to Visit OKC for provided complimentary lodging, attractions, and meals during this birthday weekend. All opinions are our own.