Hawaii has the luau, Texas has BBQ, and Door County, Wisconsin has Fish Boil. A trip to the North-Western peninsula of Wisconsin isn't complete without a Door County Fish Boil for dinner complete with a slice of freshly baked cherry pie.
Door County is a place to celebrate friends, family, and make memories together. What better way than to gather around great food and company with an old-fashioned Fish Boil. Don't let the term "fish boil" scare you. It is actually pretty simple to enjoy a Door County fish boil just like the locals do.
Door County Foil Boil – Must-Do Experience
We all know that Door County is a beautiful and scenic place to visit along Lake Michigan. It's the perfect spot for a vacation. One of the highlights of Door County, especially in the town of Ephraim, is the traditional fish boil at Old Post Office with a view overlooking the harbor. This ever-popular event isn't just an ordinary dinner like you would get in San Francisco's Fisherman's Wharf. It's part community fish dinner and part cooking show with a fiery finish.
On a recent trip to Door County, I experienced a Door County fish boil for the very first time at the Old Post Office. I wasn't sure what I expected, but it turns out that a Door County fish boil is much like sitting around a campfire for an hour or so with your friends or family while the food cooks. Once cooked, you all sit down to a delicious fish dinner. It's really not any different than camping, just without the mosquitos and WITH a kerosene fireball to signal when dinner is ready!
What is a Door County Fish Boil?
Fish boils are a way of cooking fish in a large cooking pot over an open fire. In this area, boiling fish dates back to the late 1800s when Scandinavian immigrants used this outdoor cooking method to feed large groups of people. Today, the version locals and visitors enjoy began in the 1960s and includes a pre-dinner show led by the Boil Master or designated cook. The fish boil tradition is a must-do experience when in Door County.
Fish Boil Menu
The star of the fish boil menu is fresh whitefish caught by local fishermen in Lake Michigan. The fish along with red potatoes and onions is cooked in a large metal pot with boil spice over an open fire.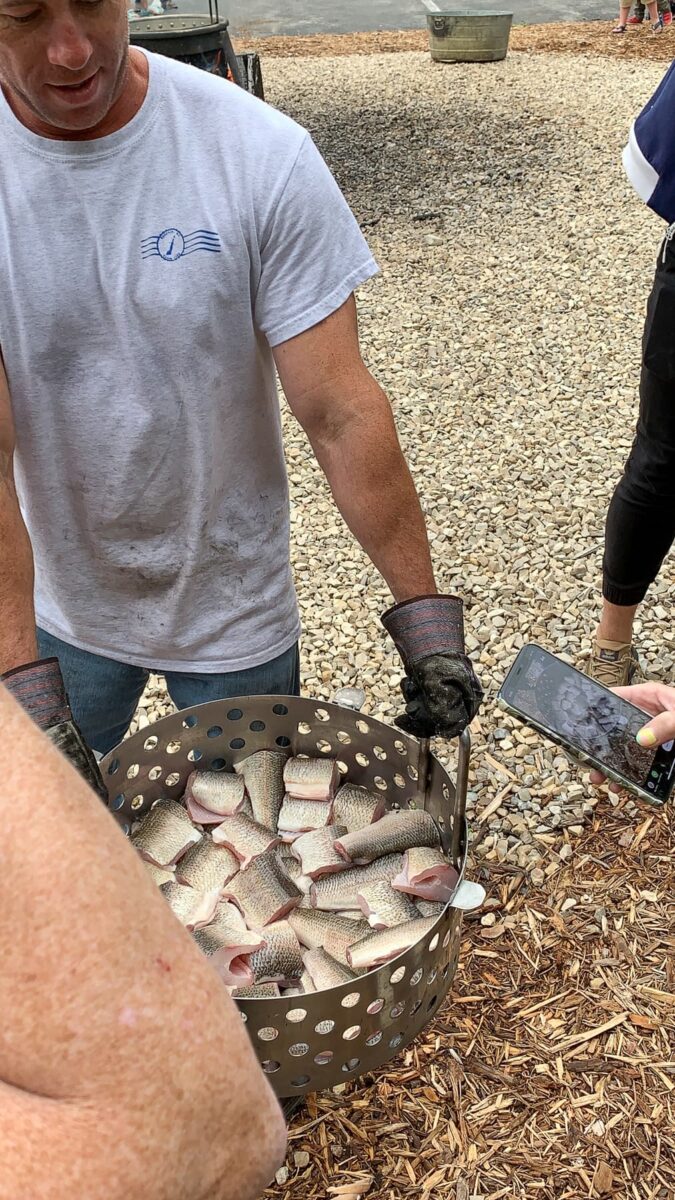 Pre-Dinner Show
Part of the experience is coming early and watching the cooking process, which takes about an hour. Guests are encouraged to come early, sit around the fire, sip a cold beer or wine (or both) while the fish boil spices mix together in the pot to create a delicious aroma. While dinner is cooking, the master boiler does a cooking show and tell while entertaining the crowd.
When the food is just about ready, the Boil Master signals that the "boil-over" is about to start. The Boil Master throws kerosene onto the fire, boiling over the fish oils, creating a fireball and loud BOIL-OVER sound.
Dinner is served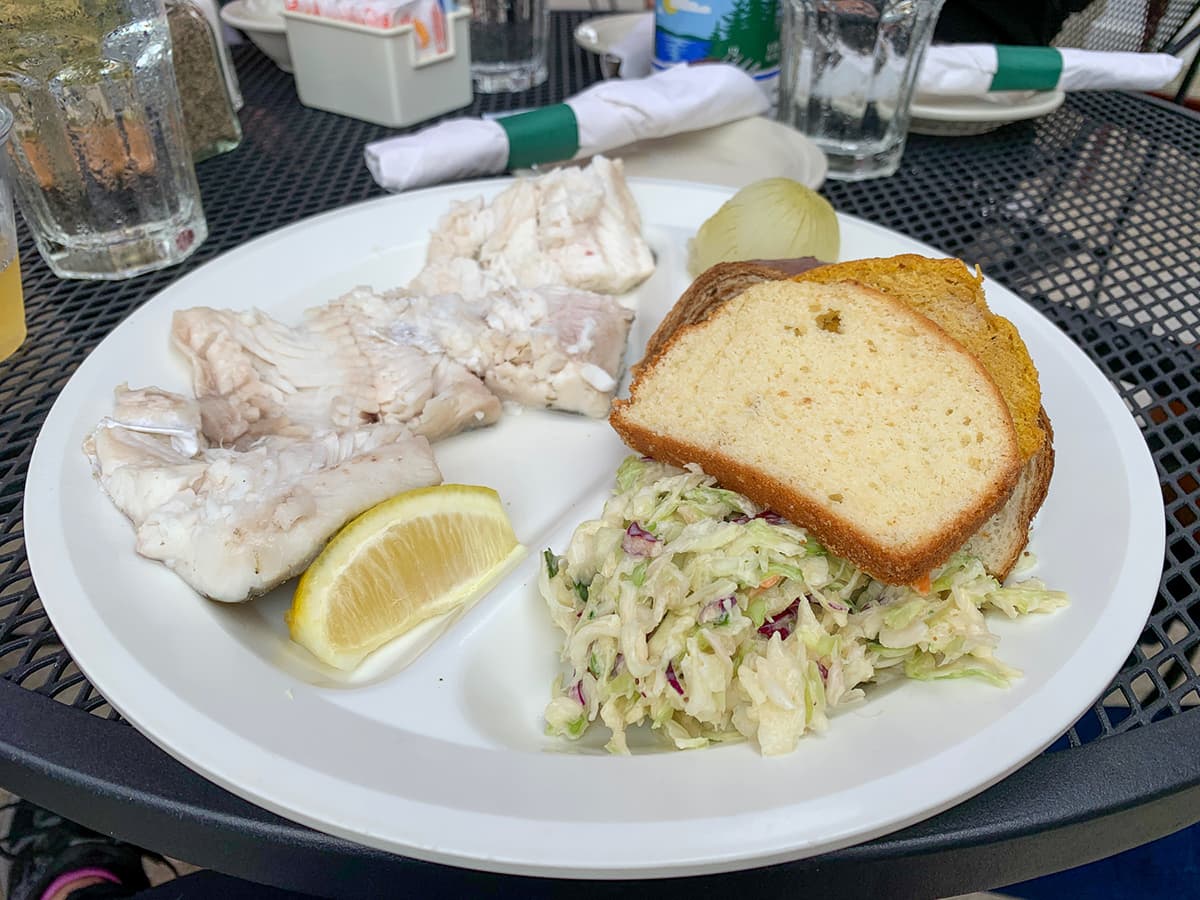 A number of restaurants from Sturgeon Bay to the tip of the peninsula today serve this classic boiled fish, potatoes, and onions with melted butter, lemon wedges, coleslaw or salad, bread, and a slice of fresh-baked Door County cherry pie.
Looking for other fun activities or organized tours in Door County? I recommend these available via Viator:
Old Post Office Restaurant
My first Door County fish boil was at The Old Post Office in Ephraim. Not only is it said to have the best fish boil in Door County, but the building also has a lot of history to it. The building was erected in the 1870s and started out as a small post office during the Great Depression. It has since grown into one of the area's most popular tourist destinations for traditional fish boil.
The Old Post Office offers a nightly fish boil Monday through Saturday and holiday Sundays. Reservations are highly recommended. There is an indoor dining area, but I highly recommend sitting outdoors on a nice night. The view of the harbor is fantastic.
Tip: The whitefish here, like many restaurants, is served with the bones in. Ask your server to debone your fish for you. It won't look Insta-worry, but it will be much easier to eat.
Door County fish boils are an iconic Wisconsin tradition and must-do experience. Whether you're visiting for the first time, or you live nearby, it is worth a visit to see this unique tradition in action. As I wrap this up, the one question I'm sure you still have is…
What does fish boil taste like?
Well, I can tell you it tastes like mild boiled fish. Whitefish is very mild! I found that I needed a bit of extra seasoning and melted butter drizzled over the top. It reminded me of a lot of the food I had in Finland. Simple and delicious!
Have you been to Wisconsin? What are some of your favorite food experiences? Let us know in the comments below or tag us on Instagram @lilfamadventure.
For more travel experiences, check out these: