Love funny camping memes? So do I! I have rounded up my favorites and share them here with you. Some will definitely make you laugh, others are a bit cringe worthy as we recall a few camping blunders or moments we'd rather forget (huge spiders on your tent), and then the rest may inspire you to get offline and get outside.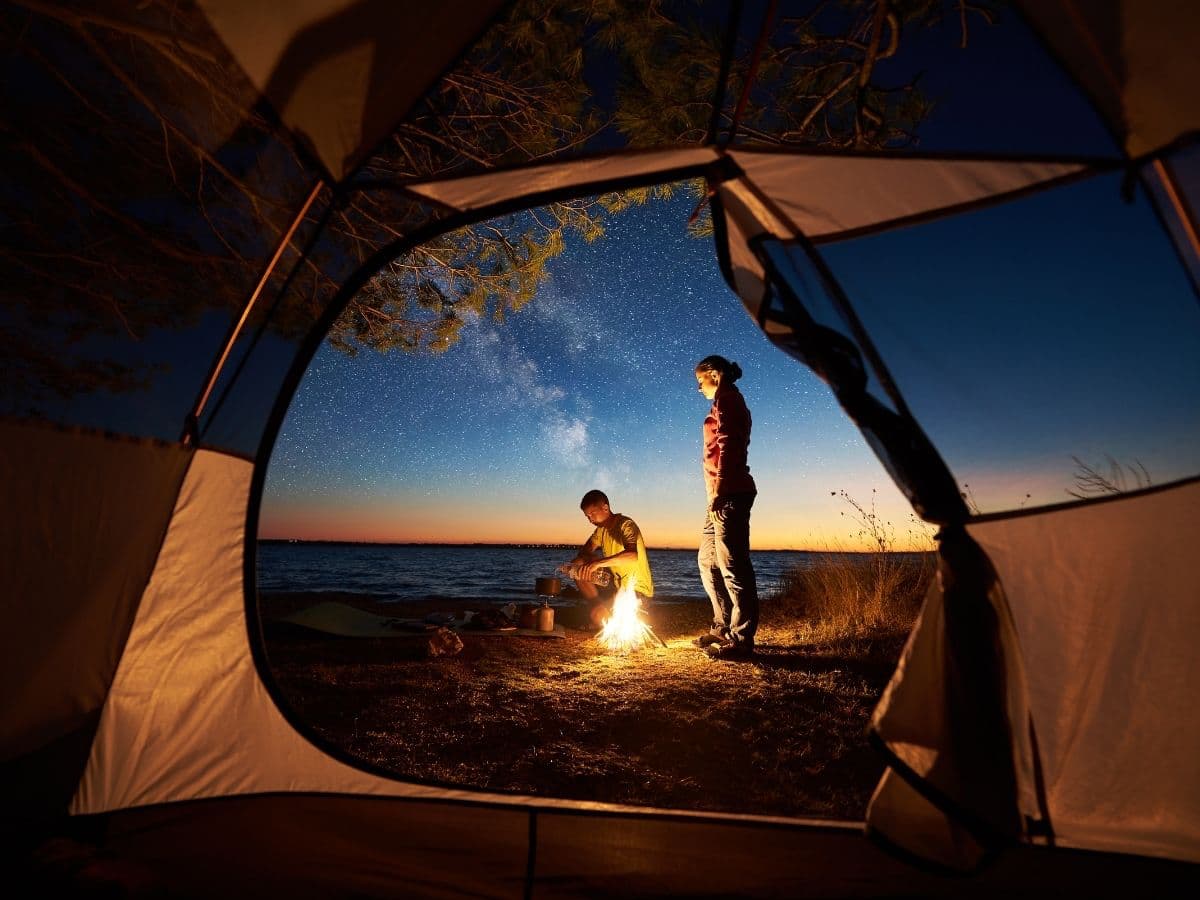 There is no right or wrong way to go camping. Whether you car camp, head out into the backcountry, RV, or go glamping, the only thing that matters is that you get out there. Even if you don't quite "get" why people pay to rough it outdoors, you will still get a good laugh from these funny camping quotes, glamping memes, and RV funnies. For more funnies, also check out these inspirational and funny camping quotes.
Funny Camping Memes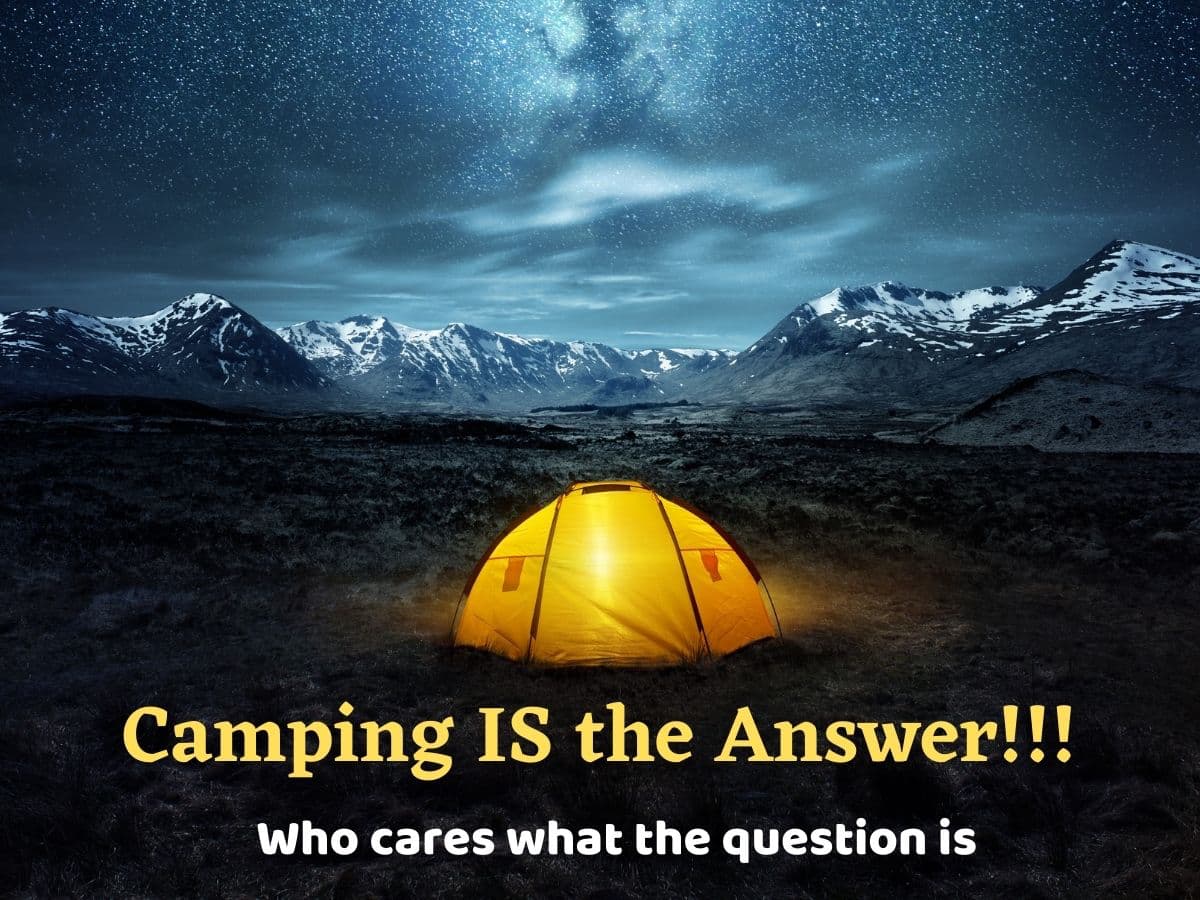 "Camping is the answer. Who cares what the question is." Can I get a nod on this one?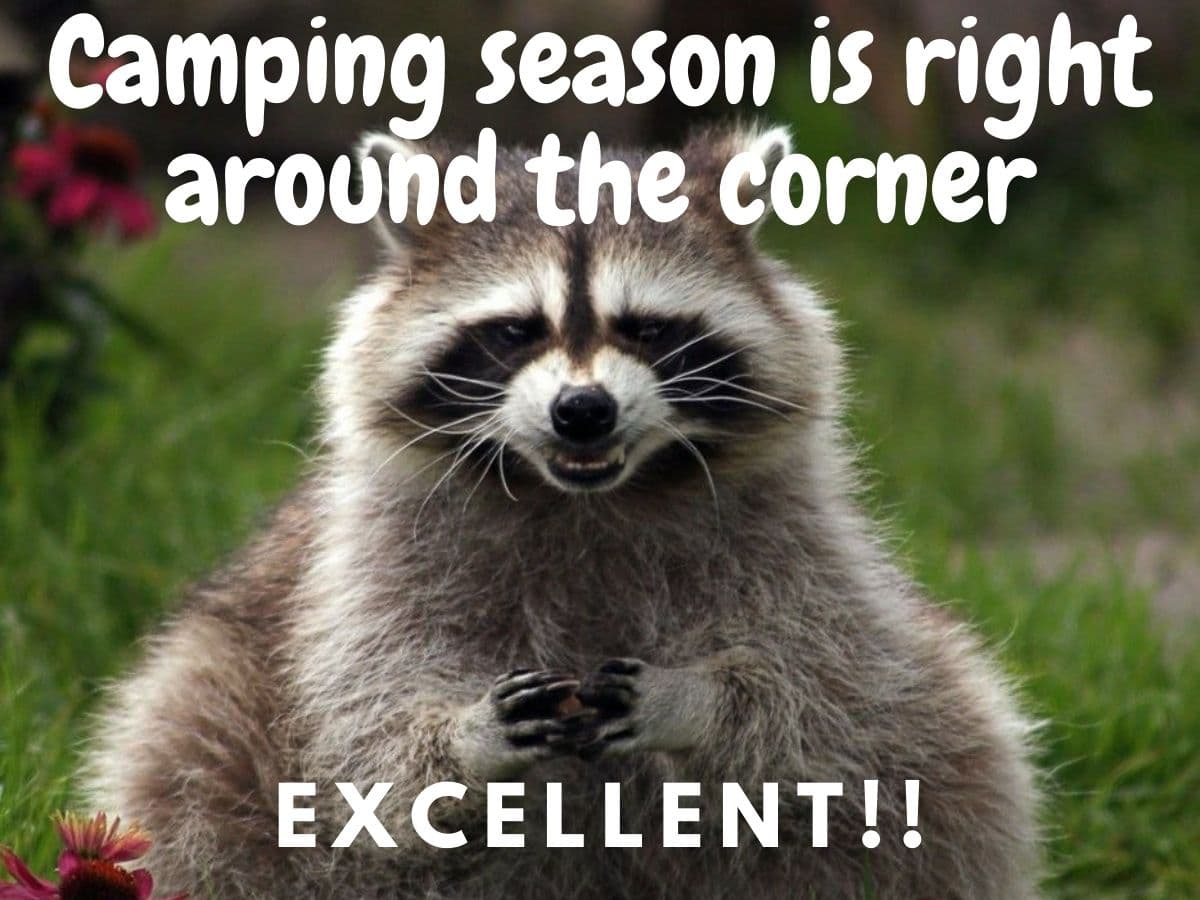 When camping season is right around the corner….. EXCELLENT!!! If you have ever had your campsite raiding by these masked raiders, you completely understand this twisted humor.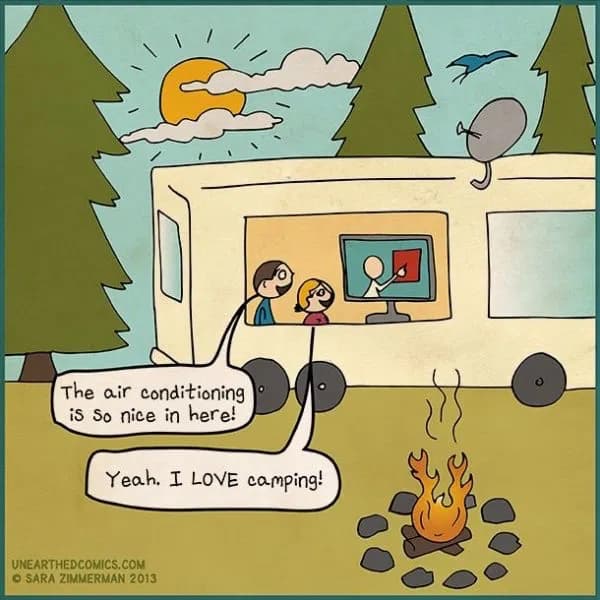 Clearly there are some advantages to RVing in the summer. This is one way to beat the summer heat.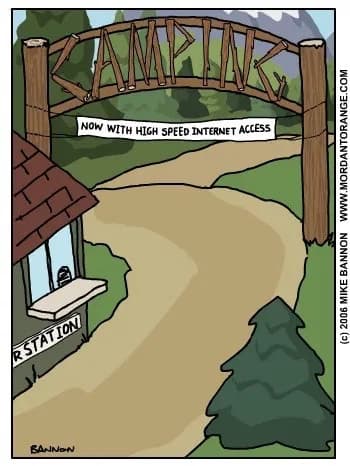 "Camping, now with high-speed internet access." Funny because it's true. I remember a trip to Grand Teton National Park and camping there. No internet access in the campgrounds, but there was at the general store. You'd see clusters of people on their phones and tablets catching up, us included.
"Some women love diamonds… Other's love a tent, hot coffee, and the smell of a campfire. " – So very very true!!! If you are looking for the perfect gift for her, check out these 35+ Great Gifts for Hikers or these 25 National Parks Gifts.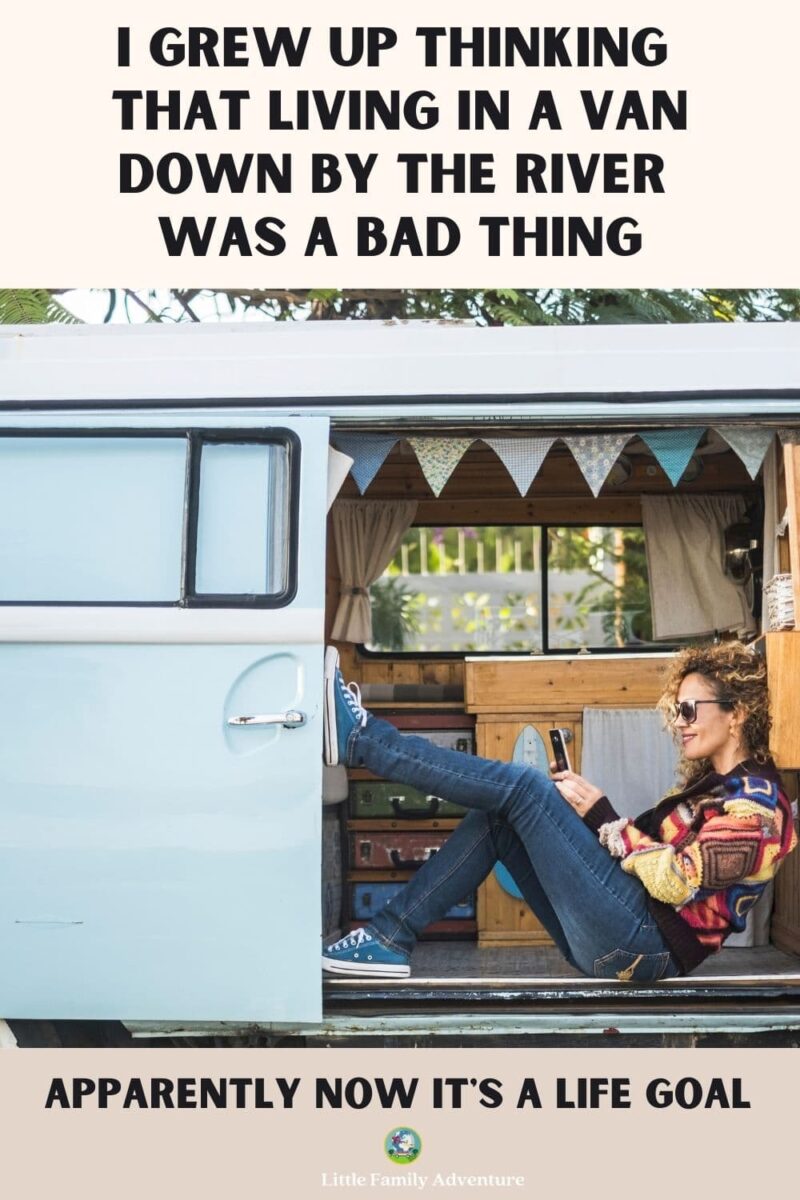 "I grew up thinking that living in a van down by the river was a bad thing. Apparently now it's a life goal." – I won't lie if I could convince my family to RV full-time, I totally would (at least for a little while.)
When an outdoorsman goes camping…… when my relatives go camping. – There is ALWAYS that one.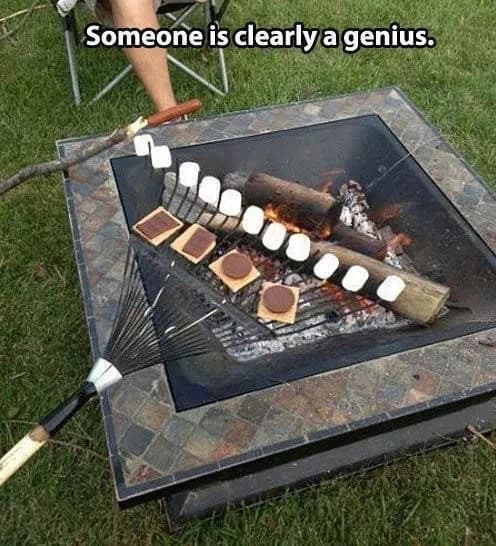 "Someone is clearly a (food) genius." I love everything about cooking outdoors and sharing camping recipes here. I love our telescoping marshmallow roasting sticks, but this is truly genius – multiple s'mores in one quick rack/swoop.
Pin this for later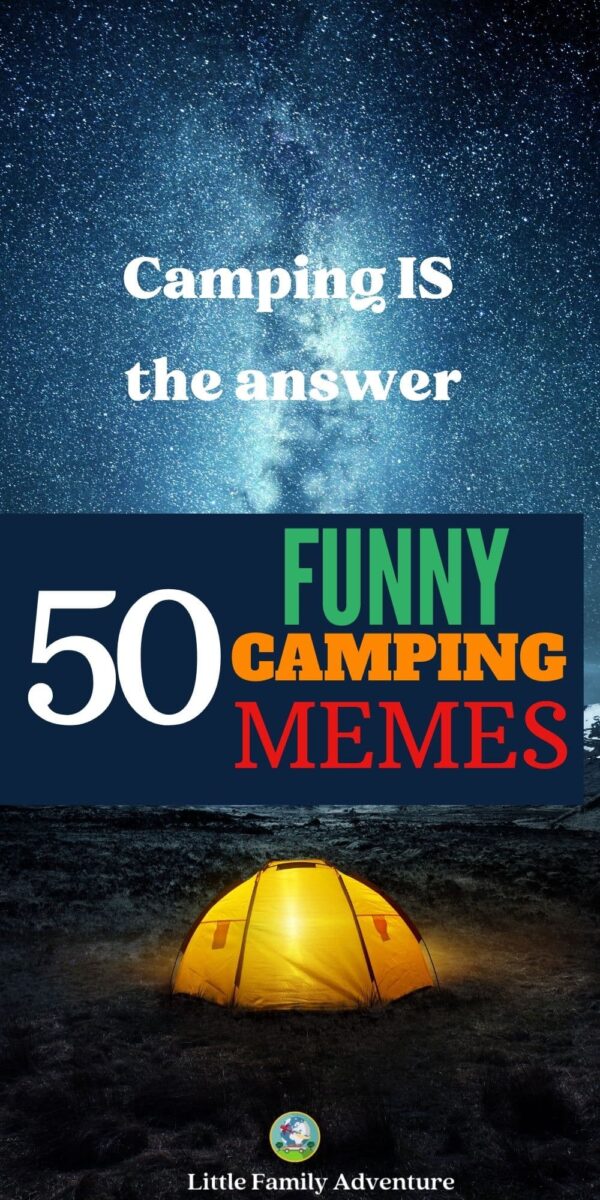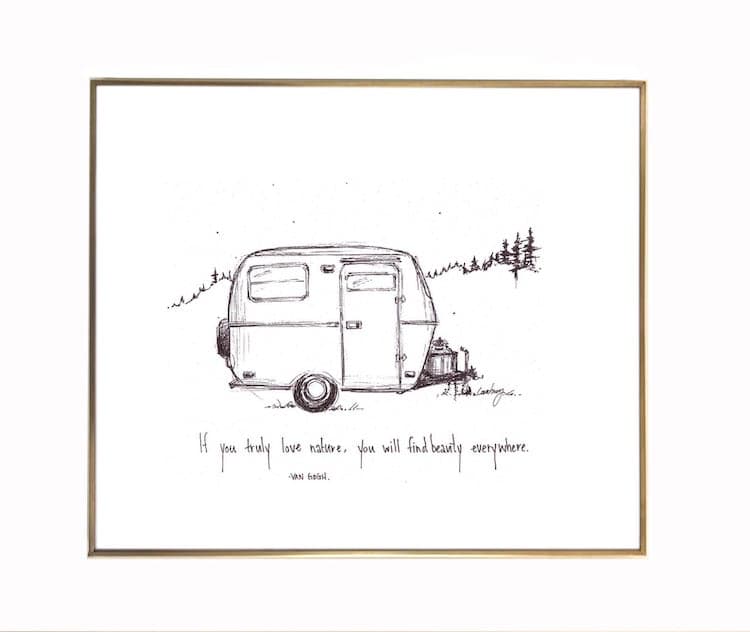 "If you truly love nature, you will find beauty everywhere" Van Gogh – I love this quote and camper sketch I found on Etsy.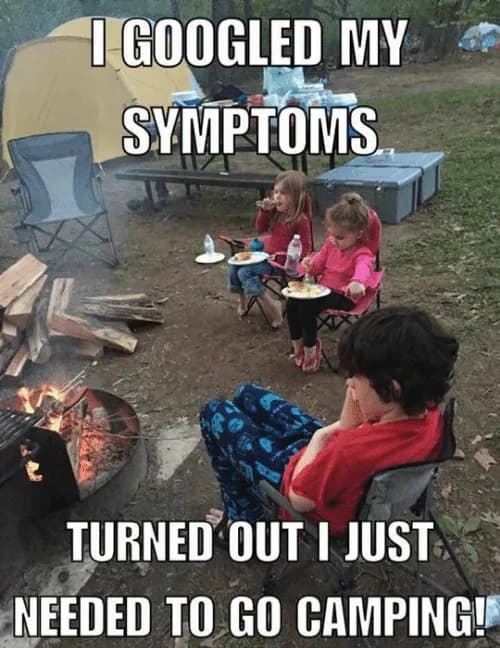 "I googled my symptoms. Turns out I just need to go camping." Whenever I start to get antsy, I know it's time to get outside and go on an adventure. That can be family camping, hiking with kids, or just a walk around the block.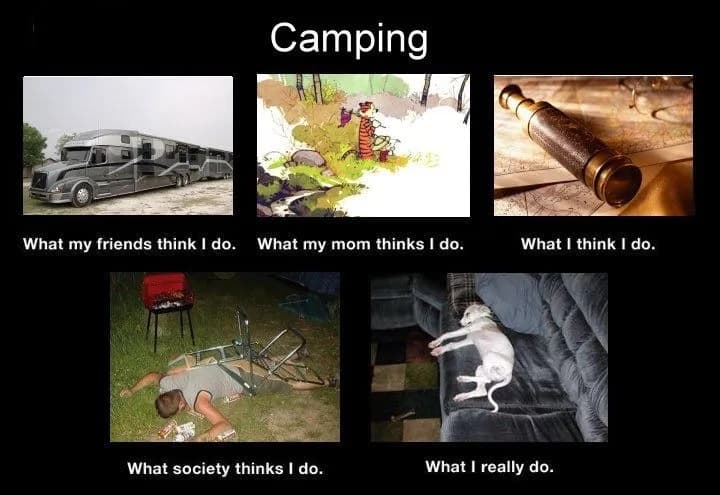 When life gets complicated, I go camping!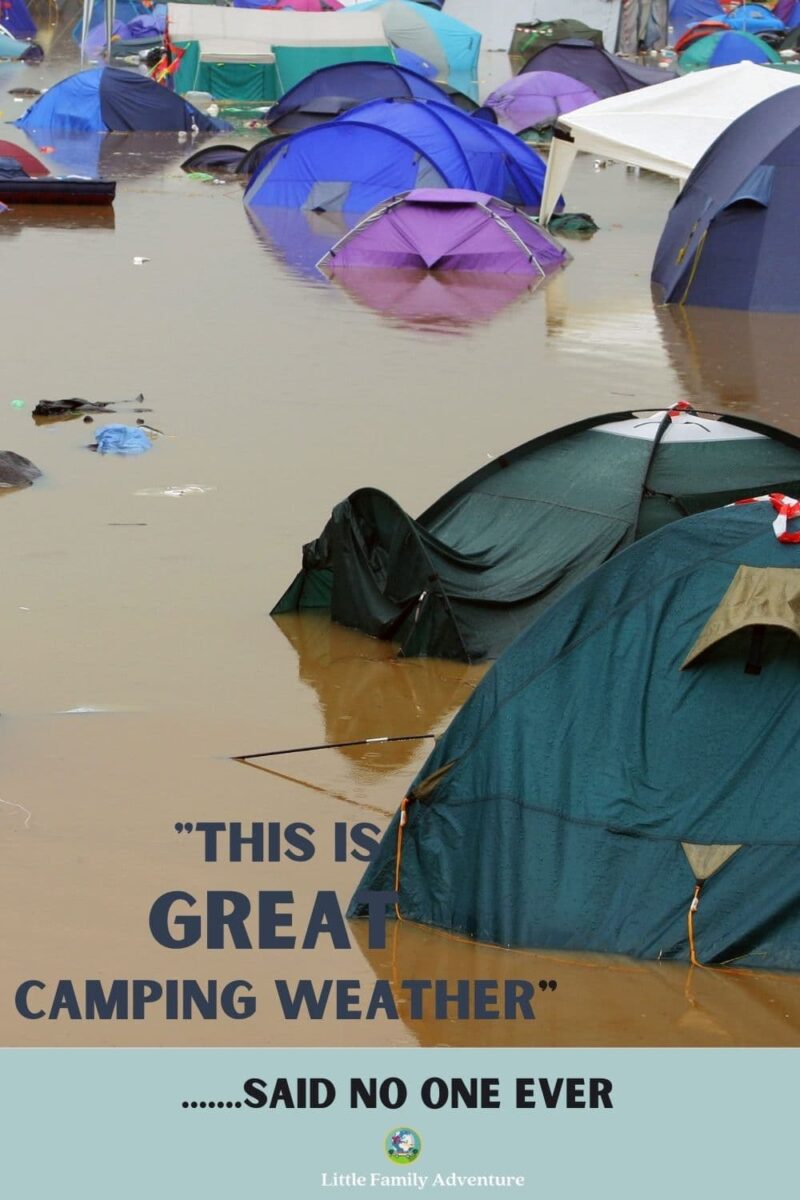 "This is great camping weather"… said no one ever." There have been a few times I didn't double check the weather before heading out and we ended up camping in the rain. Not necessarily a bad thing, but that's why we always pack away a deck of playing cards in teh camp box.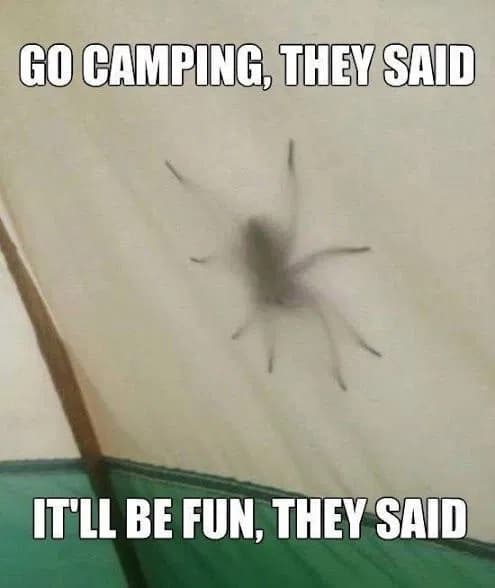 Go Camping, They Said… It'll Be FUN, They Said – Can you even imagine waking up to THAT outside your tent? Well I guess it's better than INSIDE your tent…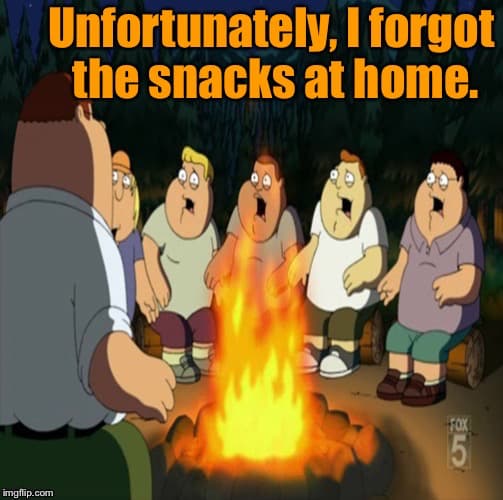 Unfortunately, I forgot the snacks at home." – Camping snacks are a must when we go camping! That look of denial and disgust at forgetting this or the s'mores makings is someone you never recover from. It will be talked about for evermore as the camping trip YOU forgot the snacks!.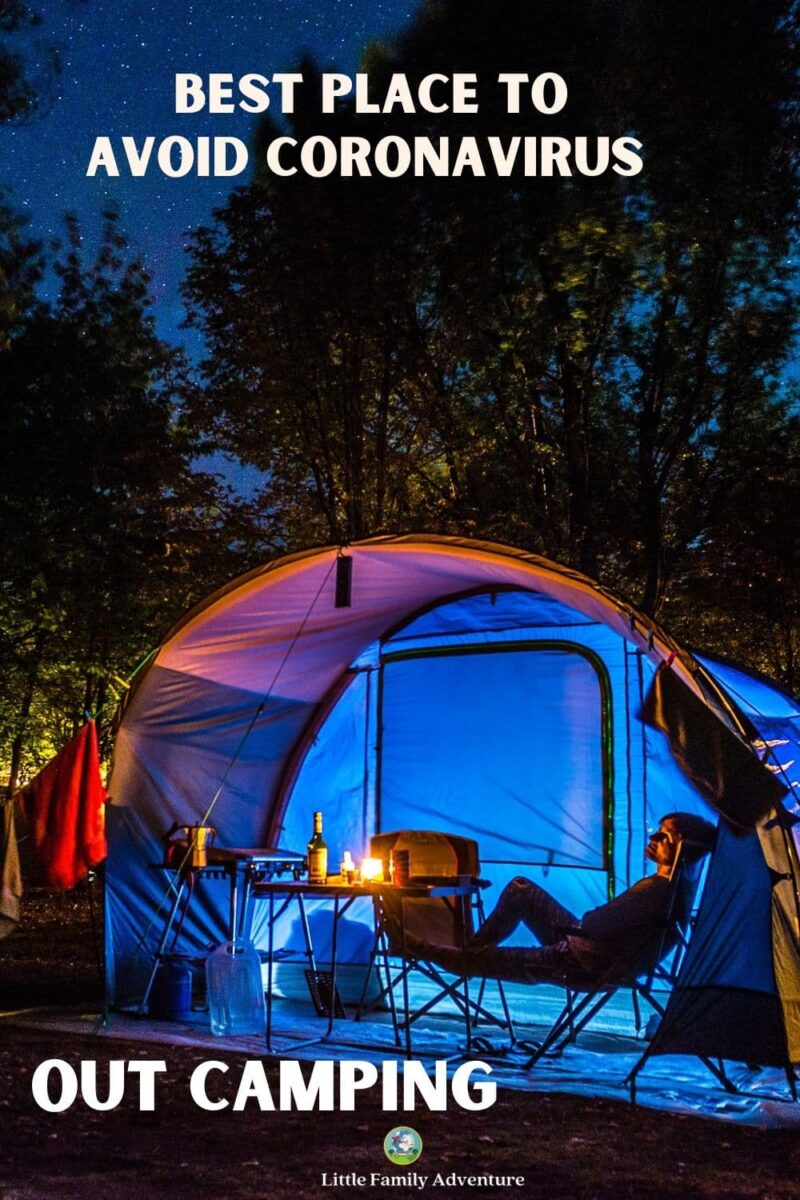 "Best place to avoid coronavirus, out camping." I think many families can agree with this one as they opt outside. If you haven't been camping lately, here are 7 Easy Camping Safety Tips to Follow During This Pandemic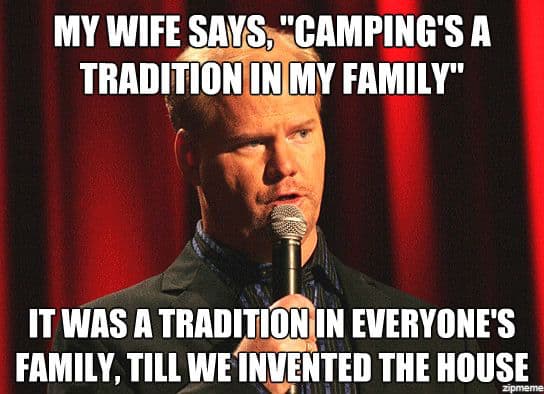 "My wife sats, "Camping's a tradition in my family. It was a tradition in everyone's family, till we invented the house." Some people just don't get the appeal of camping, that is until they try it.
"I tried to be good, but then the bonfire was lit and there was wine." I found this camping shirt on Etsy and think this sums it up pretty well.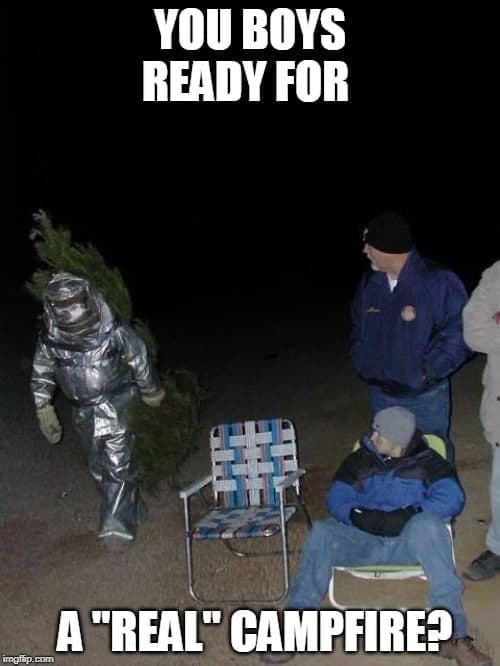 "You boys ready for a REAL campfire?" – Question is, will it be a true campout WITHOUT a campfire?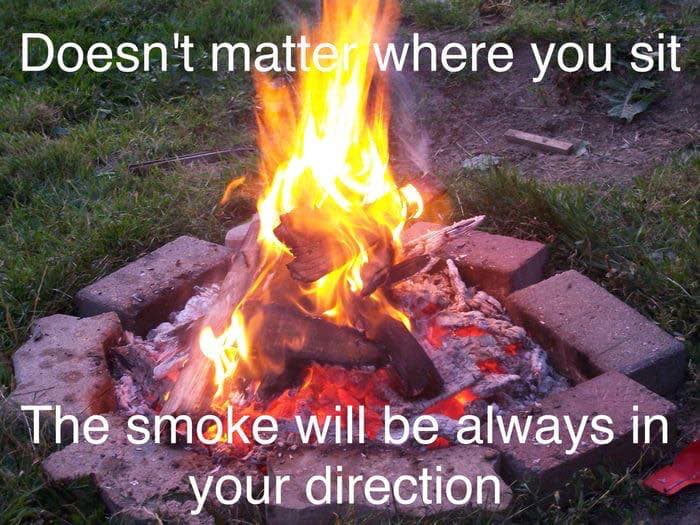 "Doesn't matter where you sit. The smoke will be always in YOUR direction!" – Amen to this one! It's like it follows you no matter how you try to escape it. Here are tips on how to wash your down jacket if you need it.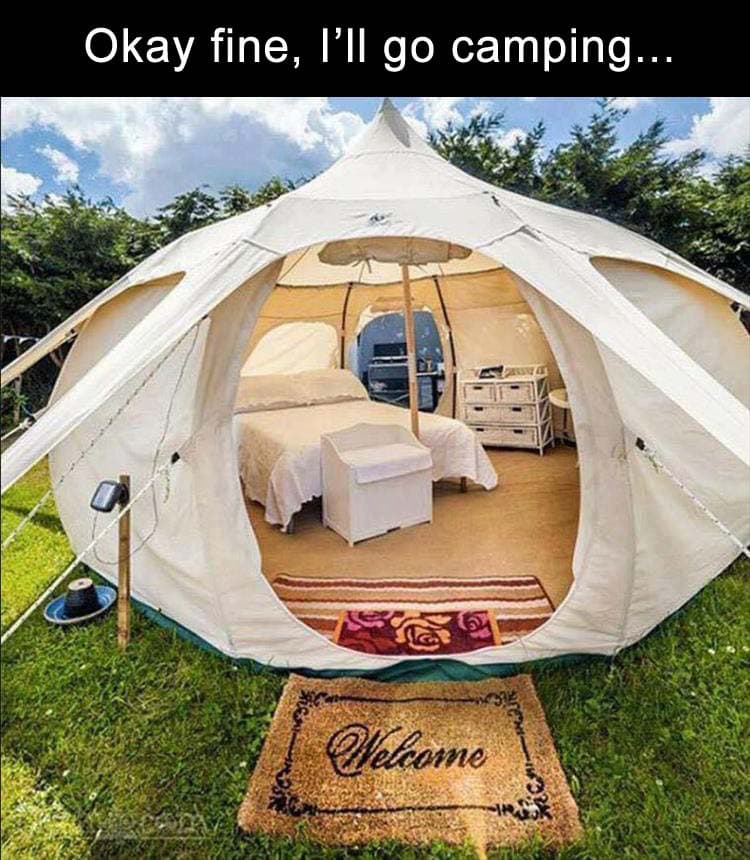 "Okay fine, I'll go camping…." For those that love glamping (myself included), it's the best of both worlds. I share my glamping essentials checklist here.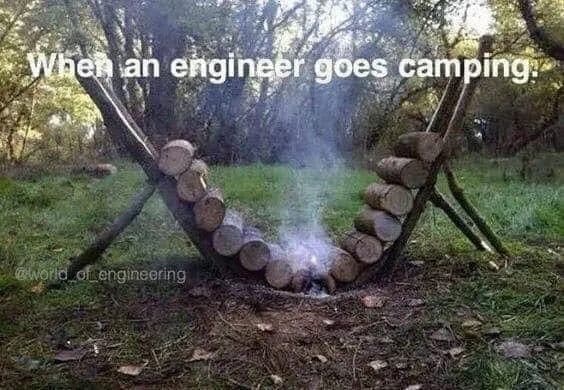 When an engineer goes camping…. you don't have to worry about the fire going out.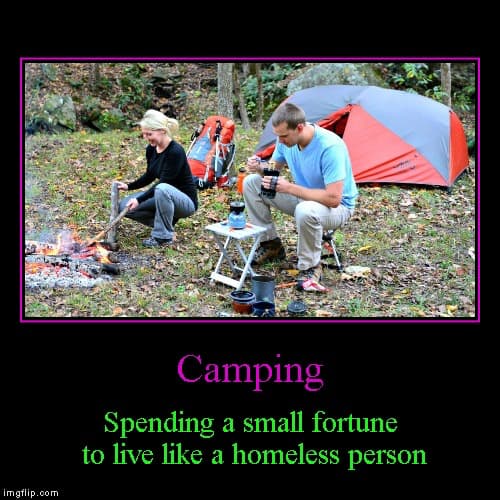 "Camping… When you spend a small fortune to live like a homeless person." I have seen this many, many times and I laugh every time. You don't have to spend a lot. If you are just starting out, I always say to borrow from friends and see what you like.
"I don't always go camping. But when I do, I bring the whole bar." Not going to lie, I love this idea! This and a whole teardrop pull out camp kitchen for the win!!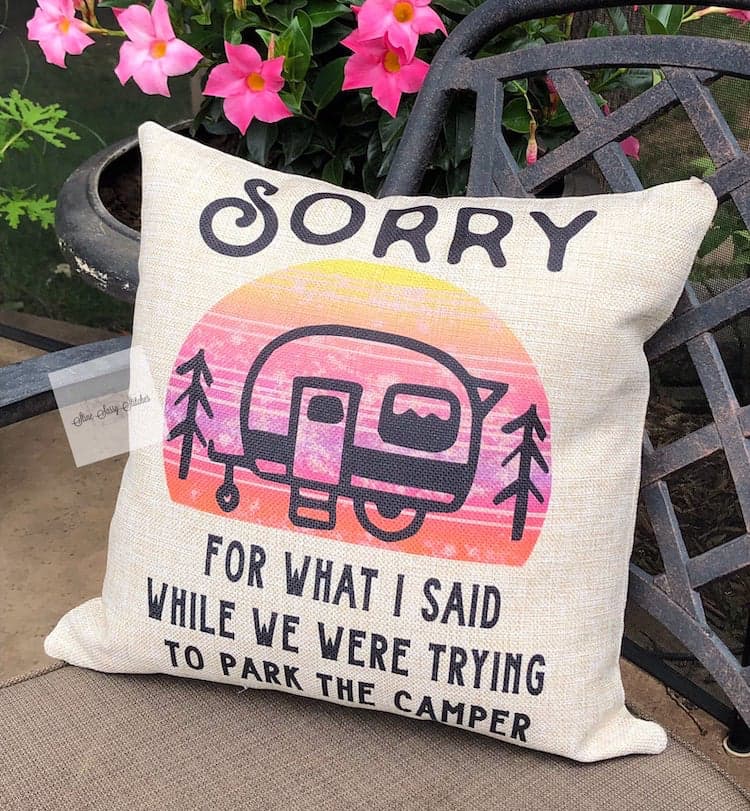 "Sorry for what I said while we were trying to park the camper." Setting one up can be a bugger! But once you get the hang of it, it's not too bad. If you want to rent an RV for your next vacation, read up on the best RV rentals companies in the states. You'll find this RV quote pillow on Etsy.
"Ever have sex while camping? It's fucking intents." – This one makes me laugh.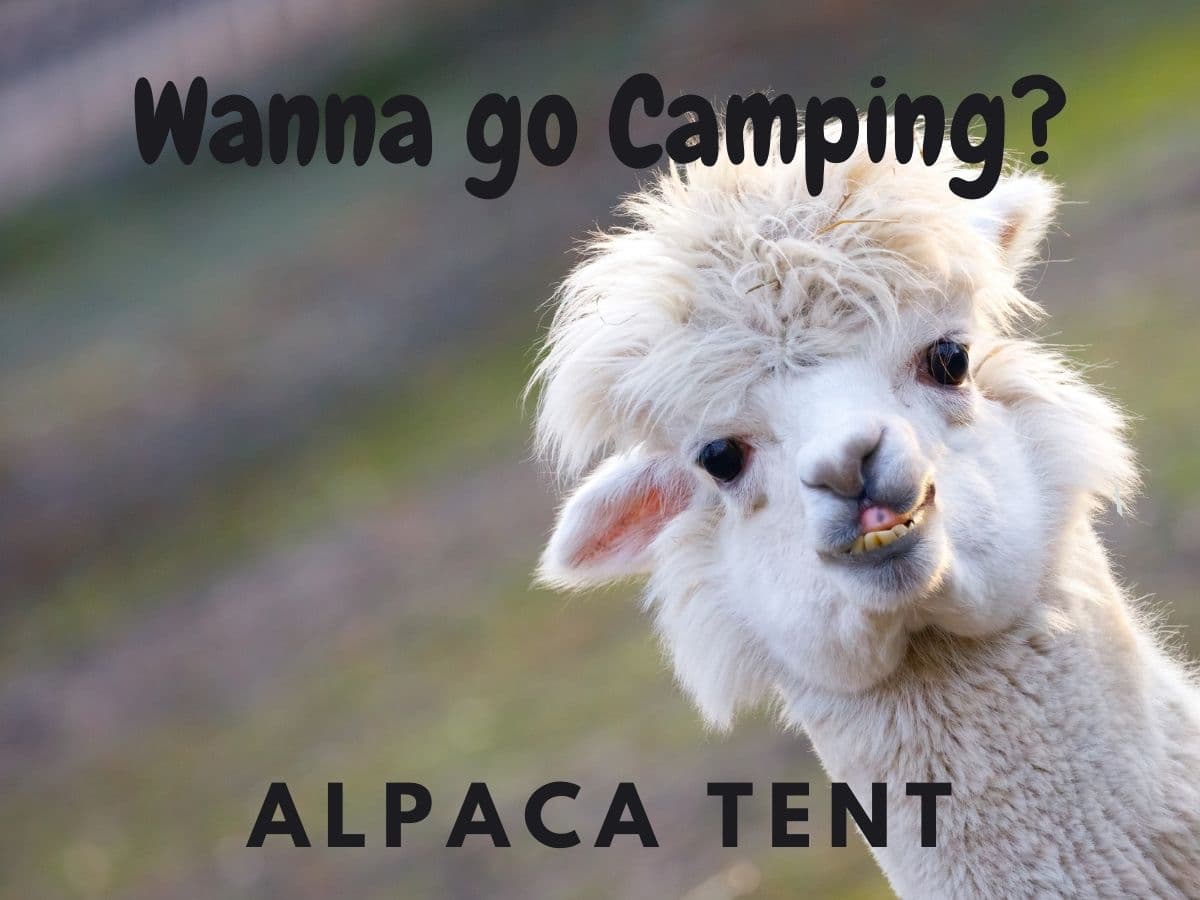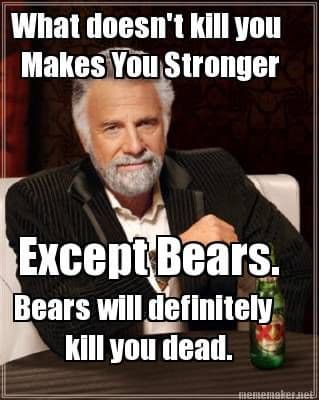 What doesn't kill you makes you stronger. Except bears. Bears will definitely kill you dead.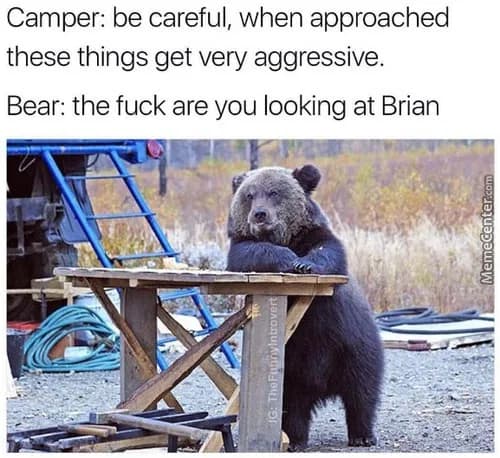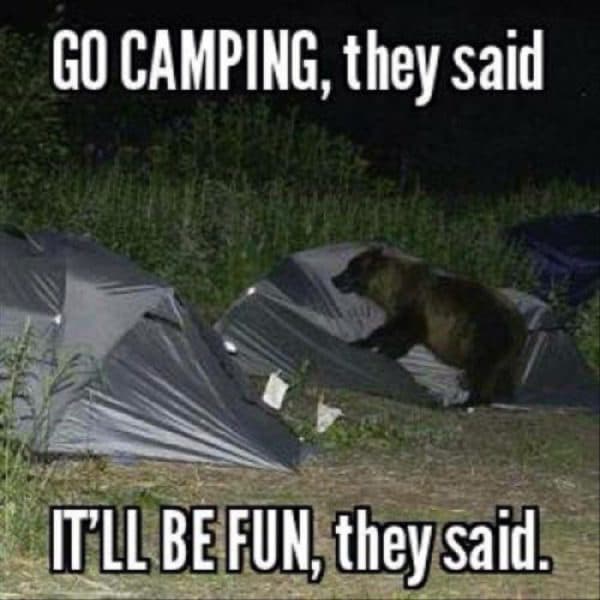 "Go camping, they said. It'll be FUN, they said." Why is it funny animal memes make you laugh and cringe at the same time?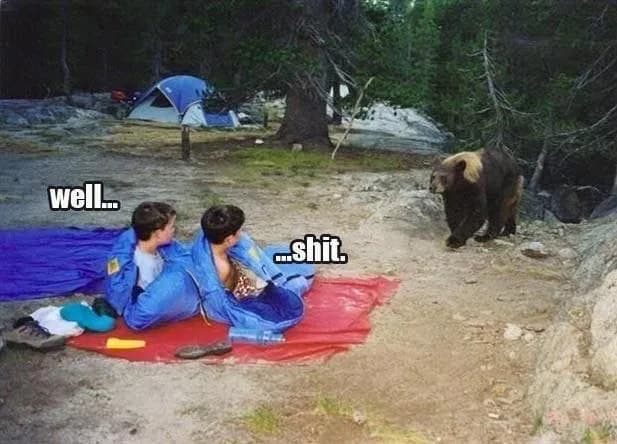 Well… shit…… and this is why I wear ear plugs when I tent camp. If I do then, I can die peacefully and none the wiser.
If we all stay inside a bit longer, then maybe we can starve out mosquitos into extinction. Now there's a thought.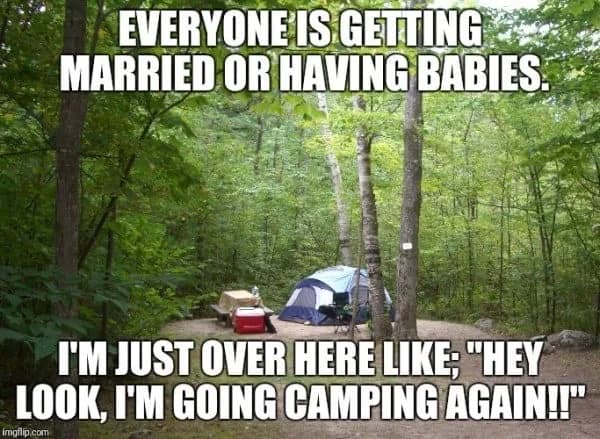 Everyone is getting married or having babies. I'm just over here like: hey Look, I'm going camping again.
Looks like someone is excited about camping – Now you can't say that campers don't have a sense of humor.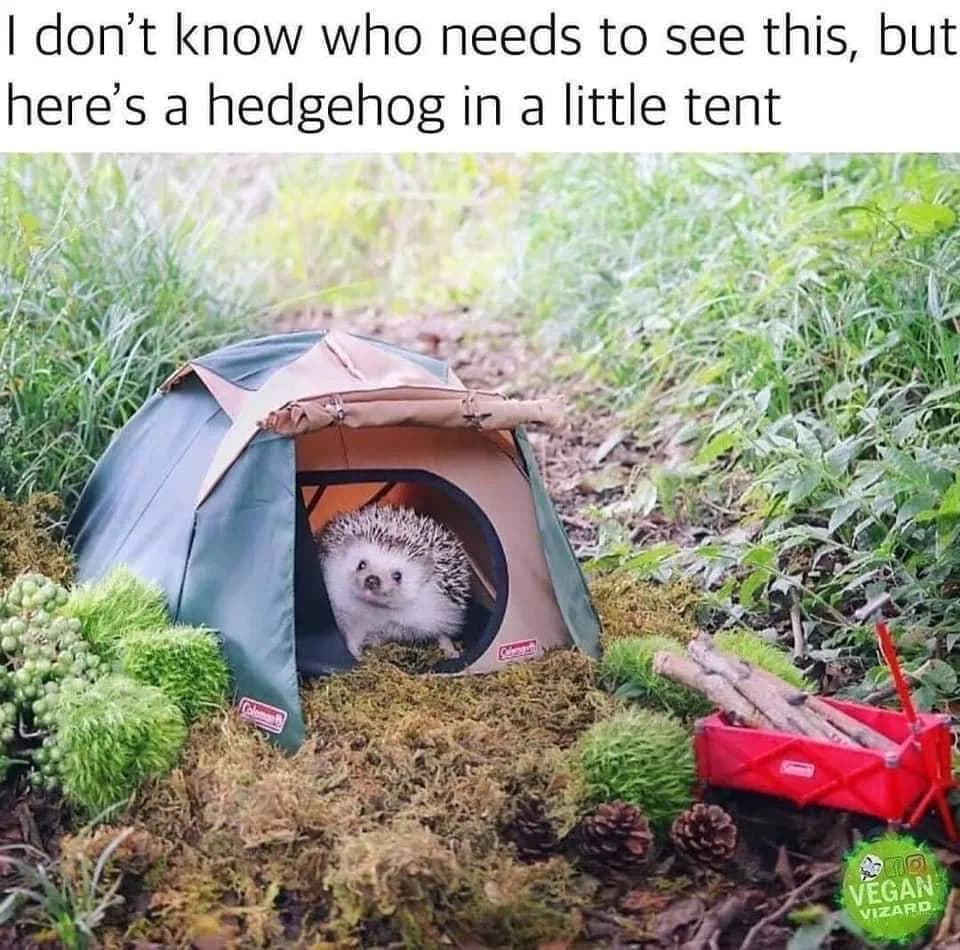 I don't know who needs to see this, but here's a hedgehog in a little tent. This is the ONLY animal I want to see in our tent except our dog.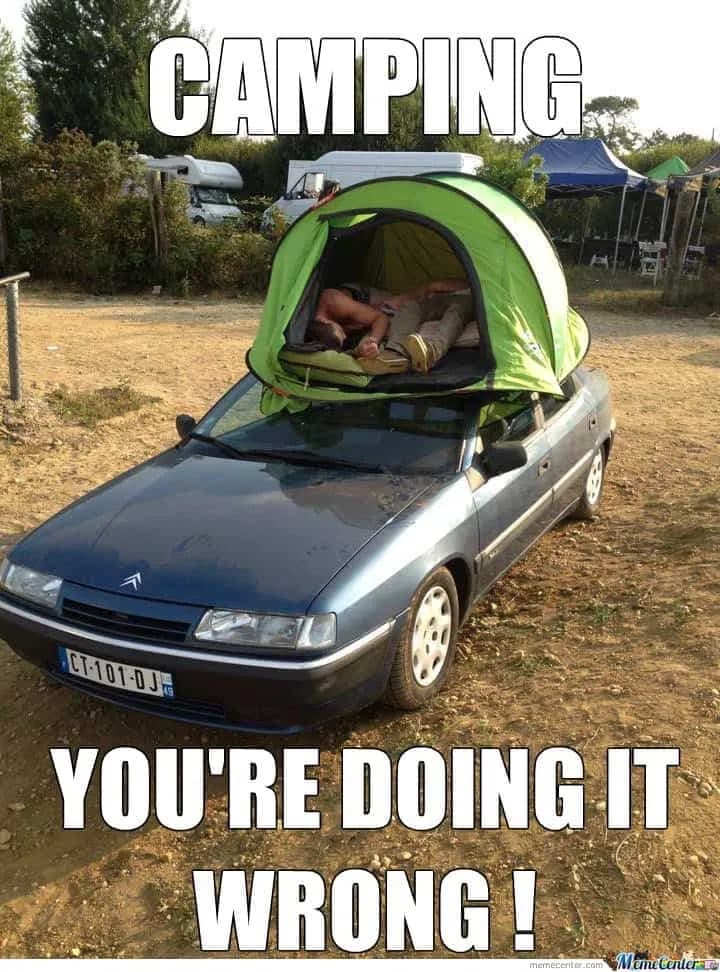 Camping – You are doing it wrong! – I didn't think there was a wrong way to camp until THIS. This is not how to overland. If you are curious about how to overland, read Is Overland Camping Right for Your Next Family Vacation?
If camping means my hotel room faces the woods, then yeah, I'll go camping.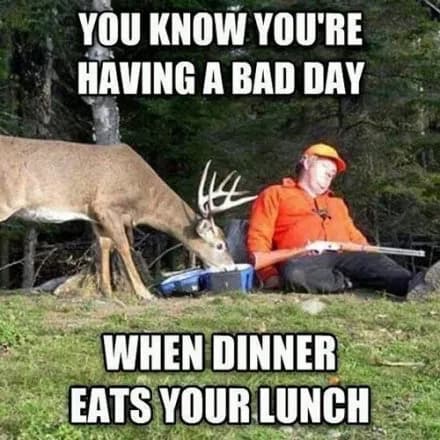 You know you're having a bad day when dinner eats your lunch.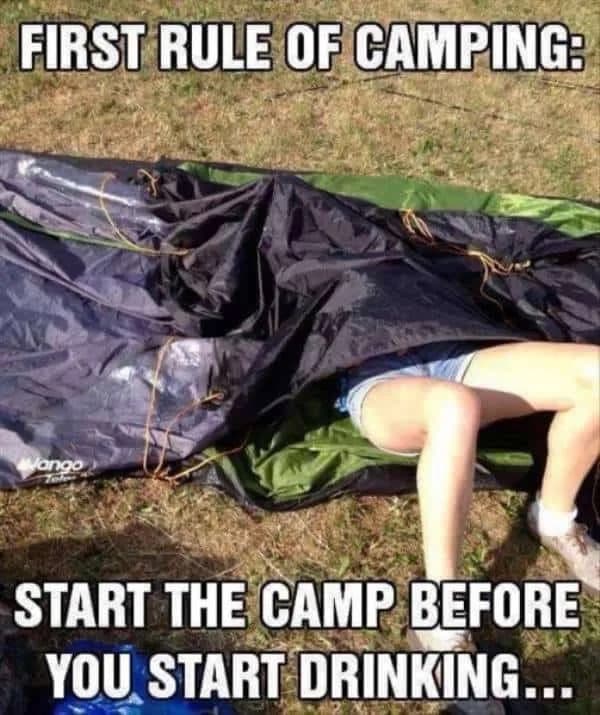 First rule of camping: start the camp before you start drinking…..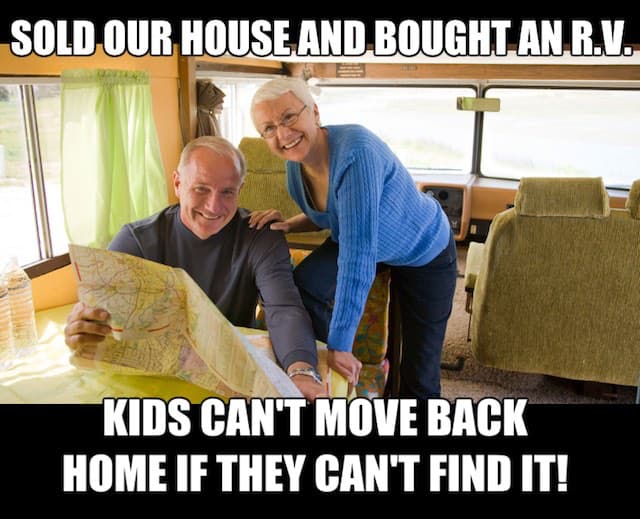 Sold our house abd bought an RV. Kids can't move back home if they can't find it! – WOW!! Filing this away for 10 years from now.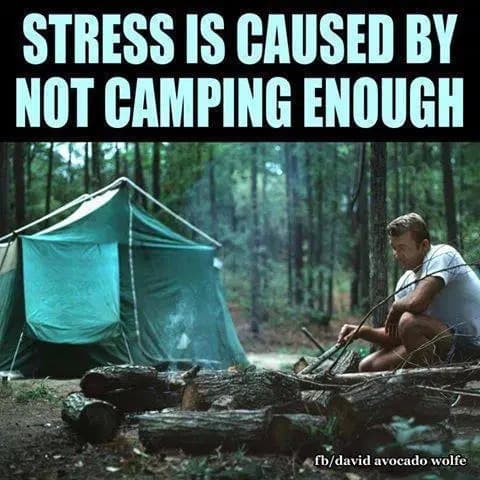 Stress is caused by not camping enough – Very, very true!!!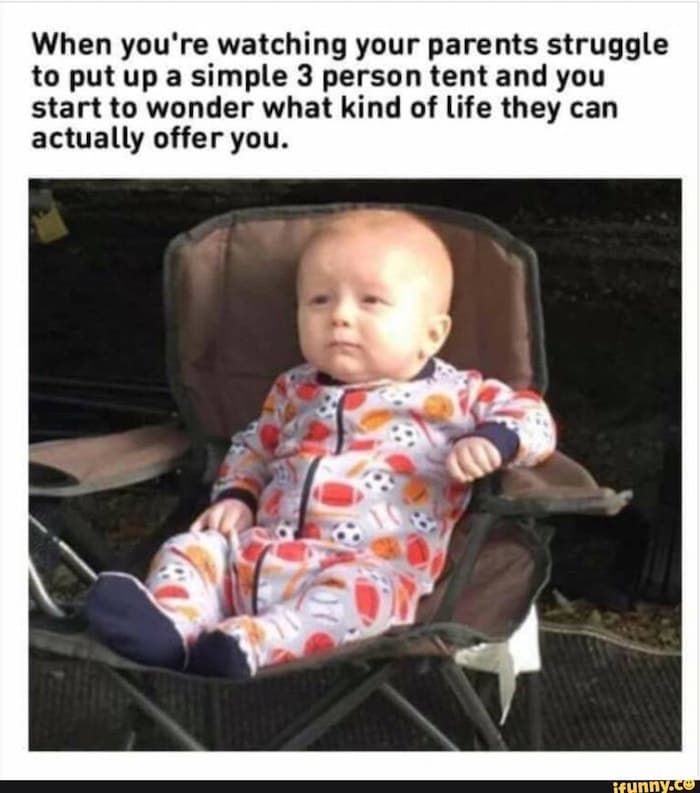 Don't Tell Your Mom. ……… What happens at camp.. stays at camp.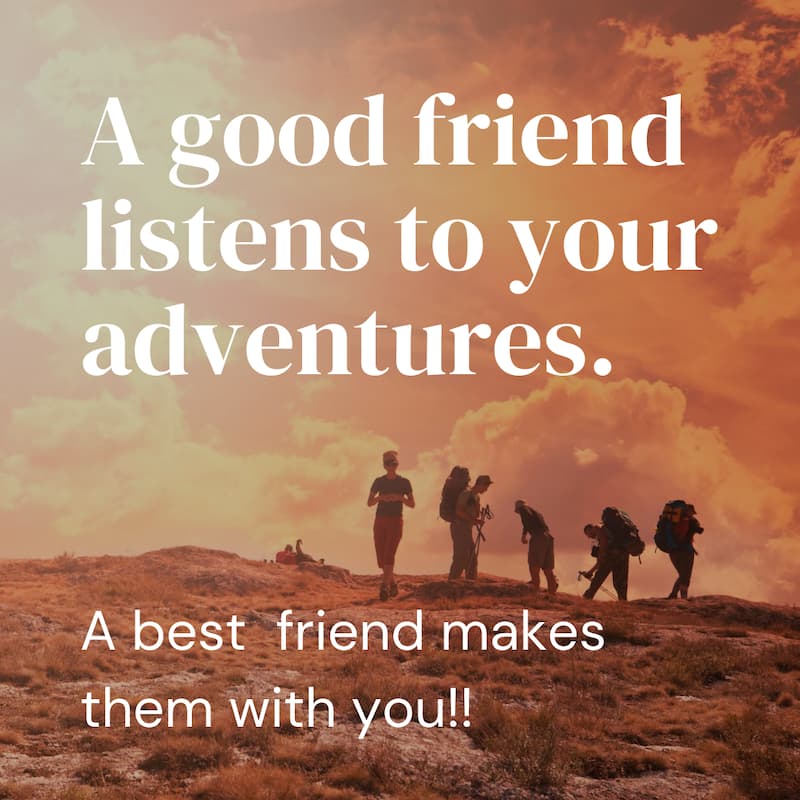 "A good friend listens to your adventures. A best friend takes them with you!" We all need at least one friend like this.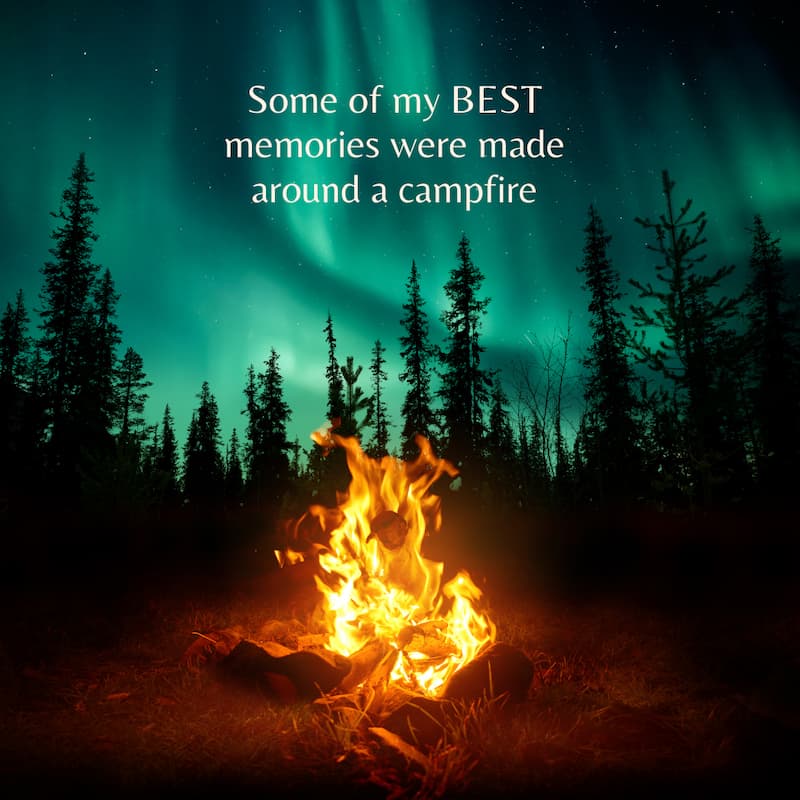 "Some of the best memories were made around a campfire."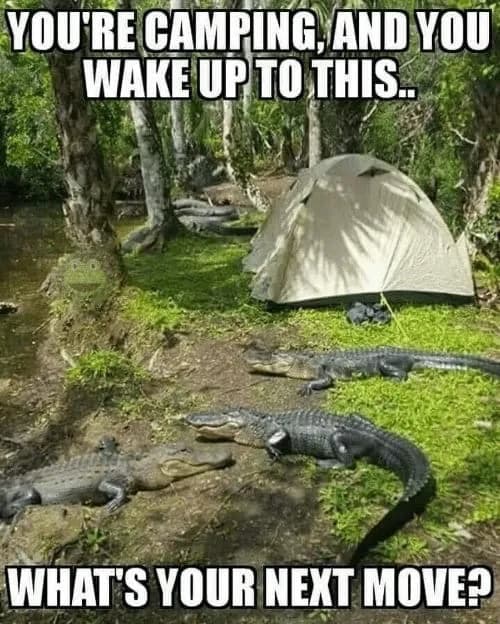 You're camping and you wake up to this…. What's your next move? Can you even imagine? I shutter at the thought.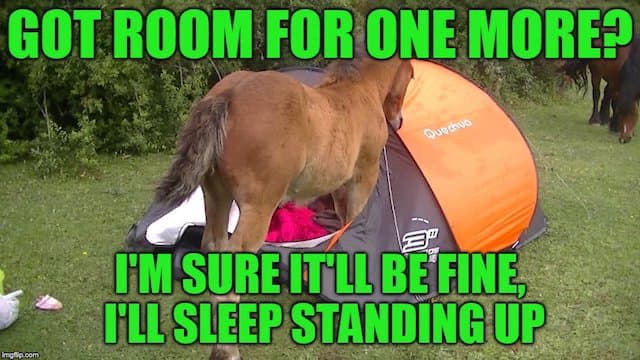 Got room for one more?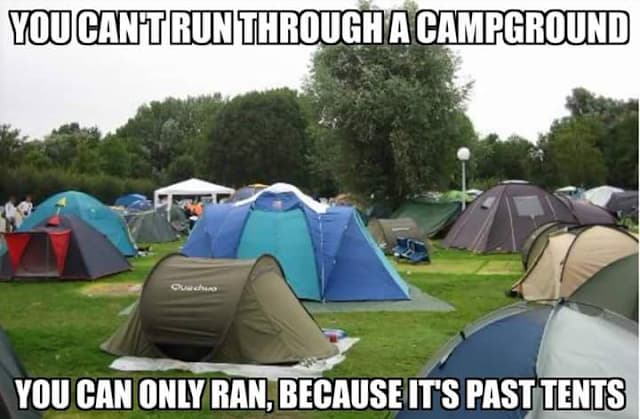 "You can't run through a campground. You can only ran, because it's past tents." – The homeschool mom in me loves this grammar take on a funny camping quote.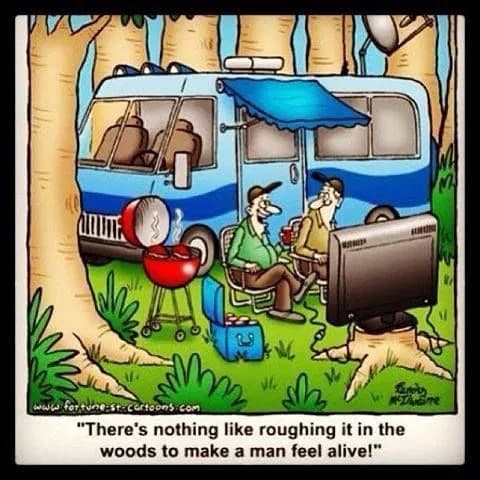 There's nothing like roughing it in the woods to make a man feel alive.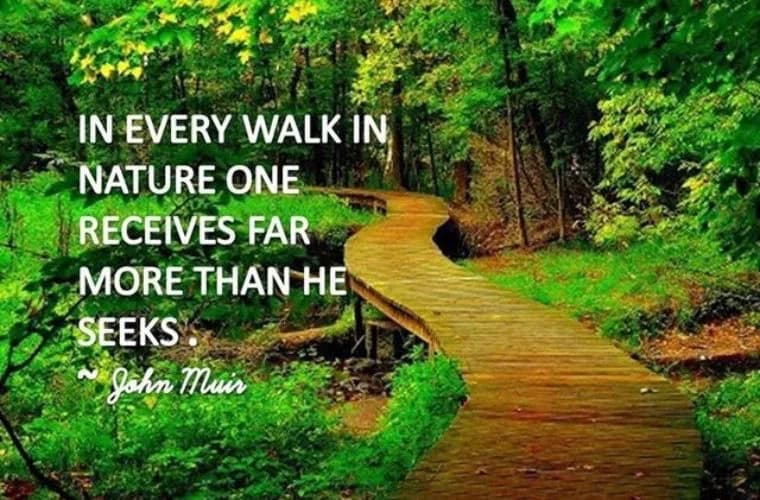 "In every walk in nature one receives far more than he seeks." John Muir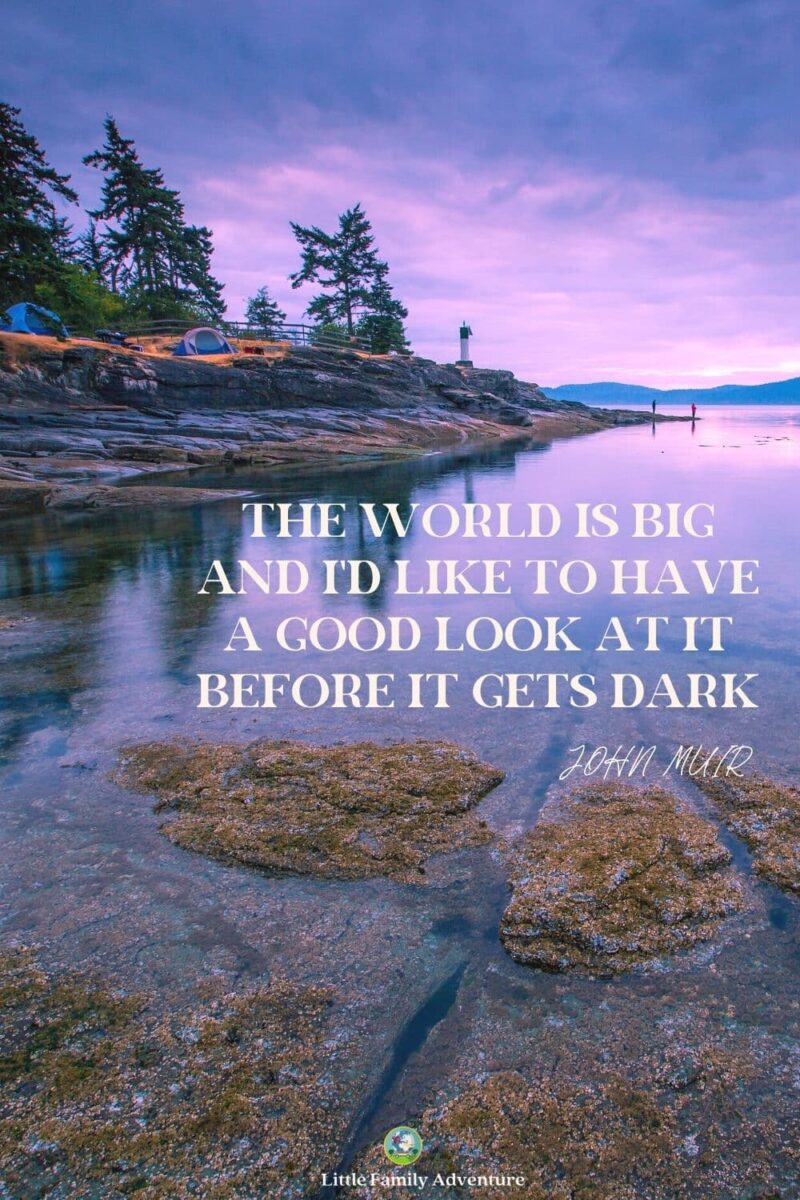 "The world is big and I'd like to have a good look at it before it gets dark." I will end with this John Muir quote and camping meme. There is so much to see and explore. Get out there and go do it.
If you need a little inspiration to get outdoors more, please take a look at our latest outdoor stories here on Little Family Adventure.