Imagine waking up in your Kona Kai Resort hotel room pulling back the curtains to see a stunning view from your own private balcony. You walk down the walkway and go out onto Kona Kai Resort's private beach, where you can enjoy lounging in the sun by day or seated by the bonfire at night. From Kona Kai Resort & Spa, it's only about 15 minutes by car to downtown San Diego and La Jolla Cove for plenty more things to do!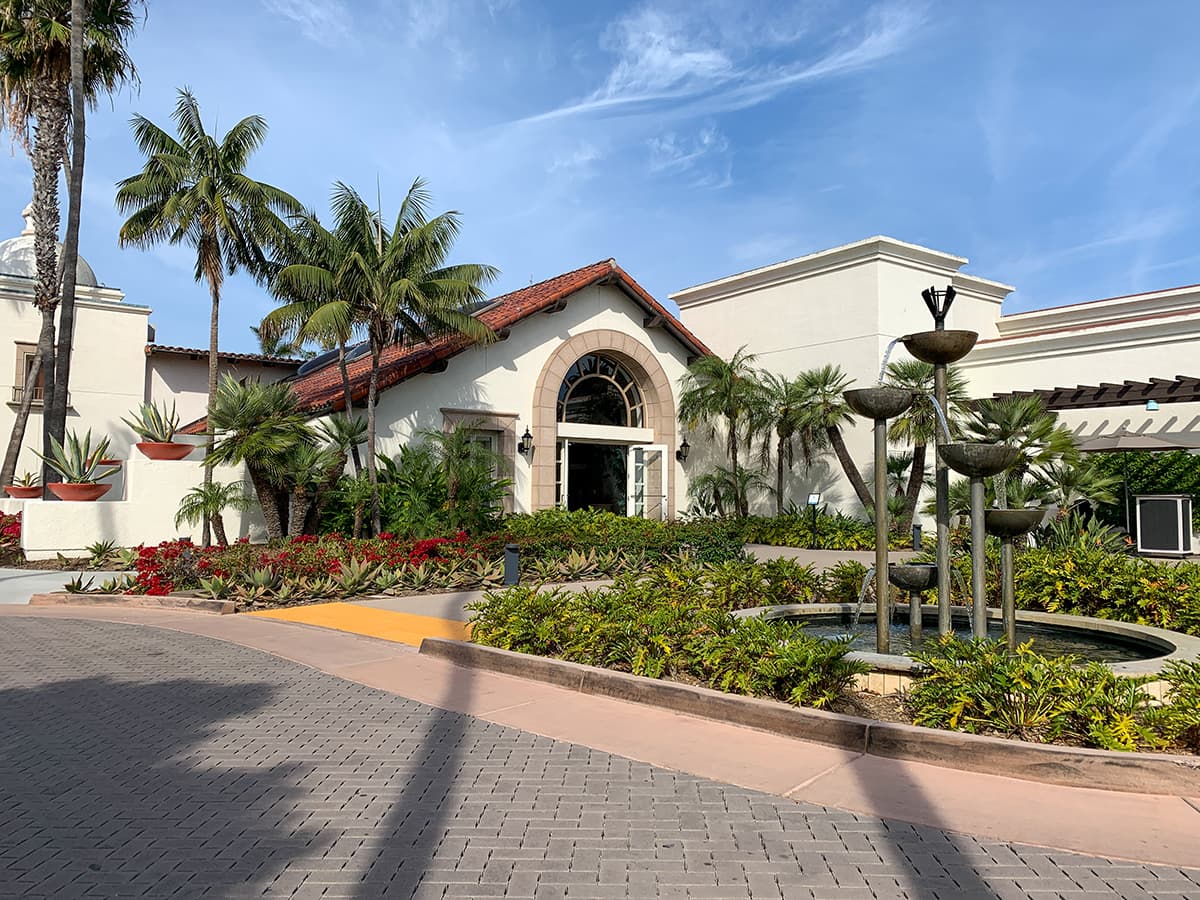 Kona Kai Resort & Spa
The Kona Kai Resort is considered one of San Diego's top resorts for families and for weddings. Having undergone a massive renovation in 2018, the resort is better than ever!

The Kona Kai Resort is an 11-acre property located on beautiful Shelter Island in San Diego. It features a private beach, spa, state-of-the-art fitness area, Vessel restaurant, marina, and two pools. The location provides easy access to the area's top attractions and sites in San Diego and La Jolla.

Reasons to Stay at Kona Kai
The resort invited me to come and stay with them during a recent trip to San Diego. After staying here at this Shelter Island hotel, I can say that this is one of my favorite hotels we have ever stayed at – with beautiful amenities, quiet setting, friendly service, comfortable accommodations, and an ideal location.
Here are my top ten reasons why you'll love Kona Kai Resort & Spa too:
Excellent Location
Located on Shelter Island, a small island in San Diego Bay, the resort is a short drive from everywhere. You are three miles from downtown and ten minutes from the airport. Yet, the island location provides a quiet escape from the busy city without being too far removed from it. This makes it the perfect place to be for a relaxing vacation any time of year!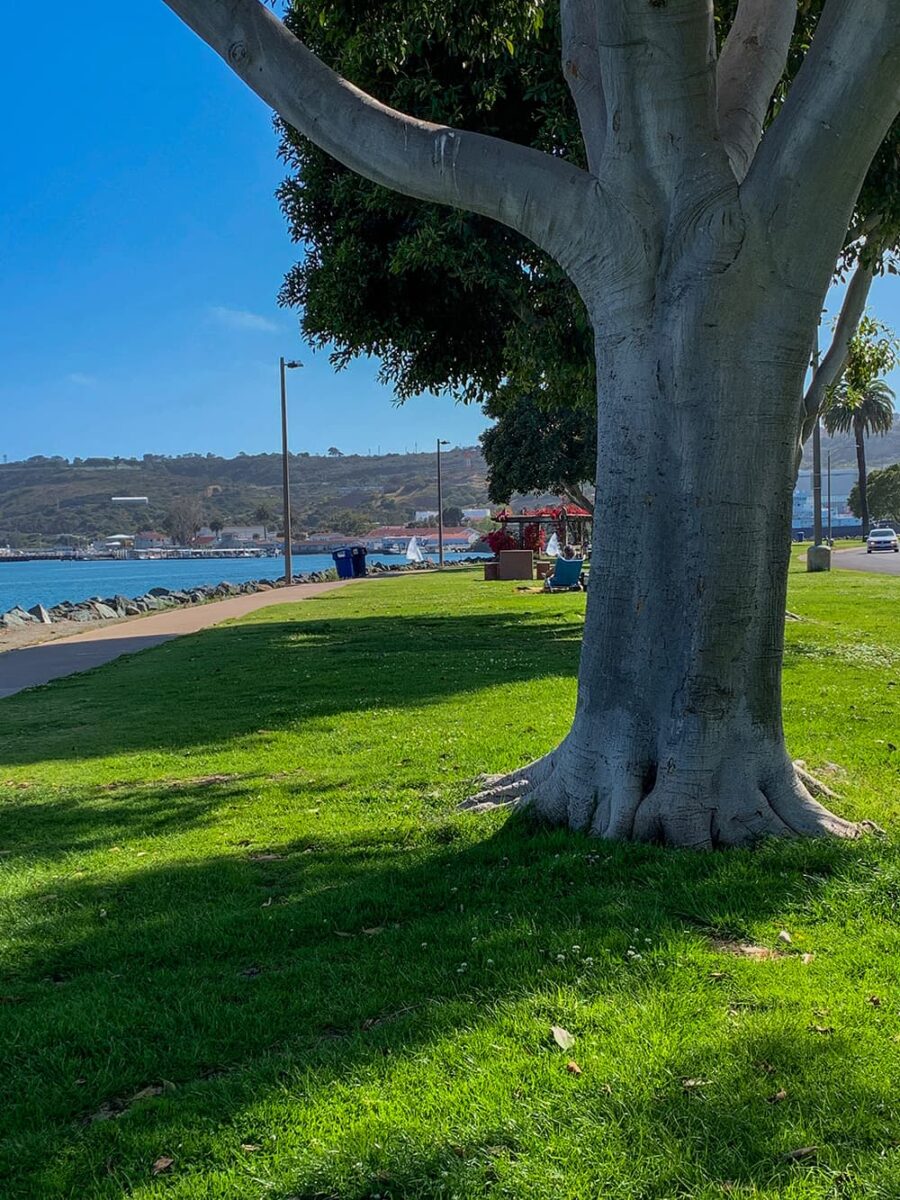 The tip of Shelter Island where the resort is located is picturesque. The left photo above is the walking path and park adjacent to the resort. I loved this walking path. Down the way, there was a children's park with playground and a fishing pier. In the other direction, is this pavilion (picture right) with the Japanese Friendship Bell presented to the people of San Diego from its sister city in Yokohama, Japan.
Walking and jogging along the path in the mornings or evenings is a convenient way to take in the sights and get a little exercise as well. The park is a great location for a picnic too!
Spacious Rooms
Kona Kai offers 170 luxury guest rooms including 41 new suites with large balconies to enjoy breathtaking views from their property on Shelter Island. I stayed in a Marina Junior View Suite during my stay. My suite was furnished with island-themed decor, featured two seating areas, a deep soaking tub in addition to the shower, and a bed so comfortable that I didn't want to get out of it.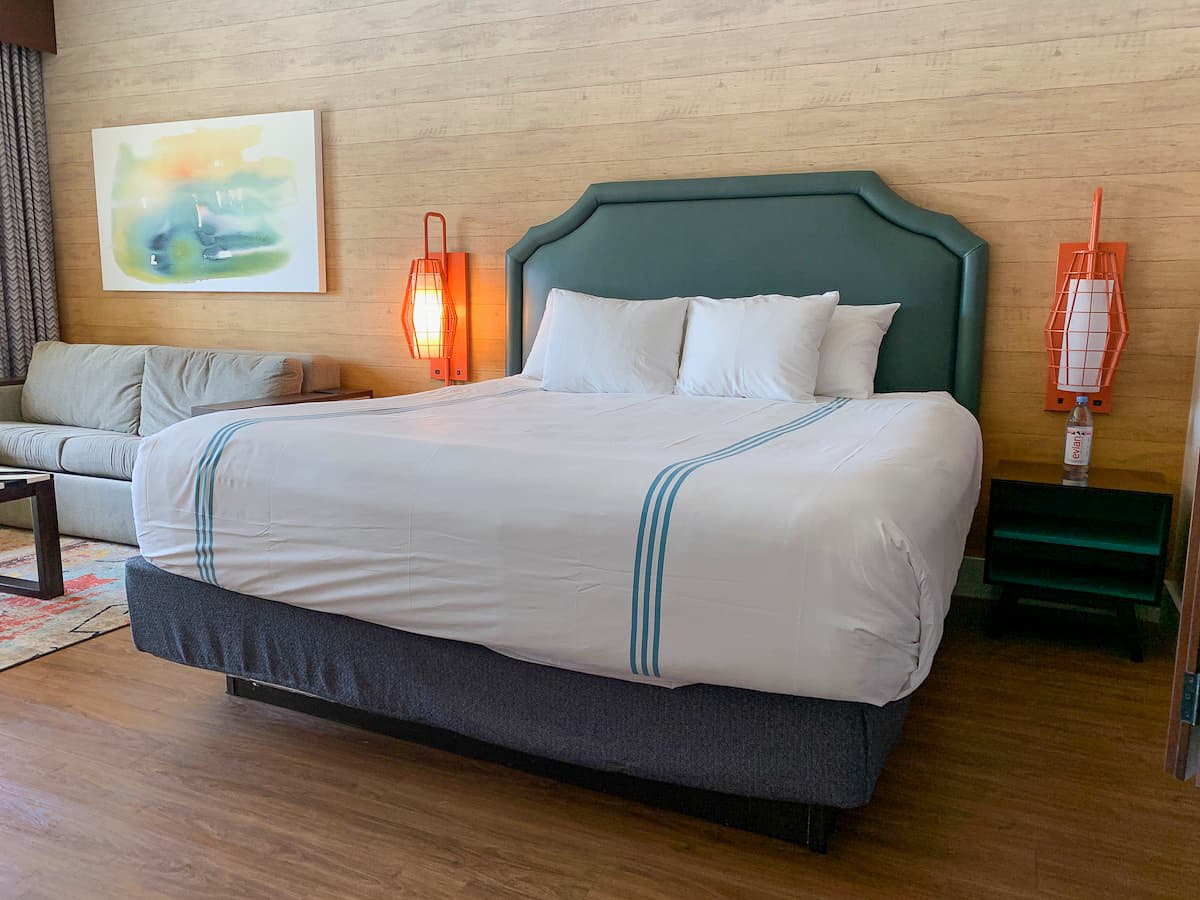 Note: The resort offers one and two-room suites ideal for families to spread out and relax too.
Private Beach with Nightly Bonfires
Gathering around a bonfire is a perfect way to unwind after a long day. This was one of my favorite resort amenities. Every night gas logs are lit on Kona Kai's private beach for guests to enjoy. You can gather around to share a drink, roast marshmallows (s'mores kits available for purchase), and share stories.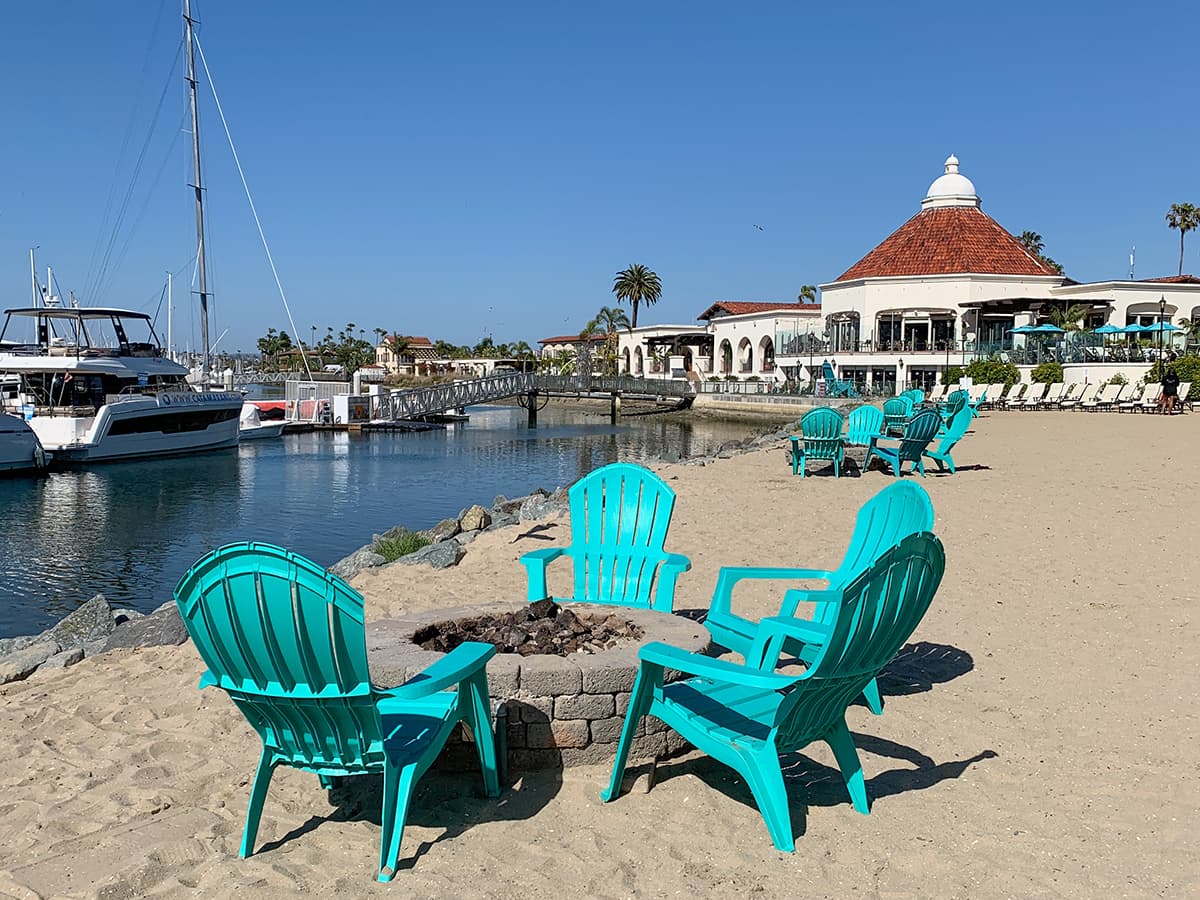 During the day, lounge around on the beach and enjoy the Southern California sun. Lounge on one of the lounge chairs or reserve a cabana. The beach isn't very large, but guests have it all to themselves. This is one of the only private resort beaches in the area.
Family-Friendly Activities
There is plenty to do here for kids of all ages. Aside from the nightly bonfires, there are lawn games, beach volleyball, badminton, complimentary (for 2 hours) beach cruisers to bike around the island, movie nights, yoga classes at the fitness center, and a heated pool. Note: There are actually two pools, but the Paloma Pool is for adults only.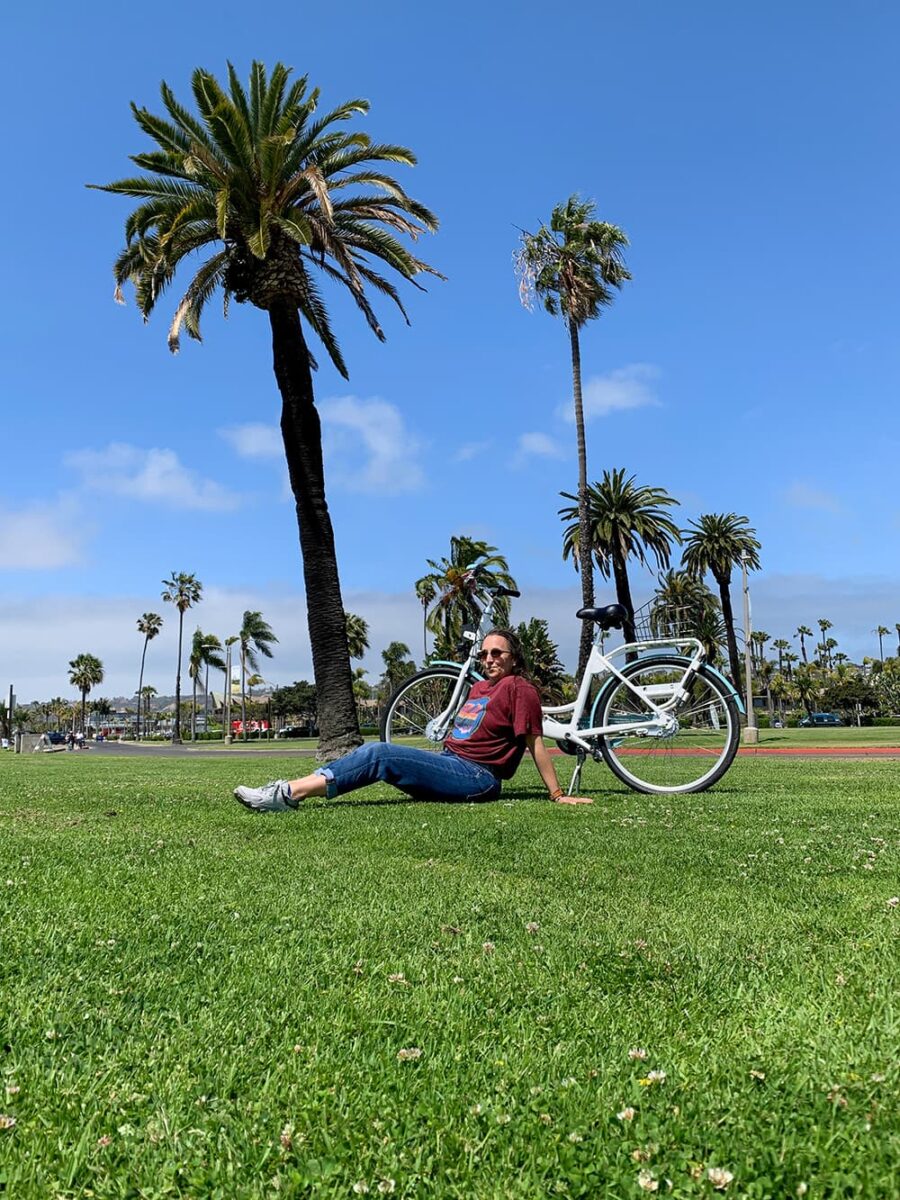 Kids also love the camp-out experience with a canvas tent and campfire playset set up in your room (additional fee).

On-Site Marina and Water Sports Equipment Rental
Imagine beginning your day paddle boarding or kayaking on the bay. Action Sport Rentals is the on-site provider for both silent water and motorized watercraft rentals.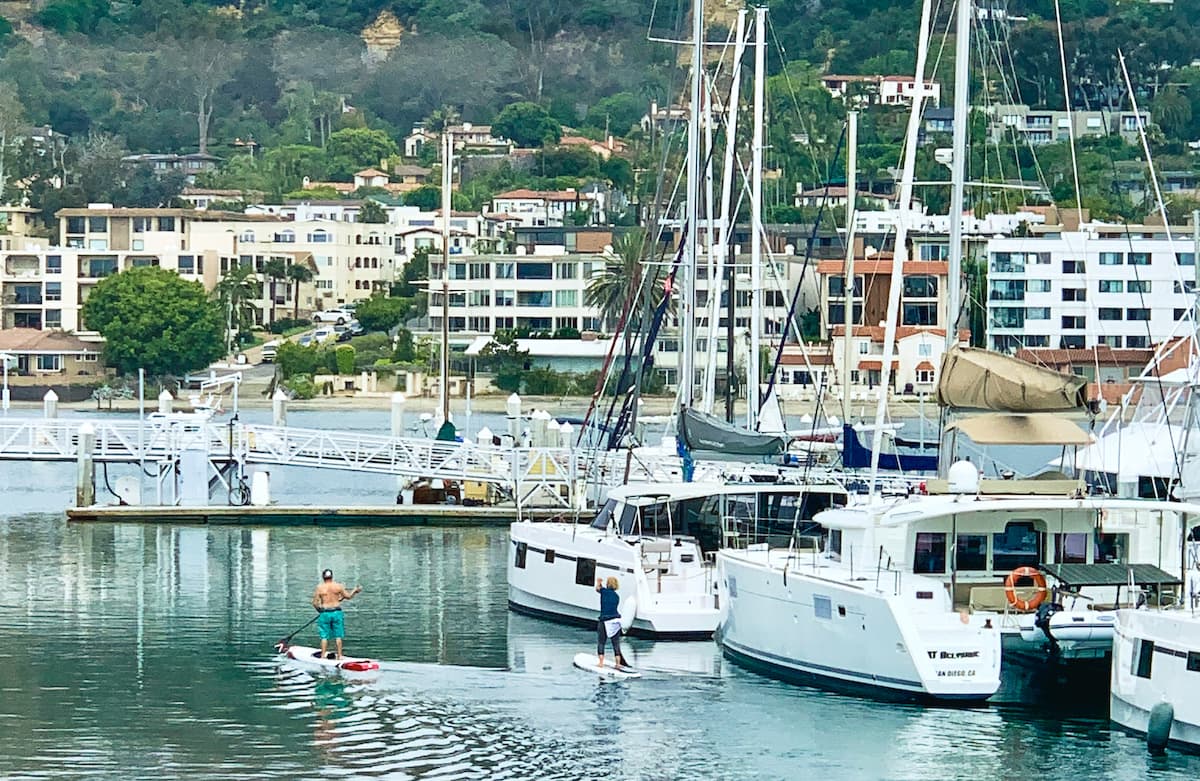 You can find everything from a kayak and SUP to jet skis and power boats. Whichever adventure is more your speed, you'll enjoy being in Kona Kai's private cove and/or on the bay.
Dining with a View at Vessel Restaurant + Bar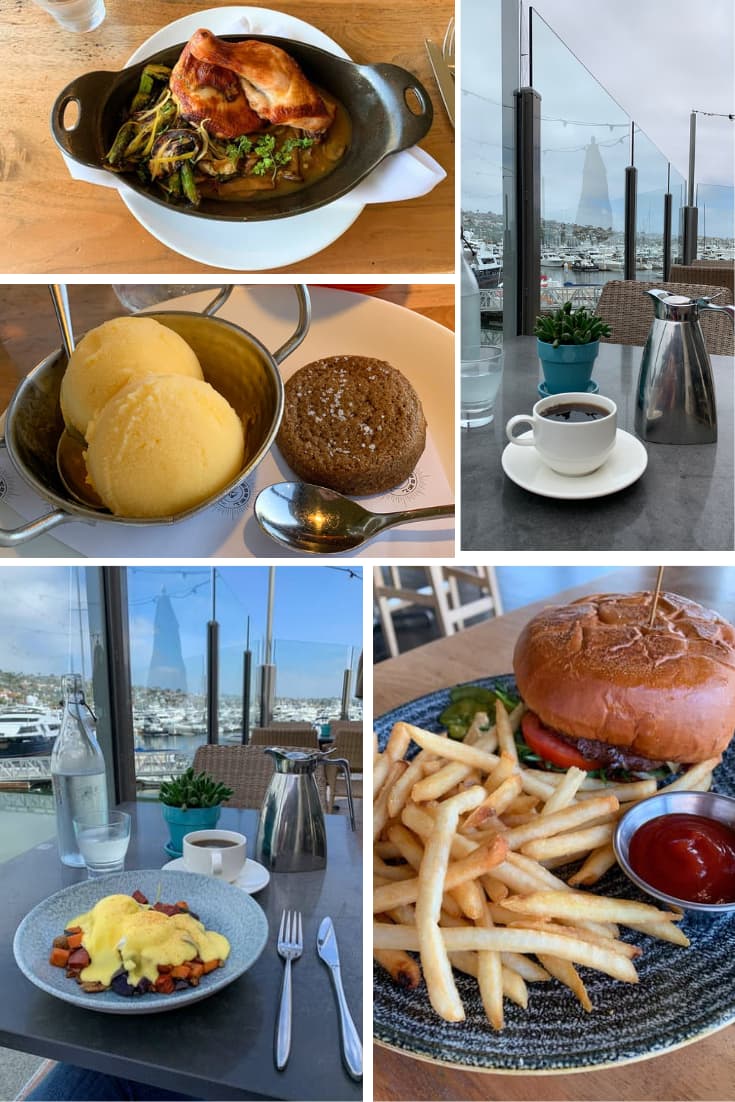 Enjoy 180˚ views of the marina, pool, and private beach from the resort's on-site restaurant serving breakfast, lunch, and dinner. Vessel's menu is a mix of traditional and contemporary cuisine from around the world. For breakfast, I highly recommend the benedict and the half chicken for dinner.
Onsite Spa – SpaTerre

Named one of the 10 Best Spas in San Diego by Condé Nast Traveler's. SpaTerre offers a range of services for both men and women. Enjoy personalized treatments such as massage therapy, facials, body scrubs, manicures/pedicures or one of their spa packages like the rejuvenating Kona Kooler.
Note: Check the resort's seasonal packages/deals on your stay, spa, and added amenities.

Nearby Activities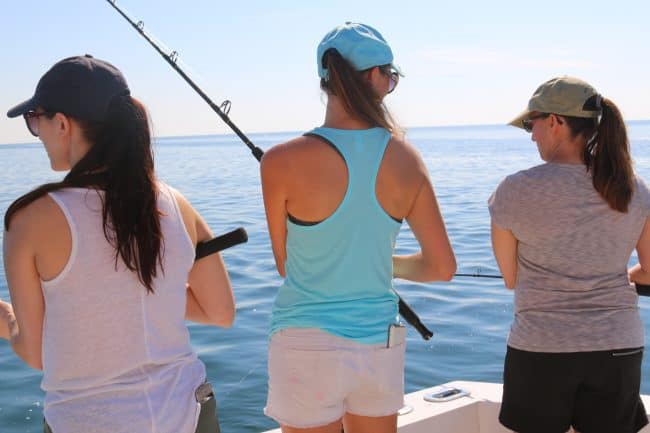 SportFishing – Point Loma is home to several marinas offering daily sportfishing charters. If fishing is on your wishlist, you can easily book a half or full-day charter to catch your fill of yellowtail and California corbina.
SeaWorld San Diego – It's also just a few minutes from Kona Kai Resort & Spa to see the world-famous SeaWorld San Diego. SeaWorld is just a short 5-mile drive from the resort (under twenty minutes). So swing by and get your adrenaline pumping on a rollercoaster ride like the Electric Eel! Get Tickets Here.
Find more things to do on this 2 day San Diego Itinerary with Teens article.
Point Loma Cabrillo Monument – It's a quick drive to Point Loma, for its famous Cabrillo Monument, tidal pools, and whale watching. This is San Diego's only National Park and the views from the monument are stunning.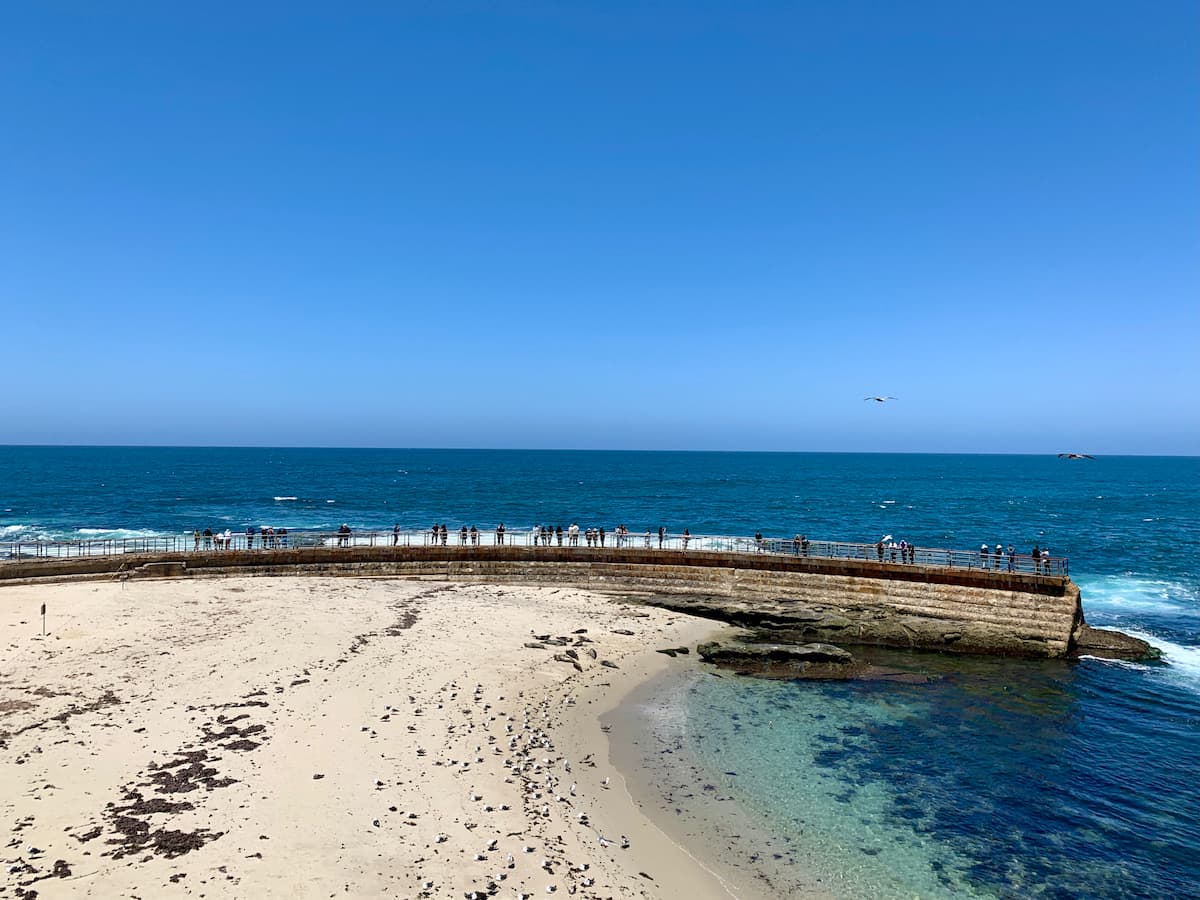 La Jolla Cove – About 20 minutes from the resort is a beautiful stretch of beach offering more tidal pools to explore, the famous Children's Pool offering seal watching, and the La Jolla Sea Caves. Booking a kayaking tour gives you the best views of those caves and if the water is calm, you may be able to go inside. Read more about the La Jolla Sea Caves and Kayak Tour we did.
On your next visit to San Diego, Kona Kai Resort & Spa is the perfect choice for families. Whether you're lounging by the pool or strolling down to the beach, we find plenty of onsite family-friendly activities. The location can't be beat! Being a quick drive to all the top things to do in San Diego but still provide the quiet vacation setting you want. Kona Kai is the best of both worlds. Visit their website and book your stay today!
Discover more California Destinations and Paking Help here: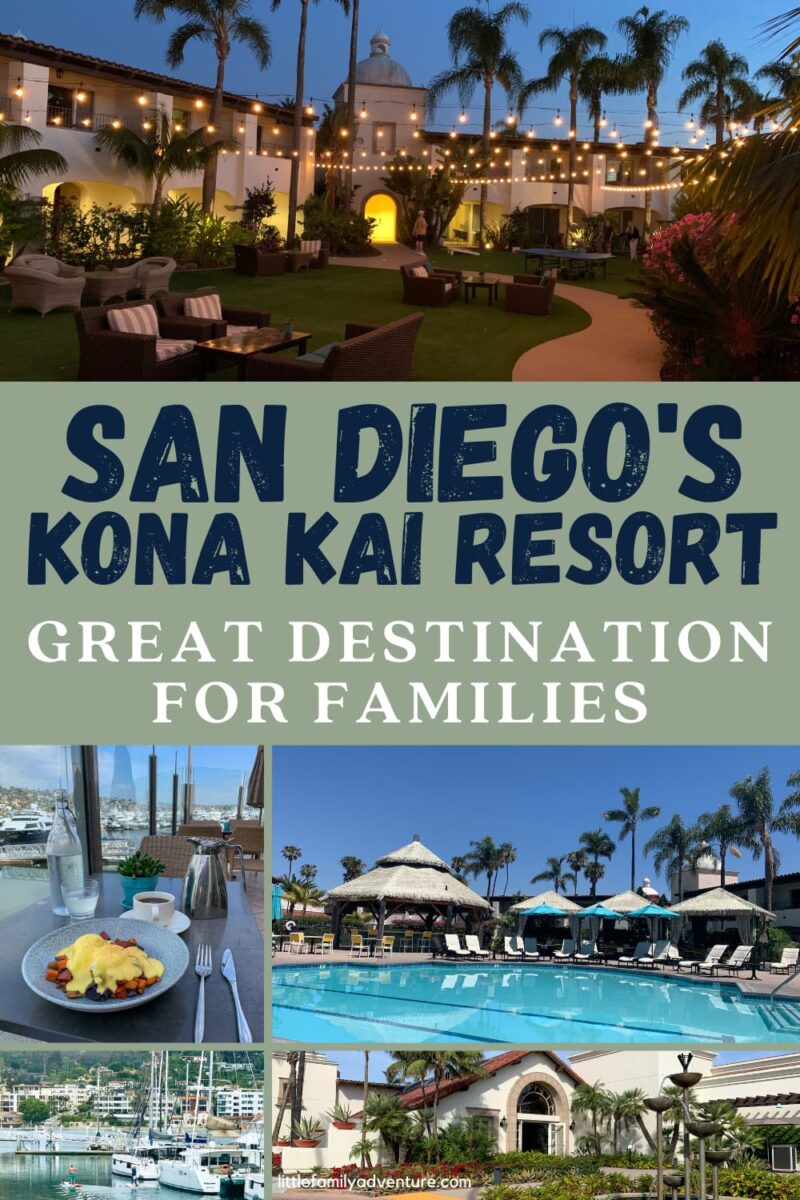 Thank you to Noble House Hotels and Resorts for providing a complimentary stay. I thoroughly enjoyed my stay and sun-drenched escape to San Diego. I look forward to returning again and again.