The sea caves in La Jolla, California are world-renowned for their natural beauty and the mystery that surrounds them. A visit to the caves and nearby La Jolla Cove is a must for area visitors. I recently traveled to San Diego and partnered with Viator to book a sea caves kayak tour. What an experience to see these sea caves up close! For anyone considering a sea caves kayak tour, I highly recommend it and want to share everything I learned on this trip.
There is so much to know about these magnificent sea caves, from how they were formed, what you'll see on a kayaking tour, to where you can stay nearby. I put together this ultimate guide of everything you need to know about visiting the sea caves in La Jolla, California!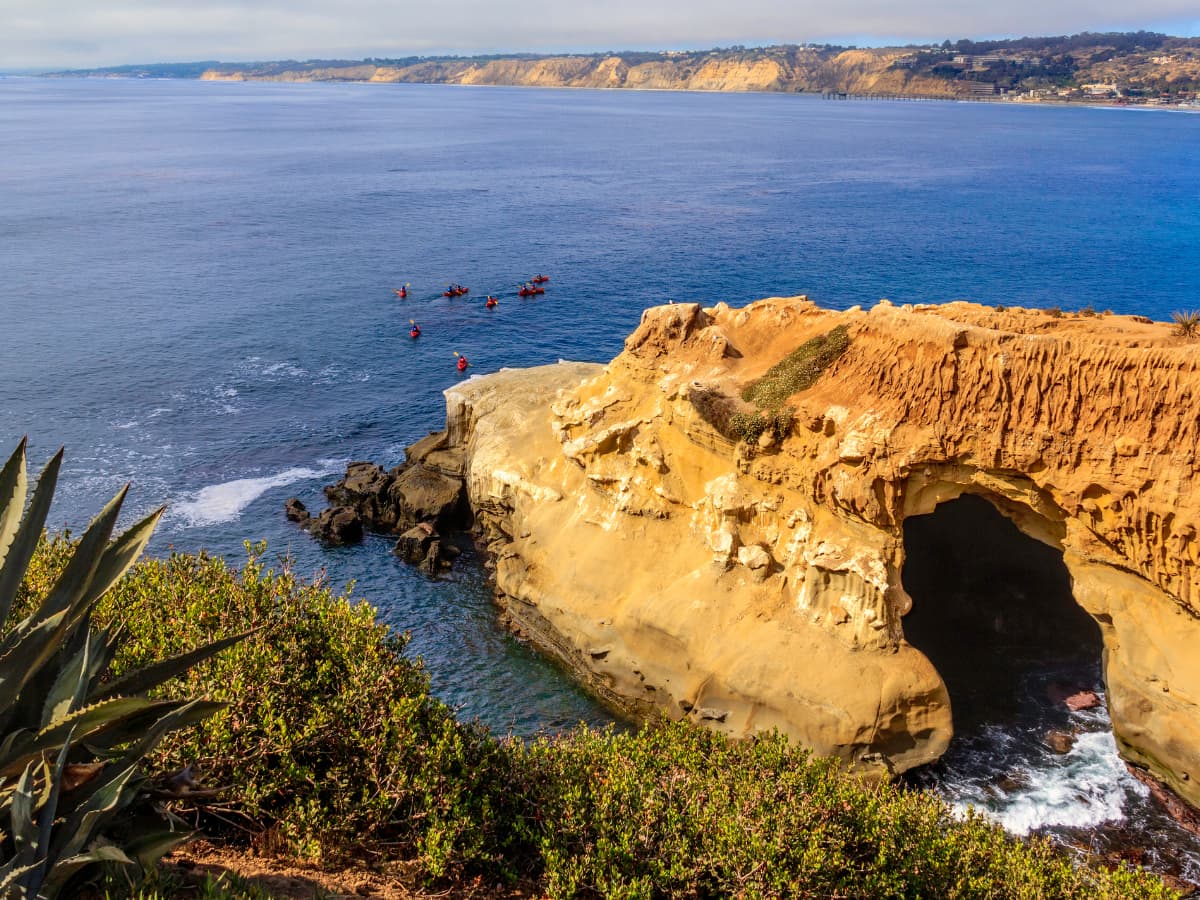 What are the La Jolla sea caves?
La Jolla's sea caves are a popular tourist destination. So popular, in fact, that they are listed as one of the top things to do while visiting La Jolla and nearby San Diego.
There are seven caves carved out of La Jolla's sandstone cliffs. Their names are Sunny Jimmy's Cave, Arch Cave, The Clam's Cave, Little Sister, Sea Surprize, Shopping Cart, and White Lady. The five largest sea caves range from 600 to 800 feet (183 – 244 meters) deep at their mouths and feature a variety of shapes and sizes.
There's one cave, Sunny Jim Cave, located underneath the Cave Store that has a really interesting history with bootleggers and the film industry.
Where exactly are the La Jolla Caves?
The caves are located at the base of La Jolla's sandstone cliffs just off of Coast Blvd. They can be found between La Jolla Beach and La Jolla Cove within the San Diego – La Jolla Underwater Park & Ecological Reserve. It is easy to find using Google Maps or Apple Maps. There is also signage nearby directing you there.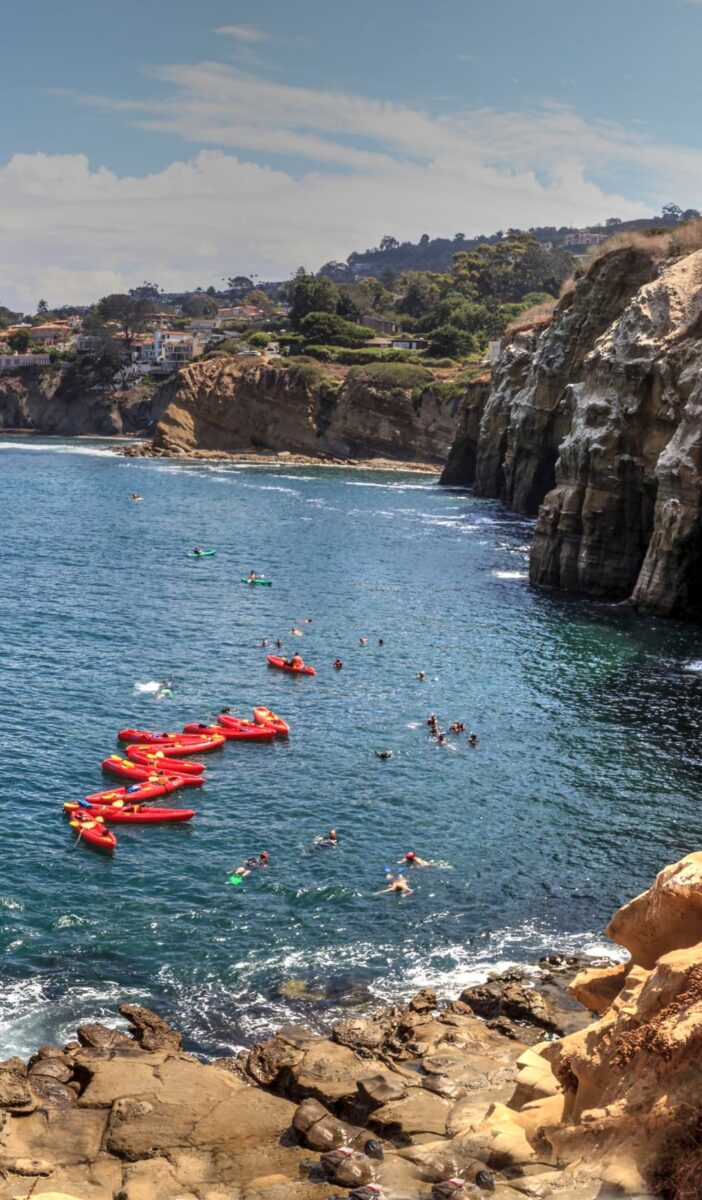 How were the sea caves in La Jolla formed?
Sea caves form on the outer part of cliffs, where waves break. As water is heavy and full of salt, it begins to erode rocks. If you're curious, that process is called "littoral erosion". Some sea cave formations take hundreds of years to be created- others can be eroded away in just days. In addition to being eroded by water, they are also hollowed out by sand particles suspended in ocean currents that come from offshore sandbars.
What's the best time to visit the sea caves?
The best time to visit the caves is during low tide. You'll see all the different levels of sandstone along the cliffs. Depending on the current and wave conditions, you may be able to go into the caves when doing a kayaking tour.
What will you see at/near the caves?
One of the most interesting things about sea caves is that they're not always visible from shore. That's the case with these sea caves. Six of the seven caves can only be accessed from the water. Booking one of the La Jolla kayaking and/or boat tours is the best way to see those caves. The seventh cave, Sunny Jimmy's Cave, is the only one accessible from land.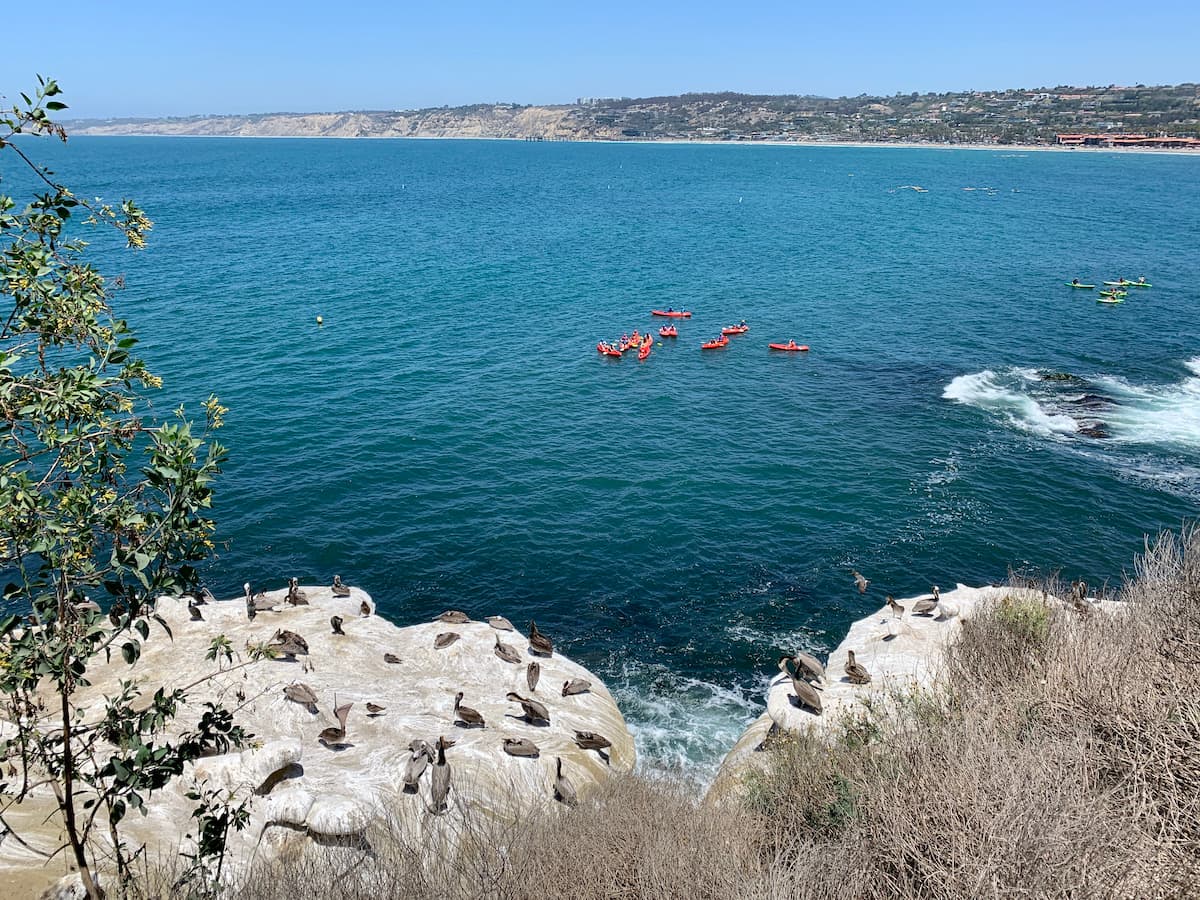 View Sealife
As you paddle your way to these beautiful formations, you'll see seals, California sea lions, harbor porpoises, sea otters, fish, sea birds, leopard sharks, and more. From shore, you can view birds from the beach. But it's a little harder to see other sea life. However, I highly recommend hiking/walking along the Coast Walk Trail. The trail is elevated along the edge of the sandstone cliffs. You get a great view of the caves, sealife like seals and sea lions, and sweeping views.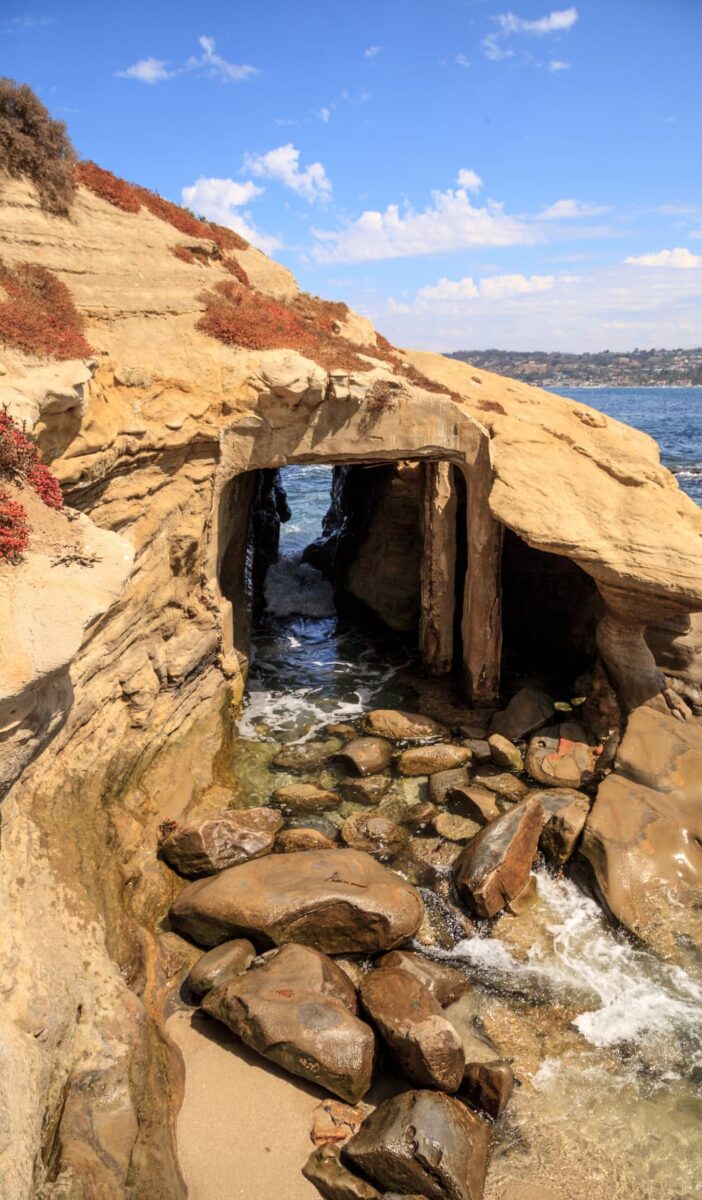 Cave Exploration
Arch Rock is the 2nd deepest sea cave in California, measuring at about 680 ft deep. The most extensive of La Jolla's seven original caves, Arches now looks like a single archway between two large tunnels filled with different corridors and narrow passages due to active erosion over time. This area can be hazardous for visitors that do not know what they're doing or are unfamiliar with how this type of environment works; it would be best viewed from water after all!
The Clam's Cave is the Westernmost cave with multiple entrances and exits. The main entrance makes it popular for kayakers who want to enjoy the beautiful ocean views from inside where they can explore without worry of getting hit by larger surf conditions outside. Guides are highly recommended if you've rented equipment, but on tours we'll take you safely through this protected space that's rich in marine life!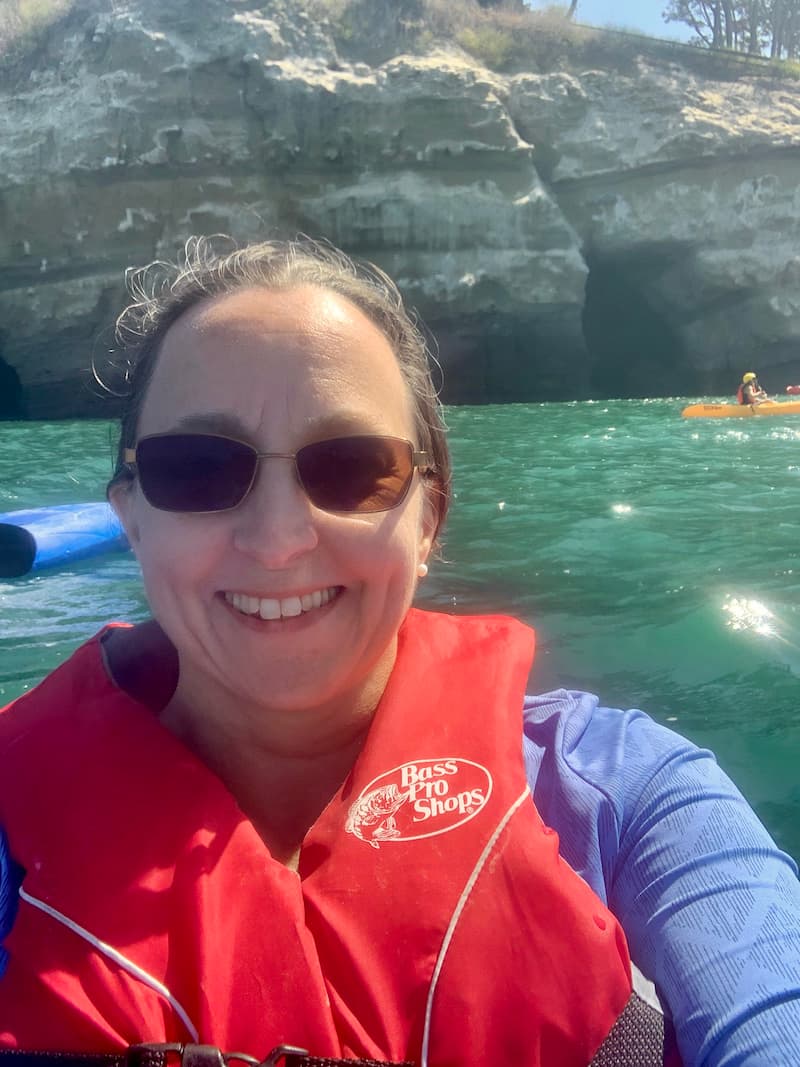 There are some spectacular views of the sea caves from La Jolla Shores, which is one reason why it's a popular tourist spot.
Sunny Jim's Cave is the most famous of our 7 sea caves of La Jolla. is Sunny Jim's Cave. It was originally owned by Gustav Shultz, who owned the home above the cave in early 1900s. He hired 2 workers to carve out 138 steps through his living room floor to allow easier access to the cavern below. It took nearly two years to dig out and became one of La Jolla's largest tourist attractions with around 200 visitors a day paying 50 cents for entrance fee. After Gustov passed away, the mafia used this cave during the prohibition era. Today this cave is accessible through the Cave Store. Admission is $7 adults and $5 for children 3-17. Reservations are highly recommended for entry.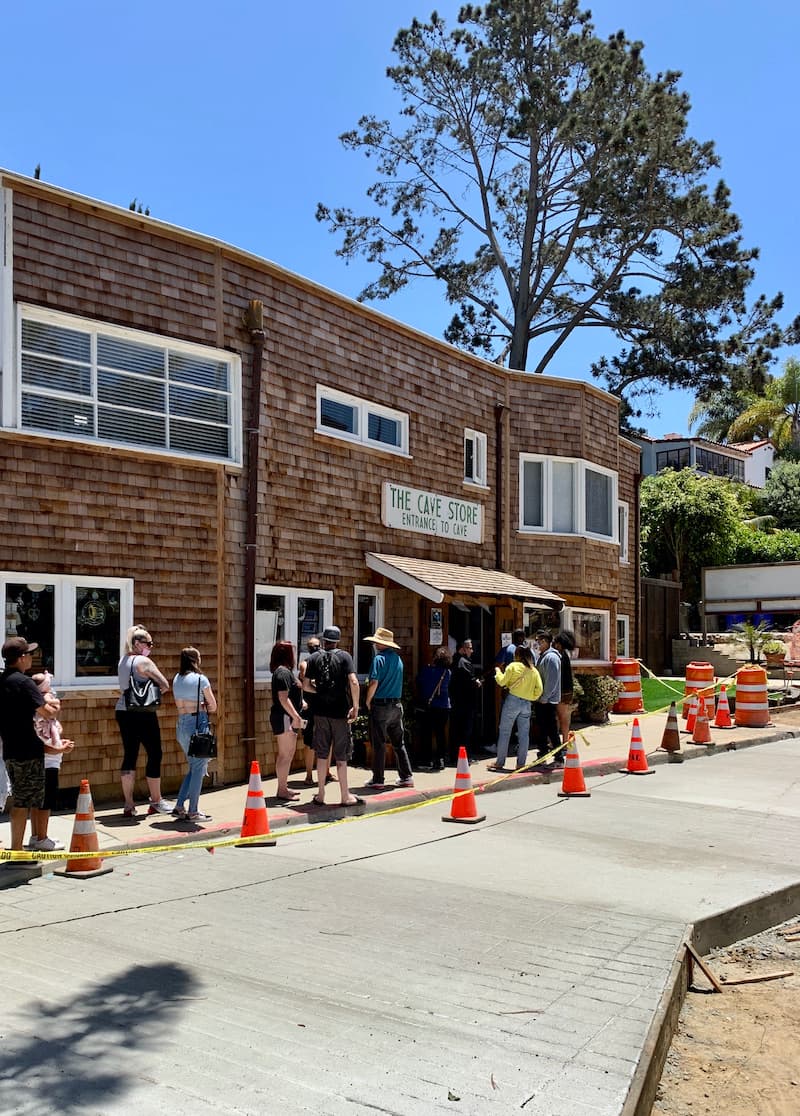 Sea Surprize has a small and unassuming entrance that leads to an 80 foot long tunnel. Once inside, the orange rock walls are said to reflect off of pools of water deep within the caves in which visitors have spotted calcite-coated sea anemones.
Shopping Cart Cave is a west facing cave with the best current so it's easiest to find lost items at sea. The area used to be famous for trapping lobsters during their limited lobster season but now they're only outside of this Marine Protected Area, though you can still see them in October through March!
White Lady is the Easternmost cave covered in a white sea spray that shrouds her and is the most inaccessible. This cave has a white mist is often bombarded with crashing waves from large rocks nearby. The name "White Lady" comes from her long dress silhouette seen through the foggy environment as well as her pure sea spray color which contrasts against the darker background outside of this enchanting place.
Little Sister is the smallest of all the sea caves and is a close sibling to White Lady. A visit here offers an even more intimate experience for those looking to get away from it all. Guides who know this area well can point out its location in person or by boat; but beware: it's often hidden behind other rocks!
If you take a kayak tour, as I did, you will also learn about this area and these caves, historical tidbits, and more geographic information. One fun fact I learned was that the author known as Dr. Seuss resided in the area and one of the residences along the cliffs was the inspiration for The Grinch Who Stole Christmas (or so the story goes.)
How Can I Book a Sea Caves Kayaking Tour?
There are several tour operators in the area. I booked my La Jolla Kayak tour with Hike Bike Kayak Adventure Tours via the Viator website. On Viator, I found all the information I needed, recent reviews, and safety protocols (because I went to California while it still had Covid measures in place.) They have a number of tour operators and other fun tours in San Diego and other areas available.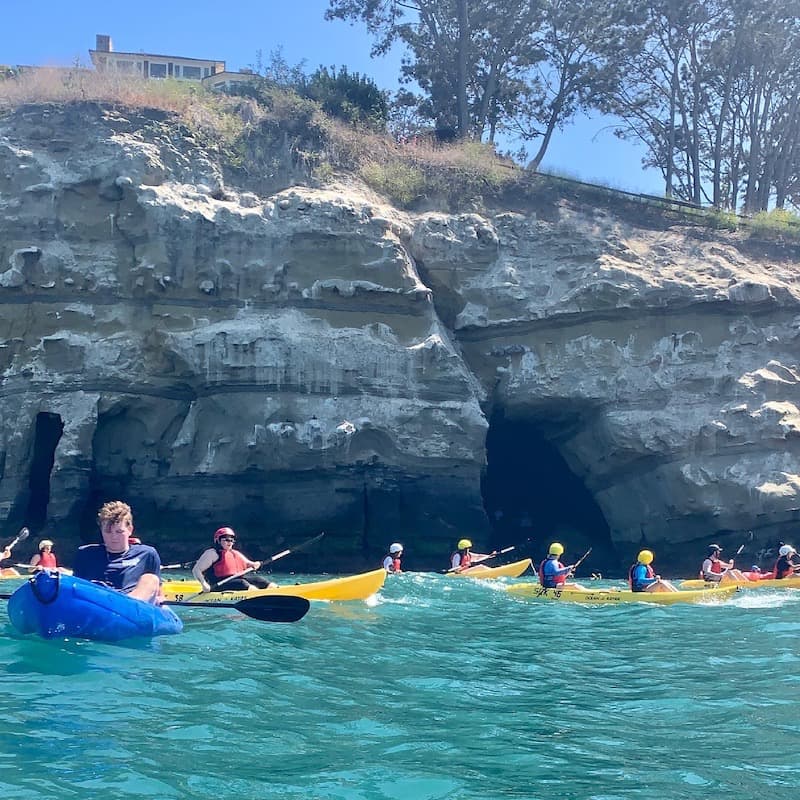 Review of Hike Bike Kayak Adventure – Tour times vary depending on the season. I booked an afternoon (1:30pm) tour just during low tide, which is one the best times to go. The only drawback for me was the sun was high in the sky for taking photos so it backlit my photos of the cave entrances. Next time, I would do a morning low tide tour instead..
Overall excellent experience! It's a 3-mile round trip paddle from La Jolla Beach to the caves and back. The tour takes about 2 hours. Participants book either a single or double kayak (rentals are also available.) and join a group of people for the experience. Everyone paddles out in their own kayak (I had a single kayak) with two tour guides.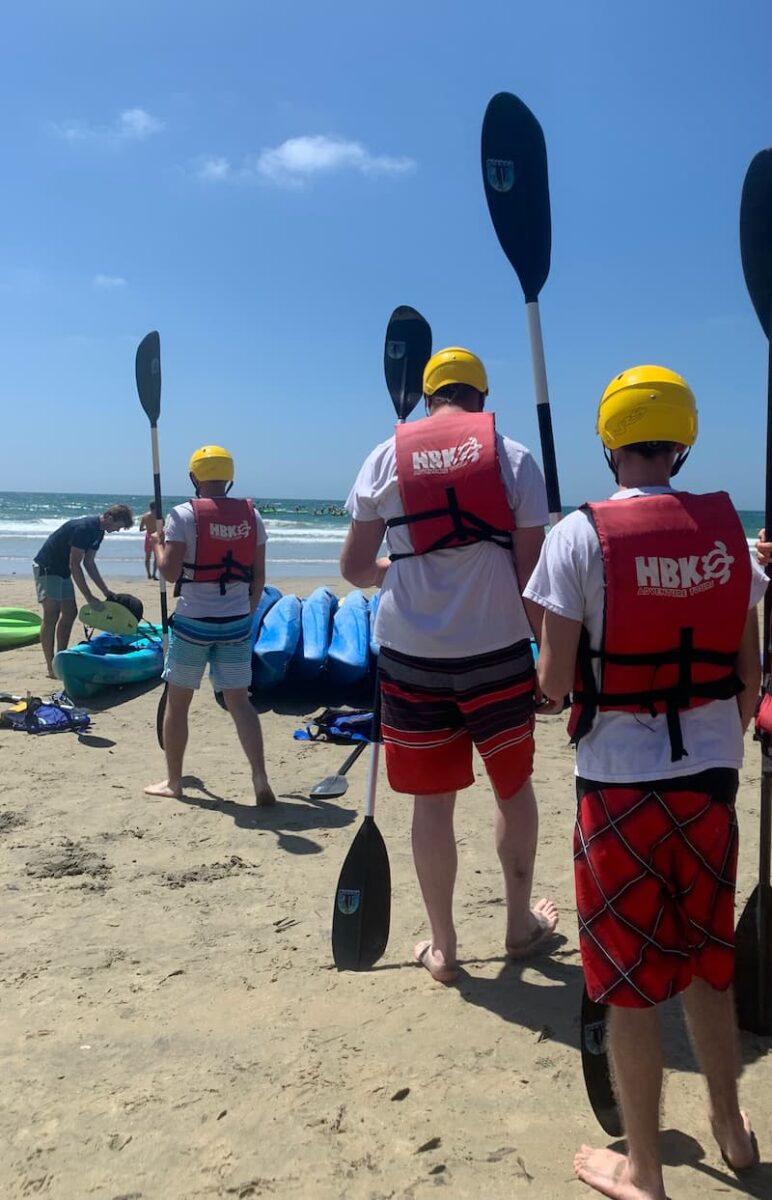 Along the way, the group gathers together at various points to stop and listen to one guide give his/her tour talk. We didn't go into the caves because of wave/current conditions, but it was still a great experience.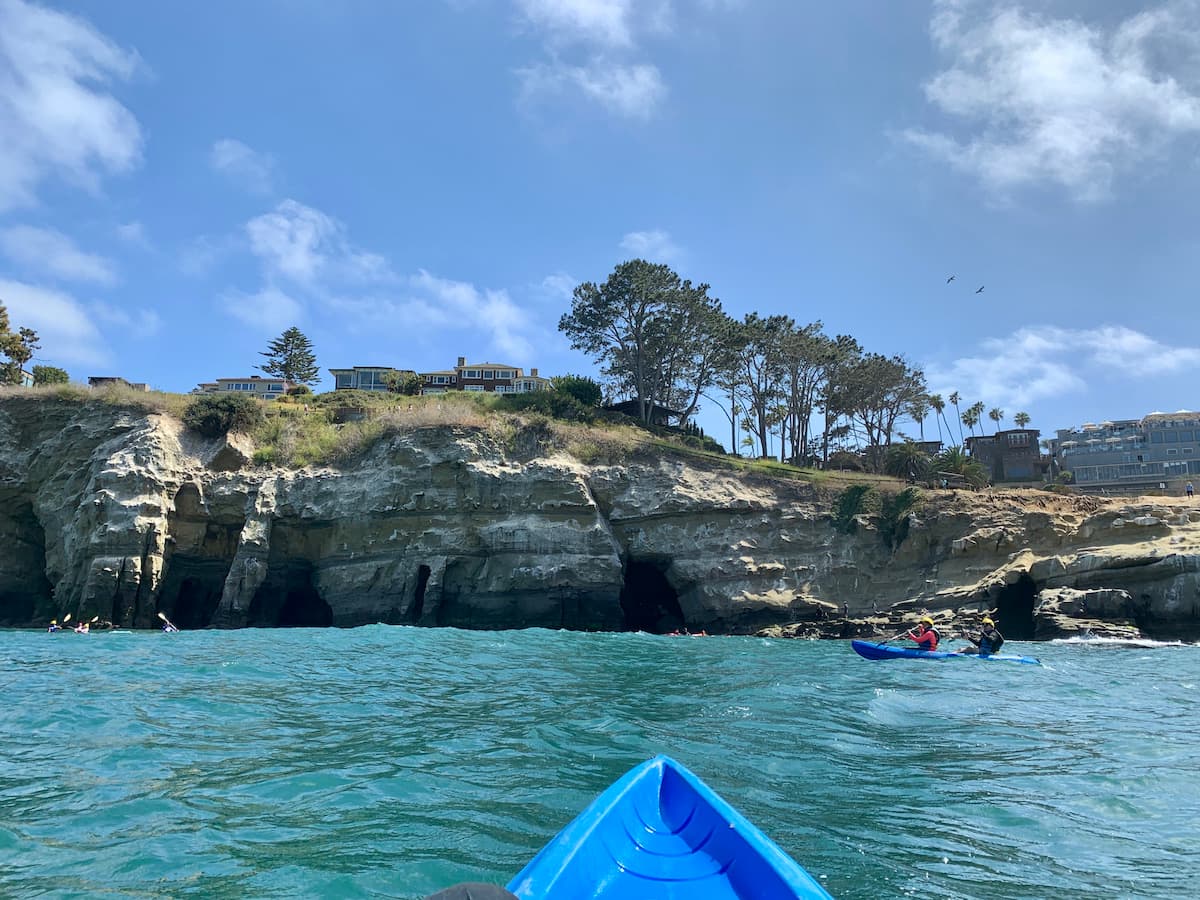 Is there a fee to see the sea caves?
Beach access in the area and parking is generally free. Street parking has a 2 to 3-hour time limit in most places. There are also paid parking lots that charge an $11 flat rate a day.
Cave Store Tours: $7.00 per adults and $5 for children. Tours are available from April to September, with the last entry at 30 minutes before closing time. Thanks to COVID, capacity is limited and reservations are required. Note: I wasn't able to get reservations for my recent trip. I was told by staff that they fill up quickly. So call well ahead of your trip.
Kayak Tours start at $45 per person.
What will you need to bring with you?
Good shoes – You'll need good shoes as there is some scrambling involved when walking around inside these caves. Note: I wore my Keen Newport sandals on land and while kayaking.
What to wear? Wear clothes you don't mind getting dirty. During cooler weather, a sweatshirt is advised as it's damp and cool inside the caves.
Flashlight or headlamp – If you want a better look around inside the caves.
Bathing suit – If you plan to go swimming or snorkeling nearby. If kayaking, this or quick-dry clothing is highly advised.
Towel – If you kayaking, this is a must. Otherwise, it's optional. I took this micro-fiber towel from and highly recommend it.
Dry Bag – If kayaking, pack your change of clothes, towel, and phone in a dry bag. Rental lockers are available at Hike Bike Kayak Adventure, but if you don't want to get your things wet, this is a necessity.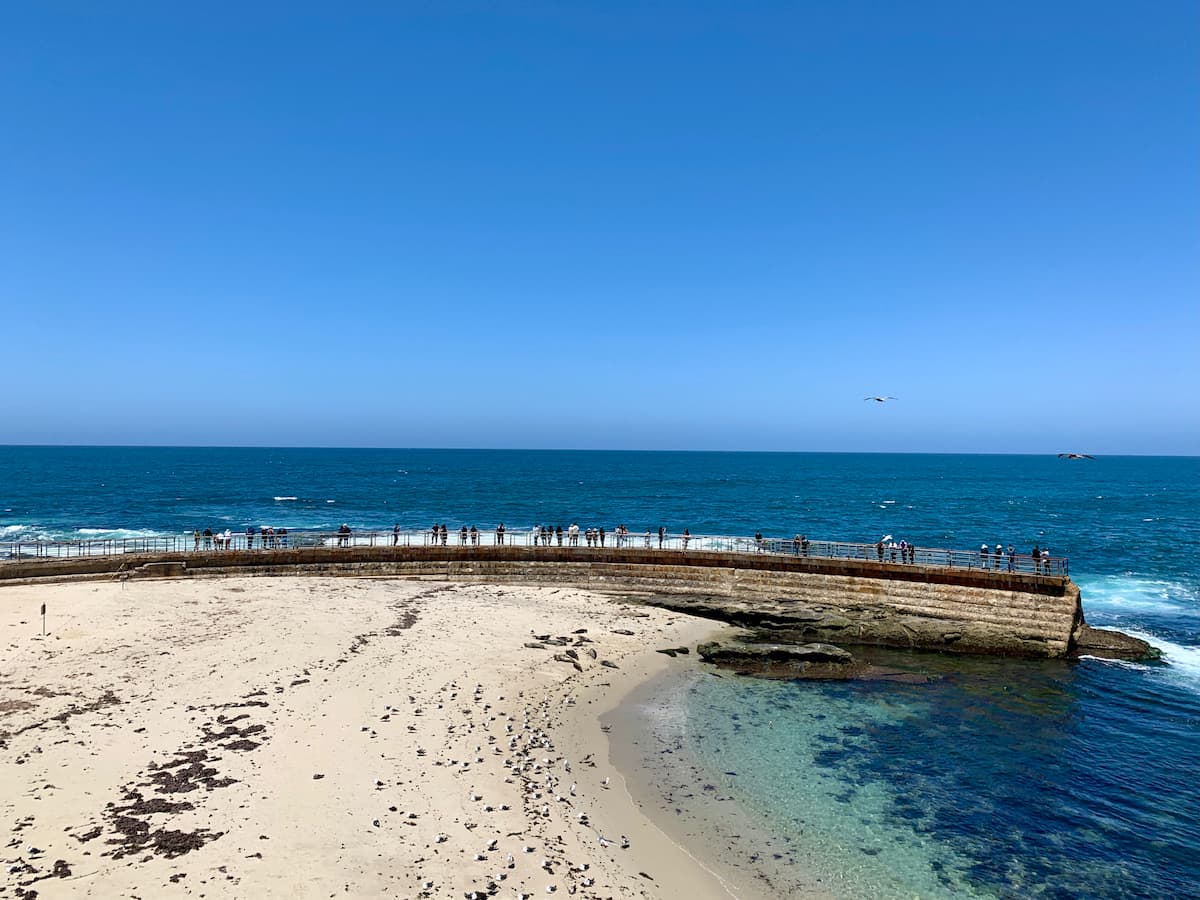 What else can I do in the area?
You can spend the entire day in this area. Nearby, I highly recommend you check out:
Walk around Cave Rock Park
Visit La Jolla Cove
Watch the seals sunbathing at the Children's Pool
Walkout along the sea wall to see the seals and sea lions resting on the beach
Grab a popsicle or ice cream cone from a car or food truck
Visit the nearby tidal pools
Hike Torrey Pines State Natural Reserve (You can hire a local guide to show you the best spots via 57Hours.)
Go snorkeling inside the La Jolla ecological reserve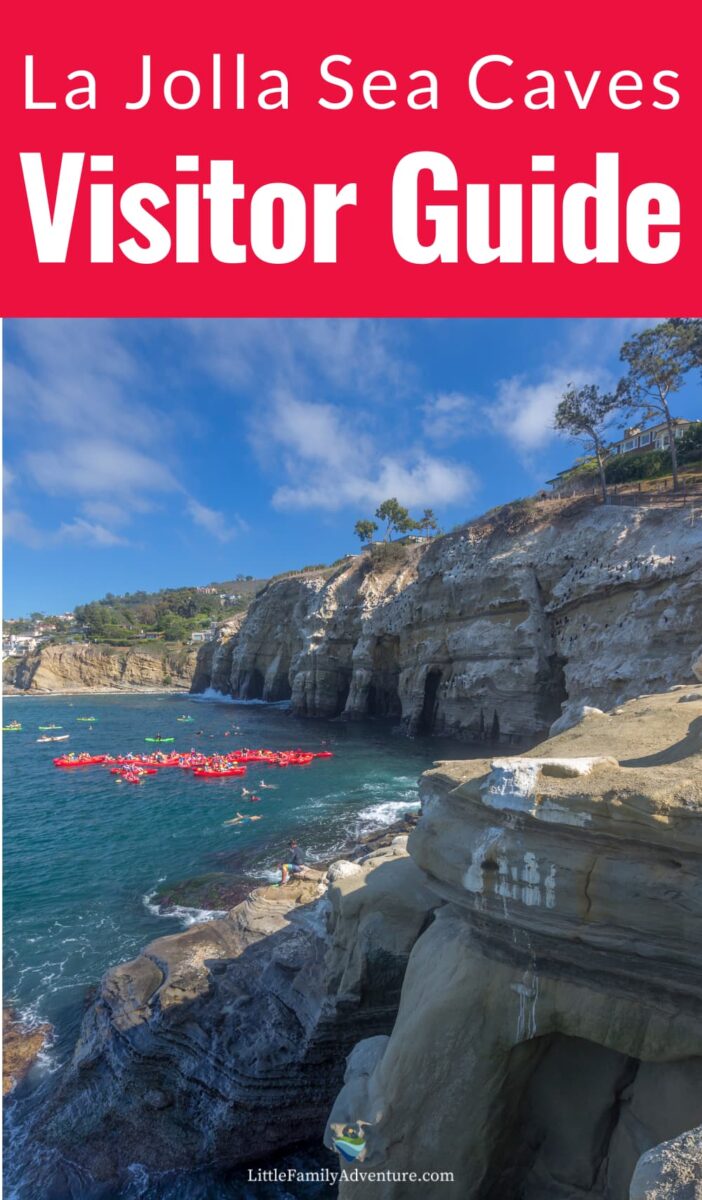 Where to stay in the area?
During my visit, I stayed in San Diego and took rideshare to La Jolla for the day. If you want to stay locally, there are some beautiful properties including the La Valencia Hotel and the Sheraton La Jolla Hotel
Find these and others on Booking.com ad VBRO below:
If you're looking for something more peaceful than crowded beaches or amusement parks, then come check out the seven sea caves of La Jolla has to offer. Stay for the day or make a getaway out of it.
Discover more travel adventure inspiration here:
Thank you to Viator for providing media tour tickets for editorial consideration. All opinions expressed here are my own.