Do you need a quick and easy meal for dinner?
I think we all do. We all have busy lives. There are days when you get home and you haven't even thought about what's for dinner. Here's the solution, Pollo Corrido, Fast Chicken Tacos.
Pollo Corrido, literally translated Chicken Run, is a quick meal for dinner you'll LOVE! These chicken tacos are ready in LESS than 20 minutes. How's that for fast? They're easy too! Using chicken breasts, salsa, and a few spices result in a tasty filling for a fun, festive Taco Night. Serve these chicken tacos with black beans or a side salad for a complete meal.
Make dinner extra special with homemade tortillas.
If you want a truly authentic meal, make your own tortillas. They are fairly easy to make and they are SO worth the effort. It will take longer than 20 minutes, but you can always make them ahead of time and store in the freezer or fridge until you're ready to use them. Here's my recipe for flour tortillas using oil. These chicken tacos are great with corn tortillas too! If you corn tortillas, be sure to use 2 tortillas per taco. The chicken is so moist that it will soak through a single tortilla.
So for a quick meal, try Pollo Corrido. You'll have a meal on the table in less than 20 minutes, your family will love it, and it's healthy too.
Yield: 4
Pollo Corrido (Fast Chicken Tacos)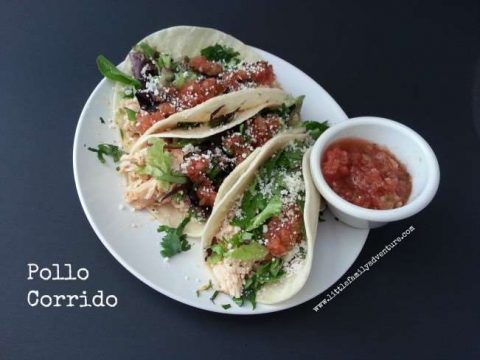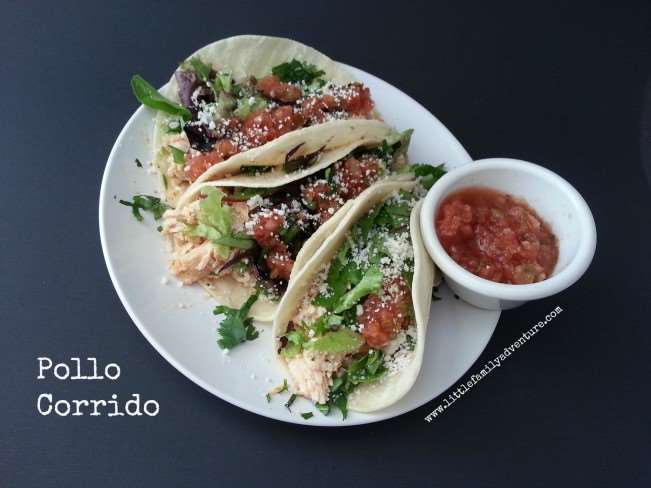 A quick and easy dinner that is ready in less than 20 minutes.
Additional Time
3 minutes
Ingredients
4 boneless, skinless chicken breasts, about 1 pound
1/2 cup salsa
1 teaspoon dried cilantro
1/4 teaspoon garlic powder
8 flour tortillas or 16 corn tortillas
2 cups shredded lettuce
Grated cheese (I like Mexican Cotija cheese)
Salsa or pico de gallo
Fresh cilantro, finely chopped
Sour cream, optional
Sliced avocado, optional
Instructions
Cut chicken breasts into strips and place in a small pot. Add enough water to completely cover the chicken. Add 1/2 cup of salsa, garlic powder, and cilantro to pot and stir to combine.
Bring to a boil and reduce to a rolling boil over medium heat for 10-12 minutes, or until the chicken is cooked throughout. Remove the chicken and coarsely chop. Return to pot and boil or an additional 1-2 minutes to allow chicken to soak up the flavor.
Heat tortillas up in the oven, on the stove top, or in the microwave.
To assemble each taco, place strained chicken onto each tortilla followed by toppings of your choice; lettuce, cheese, salsa, chopped cilantro, sour cream, and avocado. Serve immediately.
If you like this recipe you may also like these others: