Some mornings, we want something a little sweet. This stuffed French Toast with Strawberries foots the bill. I have a secret ingredient that makes this really, really good. I add a little orange zest in the cream cheese to make everything pop. If you don't have any orange zest, you can omit it. You can also substitute any type of berries for the strawberries. I just like to use what's in season.
For this French Toast, I used Cinnamon Raisin Walnut bread from a local bakery. I like Big Sky Bread in Oklahoma City, because they're a traditional bakery using real ingredients and no artificial fillers. They bake their bread fresh daily and run different specials all month-long. My favorite is their Cinnamon Roll Bread. Think of an unglazed cinnamon made into a loaf of bread. Oh my…. It's Amazing! When I don't make my own bread, I'll stop by their shop and get theirs. You can use any type of bread you like. I would recommend Brioche, Challah, Honey Whole Wheat, or any style of Breakfast Bread. You just want to be sure the bread has a firmer texture to hold up to the cream cheese.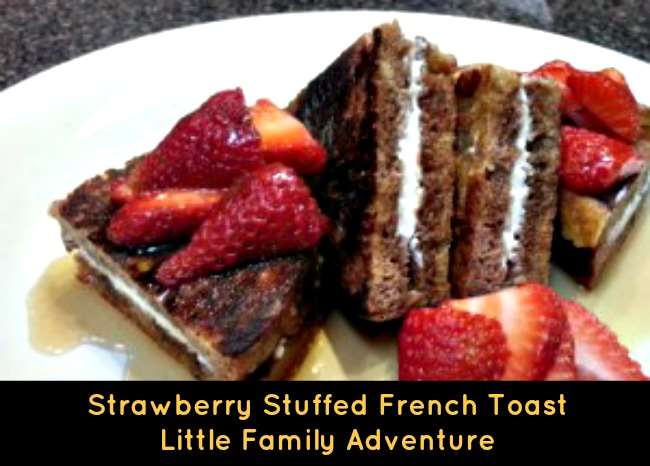 Yield: 4 servings
Strawberry Stuffed French Toast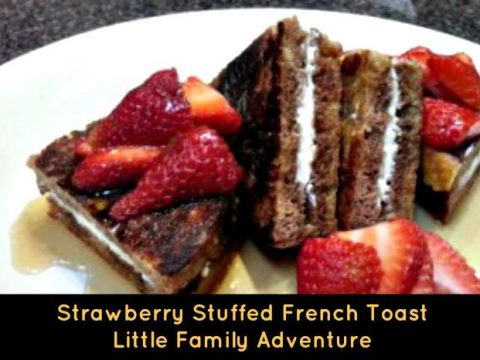 Ingredients
8 slices bread
1/2 cup cream cheese or more if you want a thicker stuffed toast
2 tablespoons milk or heavy cream
1/4 teaspoon orange zest
1-2 cups fresh strawberries, 1/4 cup chopped and rest sliced
5 eggs
Butter for frying pan (1-1 1/2 Tablespoons)
Instructions
Combine cream cheese, milk or cream, and orange zest into a small bowl. You want a creamy texture that will spread easily. If it is too stiff, you can add a little more milk or cream.
Gently stir in 1/4 cup chopped strawberries into cream cheese mixture.
Spread cream cheese mixture on 4 slices of bread and top with remaining slices. This will make your French Toast sandwich.
Heat a large skillet over medium heat.
In a flat-bottomed bowl, beat eggs together until well combined.
Butter the bottom of the skillet with butter. You just need a little to prevent the french toast from sticking.
Dip each sandwich in the egg mixture one at a time. Turn to coat both sides. Place no more than 2 sandwiches in the hot skillet at one time.
Cook each side for 3-4 minutes or until golden brown. Remove from skillet and repeat with remaining sandwiches.
Cut french toast sandwiches into quarters and arrange on plate. Top with remaining sliced strawberries and maple syrup. Serve.
How do you like your french toast?