It's finally time to pack up your bags and head down south for a much-needed break. But before you go, you need to know what should be on your packing list! From sunscreen and sandals to a swimsuit and beach towels, this is the ultimate Florida packing list that'll make sure you're set when visiting Florida for your sun-drenched vacation.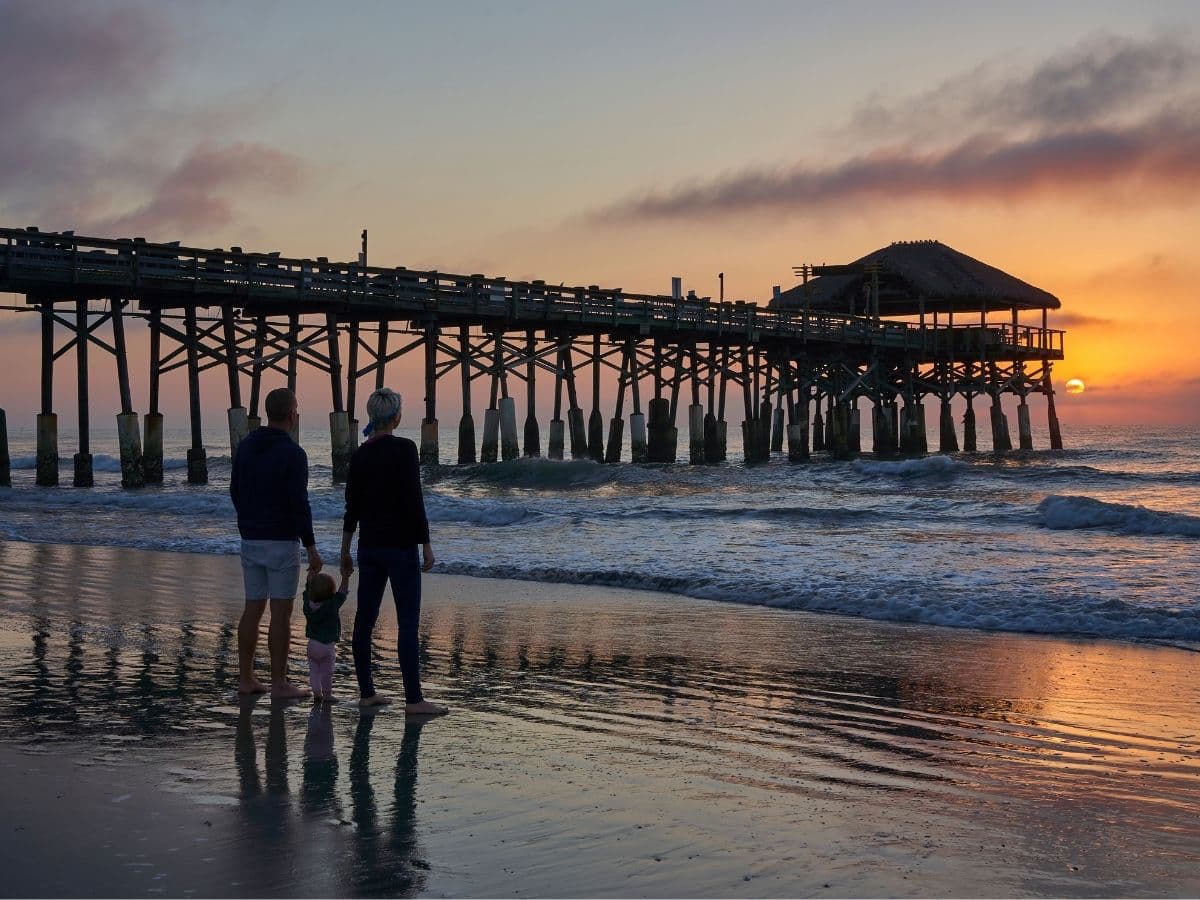 What to Pack for your Trip to Florida
Pack clothes for the day and night time
It's also a good idea to bring clothes for the day and night time. Florida is known for its hot weather so make sure you have clothes that will keep you cool during the day and warmer at night. Bring light-weight clothing like linen or technical fabrics because they tend to be cooler in the summer months. The clothing we featured in our summer hiking clothes guide is ideal for Florida summers with lightweight fabrics and quickly dry. During the winter months, it can get rather cool at night so pack some layers of clothes that are warm such as wool sweaters or scarves.
Bring a swimsuit and beach towels
It's also a good idea to bring swimsuits and beach towels. You never know when you might want to spend time in the water, so it's best to be prepared. If you're going to Florida for your family vacation, chances are there will be more than one person who wants to go swimming so it's always a good idea to have extras of both items on hand.
Travel Tip: If you are flying, pack a beach bag with your swimsuits and small microfiber towels in your carry-on bag. If your room isn't ready when you check into your hotel, you can spend the afternoon swimming.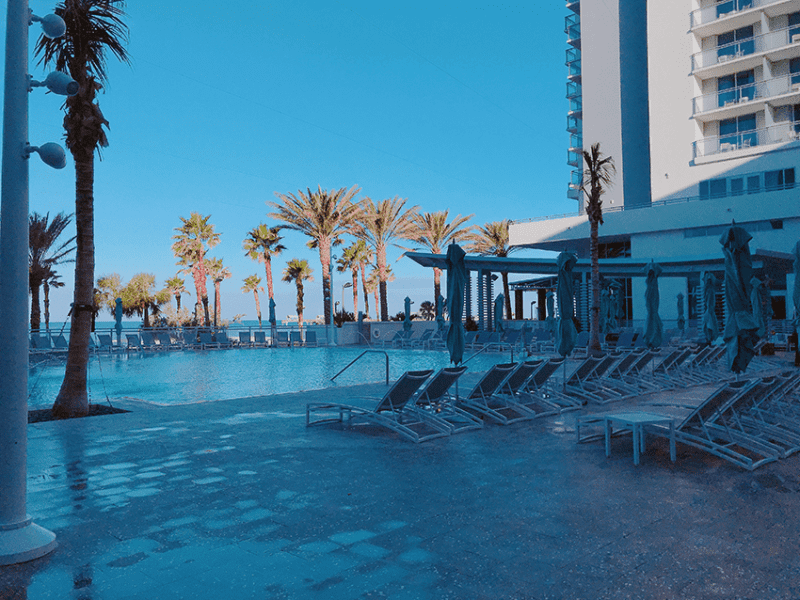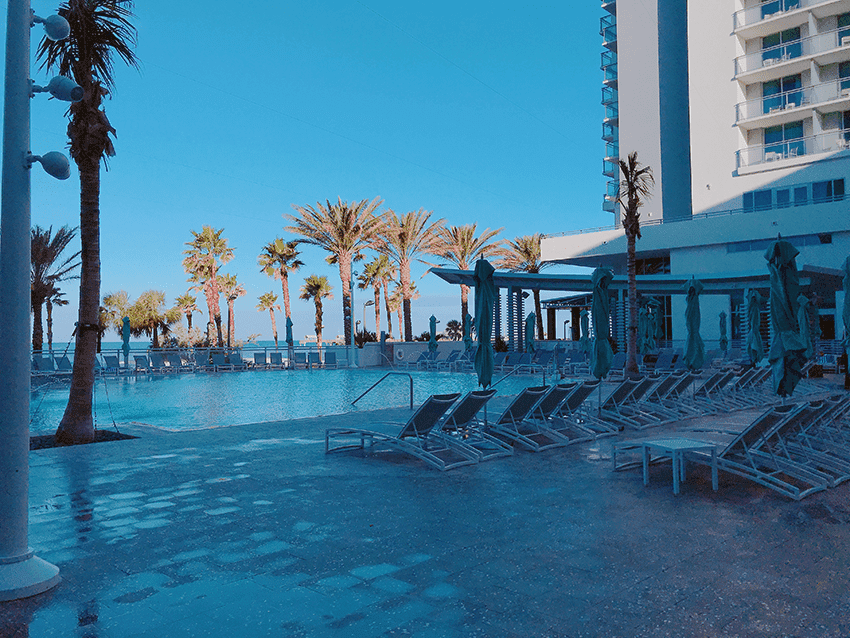 Looking for Florida Vacation Inspiration? Check out these:
Wear loose-fitting clothing to prevent sunburns
In order to avoid being burned when you're out in the sun, it's important that you wear loose-fitting clothing that covers your arms and legs. This will help to keep your skin from being overexposed to the sun and will also help to keep you cool. If you want to wear shorts or a skirt, make sure the fabric is made out of something that will protect your skin. Chances are if you are going on vacation in Florida, you're going to be outside for an extended period of time so wearing loose-fitting clothing can help prevent overheating as well as chafing caused by tight clothing.
Pack sunscreen, hats, and sunglasses
Sunscreen is a must-have when you're going to be spending time in the sun. To ensure your skin stays healthy, cover exposed skin with sunscreen that has an SPF of at least 30 and is water-resistant. Make sure not to forget about your lips because they can quickly become chapped in the sun.
A sun hat is also a good idea for added sun protection. This will help protect you from the harmful rays coming from the sun which can lead to skin damage when overexposed for too long. Sunglasses are another good way to protect your eyes from UV rays during overcast days or dusk hours.
Make sure you pack enough snacks for your trip
One of the top priorities when packing is having enough travel and road trip snacks to last you for the duration of your trip. But before you start packing up all those tasty treats you've been storing away, make sure you have a good idea of what's going to be on the menu at your destination so that you can pack accordingly. For example, if there are vegetarian options for lunch, snacking on things that are rich in protein and iron will help keep your energy levels high. If there are more foods available that contain carbohydrates, it's also a good idea to bring some nutritious foods like nuts or fruit to snack on during the day.
Travel Tip: Most Florida theme parks, including Disney World, allow you to bring small snacks and refillable water bottles into the parks. Doing so saves you money and allows you to eat a bit healthier.
Put together an emergency kit – this includes things like water, bandages, first aid supplies, and extra cash in local currency, etc.
Bringing an emergency kit with you on your trip to Florida will ensure that you are prepared for any unexpected events such as a medical emergency. Pack extra supplies like water, bandages, first aid kits, and extra cash in case of an emergency. Make sure this kit includes everything you might need during the time of your trip so it's easy to grab when needed.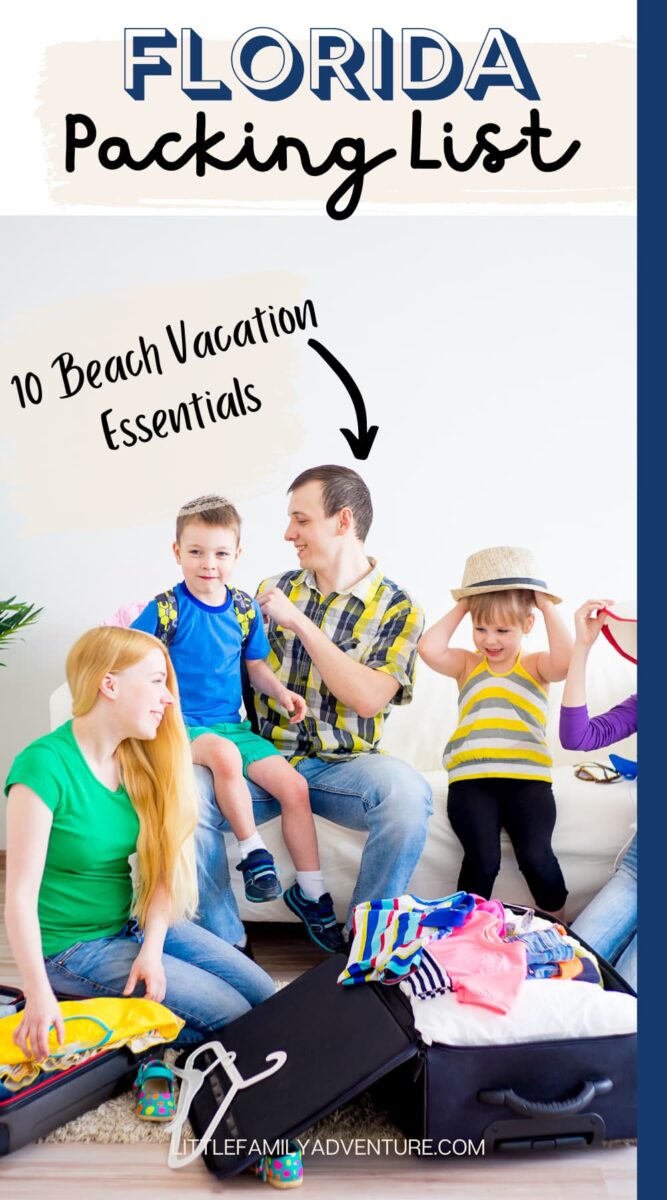 Bring travel-sized toiletries for easy packing
When packing for your trip, it's best to pack small travel-sized toiletries. This will make it easier to bring everything you need and save space in your luggage. You can purchase travel-sized toiletries before you leave. You will also want to make sure that everything is placed in air-tight containers so they don't leak on your other belongings.
Travel Tip: Be more eco-conscious by swapping out single-use containers for refillable options. See our list of easy swaps in this 20+ Eco Friendly Products That Help Travelers Go Green.
Make sure to bring at least one credit card in case your ATM or debit cards fail while traveling.
In addition to the emergency kit, one other essential item you should pack for Florida is a credit card. If your ATM or debit cards don't work for some reason, you'll need a way to get cash for emergencies. Take at least one credit card so that you can have access to cash in case an emergency occurs. it ensures you have cash in case of an emergency.
Travel tip: You can save money when you buy your attraction tickets and activity tours ahead of time. Viator is my favorite place to book tours and group activities. I turn to Undercover Tourist for theme park tickets and CityPass for multi-day attraction passes for specific cities like Orlando and Tampa.
Don't forget all of the things that make you happy – like phone chargers and your favorite music/movies.
When it comes to packing for the beach, you'll want to be sure that you are prepared for anything. One of the best ways to prepare is by making a list of all the things you need in order to stay happy. Include things like phone chargers, music or movies, and even a toothbrush and toiletries! You'll never know what might happen when you're out on vacation so it's always best not to go unprepared.
Travel insurance
Although not a necessity, I highly recommend travel insurance for any vacation. It provides peace of mind and financial assistance in case of emergency, trip cancellations, lost luggage, illness, and so much more.
Whether you're headed to Florida for a relaxing beach vacation, a theme park getaway, or an extended stay in the sun, it's important that you pack correctly. From clothes and food to travel-sized toiletries and emergency kits, there are many things to consider when packing for your trip. These five tips will help make sure you are ready for any adventure – whether it be on land or at sea! If this is all sounding overwhelming, don't worry.
AUTHOR BIO:
Eliza Brooks is a passionate blogger, traveler, and writer. She loves writing about travel, vehicles, and other interesting topics. She is currently working for Ready Set Tow which offers heavy towing service Orting.