You're heading out this weekend to go camping and you need to figure out what you and your family will eat. Am I right? This camping meal plan has everything you need; healthy camping food recipes, camping grocery list, and a 3 day camping meal plan. It's everything you need for 3 days in the great outdoors with food enough for a family of 4.
Camping Grocery List
When you go camping, it's really important to have a meal plan for your trip. Unlike at home, you can't just go out and run to the store for something you need. That's why I have a printable camping grocery list for you with this meal plan. It will ensure that you have EVERYTHING you need to make camp cooking a success this trip.
Now that you have this grocery list, let's take a look at what you'll be cooking!
Set Up Night- Day 1 Meal


Dinner: Grilled Pork Chops, grilled cinnamon peaches, corn on the cob, coleslaw
Day 2 Meals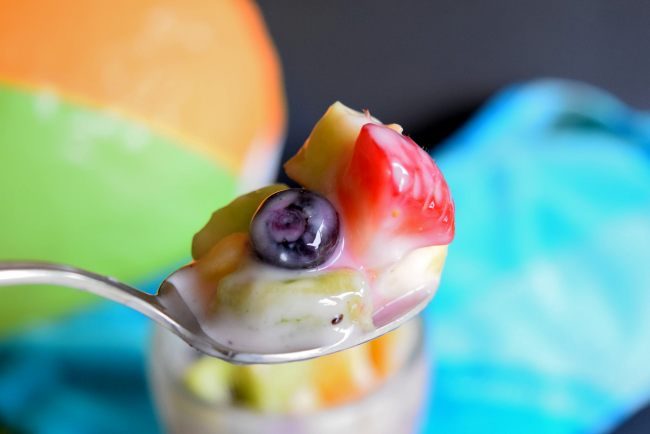 Breakfast: Creamy Summer Fruit Salad or yogurt cups and fruit
Lunch: Ham and Swiss slices on whole wheat crackers, coleslaw
Dinner: Fresh Fish and Vegetables Foil Dinner, S'mores
Day 3 Meals
Breakfast: Store bought muffins, fruit
Lunch: Chicken Nachos, salsa or guacamole
Healthy Camping Food Recipes
Fish and Vegetables
4-6 fish filets (or 2-3 whole, cleaned fish)
2 Green Peppers, sliced
8 oz sliced mushrooms
2 Zucchini, sliced
1 lemon, sliced
Dried dill
Salt & pepper
Butter
At home or at the campsite: Season fish with salt, pepper, and dried dill to taste. Place sliced vegetables onto the foil sheet, followed up the lemon slices. Place the fish on top and top with 2-3 pats of butter. Wrap the foil in a flat pack. Freeze if making at home.
At the campsite: Place foil packets on a metal grate over medium heat on the campfire. Cook for 15-20 minutes.

Tip: The key to a successful plan to make it as simple as possible and PREP AS MUCH as you can before you leave home. These camping recipes are all really easy to make and can be cooked on a campfire with a metal grate or outdoor grill. Therefor, no special equipment is needed. I would, however, recommend bringing a cast iron or fire safe skillet, another metal grate to place over the fire (an oven rack works great), and a good pair of barbecue tongs. It never hurts to be prepared.
Prep Plan before you leave for camping trip
Marinade pork chops in a ziploc bag and freeze in bag.
Make coleslaw at home and store in a ziploc bag or lidded container.
Cut up fruit for the fruit salad (breakfast day 2 and throughout the trip) and store in lidded containers.
Assemble fish and vegetable foil dinner packets. Freeze.
Precook chicken, onions, and peppers for nachos Day #3
Now you are ready for your 3 day camping trip with friends or family. This is everything you need for meals at the camp site. Store all of your frozen or refrigerated items in a cooler and your dry goods in a plastic container. As a family, we stick to improved campsites with drive up access, so we'll leave the cooler and dry goods in the car to eliminate curious furry visitors.
If you are looking for more camping meal plans and recipes, please see my first camping meal plan on a budget of $50, 26 Camping Recipes, 26 Breakfast Recipes, and Camping Breakfast Burritos.
Plus don't forget you can find FREE campsites around the country.
SaveSave