Today we start our Hometown Adventure series. This family travel series will feature cities and towns by the people who know them best, their residents. No one can tell you the best places to eat, visit, or play quite like someone who lives there.

The first city in our series is Oklahoma City, Oklahoma. It's where my family has called home for almost 10 years. There are so many great things I could tell you about my city. Located on Route 66, it's full of history and personality. With its surrounding communities, there are more than 1.2 million people here. We have a wide array of museums, attractions, music venues, theaters, festivals, shopping, and restaurants. We have all the conveniences of a major city, yet traveling around the city is quite easy. It's relatively quick to get from one side of town to the other without too many traffic headaches. Instead of sounding like a tour guide, I want to tell you just a few of the places in Oklahoma City I love. If I told you about all the great place to visit, this article would be TOO long. At the end, look for a list of places for more great travel ideas and recommendations around the state that you really MUST visit.

.
Getting Around
Before I get into where to go, let me start with how to get around. You can arrive by plane (Wiley Post Airport), Train (Amtrak), or automobile (whatever you're driving). Oklahoma City, OKC for short, is over 620 square miles. Most of the city streets are on a grid pattern. They run north to south or east to west. Interstate 35 divides the city into east and west sections. Interstate 40 divides the city into north and south. Roads aren't too confusing. The city is broken up in quadrants; NW, NE, SW, and SE. Most of the places we love are located north of I-40 in Northwest and Northeast Oklahoma City. So with that, let's start with my family's favorite destinations and events.
Family Fun Destinations


(Adventure District I-35 & I-44 )
Stop in and visit Sneezy the elephant. Don't you love that they named an elephant Sneezy?
The zoo is home to 4 Asian elephants. Sneezy is joined by two adult females, Asha and Chandra, and a female calf named Malee. It's not every day you get to sit and watch a baby elephant play. On weekends, zookeepers host "Elephant Presentations". You can stop in and learn about the animals and have the zookeepers answer your families questions.
Our zoo is ranked as one of the best zoos in the country. During nice weather, you can usually find us here. My children love spending the day observing the animals in their naturalistic habitats, listening to Keeper Chats (informal discussions by the animals caretakers about their charges), feeding the giraffes, riding the tram, and strolling the botanical gardens.
The zoo is home to over 500 species of animals. Visit the new Stingray Bay, Great EscApe (featuring gorillas, chimpanzees, and orangutans), Cat Forest (check out the tigers), Lion Overlook, Aquarium, Children's Zoo, and Oklahoma Trails. During the spring, stroll around the gardens and see butterflies, birds, and of course, beautiful flowers.
A little known fact about the zoo is the song, "I want a hippopotamus for Christmas" was used as a fundraiser to bring a hippo to the zoo.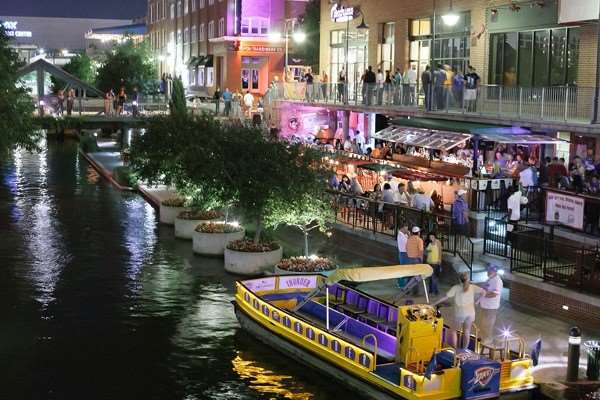 Bricktown is a tourist attraction in and of itself. Located next to downtown, it features restaurants, shopping, entertainment, and more. Bricktown is home to Chickasaw Bricktown Ballpark, Bass Pro Shop, Harkins Theater, Red Pin Bowling, and more. Take your family on a canal ride or on one of the many horse-drawn carriages in the evenings for a great tour of the area. During summer months, you can catch a free outdoor concert as part of the Chevy Summer Concert Series. During winter months, the ballpark becomes a winter playground. Enjoy one of the largest manmade snow tubing slopes in the country. Start at the upper deck and slide your way into home. There is always something going on in Bricktown.
For the Sports Fans in your Family
Oklahoma City is the home to a several professional sports team. Most notable is the OKC Thunder, a NBA basketball team that plays at the Chesapeake arena downtown. For hockey fans, we have the OKC Barons, an AHL affiliate of the Edmonton Oilers. They play at the Cox Convention Center also in downtown. Just down the street in Bricktown at the Chickasaw Bricktown Ballpark, you'll find the Redhawks, AAA baseball team, affiliated of the Houston Astros.
Oklahoma City is the annual host of the Big 12 Baseball Tournament, the World Cup of Softball, and the annual NCAA Women's College World Series.
In addition to professional sports, the state has college teams like Oklahoma University Sooners in Norman and Oklahoma State University Cowboys in Stillwater.
Get Out and Get Active
Kids love to get outside and explore. Oklahoma City has plenty of opportunities for your family to get out and get active. The city has a great system of city parks, lakes, and outdoor attractions to explore.
Martin Nature Park (Memorial Road & N. Meridian)

.
A small city park on the NW side of the city is one of our favorite outdoor spaces. It was named as a regional "Ten Best" Parks and Playgrounds in National Geographic's "The Best of Everything for Families: An Ultimate Guide for Families". It's a great gem featuring 2.5 miles of natural walking paths, a rock bottom creek for warm weather water play, wildlife view areas, and a hands-on nature center. You'll find children and adults alike exploring the trails and creek bed. On select weekends, you can participate in one of their many programs. They offer everything from Saturday Story Time to guided full moon hikes. It's a great place to escape and get back to nature.
Area Lakes and Oklahoma River

If your family loves adventure, area lakes offer plenty of outdoor sports. Take part in sailing, windsurfing, running, cycling, golf, playgrounds, fishing, and more. Head down to the Oklahoma River (just south of I-40) to Riversport Adventures Oklahoma City. Your adventure lovers will LOVE this place. Zip line 700 feet across the river, slide down the 80' tall slide, or traverse the Sandridge Sky Trail (shown below). If being on the ground is more your speed, Riversport also offers water sports like kayaking, dragon boats, and more. It's a great place to spend the day.

Myriad Botanical Gardens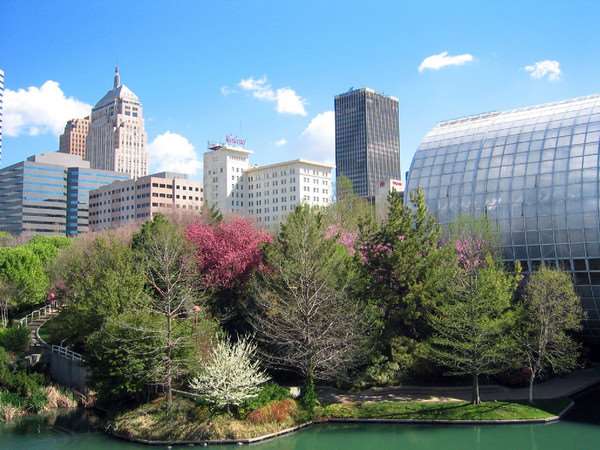 Myriad Botanical Gardens is another great park downtown. Myriad Gardens, as it is known, features the Crystal Bridge Conservatory, a Children's playground and garden, water splash pad, art exhibitions, cafes, and weekly events like yoga in the park and a children's story time. The gardens are free to the public.
[flickr video=72157632667688924]
The Crystal Bridge charges admission to access their beautiful indoor gardens. If you love horticulture, be sure to check it out.

Festival of the Arts – Mid April brings the arts to Myriad Gardens. This annual festival celebrates the culinary, visual, and performing arts. People from all over go for the food as much as they do the art. Food vendors are partnered with local arts program and a portion of their proceeds benefits that program. The artist market features over 140 artists on display. Entertainers provide through the festival on multiple stages. Children may get a little bored just looking at art. So they have their own space at the festival. They can get involved with hands on activities throughout the grounds. It's a fun, festive atmosphere.
During warm weather months, Myriad Gardens plays host to Shakespeare in the Park, evening concerts, a mid-week Farmer Market, and more. Mid November thru early February, take your family ice skating at the Devon Ice Rink. There is always something going on at the Myriad Gardens. It's just down the street from Bricktown and Downtown Oklahoma City.
Annual Events

at the National Cowboy and Western Heritage Museum (Adventure District)
For over 20 years, people have been spending their Memorial Day weekend at the Chuckwagon Gathering. This family friendly event is first, food festival and second, a history event. You get transported back to the days of wagon trains, chuck wagons, and ranch kitchens. Sample chuck wagon fare; like brisket and baked beans, biscuits, and apple cobbler. Ride on a covered wagon, listen to storytellers and cowboy poets, or taking in other western themed entertainment. It's fun for all ages.
While you're there, visit the National Cowboy and Western Heritage Museum. They have nationally recognized exhibits of western art, sculpture, and more. Their children's area is great for younger children.

Named one of 10 Great Places to Celebrate American Indian Culture by USA Today, this is festival you will want to experience. For several days in early June, artists, craftsmen, dancers, and musicians from over 100 nations participate in the Red Earth Festival. The festival always begins with a colorful parade in downtown Oklahoma City. Your children will love all the musicians and participants in traditional dress taking part. In addition to the parade, there are also children's activities, a pow wow, a juried art market, a 5K run and 2K fun walk, and well as great food. You can't come to Oklahoma and not have an Indian Taco or Grape Dumplings.
Grab a Bite at One of These Local Eateries
Oklahoma City is at the crossroads of America. That is most evident in its food scene. You can find everything from African to Vietnamese food and anything in between. My kids are pretty adventurous eaters. But I know not everyone does. Do we are going to share with you some of the more traditional local spots we love. I hope pizza, hot dogs, hamburgers, and pie will do. Just be aware that although they can do the ordinary, it's the extraordinary that they're known for. Keep reading and you'll see why.

Mutt's Hot Dogs
(NW 23 and Classen)
What child doesn't like a hot dog? Mutt's menu includes everything from a plain hot dog to gourmet dogs and hand cut fries. There is something for every member of your family here. Stop by for their TV Dinner Tuesday for a fun themed dinner. They'll serve you a metal TV tray with true Southern comfort foods like Chicken Fried Chicken, mashed taters and gravy, and green beans. Not in the mood for a dog, they make anything on their menu a burger. There are even vegetarian options on the menu. Try the Garden Hound; a falafel dog with veggie chili. My favorite thing to order is the Tatonka Dog. It's a bison dog topped with green chile sauce, cilantro-lime aioli, and goat cheese. You can't come to Oklahoma and not have bison! With that I eat an order of French fries cooked in duck fat and drizzled with truffle oil. See what I mean about extraordinary?

(NW 23rd & Hudson or Classen Curve- NW 57th and Classen)
Tuckers is one where my kids ask to get a burger. This is by far our favorite, family-friendly place to eat in the city. The onion burger was created in El Reno, Oklahoma a few miles down the road during the great depression. Restaurant owners there found that they could stretch their food dollar by adding thinly sliced onions to the burgers. People loved them and the El Reno restaurants were able to survive the Great Depression. Tuckers hasn't been around that long. They are a locally owned business who uses local and regional products. Their bread is baked at the bakery down the street and everything else is grown within a 300 mile radius of the city. There isn't a lot of variety here, but when the burgers are this good, there doesn't have to be. They have the beef onion burger and turkey burger in different sizes, a salad, hand cut fries, hand scooped milk shakes, and beverages. If you aren't an onion lover, you can ask for your burger to go without. Order the Mother Tucker and split the monstrous full pound burger with another person. We like it with cheese and fresh grilled jalapenos. Mmmm. I'm drooling just thinking about it. If you love a burger, you'll love this place.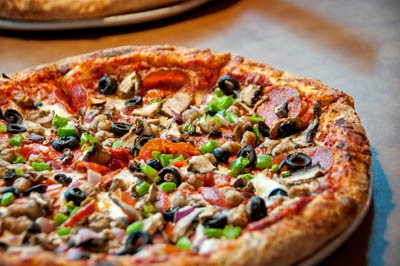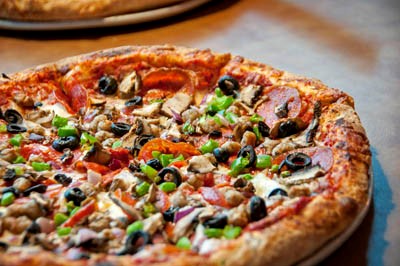 This Oklahoma based company started in Stillwater near Oklahoma State University. They have been serving up pizzas since 1957. There are locations around the city to satisfy your pizza craving. The picture above is the ATW or Around the World. It's your classic supreme pizza done right. They have a wide variety of specialty pizzas, many created by customers and employees. Their traditional hand tossed crust is excellent. It's what we get every time we go. For those that eat gluten free, they now offer a gluten free crust. You can't go wrong with a family pizza night.

Pie Junkie
(Plaza District – NW 16and Blackwelder)
A listing of great places to eat in Oklahoma City isn't complete without dessert. This is the place for killer pie. The picture above is their Apple Crumble. At Pie Junkie, the owners create fresh baked pies and quiches. Their menu changes daily. I haven't had a slice yet that I didn't LOVE. The Kentucky Derby and the Bird Dog are two of my favorites. You can buy it by the slice or buy the pie. Either way, you can't go wrong.
Other great places to check out when you're in Oklahoma City:
Oklahoma City Memorial and Museum
Science Museum of Oklahoma
Oklahoma City Museum of Art
Paseo Arts District
Plaza District
Harn Homestead * 1889ers Museum
Chickasaw Cultural Center (Sulphur, OK) ** Must See
Sam Noble Oklahoma Museum of Natural History (Norman, OK)
Pawnee Bill's Original Wild West Show held in June (Pawnee, OK)
Oklahoma Historical Society
www.TravelOK.com
www.VisitOKC.com
For more food recommendations, check out:
Whether you're looking for your next vacation destination, a day trip, or just driving thru, stop and explore Oklahoma City. It's full of culture, history, adventure, and fun.
If you live in or have visited Oklahoma City and have other sites or places you'd recommend, please share them in the comments section below.
On the 2nd the 4th Wednesdays of each month, we'll be featuring a new city.No one knows a place quite like someone who lives there. So stay tuned for more Hometown Adventuress in upcoming weeks. If you would like to write about your hometown or community and be featured in our series, please contact me for more information.
We're sharing this post over at Sunday Traveler today – check it out for some great travel inspiration!