What to eat more healthy, real food? This Lenten meal plan features 14 lenten meal ideas for dinner. Each dinner menu is easy to make and full of fruits and vegetables, whole grains, and lean meats. This week's real food meal plan is a special one because it includes meat free dinners for the Lenten season.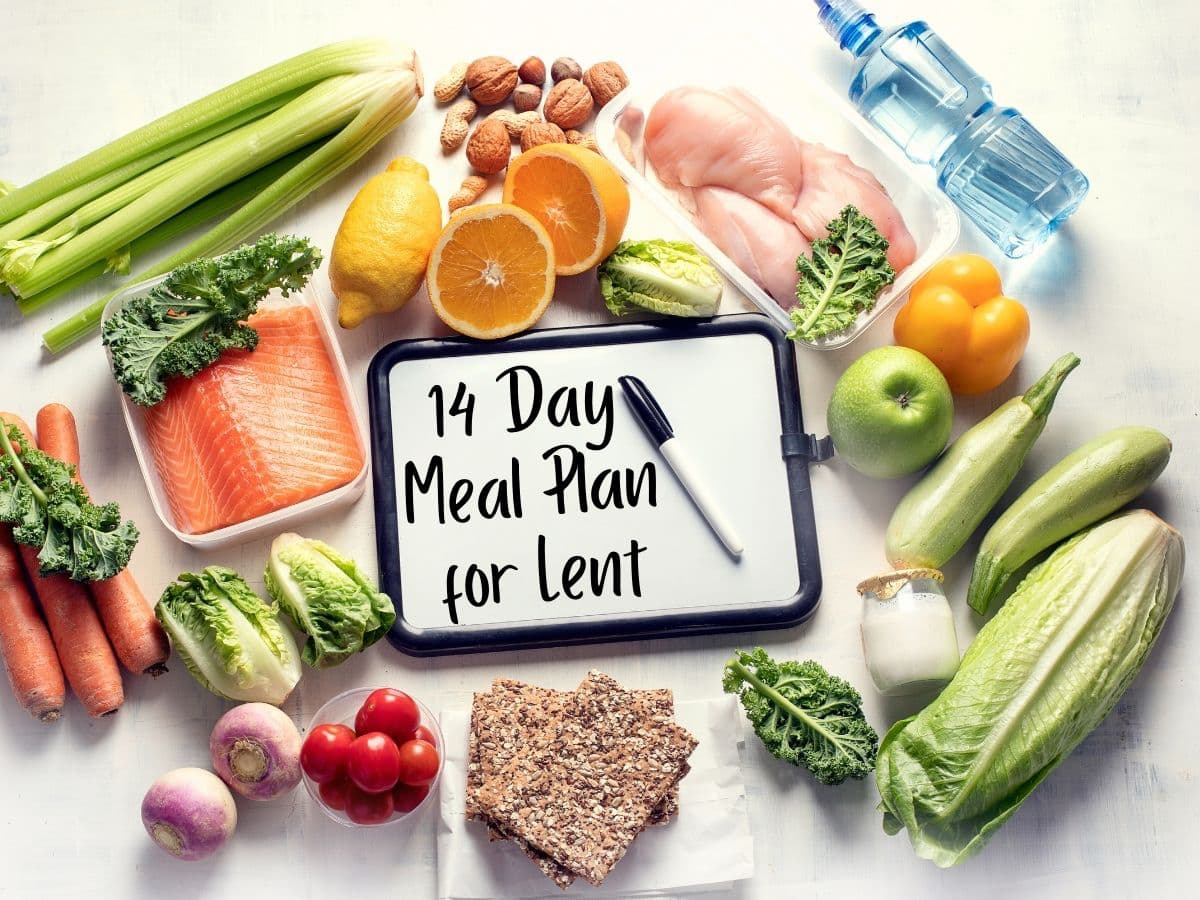 What is Lent?
Lent is the 40 day period following Ash Wednesday and ending with Easter. It's a period of fasting, moderation, and prayer traditionally observed by Catholics and some Protestants. This time represents Jesus' time spent in the desert, praying, and resisting temptation. During Lent, participants fast on Ash Wednesday and Good Friday. Then they give up a particular food or habit (example – snacking) for the duration of Lent.
Obstaining from red meat on Fridays is a common practice during Lent. This special Lenten meal plan includes meatless dinners on Fridays and quick and easy weeknight meals for the rest of the week. If you aren't Catholic, you can still enjoy these red meat free dinners.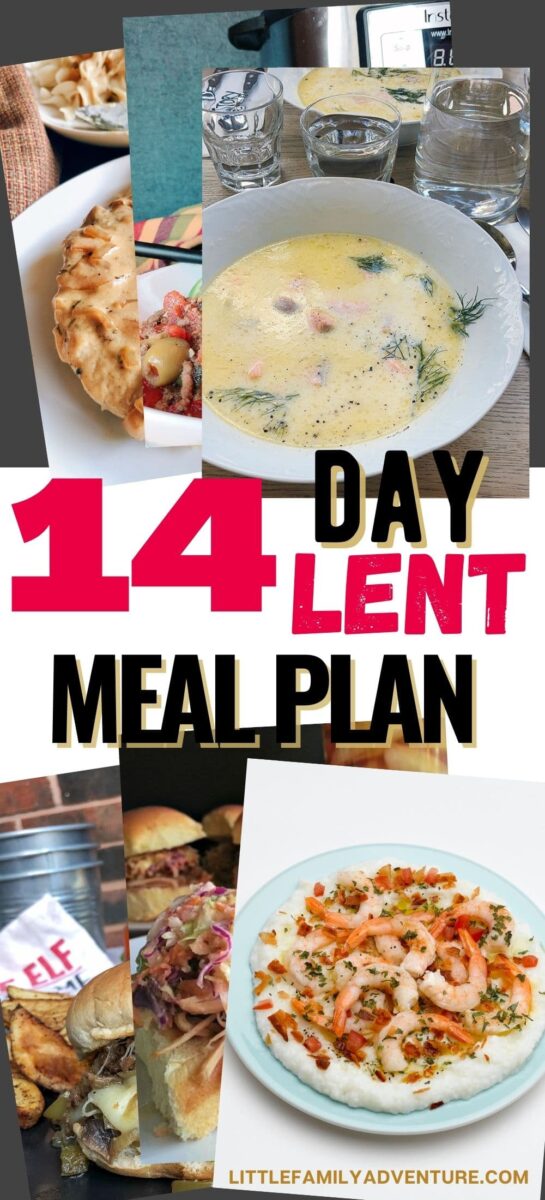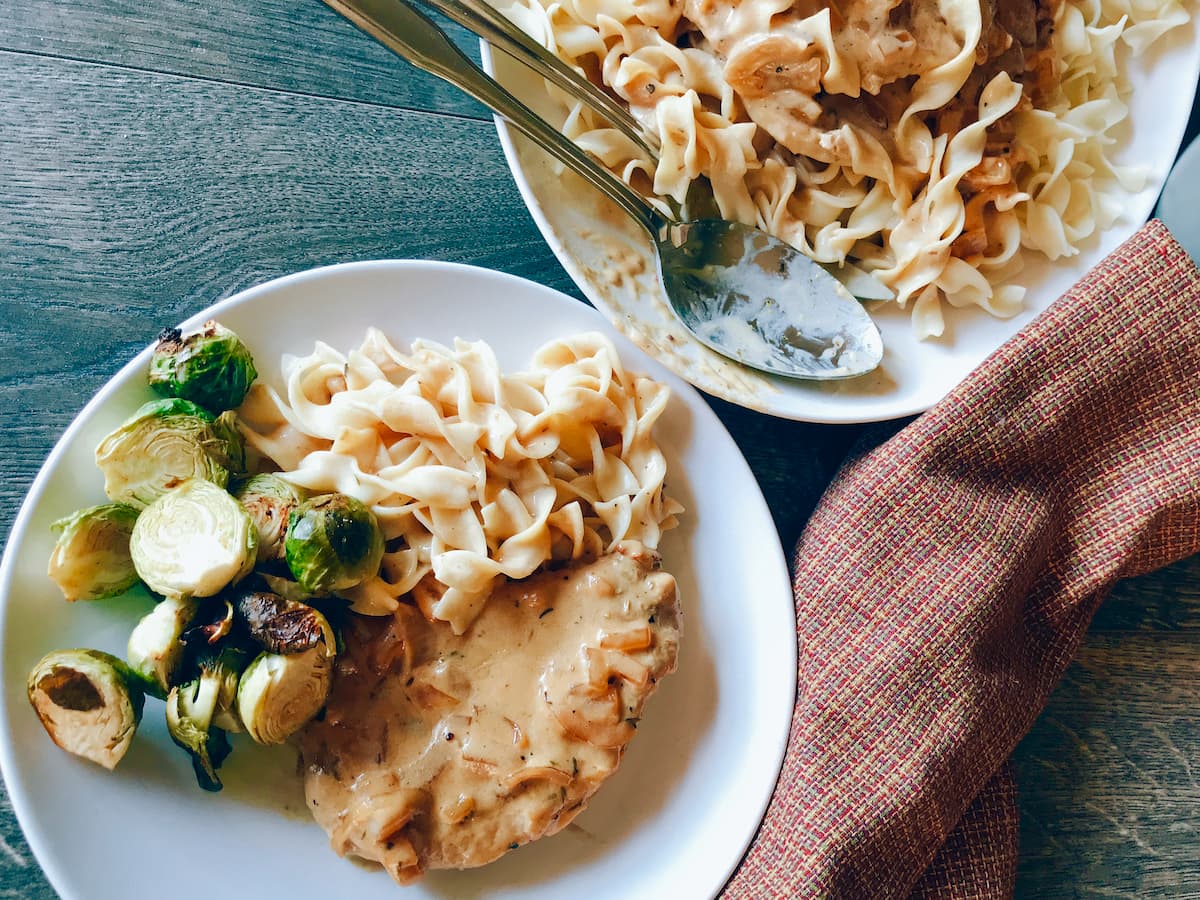 Sunday – Oktoberfest Smothered Pork Chops & Wide Egg Noodles and roasted or pan-fried Brussel sprouts.
This is an easy meal ready in less than 30 minutes. These pan fried prk chops are finished in a creamy onion pan gravy and served over egg noodles. It's simple but oh so good!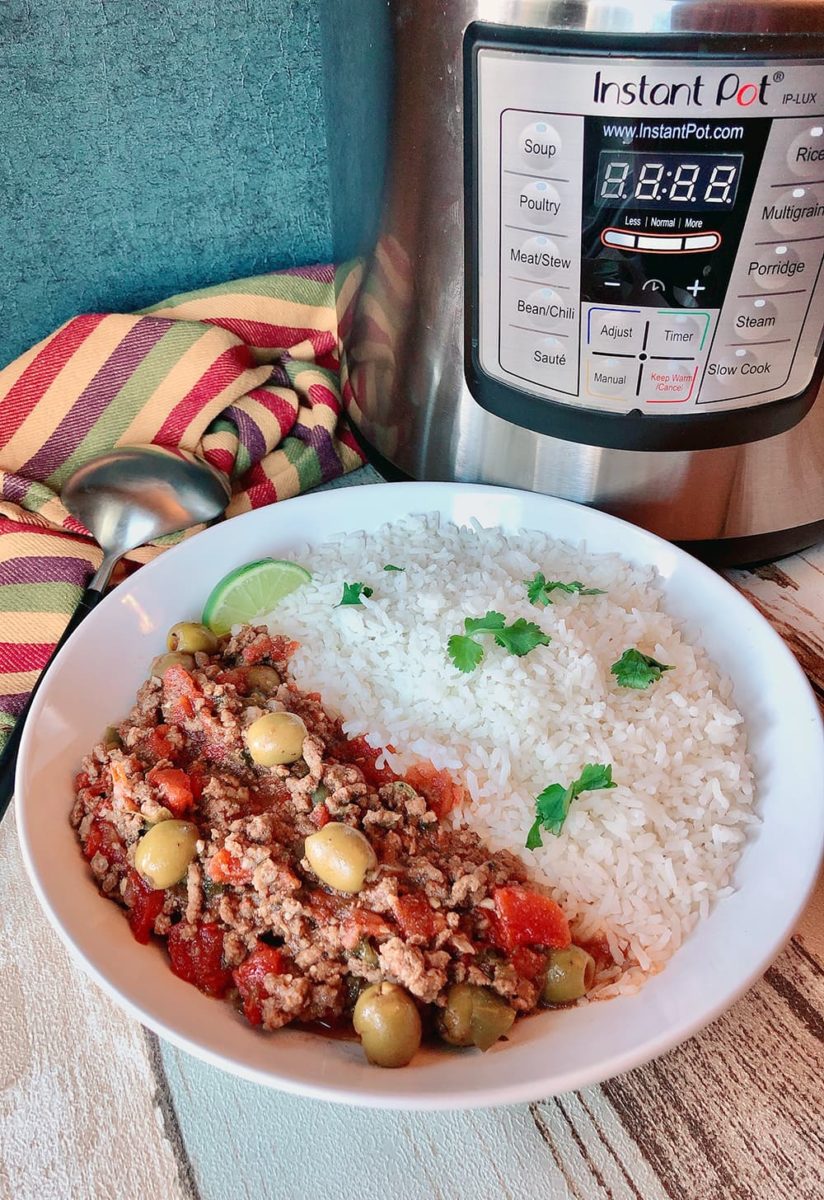 Monday – Easy Cuban Beef Picadillo with white rice
Make a double batch of rice today for dinner tonight and dinner tomorrow. If you've never had picadillo before, it's a blend of ground beef, onions, bell peppers, tomatoes, green olives, and spices. It's a bit like a stew served over rice. If you aren't sure your family will eat green olives, chop them up so they don't notice.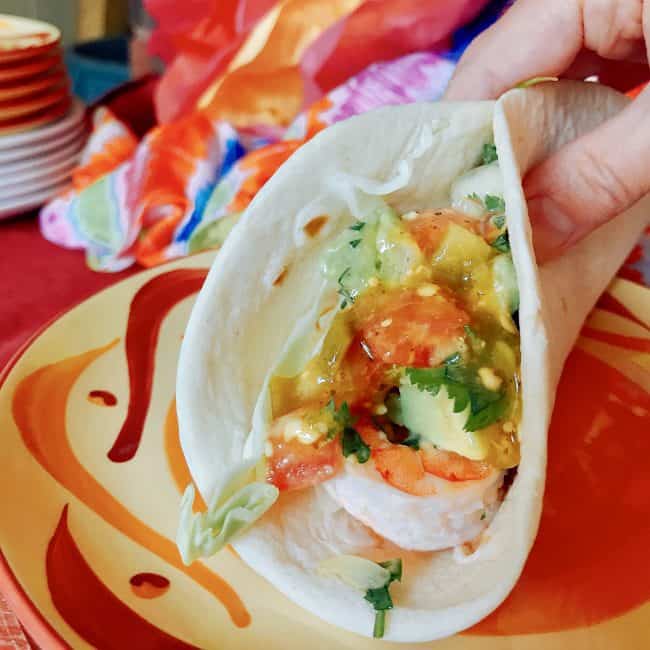 Taco Tuesday – Shrimp Tacos, tri-color coleslaw, leftover white rice from yesterday
During Lent we don't reserve seafood to just Fridays. These shrimp tacos are tasty and good up quickly for this weeknight dinner idea. You can top the shrimp with coleslaw or lettuce and your favorite salsa. If you made enough rice yesterday for leftovers, serve the rest alongside these tacos.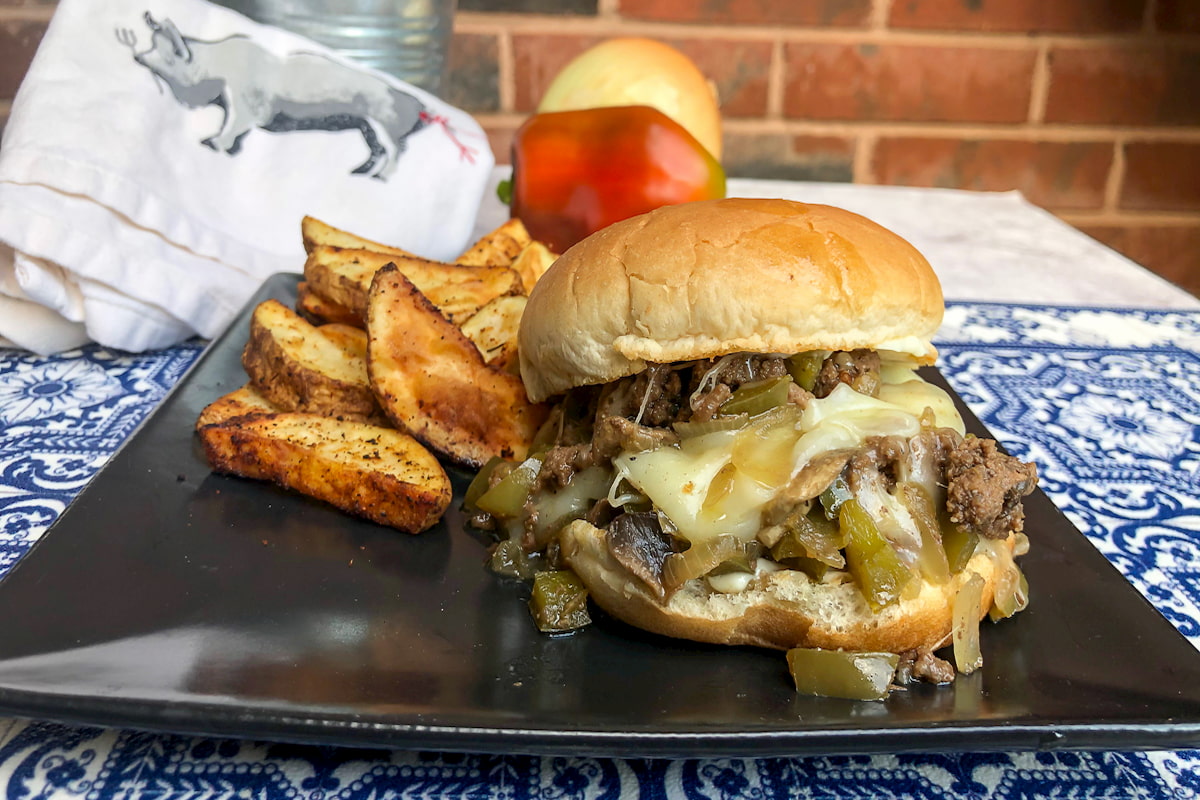 Wednesday – Philly Cheese Steak Sloppy joes, leftover coleslaw from yesterday, and oven-roasted potato wedges
We took our favorite cheesesteak stuffed bell pepper recipe and added it to a hamburger bun for a new take on a sloppy joe. It's an easy skillet meal.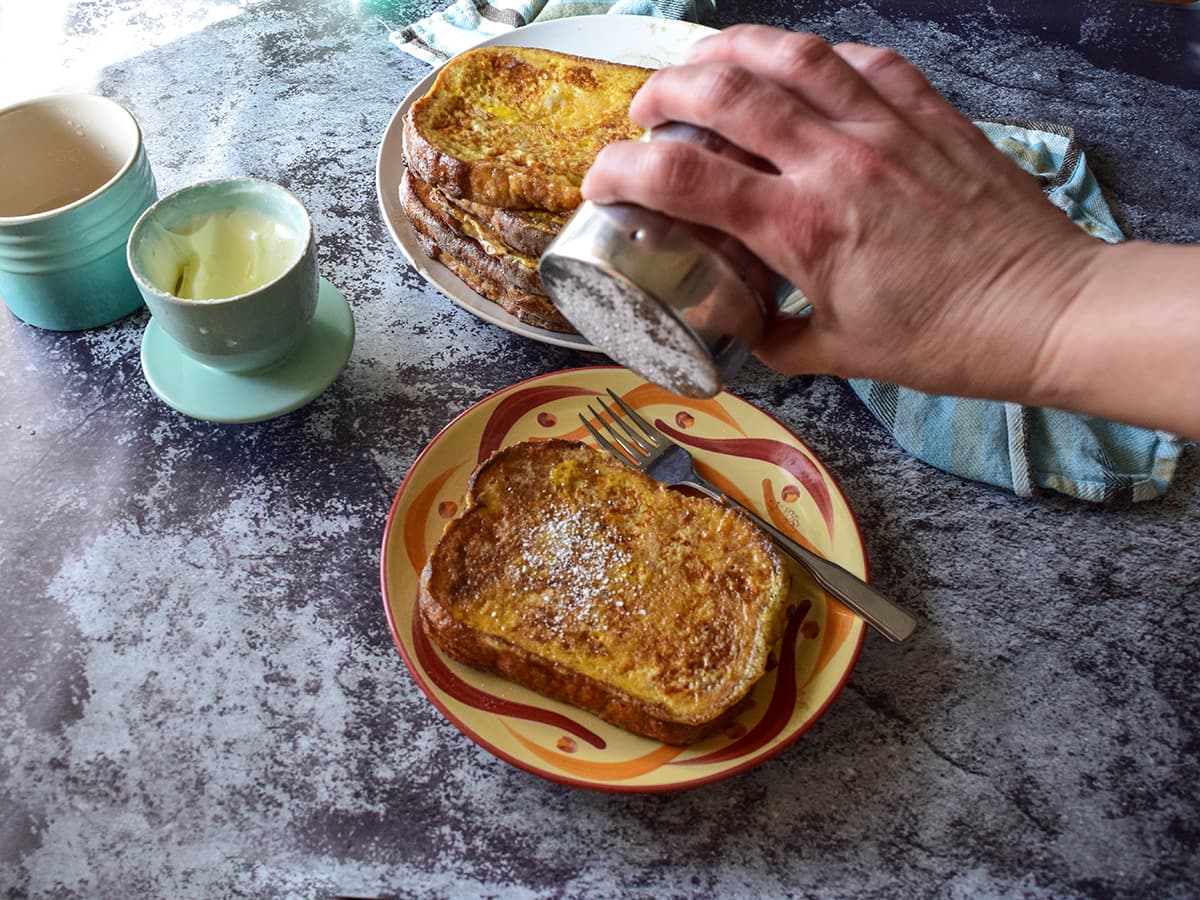 Breakfast for Dinner Thursday – French Toast Recipe with sausage links, scrambled eggs, and fresh fruit.
I find it's easier to stick to my meal plan with themed nights like Taco Tuesday and Breakfast for Dinner Thursday. During lent and colder months, we tend to be pretty carb heavy, but I often find I bake a lot more so this French toast is often on the menu. I like to use brioche, but you can use whatever you like and then serve with sausage links or patties and fresh fruit of your choice.
Note: I get my sausage from Butcher Box subscription box. If you want to have grass fed beef, pasture raised pork and free-range organic chicken delivered I highly recommend Butcher Box. When I joined, I got Free Bacon for Life (free bacon in every order). Check here to see the current special.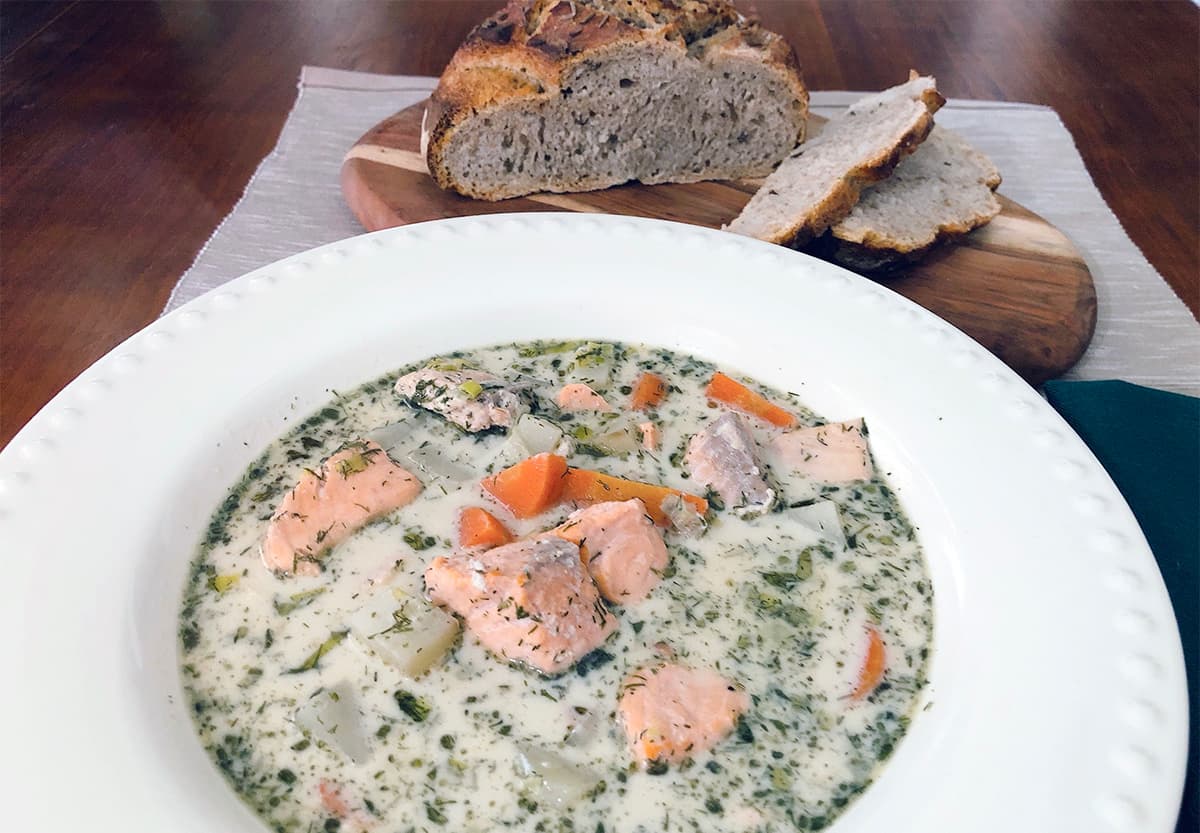 Friday – Finnish Salmon Soup with Dill with rustic bread
This is an easy soup with salmon, potatoes, carrots, cream, and a heavy dose of dill. It's really good and on a cold day there is nothing better. I serve this with rye bread slathered with real butter, but any bread will do. I get my seafood from Vital Choice who offers monthly boxes like those listed below as well as al a carte shipped direct to my door.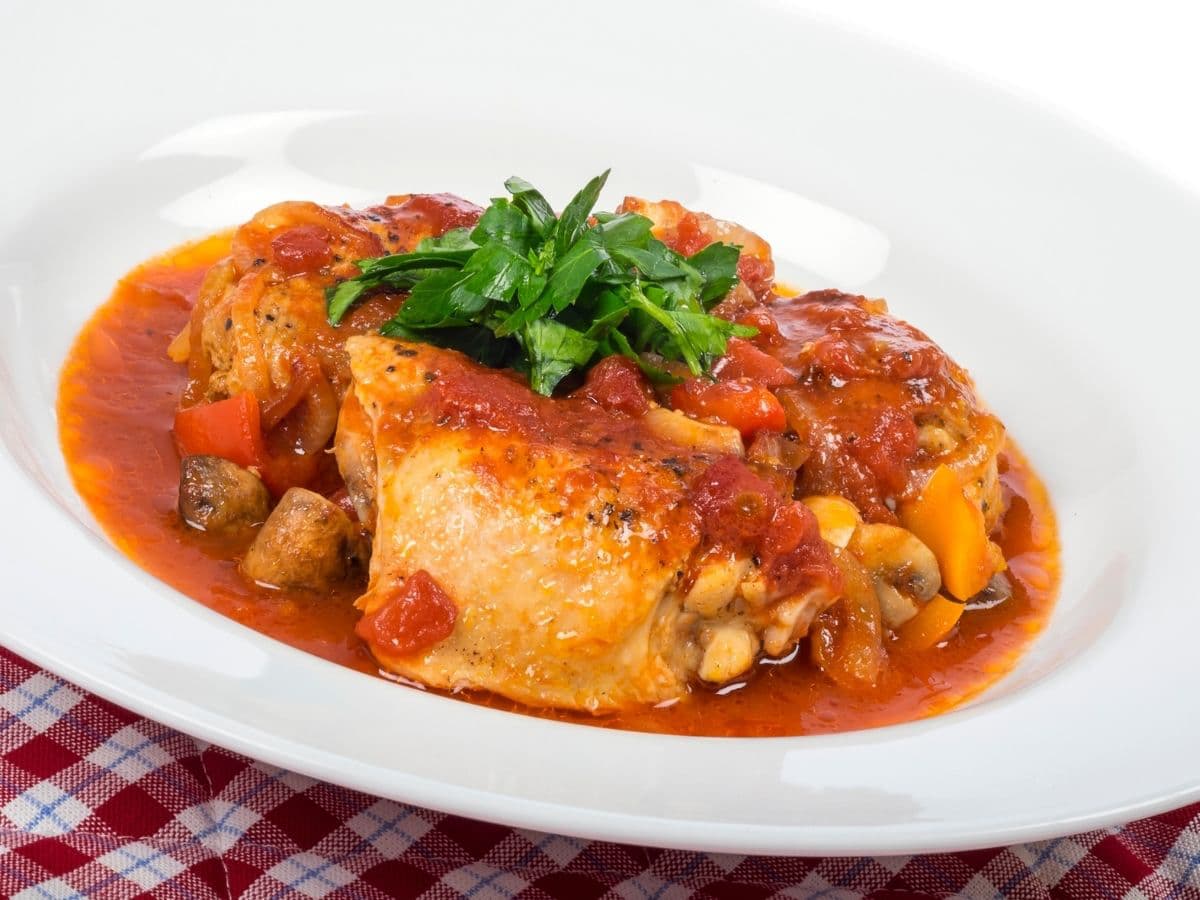 Saturday – Instant Pot Chicken Cacciatore with spaghetti squash, small green salad with Garlic & Herb Keto Salad Dressing
This recipe is one I really like from Platejoy, a meal planning service I subscribe too. I've been using Platejoy for well over a year and some of the recipes I have shared here, like the Cuban Beef Picadillo on this meal plan, were inspired by recipes they provided. Two of the biggest perks of Platejoy are the ability to schedule meals by diet preference and # of people and my grocery list for each week can be sent directly to the Instacart app or Shipt app for grocery pick up or delivery. Sign up today to try it for yourself and get 10 days of free meal plans. You can read my Platejoy review here too if you want to know more.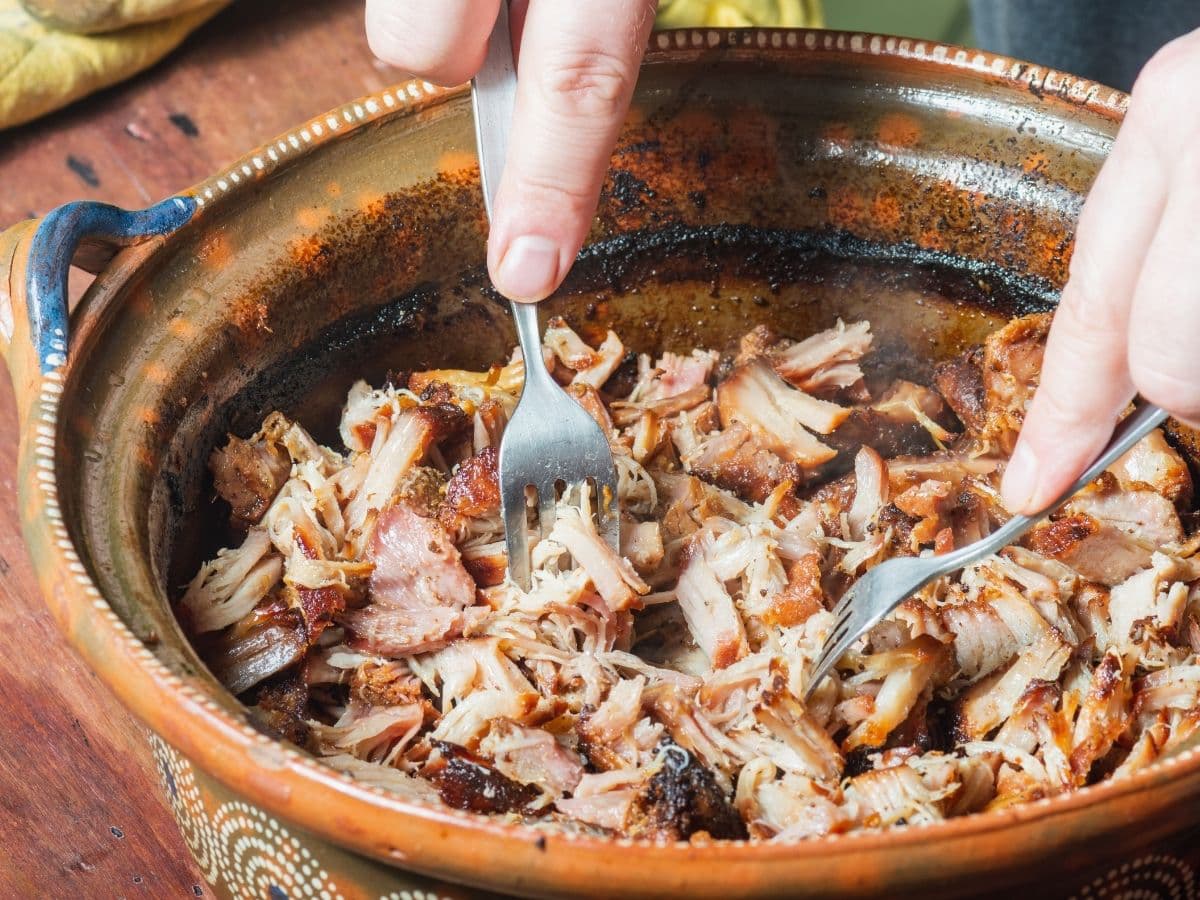 Sunday – Hawaiian Kalua Pork (crock pot version), Hawaiian Lunch Plate Macaroni Salad, Braised Cabbage, White Rice, and sliced fresh pineapple
This meal of shredded pork, cabbage, macaroni salad and white rice is also known as a Hawaiian Plate Lunch. You can find it all over the islands in one form or another. We enjoy this for lunch and dinner. For the cabbage, add a small head into the crock pot and cook along with the pork.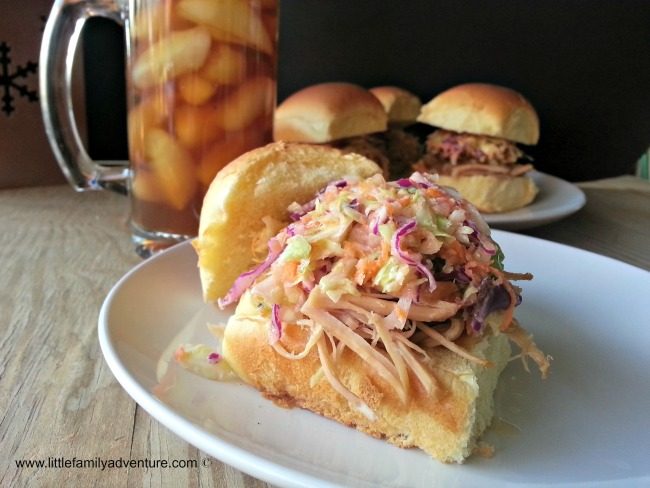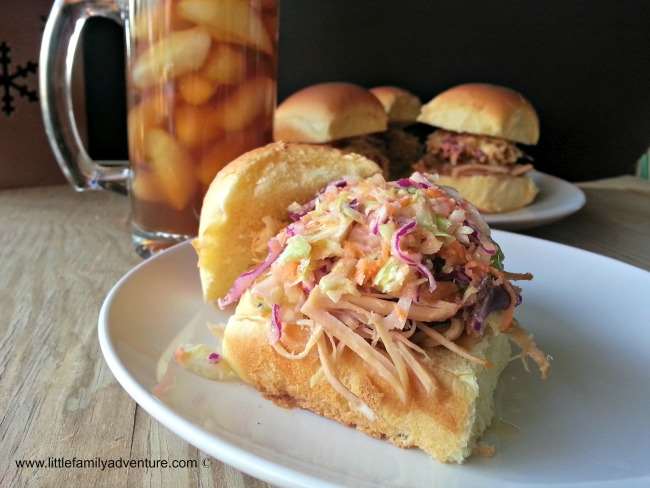 Monday – Pork Sliders on Hawaiian Buns and Coleslaw, leftover macaroni salad,
At least once every two weeks, it's good to plan a leftover night. Today is it with these pork sliders using the leftover Kalua pork from Sunday night, a tangy coleslaw, and a sweet and spicy Carolina style vinegar sauce. If you don't want sliders, serve these atop hamburger buns or slices of bread. You can serve any other leftover sides or a salad with this too.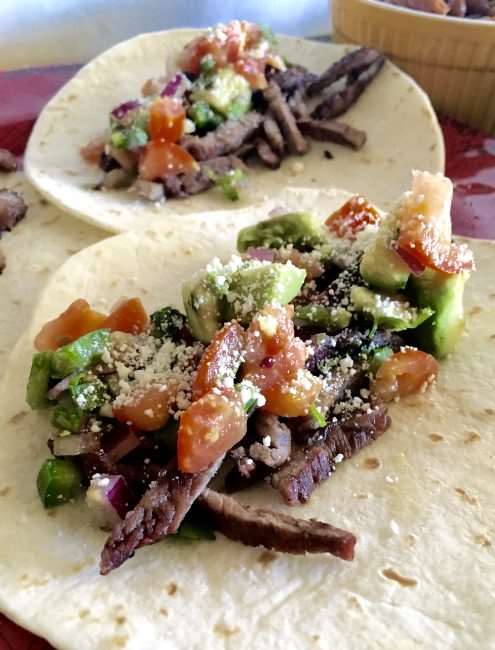 Taco Tuesday – Carne Asada Tacos, Torcy's Tacos Copycat Queso, Black or Pinto Beans, Guacamole, and tortilla chips.
Carne Asada is a citrus marinated steak that is often grilled. During cold weather months, I use my by Ninja Foodie Air Fryer that has an indoor grill insert. You can use an indoor grill like this, a grill pan on te stove top, or just pan fry this steak to the desired doneness. Serve this with this really tasty queso cheese dip that is a dead ringer for the Torchy's Taco appetizer, beans, and fresh guacamole.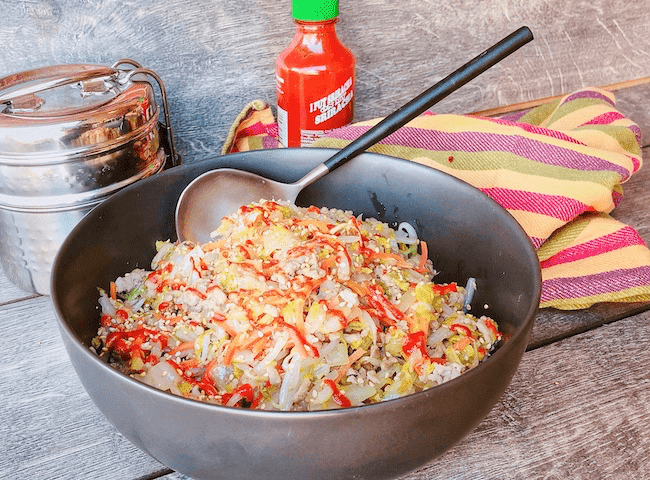 Wednesday – Pork Egg Roll in a Bowl
This is everything you love about Chinese egg rolls without the wrapper. This egg roll in a bowl is a quick story fry with the ingredients normally found in an egg roll- pork, cabbage, carrots, and bean sprouts. We like it spicy with an extra heavy drizzle of Sriracha, but you can omit for a mild version.
Breakfast for Dinner Thursday – Spanish Tortilla with Ham and Tomato Avocado Salad with Cilantro Lime Vinaigrette
This Spanish tortilla is similar to an Italian frittata or French quiche except it's base is potatoes. This recipe is one version we make most often with potato, ham, Manchego cheese, and fresh cilantro. The salad also uses cilantro and compliments the tortilla nicely.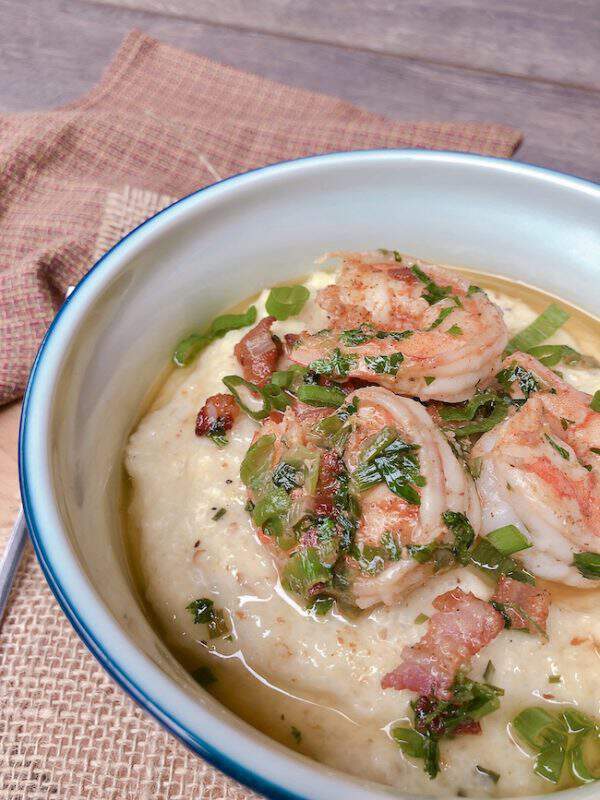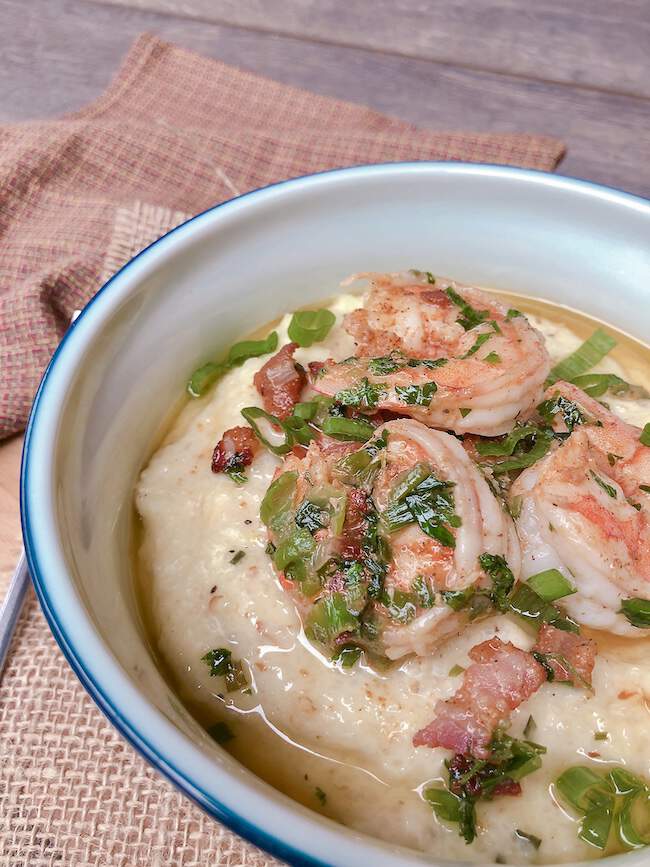 Friday – Cajun Shrimp and Grits Recipe and small green salad with Garlic & Herb Keto Salad Dressing
Garlicly shrimp and bacon top creamy smoked gouda grits for a delicious meat-free lenten meal. Serve with a side salad or your favorite vegetable side dish.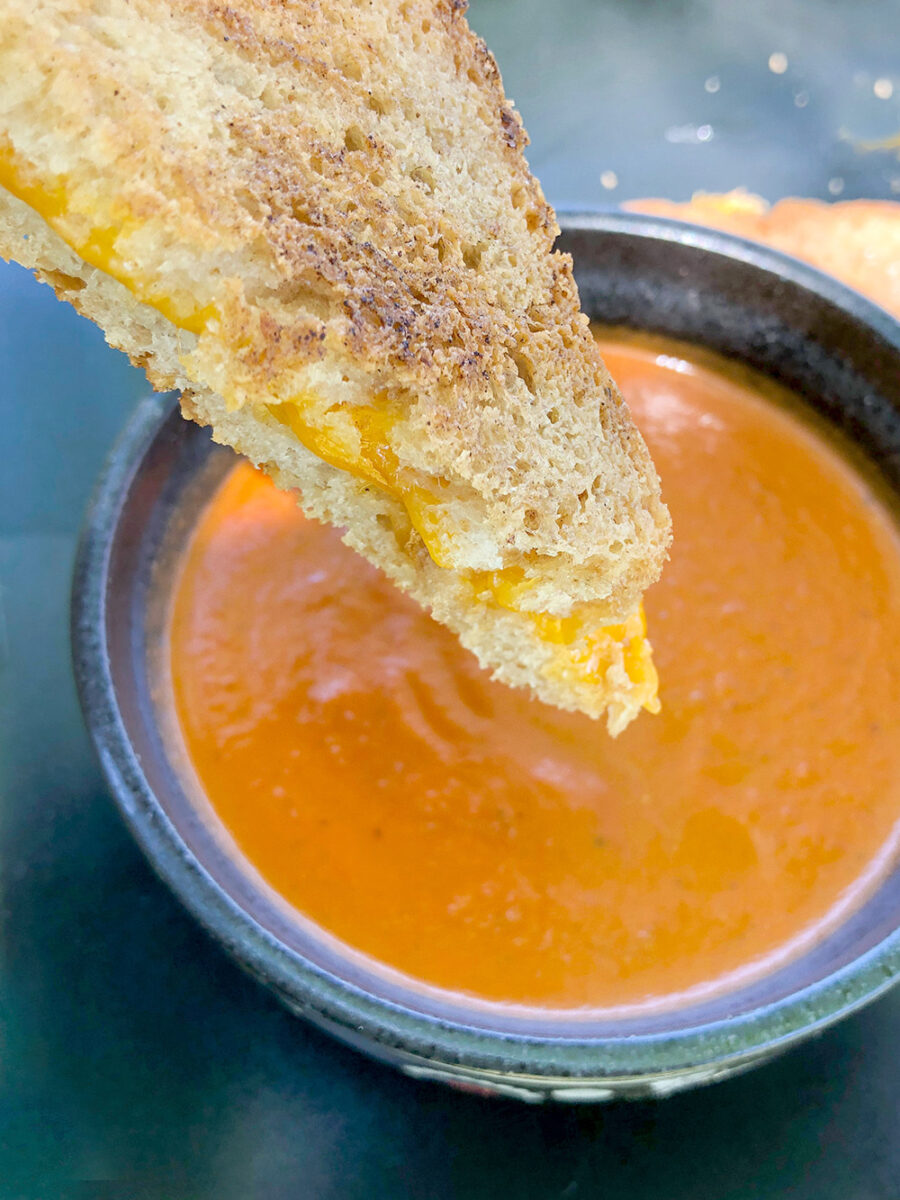 Saturday – Creamy Tomato Basil Soup and Grilled Cheese Sandwiches
Simple, classic soup and sandwiches are for dinner tonight. This is an easy soup to throw togeter and a grilled cheese sandwich makes it a perfect combination. You can create a double batch of soup and freeze half of it for next time.
If you'd more meal ideas, be sure to check out our latest